The first of a number of mass accommodation centres for Ukrainian refugees has opened at the Millstreet Arena in Co Cork.
Clara Mountain towers over Millstreet in north Cork, at 1,200 feet or almost 370 metres high.
In 1955, the community made a steel cross, measuring four metres by three metres, dragged it to the top by horse and erected it.
The cross stands there to this day and is visible for many kilometres from all directions.
It was put there, local people say, to offer protection to those underneath it.
Today, there are an additional 70 people to be protected.
They arrived in two buses, having journeyed more than 3,000km - some of them, at least, setting out weeks ago.
They are from Ukraine and they are refugees of war.
Vera Ruban is among them. She arrived in Millstreet with her mother-in-law.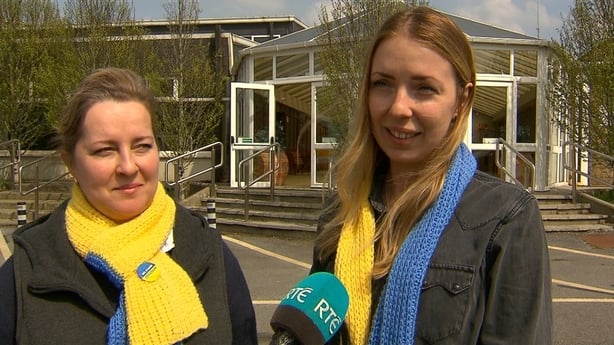 Vera is from Donetsk. Three years ago she moved to Kyiv with her husband and his family.
"We were living very close to the forest - it was great before," Vera says of her life in Kyiv before the Russian invasion.
Vera fled Kyiv almost seven weeks ago, on 4 March, when she could no longer tolerate the sound of the bombings.
"I left, we all left, because the situation became worse," Vera told RTÉ News at Millstreet's Green Glens Arena this afternoon.
"We stayed there for a while with all the sounds and hearing all the bombs, but when we saw a Russian flight above our house it was so scary and we knew then that the soldiers were coming closer so we decided to leave."
We still have flashbacks from everything
Vera recalled how, even as they fled, there was still danger, as Russian soldiers shot at the fleeing cars.
After they escaped, Vera learned that Russian soldiers took over her apartment in Kyiv.
She arrived in Dublin on Tuesday, hardly believing what she has been through and the fact that she has left her life in Kyiv behind.
"It's shocking. We still don't realise what is happening," Vera says. "It's like it's happening in a dream - a nightmare."
Notwithstanding her distress, Vera says she is happy to be safe, in Ireland and in Cork.
"Ireland is great. When we met the volunteers we relaxed a bit and started to feel safe. But we still have flashbacks from everything.
"We came here last night. We got a nice place. We have everything. We have food, nice shelter, people are welcoming - it's great. Thank you so much."
I cannot believe this is happening
Christina Hermanchuk was also on one of the buses that arrived in Millstreet.
At her home in Kyiv, a text message from a friend when she woke on 21 February told her the Russian invasion had begun.
If Christina doubted the veracity of the message, the sound of explosions soon confirmed it was true.
"I couldn't believe the sounds I heard. They were loud explosions," Christina says. "It was the beginning of the nightmare. I cannot believe this is happening in the 21st century."
We need your consent to load this rte-player contentWe use rte-player to manage extra content that can set cookies on your device and collect data about your activity. Please review their details and accept them to load the content.Manage Preferences
Christina says she spent the next two weeks on her own in a house in the Kyiv suburb of Pushcha Vodytsya, before she was evacuated and stayed with a friend in the centre of the city, where she felt safer.
"It's surreal. It's really surreal. I cannot handle the emotions of it," Christina says. "I don't know how to express it but here, now, I feel safe.
"I think of all those people in Ukraine, hearing all those air alerts, alarms, explosions, bombs and everything. (I think) about children hiding in different places; people dying. I just don't know how to feel about this. I just want to come back home."
Christina also said she feels safe in Millstreet.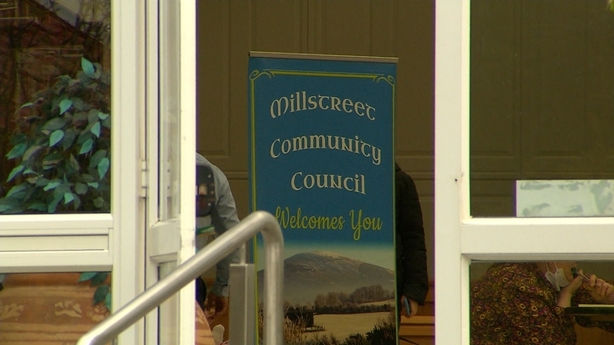 "I am happy to be here. I am very thankful, and thank you for having us here," Christina says.
Looking southwest to Clara Mountain, she adds: "This place is amazing. Everything is so beautiful. People here are so welcoming, so warm."
If the cross on Clara Mountain doesn't protect the Ukrainian refugees who arrived in Millstreet this week, the people of the town have every intention of doing so.
The people of the town have practice in welcoming refugees, having accommodated a group in May 1999, who arrived in north Cork after fleeing the war in Kosovo in Eastern Europe.
"They will be accepted into our community," said Millstreet Community Council's Margaret Bourke of the Ukrainian arrivals. "They couldn't have come to a nicer place, as far as hospitality and warmth are concerned."