The Secretary General of the Irish Red Cross Liam O'Dwyer has said 5,700 empty homes have been offered as accommodation for Ukrainian refugees.
By the end of today all of those who offered houses will have been contacted, but some people have not been reached for various reasons and some have decided not to go ahead with the offer.
Mr O'Dwyer said about 40% of initial offers are now being followed up on, and assessments of the properties will be carried out, and once they are assessed placements can be made.
Speaking on RTÉ's Morning Ireland, he said the process was "hugely challenging" due to the scale of the programme.
The numbers involved are "enormous" and each initial assessment phone call lasts at least 10 or 12 minutes, so it takes time to complete, he said.
As a result the Red Cross has another call centre on board to deal with call backs.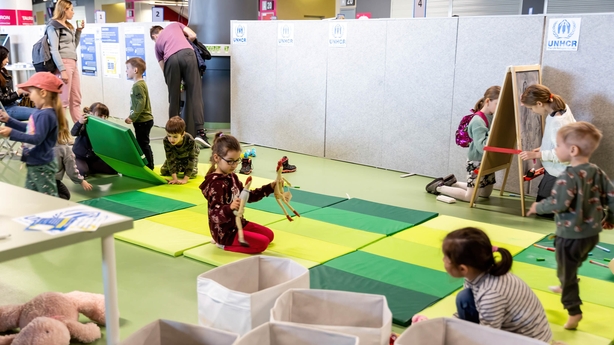 The shared accommodation initiative does work well, he said, as it has worked previously with Syrian and Afghan refugees.
"It would always prove a challenge, but you know the rewarding side of it is when this works, and it does work because we've done this before we did this when the Syrian refugees came and recently with people from Afghanistan.
"I mean, this works so well because there's an enrichment on both sides," he said.
There have been a few cases where having the refugees stay in a home has not worked out, but that is not unusual and would be expected, he added.
Mr O'Dwyer said that no one wants to see people staying in halls and sports centres and so it is important that they are used as an emergency response.
"What we need to do is to make certain that the move on accommodation is ready as quickly as possible".
Clonliffe College has been made available to house refugees and more and more of these large centres are being offered and they would be a good option, he said.
"Sometimes they need a little bit of work because they haven't been occupied for a while, but they also present a great hope, as well as the pledged accommodation."
Garda vetting is needed for any shared accommodation children are going to be housed in and that takes time to carry out, he said.
Positive response 'overwhelming'
Meanwhile, the Archbishop of Armagh and Primate of All Ireland has said he is "overwhelmed" by the positive response from Irish parishes who have been so generous to Ukrainians, as he described their "great goodwill".
Speaking on RTÉ's Morning Ireland Eamon Martin acknowledged the immense challenge to move "traumatised" refugees arriving here into properties and he encouraged more people to come forward to assist in this effort.
"As a country we have to work together to do what we can," and he added that it is about giving Ukrainians some comfort and stability until it is safe for them to return home.
He said a community effort is required to ensure properties being offered are suitable.