Minister for Foreign Affairs Simon Coveney has visited the town of Bucha, where Russian forces' suspected killing of civilians has been broadly condemned.
The minister was taken on a tour of the town near Kyiv, including the site of a mass grave.
Speaking earlier on RTÉ's News at One, Mr Coveney said the area had been "devastated" and its population "ravaged".
He said Bucha was to Kyiv what "Sutton is to Dublin or Carrigaline is to Cork" - a large town "completely destroyed" and that "if somebody tells me that's not a crime or a crime against humanity, I need to be convinced".
Mr Coveney added that Ireland is "certainly ensuring that there will be an international legal infrastructure that can fully investigate all of those crimes".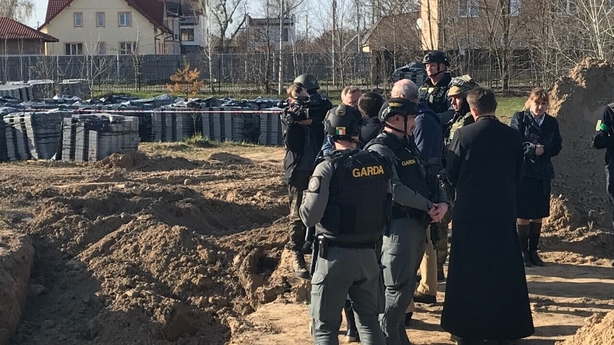 Forensic experts arrived in Bucha today to help Ukraine authorities establish what happened in the town, where hundreds of bodies have been discovered since Russian forces withdrew.
Moscow denies targeting civilians in Ukraine and has said the deaths in Bucha were a "monstrous forgery" staged by the West to discredit it.
Mr Coveney said that he was using the visit to Ukraine to show "solidarity" and highlight Ireland's efforts to help the country "in the face of Russian aggression."
He added that it follows an invitation from the Ukrainian foreign minister, Dmytro Kuleba, to visit and ten days of planning.
In a social media post, Mr Kuleba said that he was "grateful" to Mr Coveney for making the trip.
"Grateful for his courage, as well as Ireland's humanitarian, financial and military aid. Coordinated further steps on: oil embargo on Russia, Ukraine's speedy accession to the EU," he wrote on Twitter.
Foreign and Defense Minister of Ireland @simoncoveney is the first FM to visit wartime Kyiv. Grateful for his courage, as well as Ireland's humanitarian, financial and military aid. Coordinated further steps on: oil embargo on Russia, Ukraine's speedy accession to the EU. pic.twitter.com/SKEg0CRA1d

— Dmytro Kuleba (@DmytroKuleba) April 14, 2022
Speaking from Ukraine, where he has held talks with Mr Kuleba and other government officials in Kyiv, Mr Coveney said Ireland has already committed over €20 million of humanitarian assistance.
"I outlined our approach to EU sanctions ... to ensure that sanctions can really be a deterrent to the continuation of this war," Mr Coveney said.
The minister added that Ireland strongly supported Ukraine's ambition to join the European Union and that he wanted to talk to them in detail about that.
Earlier today, Mr Coveney said the killing of civilians by Russian forces invading Ukraine are likely to be war crimes.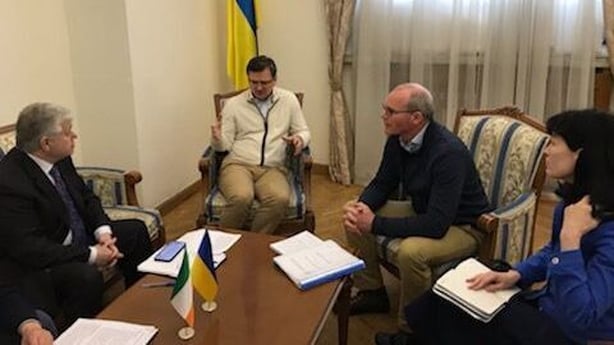 He was speaking at a press conference this morning after meeting his Ukrainian counterpart in Kyiv.
The minister's visit to the capital is the first by any foreign minister on the UN Security Council since Russia's invasion of Ukraine began.
He held several meetings with the Ukrainian government in secure locations and visited areas directly affected by the Russian invasion.
Mr Coveney said: "We don't know yet how many Ukrainian citizens have lost their lives due to this Russian aggression yet, but we know it's many and we know that the brutality and the violence, not only against Ukrainian soldiers, but also against Ukrainian civilians, women and children.
"It is something that is likely to be determined as war crimes in the future."
Ireland will use its seat on the executive council of the Organisation for the Prohibition of Chemical Weapons "to ensure that any use of chemical weapons is followed up on by the international community," says Simon Coveney in Kyiv | Read more: https://t.co/1UggHHYchC pic.twitter.com/7n4ET79l4e

— RTÉ News (@rtenews) April 14, 2022
Mr Coveney, who is also Minister for Defence, said that even in the darkest hour it is important to think about peace
He referred to the 1998 Good Friday Agreement and said he hopes that there are elements of Ireland's peace process that can give some inspiration during these dark times for Ukraine.
He said he believed there will be time when Ukraine will emerge from the "darkness".
Mr Coveney said he believes the future for Ukraine is a bright one and said Ireland stands with Ukraine.
Asked about Ireland's contribution to Ukraine's military effort, he said that to date Ireland has given €33m in non-lethal assistance in terms of body armour, medical supplies and other areas of assistance.
"We will strongly advocate to ensure that your [Ukraine's] journey to EU membership happens as rapidly as possible," says Minister for Foreign Affairs Simon Coveney who is in Kyiv today | Read more: https://t.co/1UggHHYchC pic.twitter.com/1wHgrXPkzs

— RTÉ News (@rtenews) April 14, 2022
Mr Coveney travelled to Kyiv overnight by secure military transport and is accompanied by Ireland's ambassador to Ukraine.
The minister plans to report back to the UN Security Council, where Ireland holds a seat.
Meanwhile, Minister for Finance Paschal Donohoe said Ireland has a commitment "which we must rise to and will deliver to take our share of the refugees that are fleeing a war".
Speaking on RTÉ's Morning Ireland, he said: "We are, fortunately, in a position to have an economy due to the decisions that we have made in the past, where we are able to over time ensure that we can meet the economic costs of those who will be able to move to our country."
He said he and Minister for Expenditure and Public Reform Michael McGrath indicated that up to €3 billion would need be set aside to do this.
Asked if the Government had overpromised on what Ireland could provide, Mr Donohoe said: "What we said we would do is all we can to help those who come to our country in need, and we will deliver that promise.
"But this is an emergency and every country across Europe who's dealing with this emergency is working so hard to find emergency accommodation, and that's what we are doing."
Additional reporting: Mícheál Lehane, Reuters