The use of holiday homes to house Ukrainian refugees is being examined, according to the Minister for Housing.
Darragh O'Brien said the Government is examining payments that could be made to hosts of Ukrainian families and this could be extended to those who provide holiday homes that could be used.
Speaking on RTÉ's Morning Ireland, he said that he didn't have details of any payment, adding that the Government will expediate efforts to work through existing pledges made by members of the public to provide accommodation.
"Every lever that is available to us will be pulled to provide additional accommodation," Mr O'Brien said.
When asked if student accommodation could be used, Mr O'Brien said the Government is examining every option, but pointed out that student accommodation is already "very, very scarce".
Mr O'Brien added that converting larger buildings into short term accommodation will be examined first.
The Government are considering payments for holiday home owners if they make properties available to those arriving here from Ukraine, Minister for Housing Minister Darragh O'Brien has told @morningireland | Read more: https://t.co/Qpz21n2BtP pic.twitter.com/d64SwfgagD

— RTÉ News (@rtenews) April 12, 2022
The minister added that it has been hard to estimate how many Ukrainian refugees are coming to Ireland every day, but that it has been averaging at around 500 daily.
He said that during a meeting with industry stakeholders yesterday, all options available to house refugees were discussed.
There has been a trawl of vacant buildings that are available, he said, adding that about 500 of these were identified by local authorities.
"It's most efficient to use the existing stuff that we have there," Mr O'Brien added.
There are emergency procurement procedures that will be used to "get the work done", he said, but with some buildings it will take months to complete.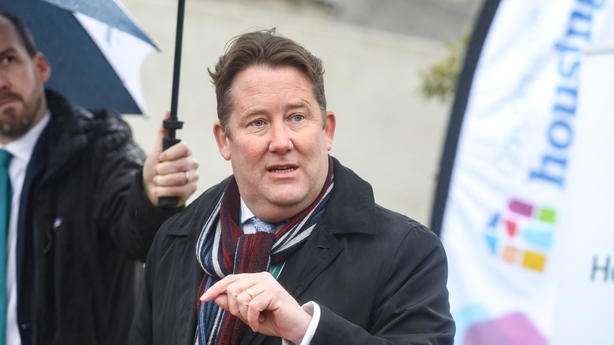 Meanwhile, the Director of the Irish Homebuilders Association has said the influx of refugees from Ukraine is an additional issue as the country is grappling with a housing shortage already.
Speaking on the same programme, James Benson said that Ireland is in "uncharted waters".
"I suppose we need to investigate all opportunities and all possibilities," Mr Benson said.
He added that up to 100,000 Ukrainian refugees may need to be housed In Ireland over the next year. That could mean an additional 30,000 houses would be needed to accommodate the refugees, he said, which is equivalent to a year and a half of normal supply.
---
---
There are several scenarios that could address the issue, he said.
Stage one for housing is B&Bs and hotels, which is now "almost exhausted" as an option, Mr Benson said.
Stage two is existing stock and the third option is unused commercial buildings, including disused properties like shops, he said.
Mr Benson added the existing stock and vacant buildings could be available within months.