The seven-day isolation rule for those with Covid-19 could be shortened following discussions at the Cabinet sub-committee on Health this evening.
Chief Medical Officer Dr Tony Holohan will now review the isolation period, and then make a recommendation to Minister for Health Stephen Donnelly.
Tánaiste Leo Varadkar said that while the seven-day isolation period is under review, he does not see a change to this advice "any time soon".
He told RTÉ's Prime Time: "We are close to - or past - the peak of the second Omicron wave according to the CMO.
"The numbers in hospital are stabilising. Two thirds of people in ICU are not there because of Covid, they just happen to have Covid."
Emergency pandemic legislation is also due to lapse at midnight tonight and "is not being reviewed" said Mr Varadkar.
He added: "The only thing that would change [the current public health advice] is if we got a totally new variant - we have to be prepared for that possibility but as things go, we believe any future waves will be manageable without legally binding restrictions."
This evening's Cabinet sub-commitee meeting heard that the return of mandatory mask wearing was not required amid strong indications that the current Covid-19 surge has peaked.
Mr Varadkar said most people get Covid at home "where they are not going to be wearing masks anyway".
Earlier, Taoiseach Micheál Martin had said he did not believe that making it mandatory to wear face masks indoors would change the current Covid-19 situation.
Organisations representing doctors and nurses have called on the Government to reintroduce some measures to tackle the spread of the virus.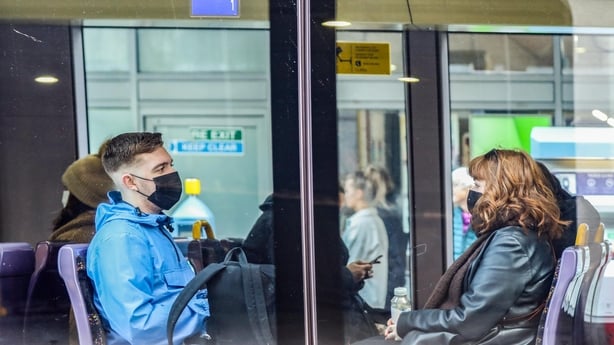 The Irish Nurses and Midwives Organisation and the Irish Association for Emergency Medicine have called on ministers to revisit measures such as wearing masks indoors and in congregated settings, and working from home.
"The view is, from public health, that this [Covid] variant is so transmissible that it's almost impossible to stop transmission," says Taoiseach Micheál Martin | Read more: https://t.co/8rn6lTjy5M pic.twitter.com/TZ1bQy2ND7

— RTÉ News (@rtenews) March 31, 2022
Speaking on RTÉ's Today with Claire Byrne programme, Mr Martin said the Government is guided by public health advice in relation to Covid-19, and said he has been in touch with the Chief Medical Officer. He said the BA2 variant is highly transmissible, but does not appear to be damaging health in the same way as earlier variants.
He acknowledged that the high number of cases is putting intense pressure on the healthcare system.
This afternoon, a further 11,741 new cases of the virus were recorded, between PCR-confirmed cases, and positive antigen tests logged online through the HSE portal.
This morning, there were 1,535 Covid-19 patients in hospital, with 58 in ICU. Around half of patients in hospital with the disease are there for other reasons, but tested positive for the virus.
The Taoiseach said this morning that the country is in a new phase of Covid-19, and the guidance remains to wear a mask. However, he added that the return of restrictions is not justified.
"Essentially, the current wave because it does not justify the return of economic restrictions, or the restrictions that we had in earlier phases of Covid-19," Mr Martin said. "That's the fundamental advice in public health.'
He said that a new advisory group is being put together to guide the Government on Covid-19 going forward.
It is also expected that the National Immunisation Advisory Committee will make a recommendation in the coming days on when the fourth Covid-19 vaccine dose should be administered.
---
Read more:
Latest coronavirus stories
---
Speaking on the same programme, a leading biochemistry professor said he did not agree with the Taoiseach's comments.
Luke O'Neill, a professor of biochemistry at Trinity College Dublin, said he believed mask wearing should be mandatory for at least the next three or four weeks.
"I think that masks will slow it down. I mean, the big issue now is that the healthcare system is under pressure, isn't it? We're hearing that a lot," he said.
"Masks slow down the spread of this virus and at a minimum they'll drop the dose you're spreading between people, and a lower dose of virus means less severe illness in the one that is infected and less of a chance that they will end up in hospital, so I'd be mandating it for the next three or four weeks."
Maynooth University Immunology Professor Paul Moynagh warned that even with mitigations like masks, it would still be very difficult to control the spread of the current variant.
Asked on RTÉ's Six One if reintroducing a mask mandate would help, he said it may make "a small difference" but not "a material difference".
Prof Moynagh insisted that it is "extremely difficult to control the transmission of this variant".
"I think there is probably a sense that the pandemic is over. But nonetheless the virus is still here, so obviously, the advice, and I think it is prudent advice, in terms of advising the use of masks, where appropriate, but again, we're moving to a situation where we're dealing with a variant that is very difficult to control."
Healthcare system not coping - IAEM
The President of the Irish Association of Emergency Medicine (IAEM) has said the healthcare system is not coping with the current Covid-19 surge and steps must be taken to flatten the curve.
Speaking on RTÉ's Morning Ireland, Dr Fergal Hickey described the current situation in emergency departments as intolerable and unsafe.
"Emergency departments are not in a position to cope. We have large numbers of patients in hospital with Covid.
"We have wards with outbreaks of Covid. We have large numbers of people on trolleys," he said.
Dr Hickey, who is a senior emergency consultant at Sligo University Hospital, said a return to mask wearing in indoor settings and working from home where possible would lessen the risk to patients and staff.
It will not resolve the problem, he said, but it may make the difference between life and death for individual patients.
"Any improvement in the current situation will lessen the risk for patients and lessen the risk for staff. We're not suggesting and I've never suggested, that this will resolve the problem," he said.
Dr Hickey said the current response from Government is very anemic and a stronger response is required.
We need your consent to load this rte-player contentWe use rte-player to manage extra content that can set cookies on your device and collect data about your activity. Please review their details and accept them to load the content.Manage Preferences
Current wave has not peaked
The General Secretary of the Irish Nurses and Midwives Organisation said the current trolley numbers are unprecedented.
"We've never seen the likes of it," Phil Ni Sheaghdha told RTÉ's News at One. "There's extraordinarily long waits and people getting sick while they are waiting to be seen."
She also warned that healthcare workers on the frontline will be left to deal with the consequences if the Government fails to make difficult decisions around mask wearing to reduce the spread of Covid-19.
The INMO has warned that the current wave has not peaked and hospitals are under extreme pressure.
Ms Ni Sheaghdha said that over 76% of outbreaks are now in healthcare settings. She said the situation will lead to more cancelled operations.
Govt expanding services to tackle long Covid
The Minister for Health has told the Dáil that the Government is expanding its services to tackle long Covid, which affects up to a fifth of those who get the virus.
Taking Parliamentary Questions, Stephen Donnelly said that there are 50 possible symptoms of long Covid, "persisting beyond 12 weeks".
They account for "between 10% and 20%" of those who have had Covid, he said, which is "very sobering".
Independent TD Denis Naughten criticised the Government for the lack of progress on the matter, and said the health services are struggling under "an avalanche" of people needing medical support.
€2.2 million has been allocated for a HSE "interim model of care", which is now focusing on post-acute and long Covid clinics in each of the hospital groups, the minster said.
They are currently operating in four of those groups, he added, and work is under way to establish a national network.
Reporting by Fergal Bowers, Mícheál Lehane