Introduction, war in Europe
Tony Connelly
On 18 March, a Russian bomb struck an apartment block in Kharkiv killing one of its occupants.
Death from the skies has become commonplace in Ukraine's second city - some 500 people have been killed by Russian airstrikes or artillery - but this particular victim has lent a chilling resonance to the invasion: Boris Romanchenko, 96, had managed to survive four Nazi concentration camps and lead a long and healthy, if busy, life.
Boris was a living reminder of the horrors of World War II: the levelled cities, the tank divisions rolling across borders, the mass murder of civilians.
Holocaust survivors are a dwindling number. Indeed, for recent generations the Second World War had become such a distant reality (it ended 77 years ago) that even believers in the European Union have been emphasising climate change and globalisation, rather than peace in Europe, as the updated rationale for European capitals working together.
But war in Europe is back.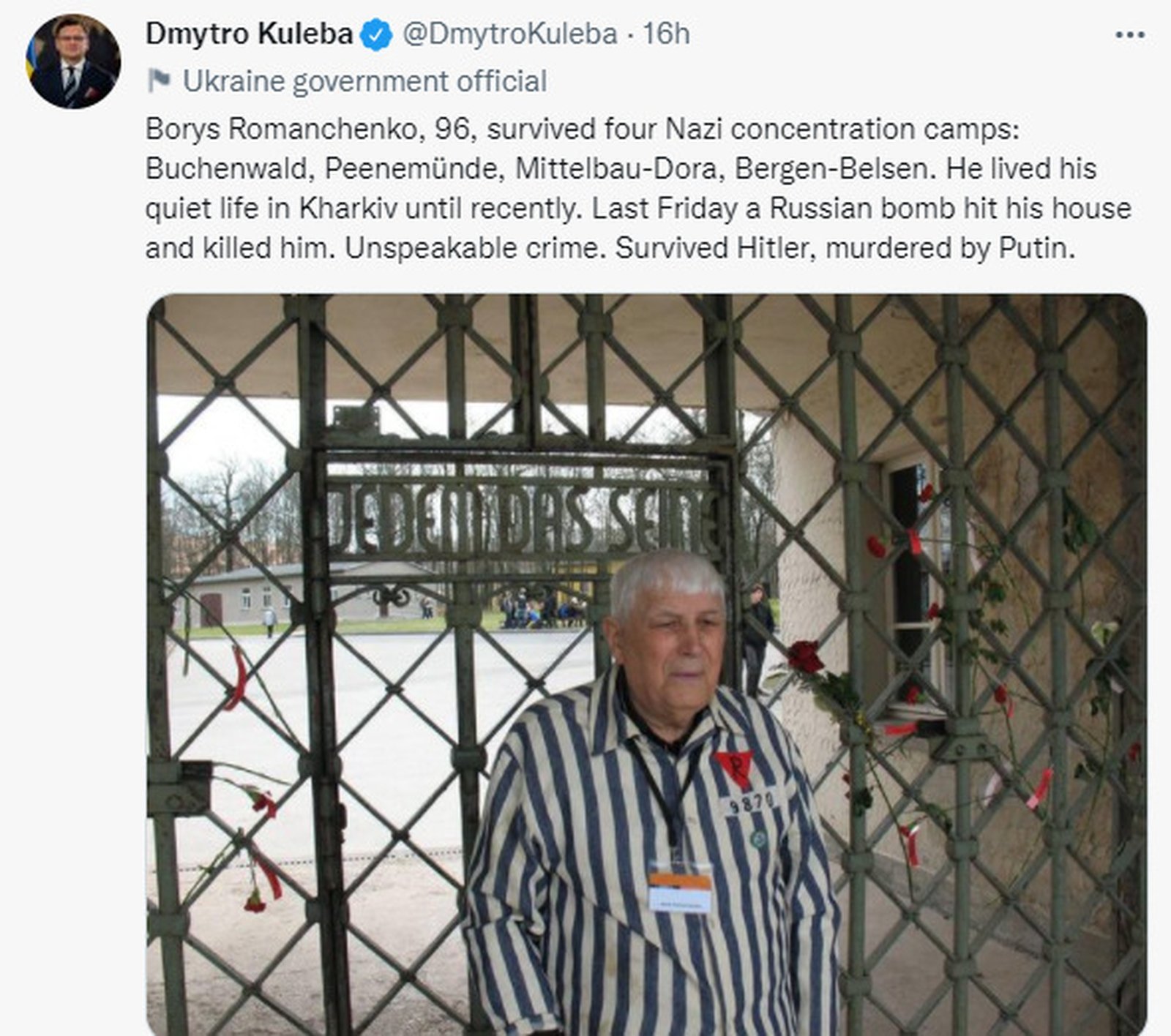 It is not a world war, by any metric, but many Ukrainians think Russian President Vladimir Putin will not stop at Ukraine. Indeed, containing this war may be difficult: already the West is worried that China's pseudo-neutrality is a cover for providing military and economic support for Russia; if true the United States will push for sanctions against Beijing and a new chapter in the conflict will open up.
So Ukraine is becoming a new global fault line; indeed there are global knock-on effects on energy prices and food shortages (Russia and Ukraine are major exporters of grain, seeds and fertiliser).
The interconnectedness of global markets and supply chains make this a very 21st century war, not to mention the way social media and smartphone video images mean it plays out on our devices in real time. Yet, the war is really the unfinished business of the Cold War, or at least how it ended.
As a mid-ranking KGB agent in Dresden in the 1980s, Putin was on the losing side. He saw the humiliation of the Fatherland, the collapse of the Soviet Empire, and the revolutionary results that people power could deliver.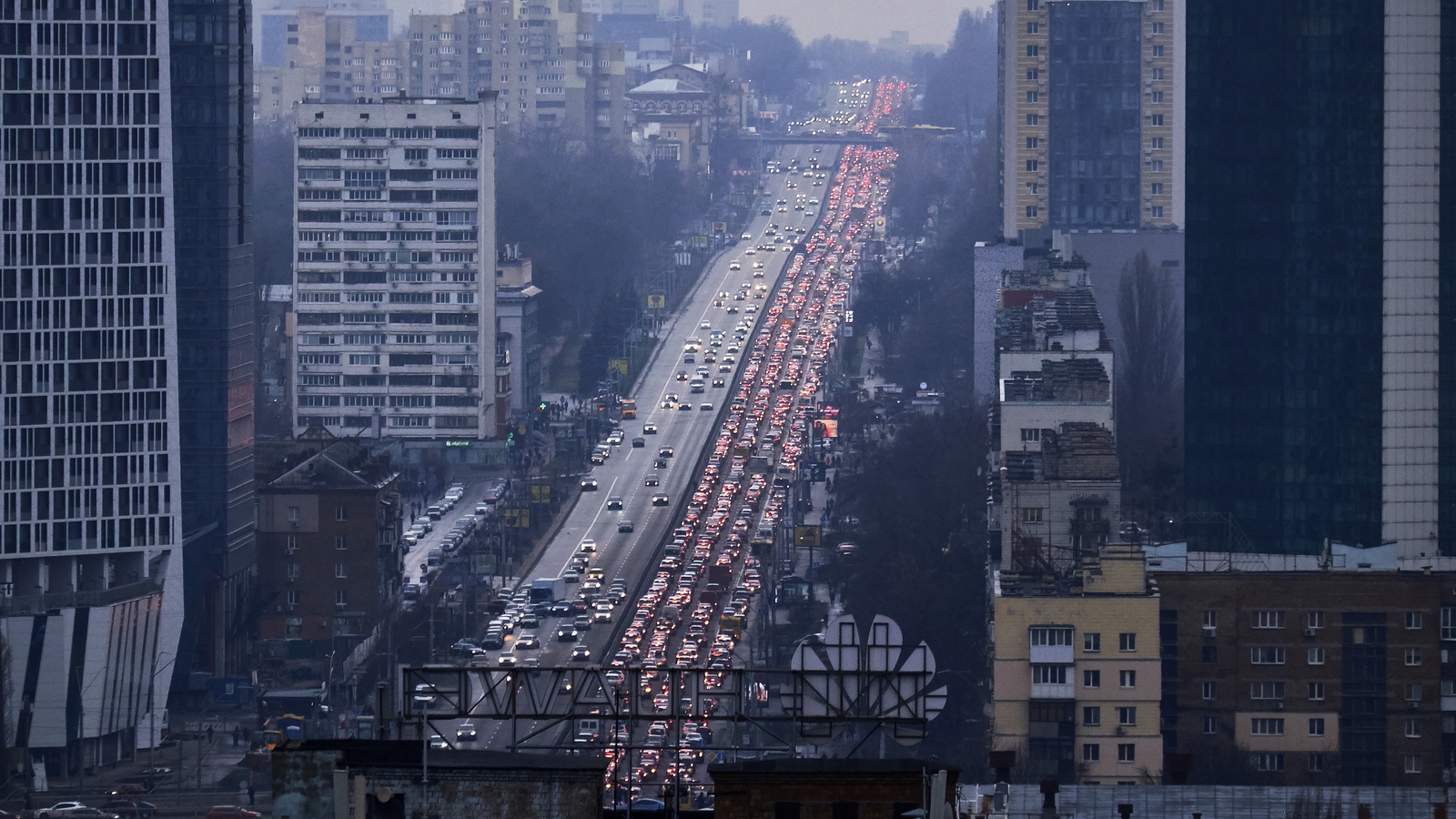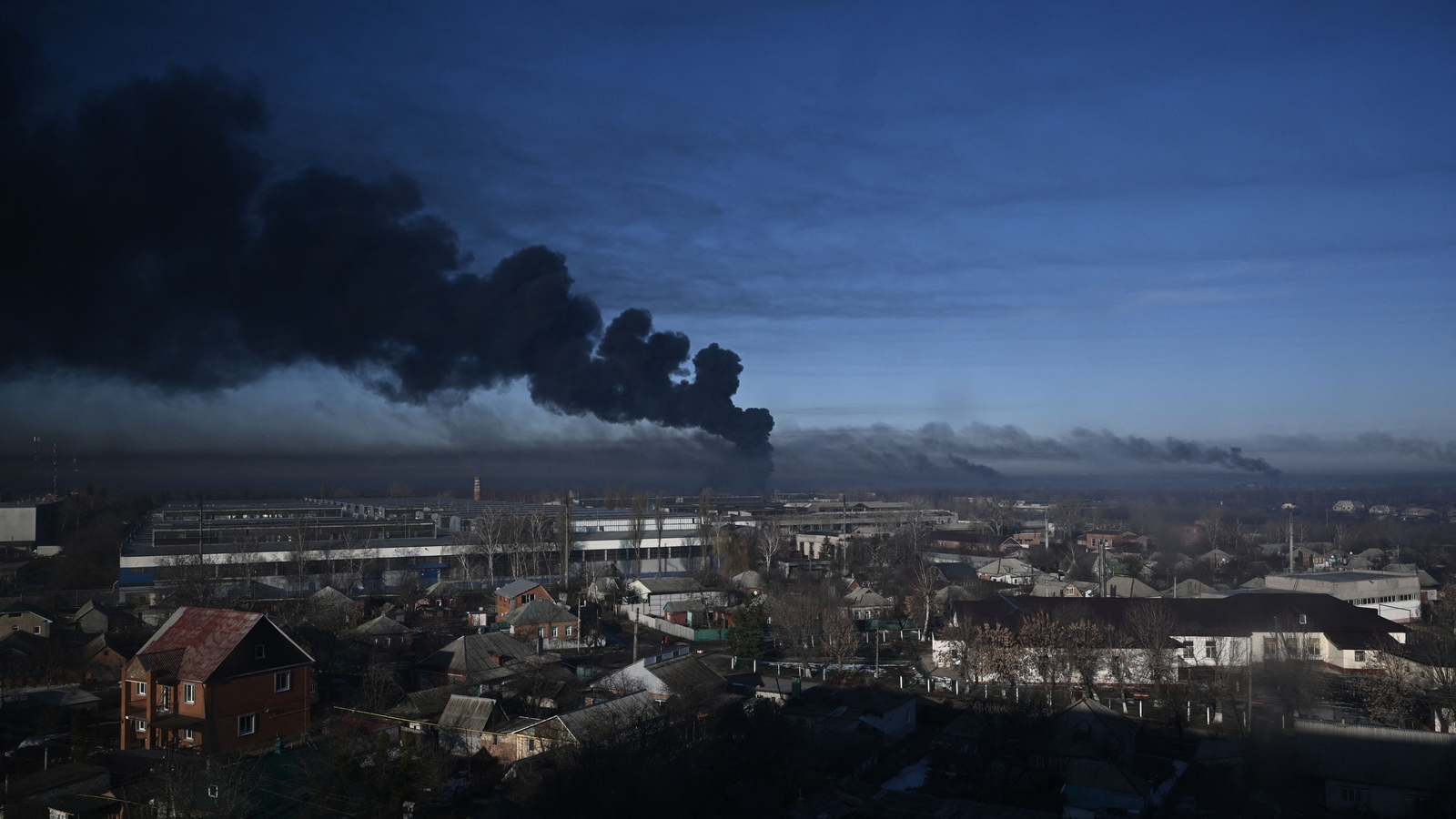 His decision to launch the invasion at 4am on 24 February is a result of the simmering soup of resentment he has been stirring since then: a triumphant West disrespected Russia, first through the expansion of NATO, and secondly through intervention in the Balkans in the 1990s, Iraq in the 2000s and Libya in 2011.
Russia, he complained, was either cheated or not consulted. The "colour" revolutions in Ukraine, Kyrgyzstan and Georgia in the 2000s against autocratic rule and corruption were a threat to his own increasingly authoritarian regime in Moscow.
A growing synergy between the arch-conservative Russian Orthodox Church and Putin's personal vision of a strong, resurgent Russia, dominating its sphere of influence, was increasingly setting Russia apart from the West. Democracy meant minority rights, independent media, checks and balances, gay pride marches, endless compromises and weakness; Putin's Russia was having none of that.
Nor was Putin going to tolerate an independent and democratic Ukraine. Added to his disdain for the niceties of democracy were Putin's pseudo-historical justifications for forcing Ukraine back into the Russian fold.
In retrospect, Putin was forcing back the clock in plain sight: his rage at Ukraine's Orange Revolution in 2004 and the Euromaidan revolution in 2014 (the latter prompting his invasion of Crimea), were landmarks on the road to 24 February, not isolated incidents. Putin was watching and waiting.
Democracy in the West was faltering. It was now about polarisation, about the gridlock of resentments and populism prompted by the financial crisis of 2008. A timorous US President Barack Obama did not intervene after savage chemical attacks by the Assad regime in Syria; Europe needed Russian gas and oil; was distracted by Brexit, and weakened by the Covid pandemic. What was to stop him?
In December, Putin gave the United States a series of demands: that Ukraine never join NATO, and that NATO be pushed back from central and eastern Europe. Putin's demands were impossible.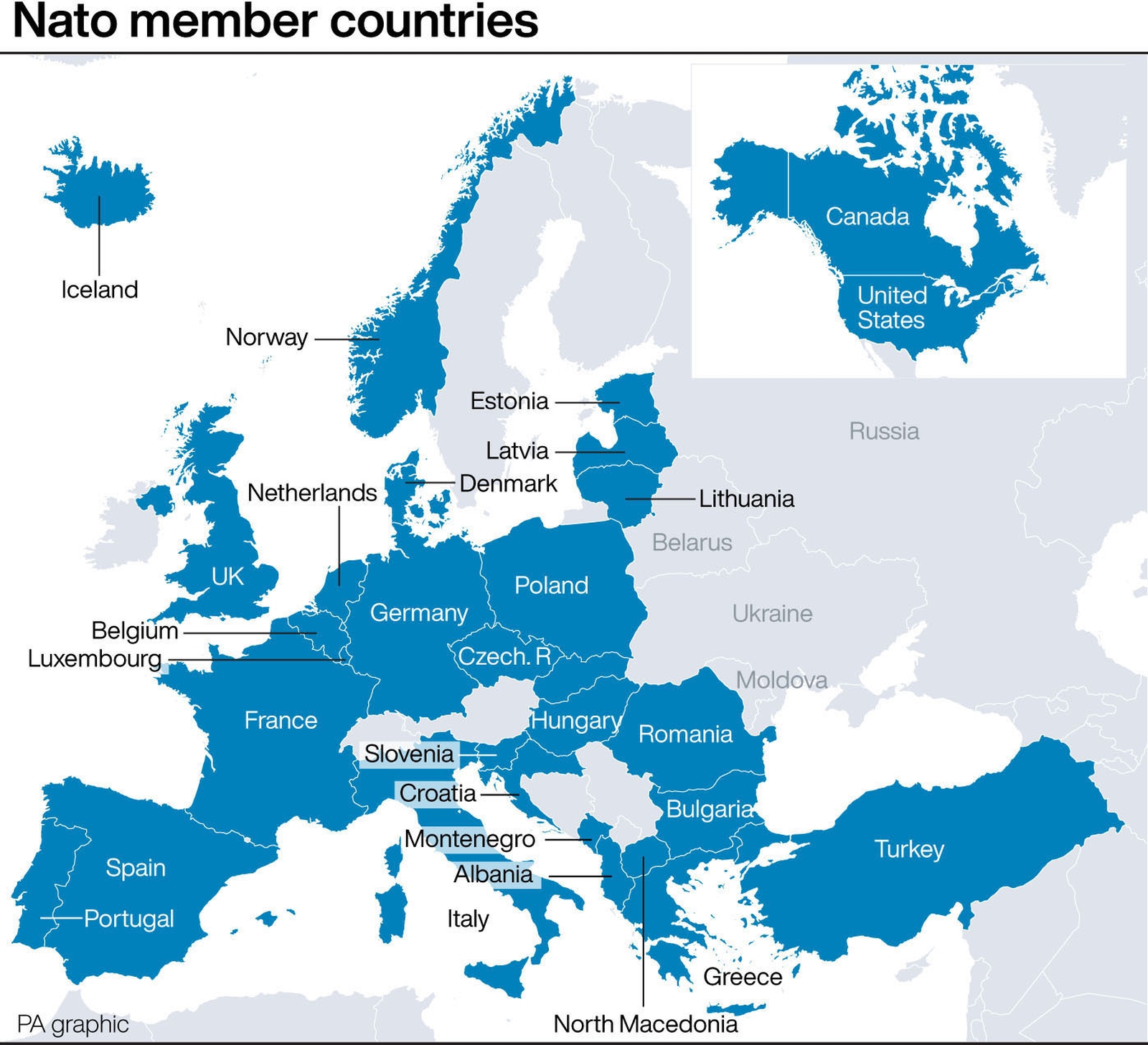 As the West scrambled to coax Putin back from the brink, with promises of negotiations, confidence building measures, new understandings on missile locations, he continued to build up his troops. On 24 February they entered Ukraine.
One month on, they are still there. But Putin, for all his strategic patience, has badly miscalculated. A lightning invasion that would prompt a weak Ukrainian government to collapse was hampered by poor planning and low morale.
Ukraine had been preparing for such a moment since 2014 and, while vastly outmanned and outgunned, its military has been well-armed and trained, and it has inflicted devastating losses on isolated and poorly coordinated and supplied Russian columns.
The world has (mostly) united in outrage against Russia and sympathy for Ukrainians, and the West's sanctions have crippled significant parts of the economy. Stunned by Ukraine's tenacious resistance, the Russian military is now trying to grind down Kyiv's morale by shelling cities like Mariupol into rubble, killing thousands and prompting millions to flee.
What the Nazis could not do to Boris Romanchenko in the 1940s, Vladimir Putin has done in 2022, killing a 96-year-old Holocaust survivor under the guise of "denazifying" Ukraine.
Yet Putin has also forged a formidable spirit of unity and identity in a country which he says has no right to resist, and he has managed to unite the European Union like never before. And yet, having grossly miscalculated, there is no sign that he will back down, or that Ukraine will surrender, or that the West will grow tired of supporting the country militarily and financially.
A long and bloody road lies ahead.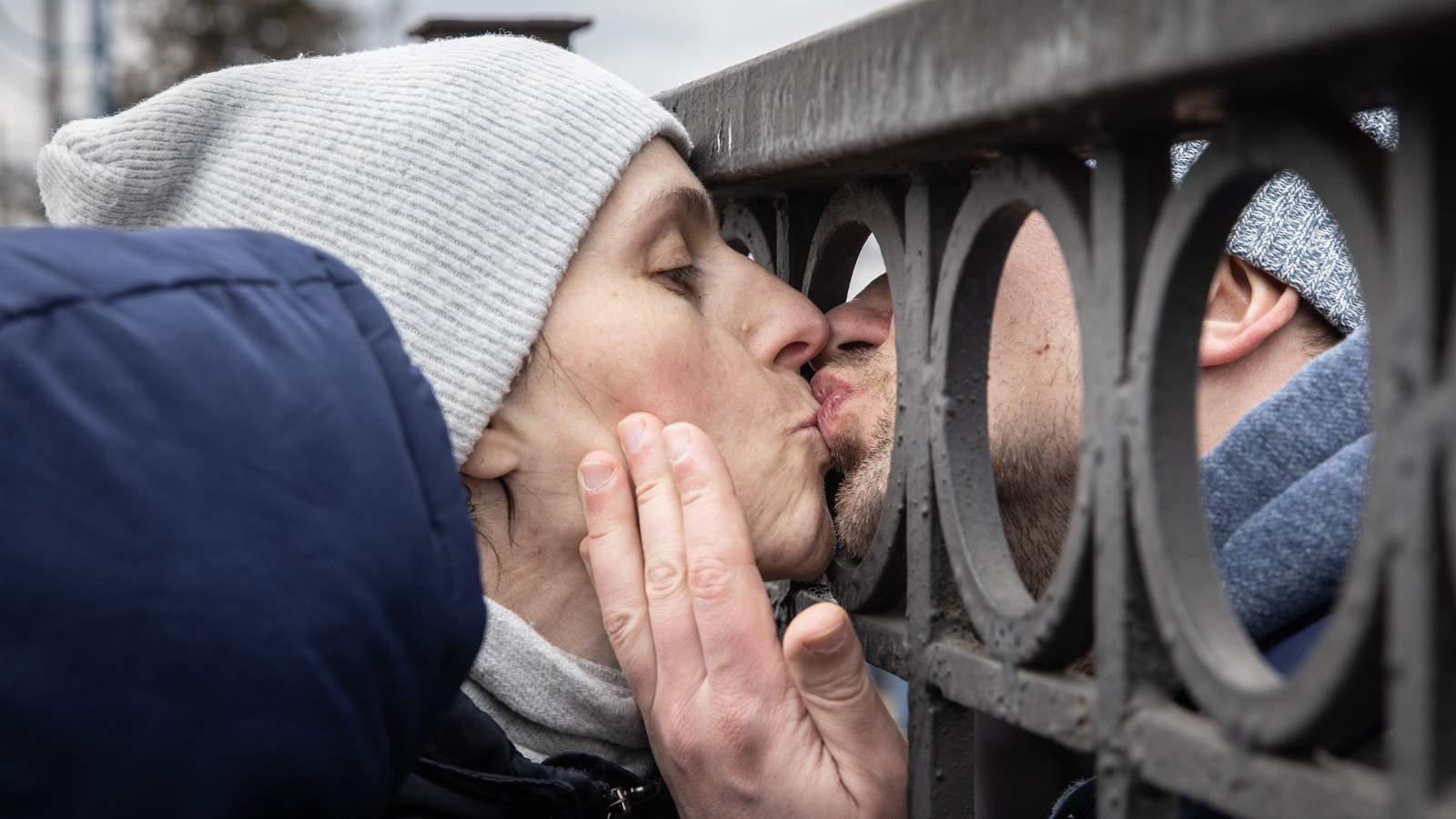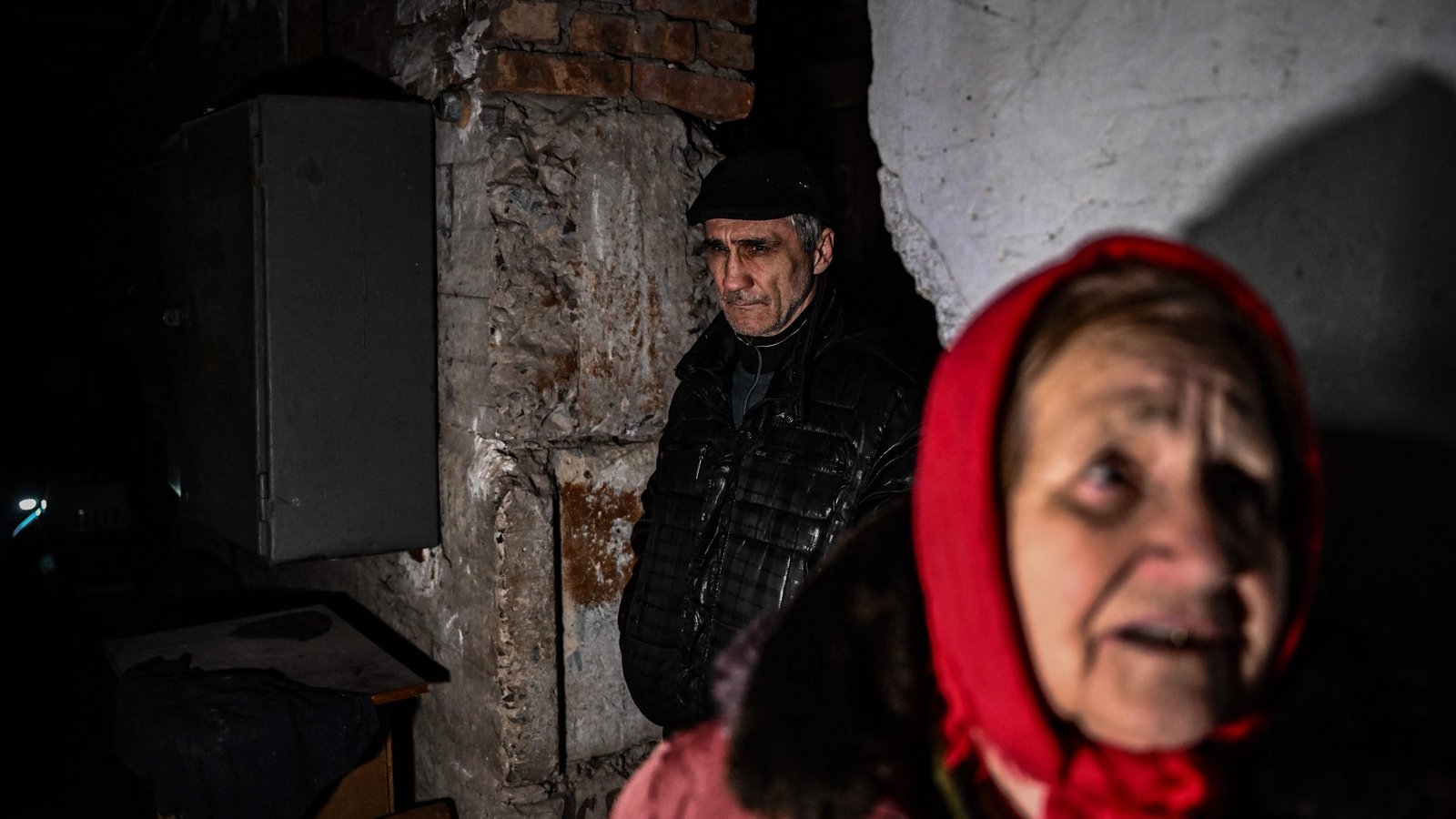 Context - Before the war
Colm Ó Mongáin
For months the purpose of the tens of thousands of Russian troops massed on Ukraine's border was debated. Theories abounded: They were a crafty sabre-rattling device designed to exercise leverage on NATO, or Ukraine's government - or both. They were a precursor to a deniable operation in the separatist republics in the Donbas. They were a display of Russian defensiveness after years of NATO's eastward creep. They were an invasion force. Only Vladimir Putin really knew their true mission.
As European leaders flew into Moscow for a sequence of meetings with Russia's president, many analysts and commentators viewed the latter theory - articulated most loudly by US and UK intelligence services - as the least likely to transpire.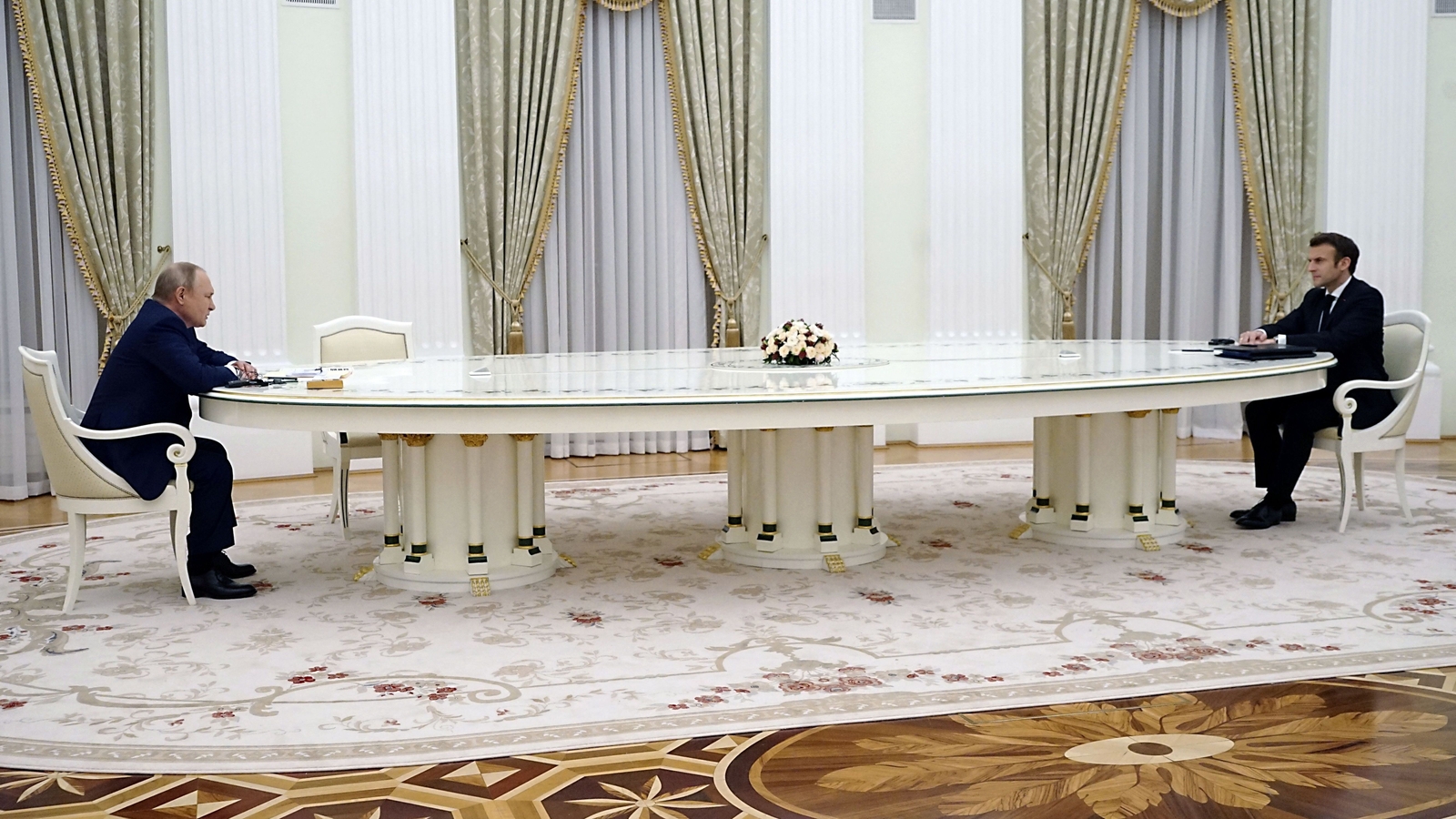 Even within Ukraine, the country with the most to fear from a potential invasion, defence analysts as late as February pointed to the massed forces' lack of field hospitals and blood products as evidence that Vladimir Putin was not really going to invade. The country's leader Volodymyr Zelensky asked for a dialling down of the invasion warnings as Ukraine haemorrhaged investment.
By the time Russia's shells began to drop and its troops rolled across the border on 24 February, it turned out that very clear indications of Vladimir Putin's intentions should have been heeded.
Ukraine - its very existence - is regarded as a historic mistake by Russia's president. He said as much in a wordy essay in July 2021, dismissing the idea of Ukraine and a separate Ukrainian identity as an imaginary concept used by Russia's enemies to sow division. Returning Ukraine to Russian rule is apparently his desired legacy.
Chauvinistic historical considerations aside, politically, a separate Ukraine - untethered from Moscow's sphere of influence - presents a challenge to the system Vladimir Putin has built over more than 20 years in power. Russia's leader views protests at home and in neighbouring countries as evidence of dangerous western meddling. The nearer the popular uprising, the more dangerous it is.
The 2004-2005 Orange revolution in Ukraine, the 2003 Rose Revolution in Georgia and other so-called 'colour revolutions' were viewed by him as little more than US-backed coups in the backyard. The fear of contagion into Russia itself is real. As a KGB officer stationed in Dresden, Putin witnessed the East German regime's loss of control amid popular protests. The experience had a profound effect on him.
The ousting of Ukraine's president Viktor Yanukovych during mass protests in 2014-2015 over his choice of closer relations with Russia, rather than with the EU, triggered Russia's first invasion of Ukraine. It illegally annexed Crimea and began its active support to the self-declared republics of Luhansk and Donetsk in eastern Ukraine. Up to the start of this year, 14,000 people were killed in the battle between the separatists and Ukraine's forces and militias.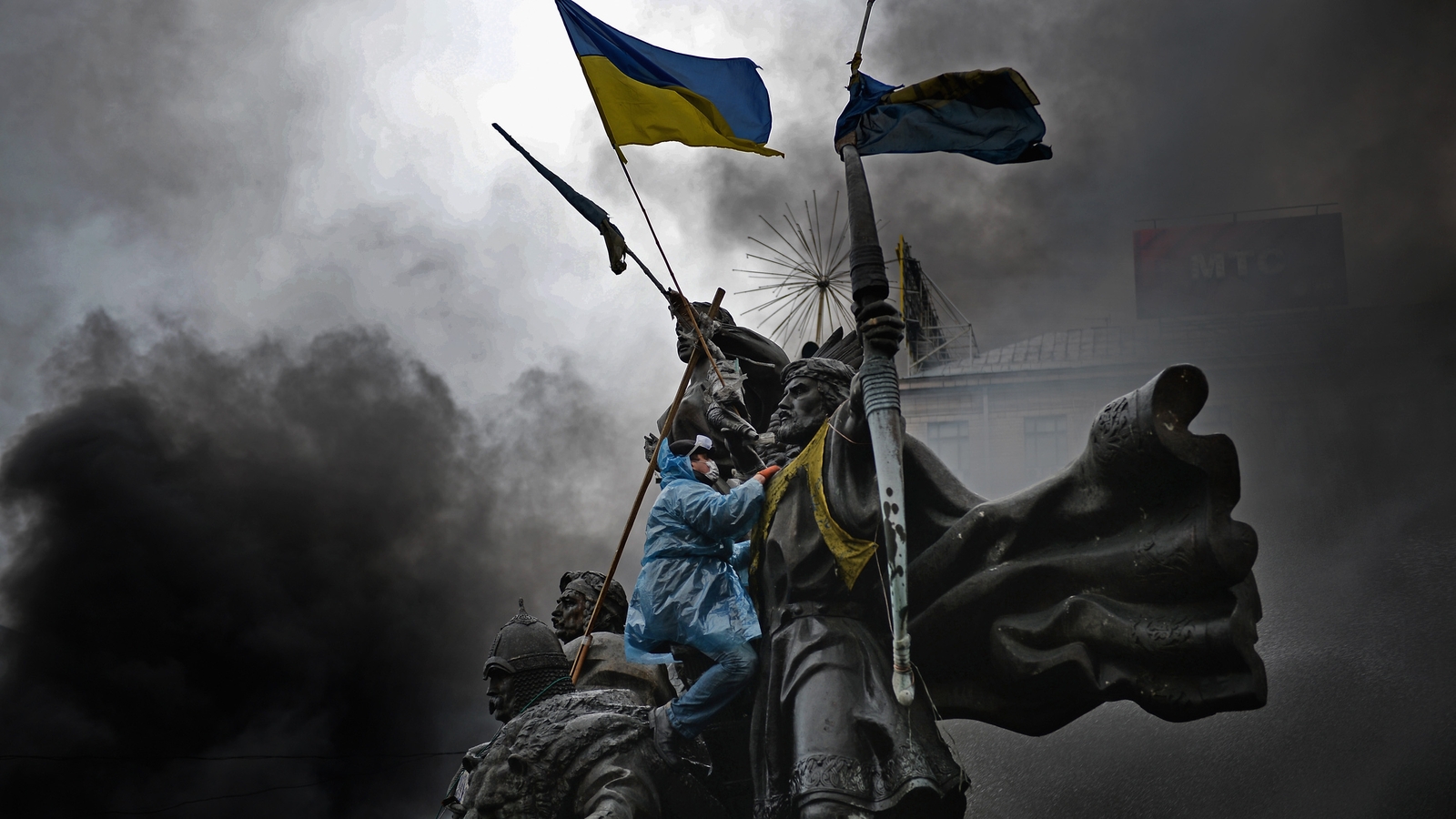 Vladimir Putin's stated war aims in the current invasion are to demilitarise and "denazify" Ukraine. Demilitarisation is taken as shorthand for permanently ending any ambition to join NATO and possibly even the European Union. But as a pretext for invasion, potential Ukrainian NATO membership is a weak one.
As Russian forces are finding out on the battlefield, NATO has provided increased arms training to Ukraine's armed forces since 2015. But Kyiv has moved no closer to actual membership of the alliance. On the contrary, its candidacy has been in deep freeze since 2008. A live conflict with Russia on its border, which would run the real risk of triggering NATO's mutual defence clause and a wider conflict, left many existing members queasy about the prospect of full admission.
"Denazification" and protection of Russian speakers are yet weaker grounds for invasion of Ukraine. Three years ago, in Volodymyr Zelensky the country elected a Russian-speaking, Eastern Ukrainian Jewish television comedian who promised to try to make peace with Russia.
But Vladimir Putin does not have to justify the contradictions underpinning his invasion to a home audience. He controls the domestic media. He has passed laws punishing anyone who strays from the description of the invasion as a "special military operation". Russian casualties will tell their own story about how welcome Moscow's intervention has been. Ukrainians know the reality of this war only too well.
Stories from the war
Emma O Kelly
In Poland earlier this month, surrounded by so many fleeing Ukrainian children whose lives have been devastated by war, I kept thinking about a book I loved as a child. It is Judith Kerr's 'When Hitler Stole Pink Rabbit'. It is the story of a Jewish girl forced on the eve of World War II to flee her home in Berlin and leave so much of her life - including her beloved stuffed toy 'pink rabbit' - behind her. It is semi-autobiographical.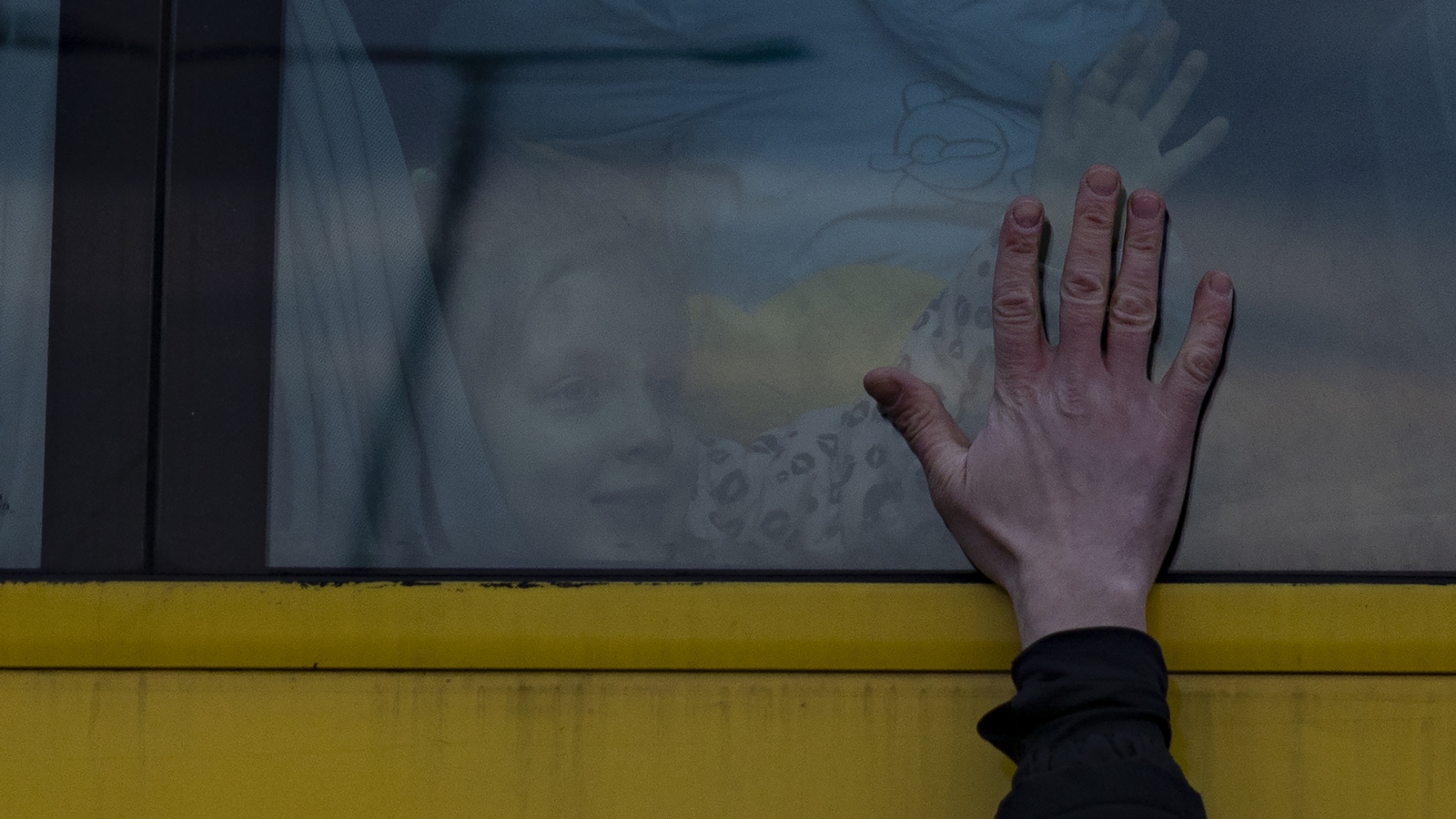 It was the favourite book too of a chatty little girl I met in Ireland in 2007. She was a refugee from Somalia, a cousin of that year's BT Young Scientist winner. We talked briefly about books and what we liked and I was struck by the fact that the story of the child refugee is a universal one, crossing all boundaries of race, religion, and geography.
In Poland the children I met did not tell me their stories, but their mothers and their grandmothers and their older sisters and their brothers did. "Niet!" exclaimed one grandmother, as she threw her arms out to signal total destruction, she tugged at the shirt she was wearing and gestured to her few bags. Even though she spoke Russian her meaning was clear. "These clothes that I am wearing, these few bags, this is all that is left of the life I had."
She held up her phone and showed us a photograph of the blackened shell of the Kharkiv apartment building that had once been her home. Her daughter urged her little boy's schoolbag upon me, showing me copybooks with neatly written exercises. She held them towards me in a kind of dismay or disbelief, as if to say "can it really be that the life we had - this precious life of order and routine - is gone?"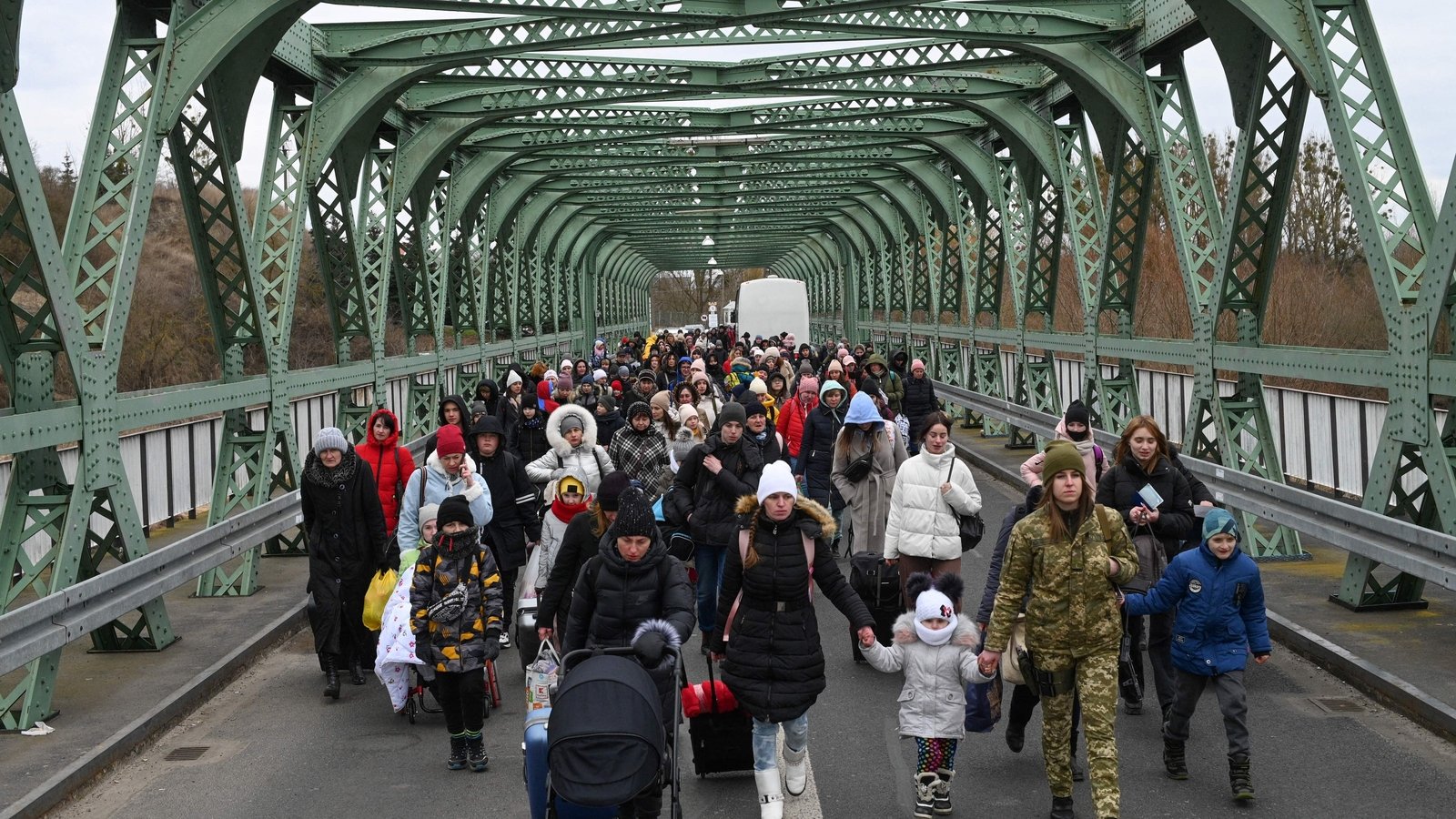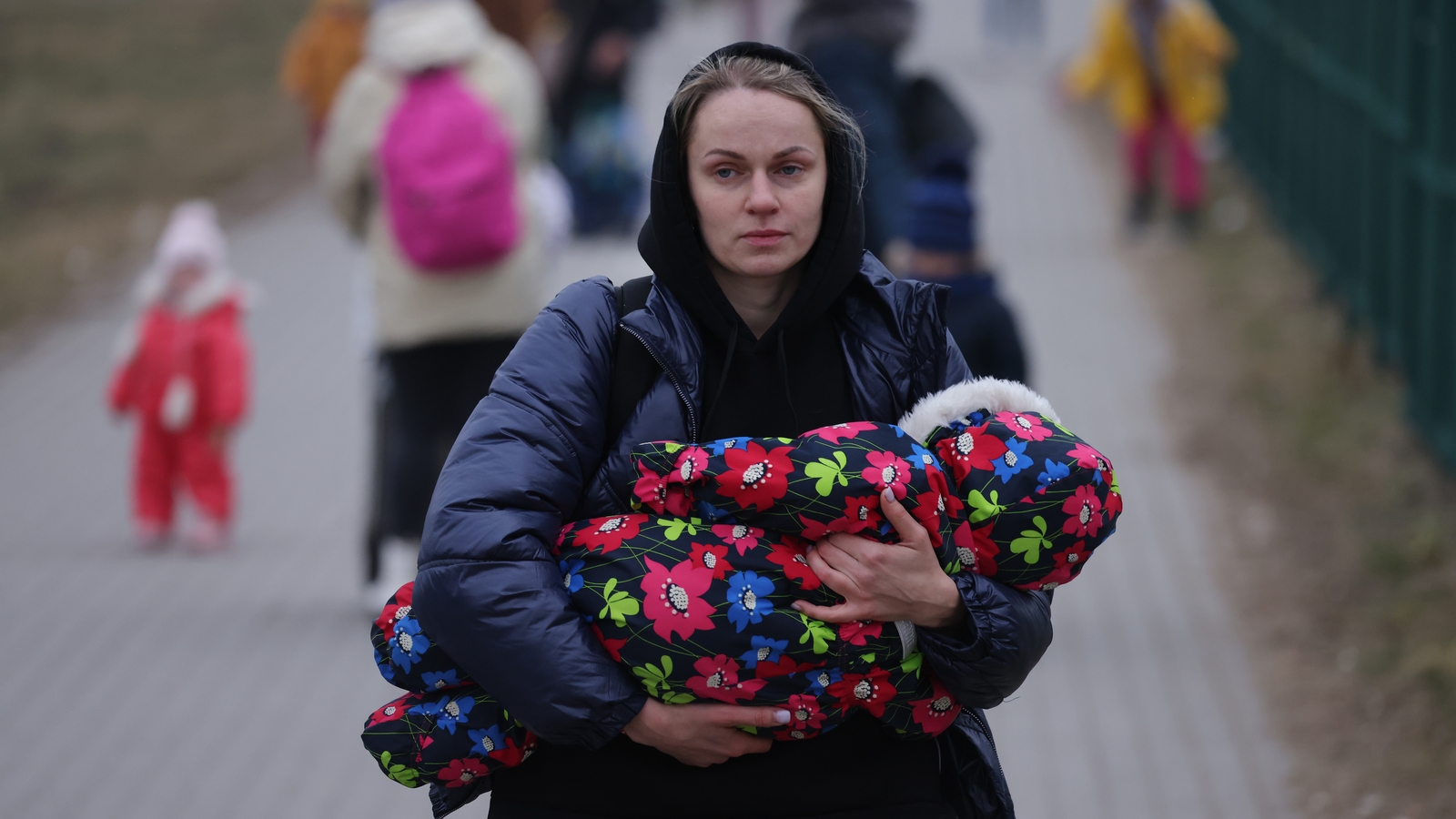 The children did not tell me their stories, but some of their actions too spoke volumes.
As we filmed an interview with another mother, a child stepped in front of the camera. Gazing silently into the lens, he raised the long thin stick he was carrying, he loaded his imaginary rifle - even making the 'chk-chk' sound - pointed it directly into the camera, and fired.
The next day, at a museum which commemorates the many thousands of Polish children in that part of Poland whose lives were destroyed by the Nazi carnage of WWII, my colleague, cameraman Paul Deighan, held a photo of that little boy against the pictures of those children. Despite a gap of almost 80 years the similarity was uncanny. We saw the same child, the same soulful expression.
At the reception centre for refugees, I watched dazed and exhausted children being taken off buses that had just come from border crossings, many of them clutching their own worn soft toys, or ones given to them to comfort them upon arrival. I remembered Judith Kerr's book and it felt staggering to think of the magnitude of damage - wanton damage - that is being wrought once again in so many individual lives, each one of these children at the centre of their own individual story of trauma and devastation and loss.
The world responds
Gail Conway
The world awoke, stunned, to news of Russia's invasion of Ukraine. Despite Western intelligence warning of such an eventuality, it sent shockwaves through Europe and around the globe. And it confirmed the worst fears of the West with the biggest attack by one state against another in Europe since WWII, and the threat of it leading to the start of a new world war.
Global leaders spoke of these being "among the darkest hours of Europe since WWII" and "a turning point in history", warning that "the world will hold Russia accountable".
As the weeks went on, scenes from the besieged city of Mariupol were "apocalyptic", Putin was labelled a "war criminal", with Russia accused of "horrific acts of genocide" in Ukraine. The International Criminal Court chief prosecutor launched an immediate investigation after Russia was accused of bombing civilians.
But one month into the war, Zelensky and the people of Ukraine are still pleading for the world to do more, and to help them close their skies.
The aggression shown by Russia towards Ukraine has seen the oft-slow EU spurred into faster action and in a more unified manner than seen in decades. But Kyiv's request for fast-tracked EU membership cannot be met for now.
On the ground in Ukraine, Western-supplied weapons, backed by years of training and funding, have helped the country's military to bloody the Russian invaders on multiple fronts. Unprecedented sanctions have been imposed by the US and Western allies on Russia, crippling the rouble and stock market, while going after Putin's wealthy supporters. European countries opened their borders and waived visas for people fleeing the country, and sent humanitarian aid to those left behind.
But as he addressed parliaments around the world with emotive speeches, and to standing ovations, Zelensky over the past month made continued appeals for the West to offer more aggressive support, impose more sanctions, and repeated appeals for a no-fly zone.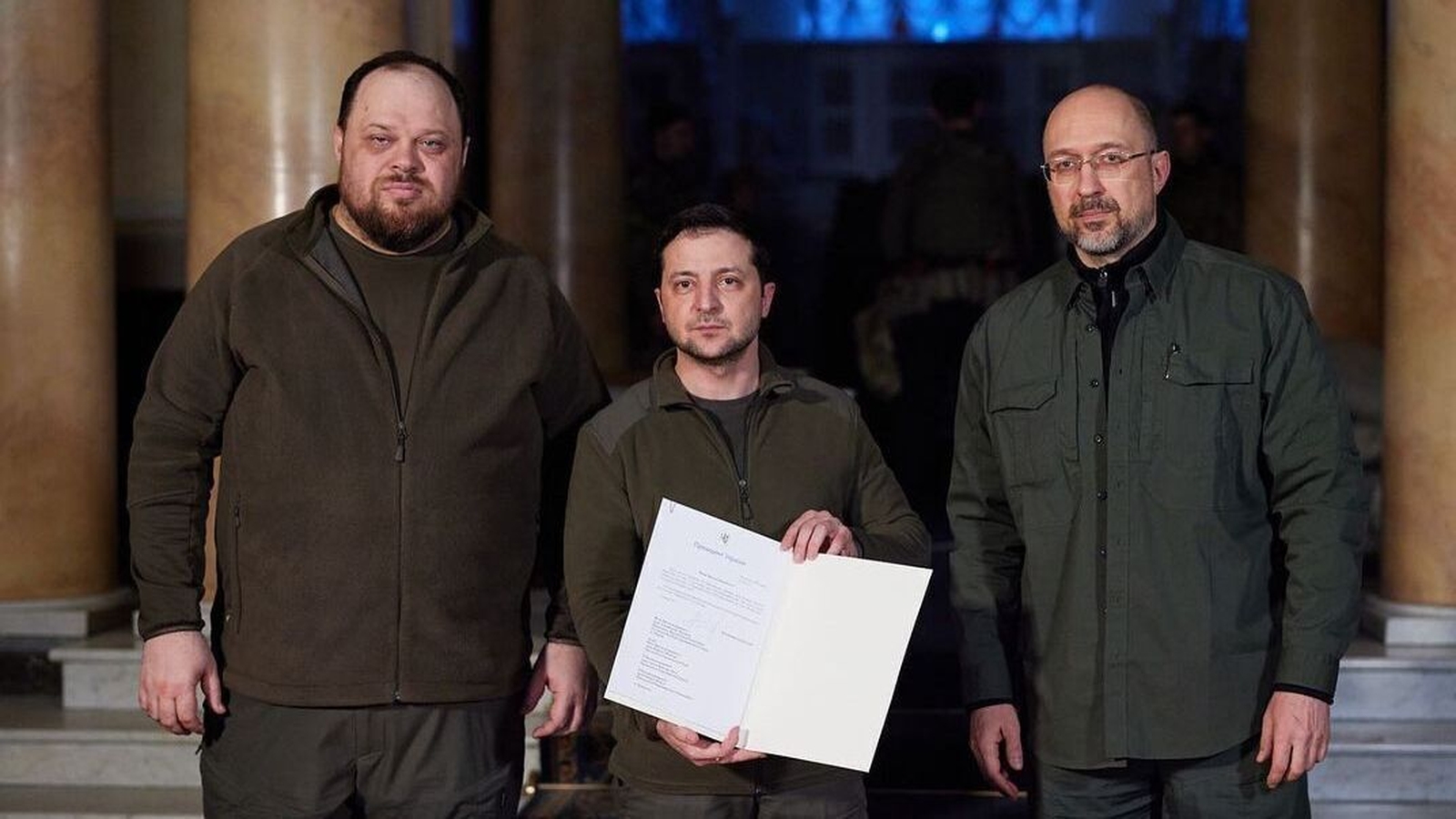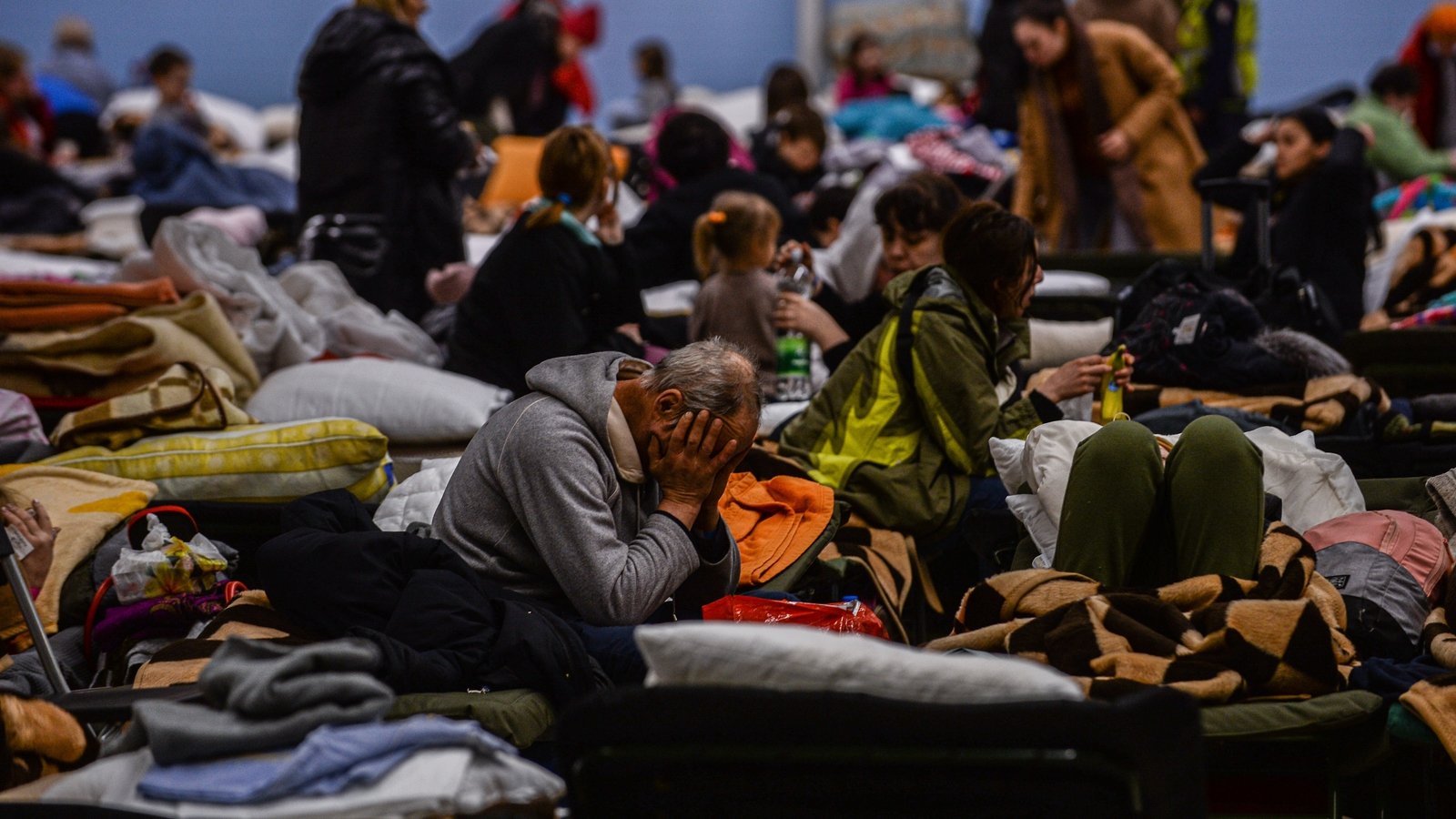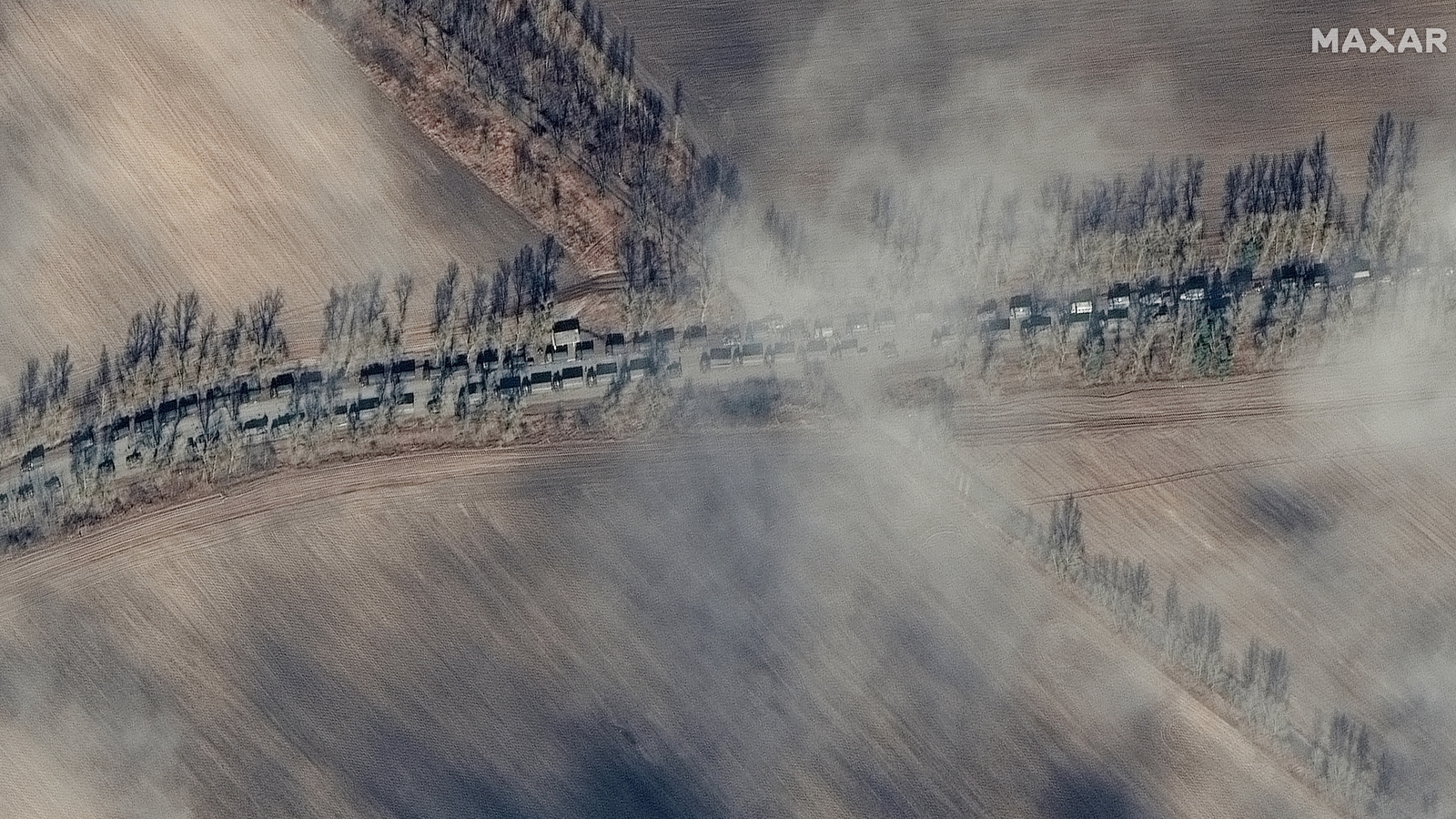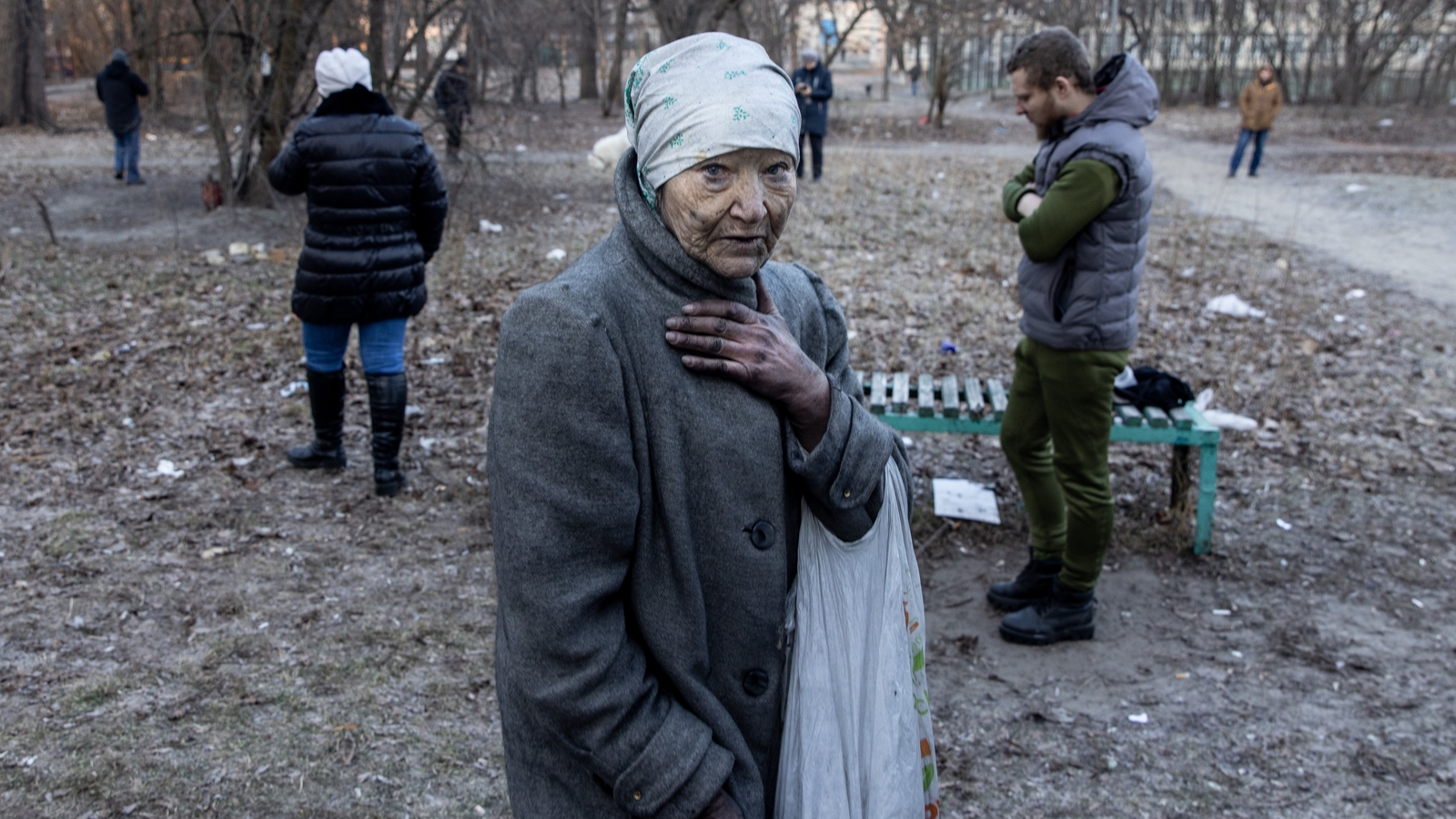 This is a crucial week for the West. The possibility that Putin could use biological, chemical or even tactical nuclear strikes in its invasion of Ukraine will be one of the dire scenarios being discussed at back-to-back NATO, G7 and EU summits.
To prevent a direct war breaking out, the US and NATO have flatly rejected appeals for a no-fly zone. But they have repeatedly said they would defend every inch of NATO territory, and would respond to even an accidental shot. Article 5 is a cornerstone of NATO membership - an attack on one NATO member is seen as an attack on all its members. NATO's chief this week pledged more troops for Hungary, Slovakia, Bulgaria and Romania as it seeks to increase its forces deployed on its eastern flank.
A flurry of diplomatic efforts between EU and Western leaders and diplomats and their Russian counterparts has had little effect in deescalating the conflict. There had been tentative optimism that some progress was being made in peace talks between Russia and Ukraine, but that optimism has faded, with some experts warning Russia may be using the time to delay and regroup before doubling down on its aggression on the ground. US President Joe Biden has warned that Putin is poised to use chemical weapons in Ukraine.
One big hole in the sanctions regime is China. As one of Russia's allies and a global power it has been urged to intervene diplomatically and to impose sanctions. But China has refused to condemn Russia's actions, instead calling for restraint on both sides.
As Russia began blitzing Ukraine four weeks ago, a simple, solitary "no" vote blocked UN Security Council action on the Ukraine war. A permanent member of the United Nations Security Council, Russia was able to veto the council's resolution. If it had been passed it would have been bound by international law.
The UN General Assembly has voted overwhelmingly condemning Russia's invasion. Unlike the UNSC these resolutions are non-binding, but they do carry political weight, and no one country can veto a resolution.
For now, UN Secretary General Antonio Guterres said the war "is going nowhere, fast". Mr Guterres said it was time for Russia to end its "absurd war" in Ukraine, declaring the conflict "unwinnable".
Despite much global support for Ukraine and President Zelensky's call to build an anti-Putin coalition, a meaningful multilateral response is still being weakened by Russia's veto power in the UNSC. Meanwhile, Ukraine and its people continue to ask the world to do more to stop the war and to end the killing of innocent people on the streets of their cities.
Solidarity with Ukraine
Ailbhe Conneely
Just as the world began to analyse the impact of the Covid-19 pandemic and the trauma of the last two years - Russia invaded Ukraine.
It occurred days before the final restrictions in Ireland were lifted. Covid-19 was still airborne, but the virus had become secondary in the minds of many as they watched scenes in Ukraine unfold on social media and on TV.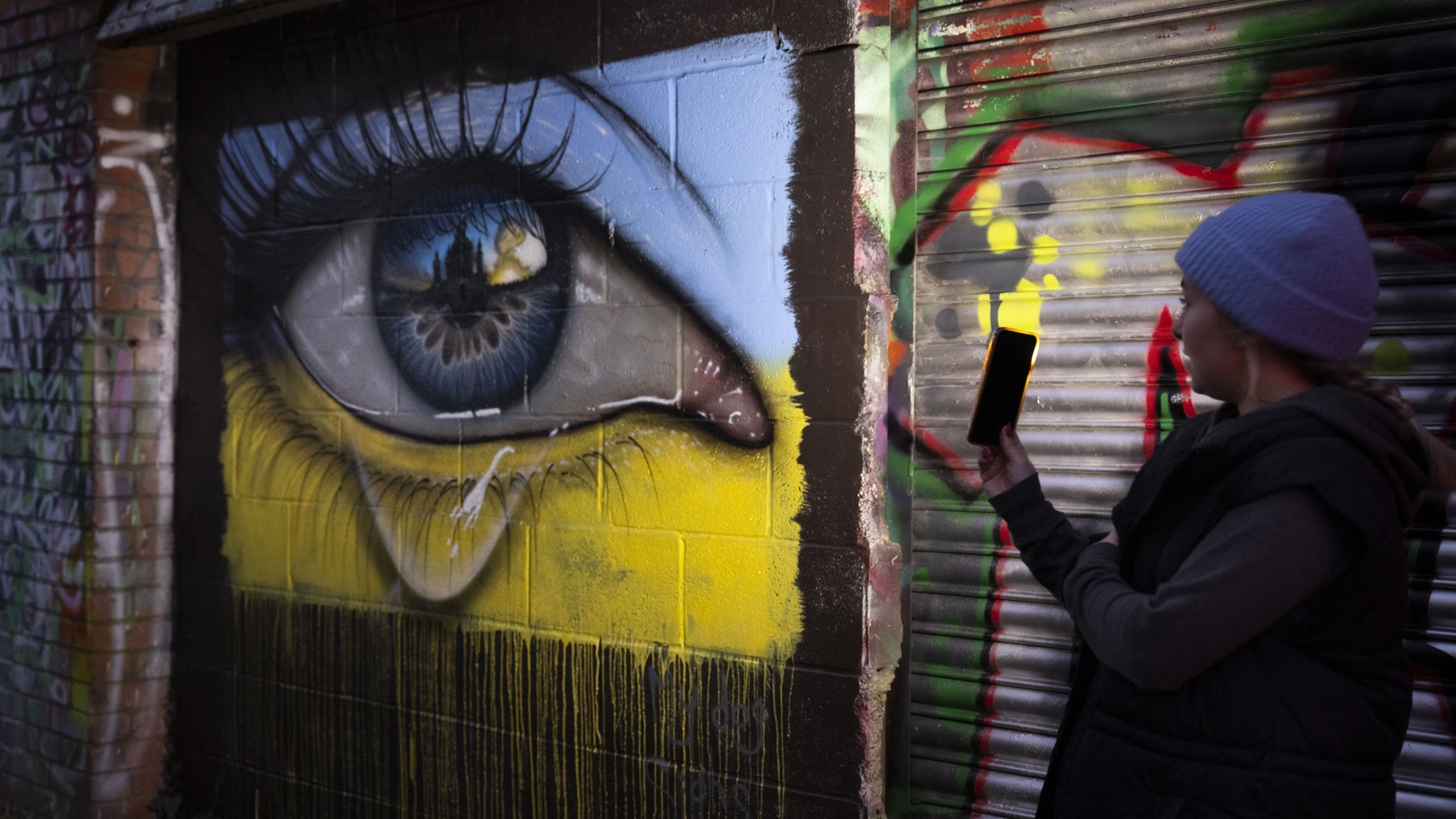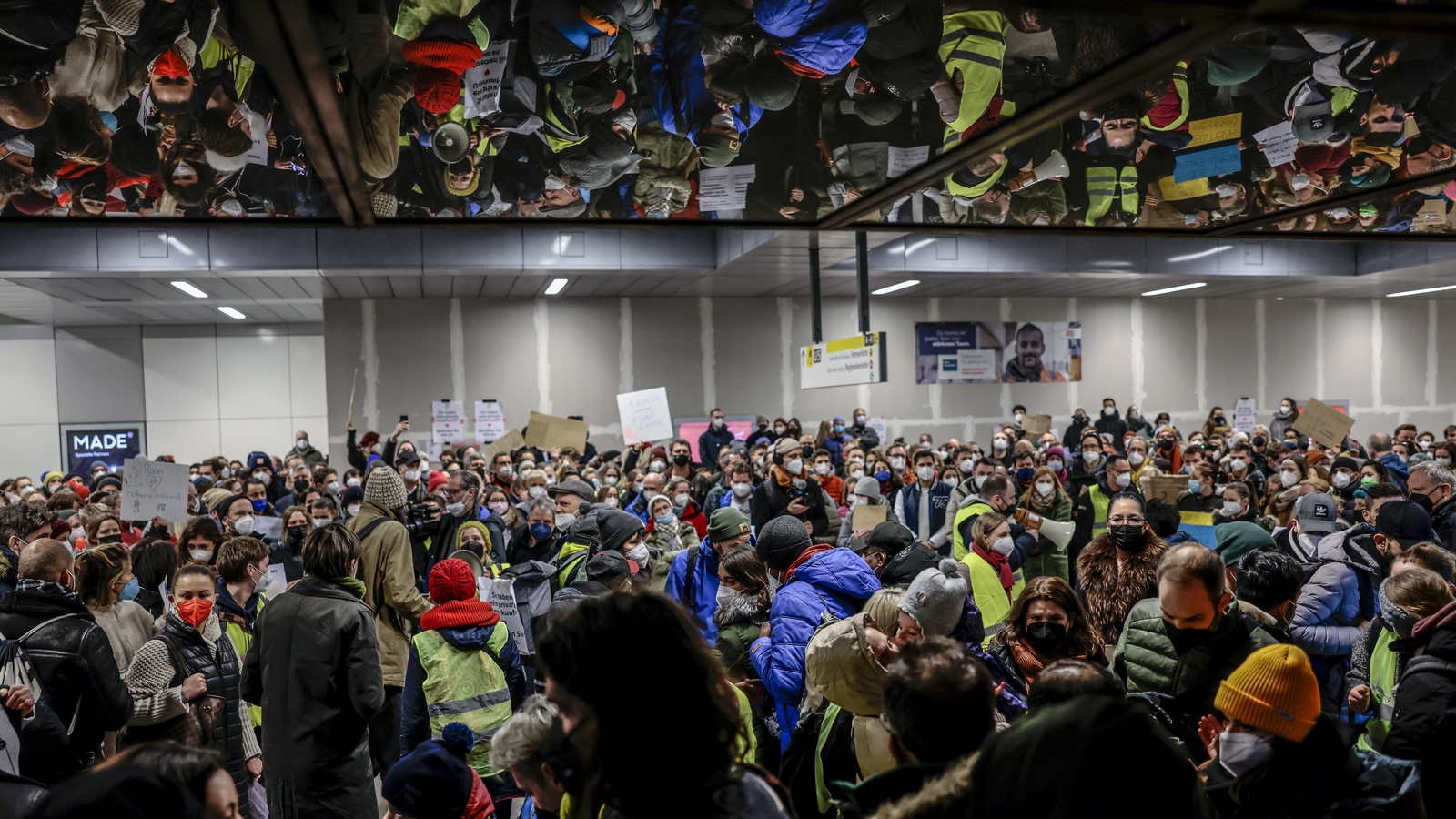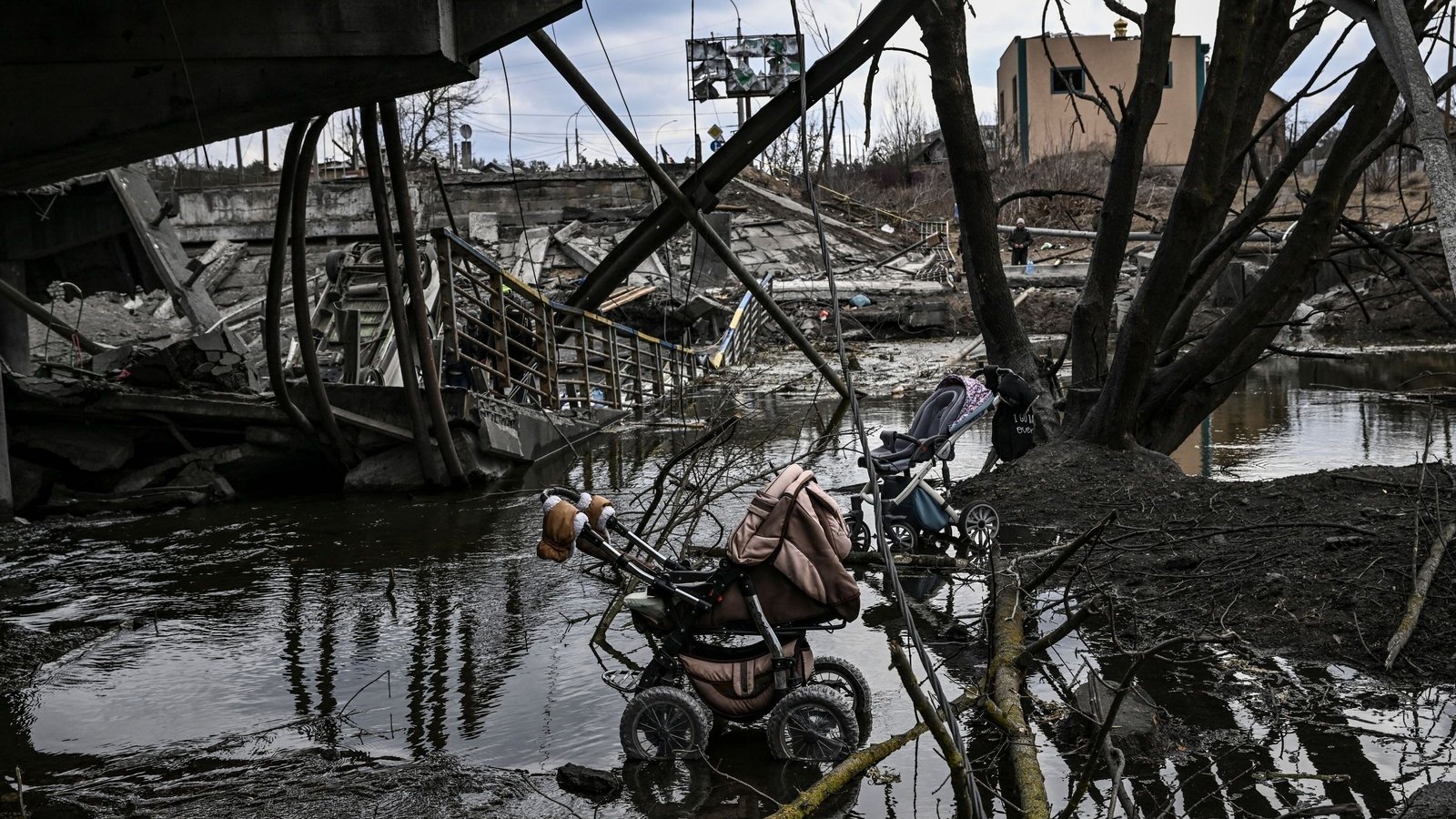 When the invasion occurred, the sense of disbelief that a physical force could uproot, threaten, and kill others, unearthed a humanitarian response that had not been seen in decades.
In Ireland, there was a sense of helplessness for the people of Ukraine. From the outset, the public wanted to assist. The Irish Red Cross and the Government jointly launched a register of pledges, enabling the public to offer accommodation to refugees. The offers were swift. Access to Personal Public Service numbers, medical cards, and education were also announced.
In early March, the United Nations launched a coordinated emergency appeal for a combined $1.7 billion to urgently deliver humanitarian support to people in Ukraine and refugees in neighbouring countries.
Irish NGOs worked with local partners in Ukraine and in neighbouring countries to help those fleeing the conflict. At home, communities and volunteer organisations loaded trucks and vans with food and medical supplies and clothes.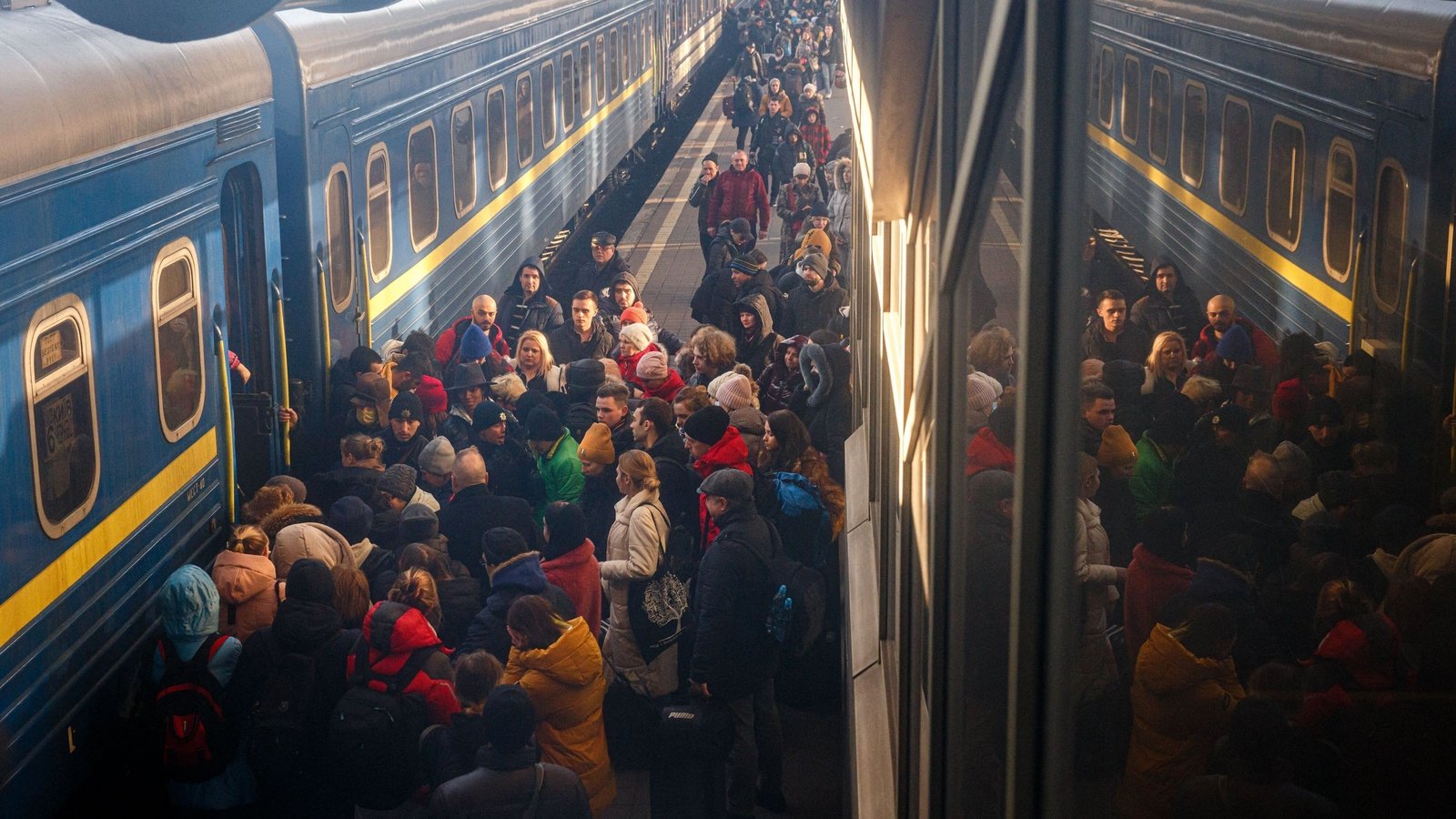 Convoys of up to 25 trucks made the arduous trek to Ukraine's borders, often repeating the journey with growing knowledge of what was urgently needed - fewer clothes, more medical supplies and food.
In the middle of March, a bus which left Cork with aid returned with 32 refugees. Around this time, the UN estimated that nearly 1.85 million Ukrainians had been displaced. Nearly 10,000 were already in Ireland - traumatised and upset but happy they were safe. Communities provided the support they needed.
Schools opened their doors to children, Google translate became the go-to aid in many classrooms, Ukrainian mothers who waved their children off at school could finally breathe - albeit apprehensively.
On 22 March, Tánaiste Leo Varadkar told the Dáil that up to 40,000 refugees are expected to have arrived in Ireland by the end of April. By mid-March between 2,000-4,000 of the 20,000 pledges offered by the Irish public related to vacant accommodation. The remainder were offers of shared accommodation.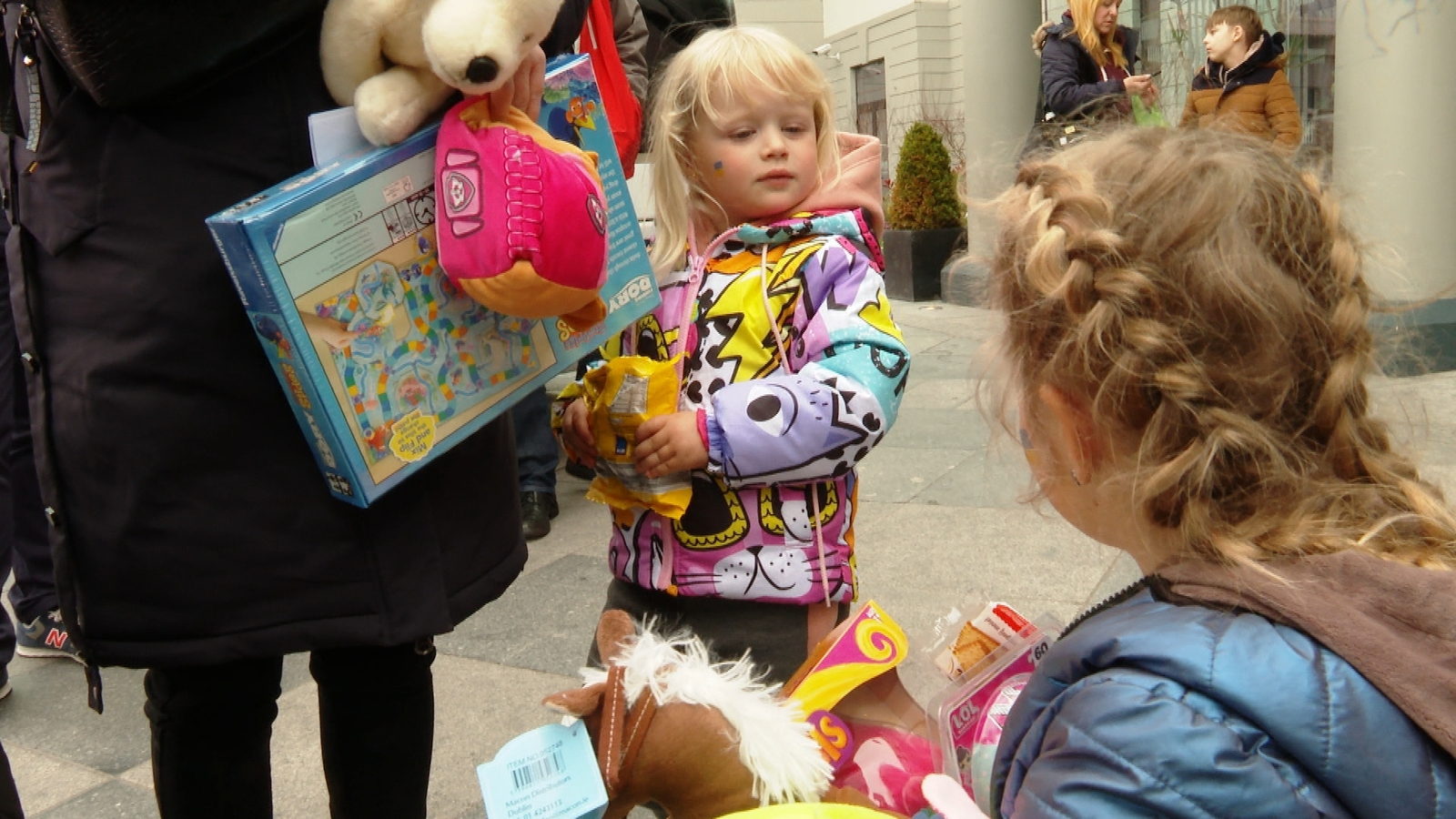 In Greystones, the Tiglin charity, which helps people recover from addiction, accommodated over 20 families. Food, toys, bicycles and musical instruments were donated by the local community - one example of the outpouring of aid that has been happening nationwide.
Internationally, Ireland has been commended for its response to those fleeing the war, however, the Government has also been subject to criticism at home for its comparatively slow response in ending Direct Provision.
Under the Temporary Protection Directive, Ireland, like other European Union member states, is obliged to offer a one-year (extendable) residence permit, ensuring rights to education, work and accommodation for the people of Ukraine.
This is a reason for the humanitarian response by the Government, however, those working with other refugees here say it raises questions about solidarity shown towards others seeking refuge and safety in this country.
Putin and Russia's place in the world
Fiona Mitchell
One month on from the invasion of Ukraine and the Russian President is fighting wars on several fronts.
In Ukraine, a serious miscalculation of the scale and speed of the military intervention has left the Kremlin bombarding cities and civilians as Russian troops advance at a glacial pace.
All signs are that Moscow expected a short, sharp war which would by now have seen the Ukrainian government overthrown and a pro-Moscow puppet regime installed in its place. It could not have been more wrong. The Russian army has instead been confounded by the tactics of a Ukrainian army Moscow appears to have underestimated, and a Russian army it appears to have overestimated.
The miscalculation in the battlefield was swiftly followed by a miscalculation in how the West would react to the invasion. The sweeping nature of the sanctions imposed on Russia exceeded what anyone - in either Russia or the West - would have expected just a few short months ago.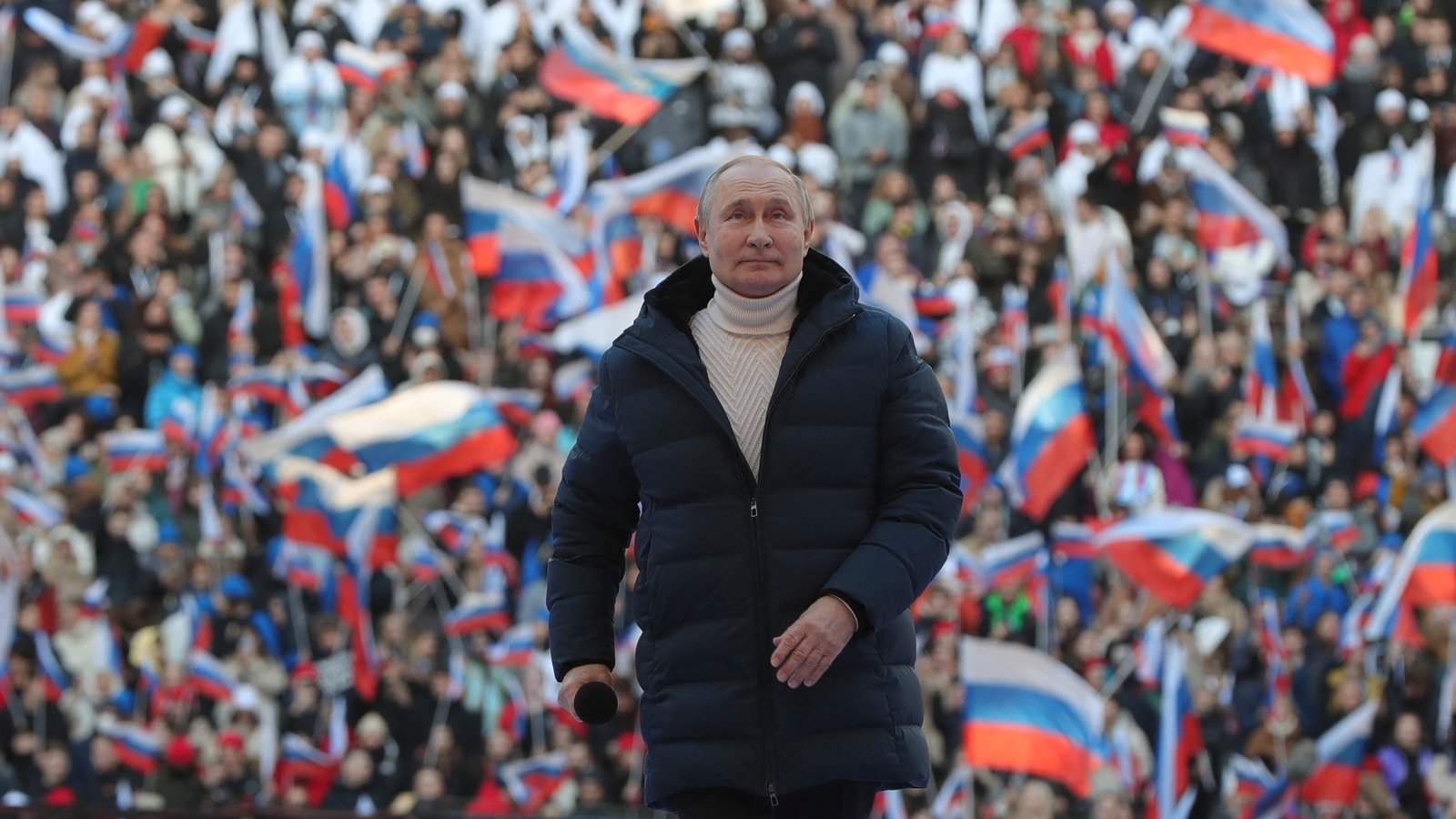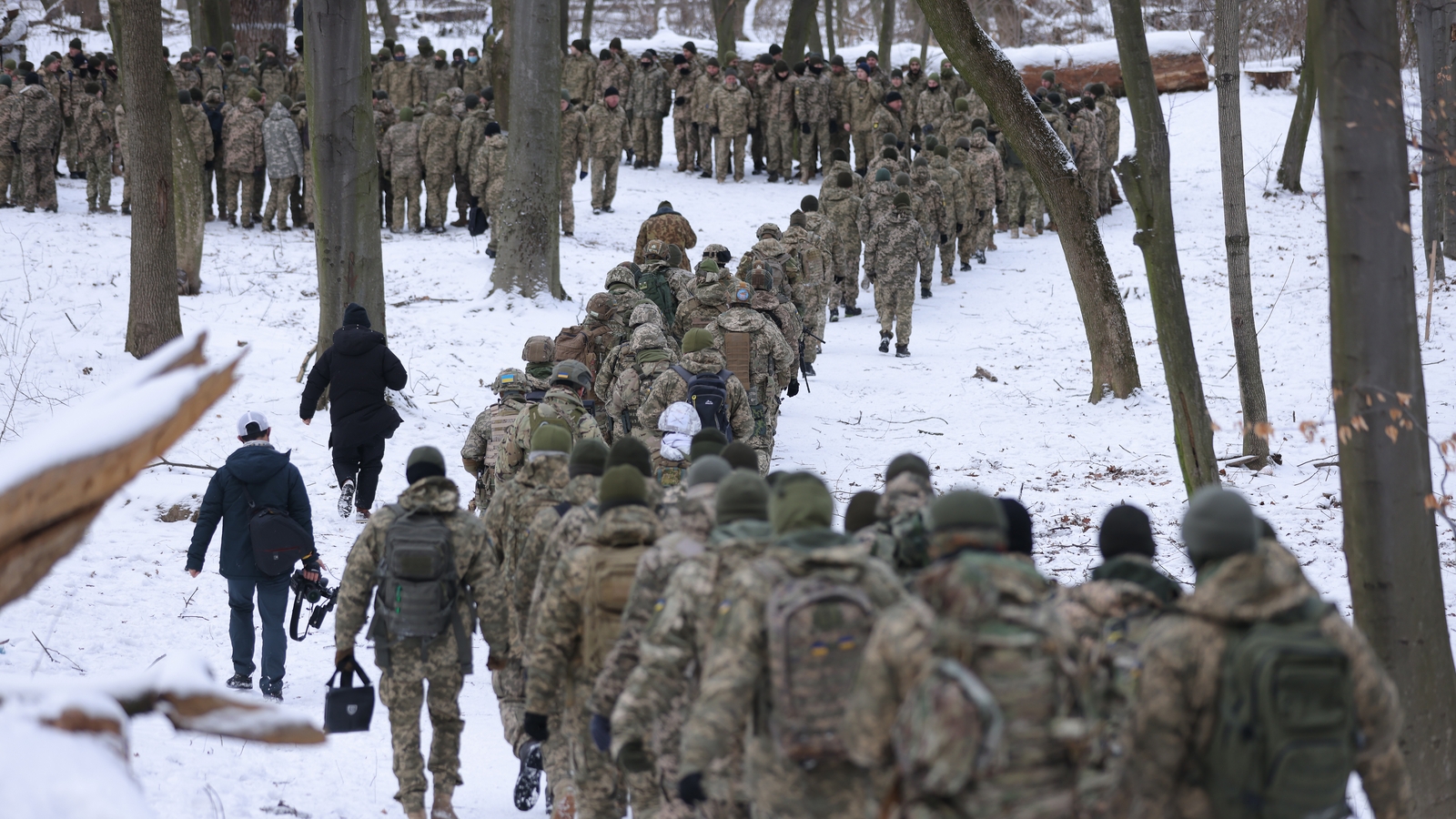 Leaders who have not been short of divisive issues in recent years have so far shown remarkable unity, knowing that the geopolitical landscape has changed forever. For the Russian President, it means trying to counter-balance the shock to the Russian financial system, the swiftest and sharpest to any economy in modern times.
That economic shock also leads on to the third battle for Putin, namely controlling how Russians view the war, and the very real effect it is having on their lives. Sweeping restrictions on independent media and opposition critics have not stopped some anti-war protests in Russia, with thousands arrested over the last four weeks.
There is support for this war in Russia, as the Kremlin continues to present this as a "special military operation" which is "denazifying" and liberating Ukraine. That is a stance that will have to be maintained, as the war drags on, sanctions bite further, more Russian soldiers die, and perhaps even more repressive measures are introduced.
Whatever the Kremlin's miscalculations so far, and whatever may yet lie ahead, nothing has yet stopped Vladimir Putin. This is his battle, and his future depends on it. For that reason, it is hard to imagine any resolution to this conflict unless Putin can present it as an outright win.
A compromise has not been in his vocabulary and seems unlikely to happen anytime soon. The increasingly totalitarian approach in Russia is reflected in increasingly devastating consequences for the people of Ukraine. One month on, it seems very likely that further anniversaries will be marked before this war ends.
Russia raises the nuclear threat
Oonagh Smyth
News of the capture of the Chernobyl nuclear power plant in northern Ukraine, on the first day of Russia's invasion, caused alarm throughout the world.
Chernobyl is synonymous with nuclear disaster - it was the site of the worst nuclear power plant accident in history on 26 April 1986. The accident left 30 dead from the immediate blast and caused at least 4,000 longer-term deaths. It resulted in widespread radioactive contamination across Europe, including in Ireland.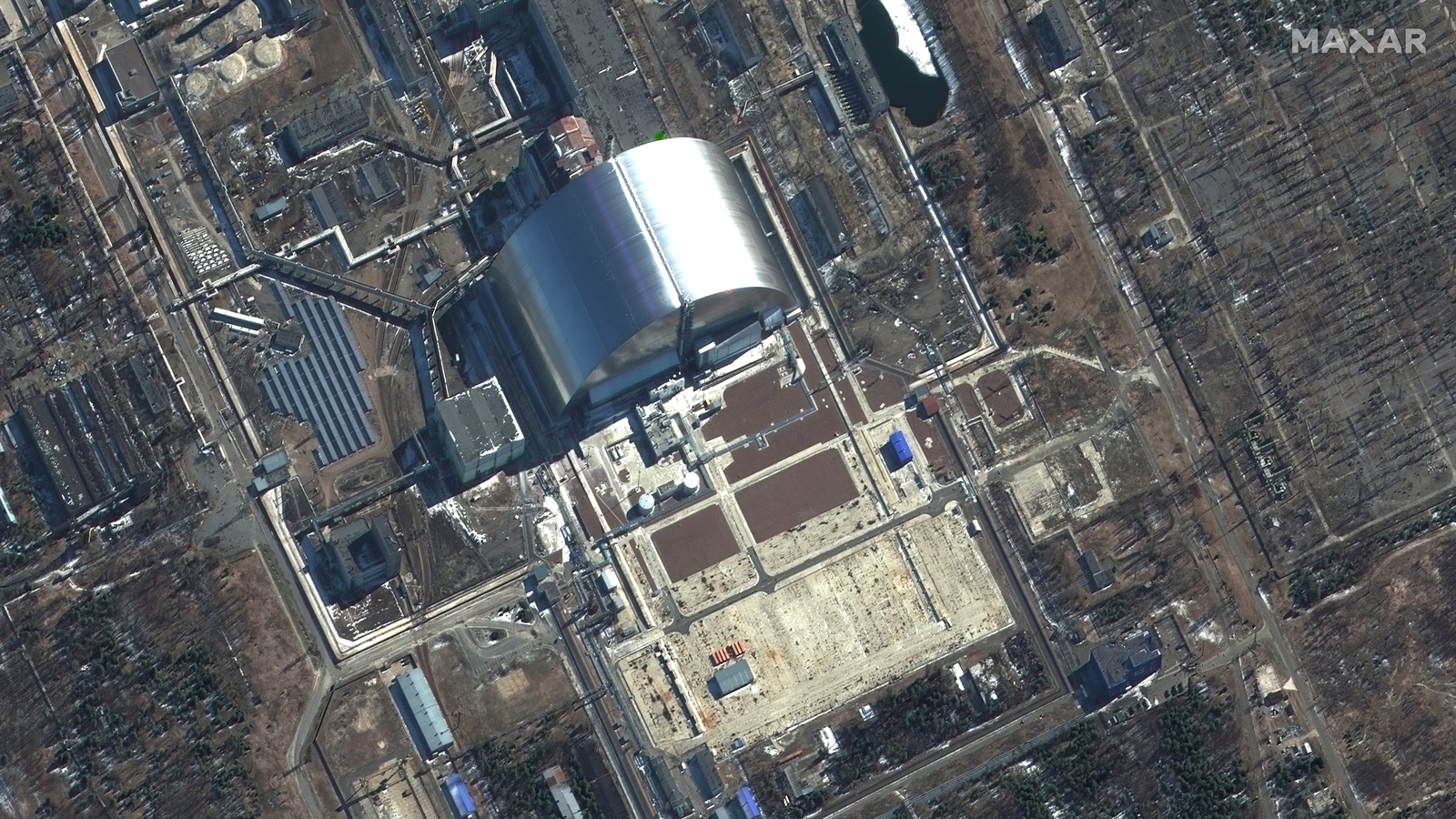 Fear about Russia's takeover of the now-defunct nuclear plant was somewhat quelled, however, by the international nuclear watchdog, the International Atomic Energy Agency (IAEA), which stated that there was "no critical impact on safety" at the plant.
But the threat of unmonitored radiation leakages or an explosion goes beyond Chernobyl.
The reckless manner in which Russian forces took control of a second nuclear power plant, Europe's largest, at Zaporizhzhia, on 4 March ratcheted up fears again that Russia was prepared to risk nuclear disaster.
Zaporizhzhia, which is one of four operating nuclear stations in Ukraine, was captured by shelling in the vicinity. This led to an adjacent building catching fire. Had the fire got out of control, it could have triggered an explosion at the plant.
On 21 March, the IAEA gave reassurance that current radiation levels at all Ukrainian nuclear plants are "in the normal range and safety systems are operating" from information provided by the Ukrainian regulatory authority.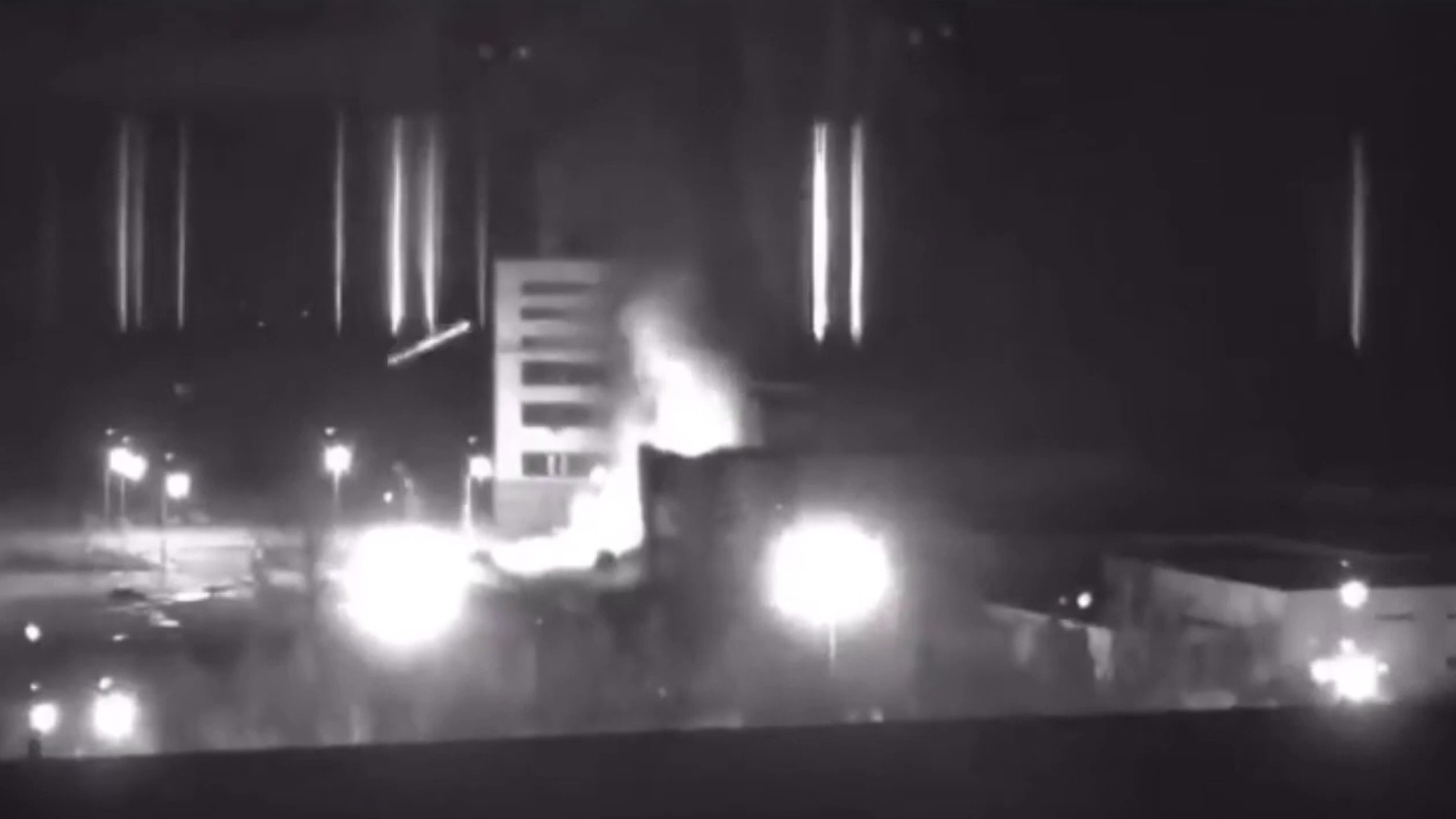 The biggest nuclear threat posed by Russia, however, is believed to be from the nuclear weaponry it holds - and its potential to use them.

On 24 February, when Putin announced the invasion of Ukraine, he warned that, if Western nations became involved, they would face "consequences greater than any you have faced in history". Just days later, he ordered that his nuclear weaponry be placed "on high alert". Russia was making an unmistakable nuclear threat to the West.
Until this moment, for 30 years, a nuclear confrontation between Russia and Western powers was considered unthinkable. The ending of the Cold War between the US and Russia, which lasted from the end of the Second World War until 1991, when the Soviet Union collapsed, was supposed to have eliminated a global nuclear threat.
Since 1991, a number of treaties agreed between Russia and the US led to a reduction in nuclear weaponry and a reversal of the Cold War era's endless stockpiling of such weapons in pursuit of a defence policy of "mutually assured destruction". This meant that, if either side launched a nuclear attack, the other would counter attack, causing the annihilation of millions of people in both territories.
According to the Stockholm International Peace Research Institute today, Russia has 6,255 nuclear warheads - compared to the US's 5,550.
Because there is no clear path for victory for Russia through the use of conventional warfare, the fear is that a "cornered" Putin would be prepared, not just to use chemical or biological weaponry, but potentially to go further than that.
Deep fakes, influencers and cyber wars
Brian O'Donovan
The person in the video appeared to have Ukrainian President Volodymyr Zelensky's face. He was wearing his signature combat green clothing while delivering an address in front of his usual grey backdrop bearing the presidential seal. But something was off. The Ukrainian leader's neck was too long and it didn't move in tandem with his head which seemed too large for his body.
The words he was speaking were also off. He was telling his countrymen to lay down their arms and surrender. The video message surfaced online last week and was broadcast on a Ukrainian TV channel which had reportedly been hacked. It was quickly exposed as a 'deepfake' - a manipulated video designed to deceive viewers. This was not a particularly convincing 'deepfake' and was easily spotted but it was just another example of the role disinformation is playing in the current conflict.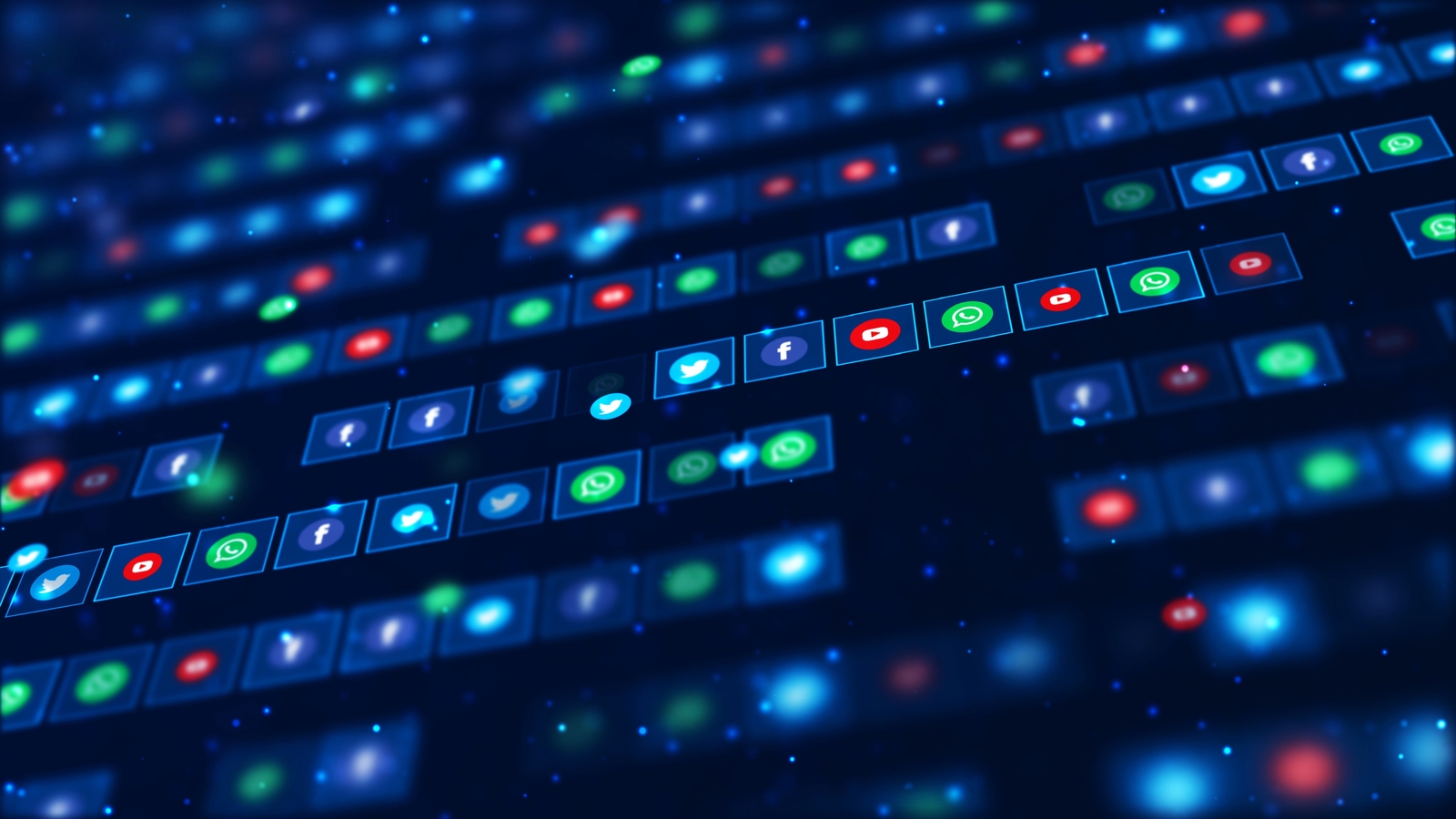 Within Russia, the Kremlin continues to peddle its own version of the Ukraine invasion or "special military operation" and has taken bold and sweeping action to clamp down on the truth.

Social media companies have been banned and restricted.
On Monday, a Russian court sided with the country's prosecutors granting their request to officially label Meta, Facebook's parent company, an "extremist organisation".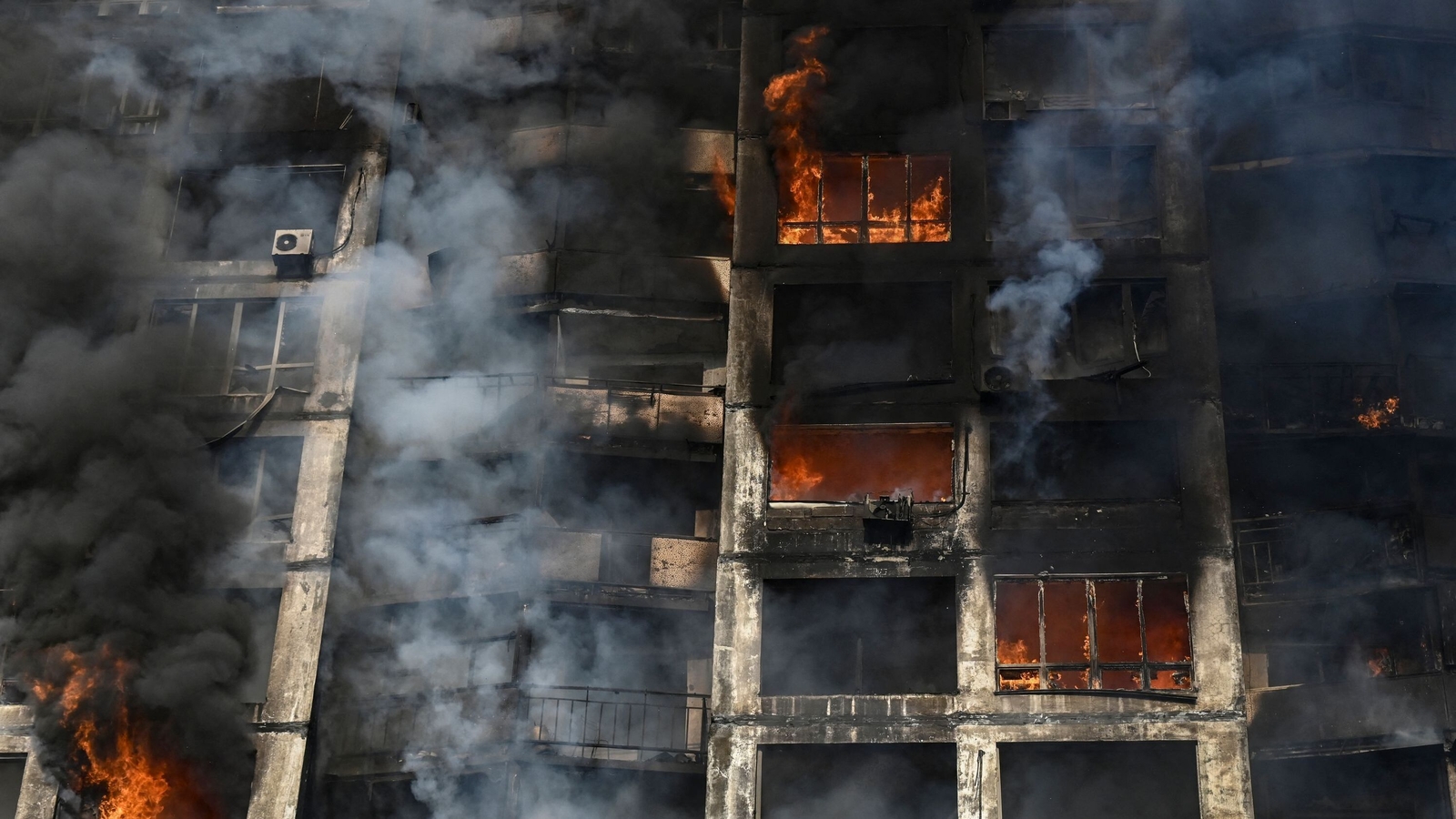 Vladimir Putin has outlawed the spreading of "fake information" about the war, an offence punishable by up to 15 years in prison. While the Russian people may not be able to view the horrors of the invasion online, the rest of the world can.
The dominant role of social media in this war is on a scale that we have not seen before. The most powerful messages come from ordinary Ukrainians documenting how their lives have been devastated by the invasion. On Facebook, Twitter, Instagram and TikTok they post videos and photos of the chaos.
It has highlighted the scale of the destruction and struck a chord with younger people who would not normally engage with traditional news media.
Influencers and beauty bloggers who usually post from nightclubs and chic venues are instead giving us tours of bomb shelters and running through ruined city streets while air raid sirens ring out. It has connected their millions of followers to a war that would otherwise seem very far away.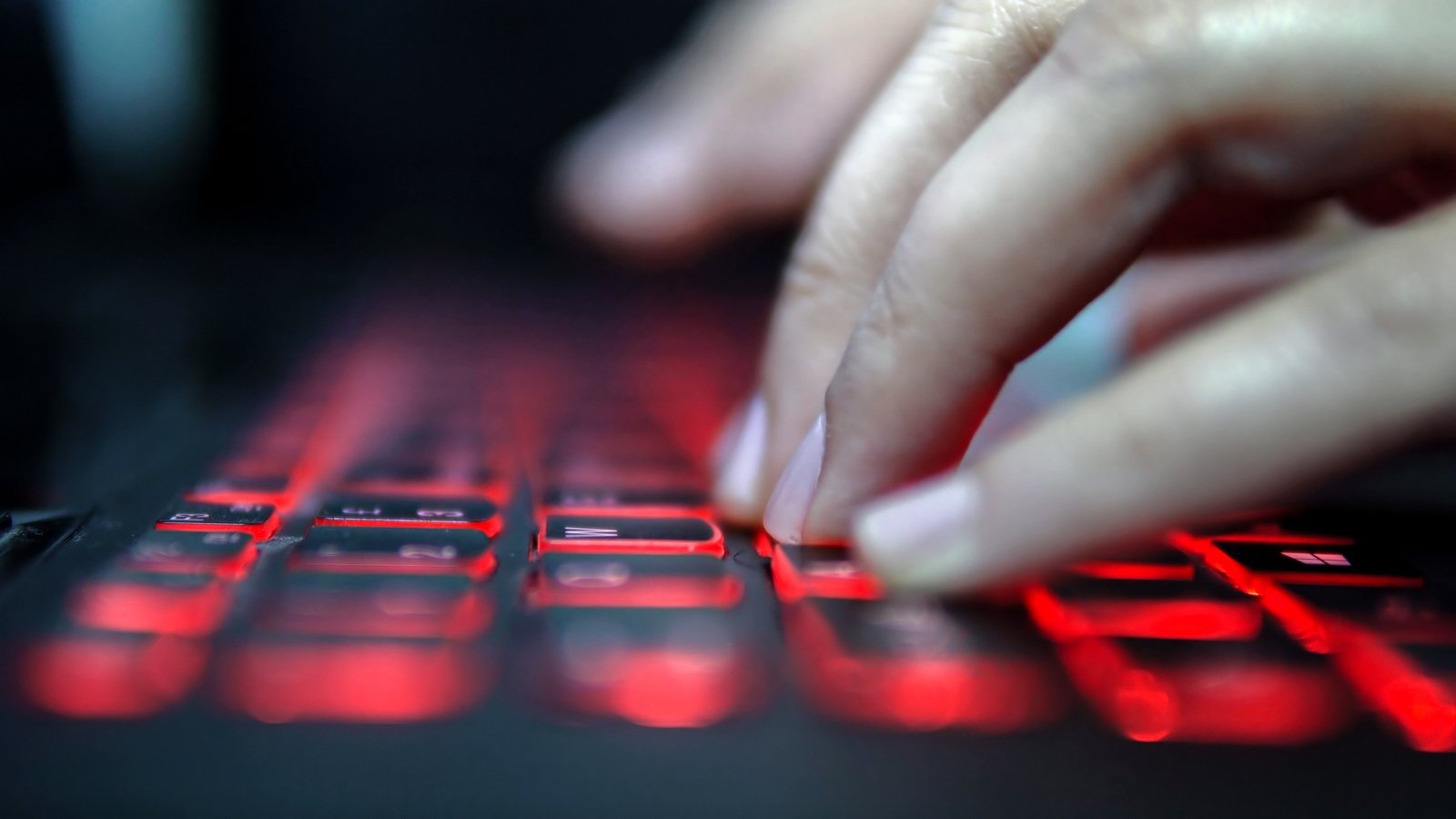 Another reminder of our interconnected world can be seen in the area of cyber security. There has been a big jump in online attacks since the start of the invasion with both Ukraine and Russia using hackers to cause disruption but there has also been a rise in cyber crime and online scams. Criminal gangs will often try to take advantage of global unrest in the hopes of profiting from the chaos.
The Irish Government's National Cyber Security Centre said it is currently operating at a heightened state of preparedness as a result of the tensions.
Irish businesses are being advised to boost their cyber defences.
In the world of modern warfare, disruption can reach far beyond traditional battlefields and conflict zones.
The invasion of Ukraine has also highlighted the power of social media when it comes to spreading both information and propaganda.
A badly photoshopped fake video drew ridicule online last week but as technologies evolve, governments and hackers will increasingly turn to the virtual world to win wars and to shape the stories of the battles they are fighting.
War in the bread basket of Europe
Joe Mag Raollaigh
The war in Ukraine has reminded Ireland and the world of our interdependence when it comes to food.
Ireland prides itself on its ability to produce food; the agri-sector and government ministers often remind us that we produce enough food to feed 40 million people. Indeed, late last year Ireland was assessed as the No 1 country in the world for food security by the Economist Intelligence Unit. But that was all before the war.
With the loss of Ukrainian exports of wheat, maize, barley and plant oils due to blockades of Black Sea ports by Russian ships and the loss of Russian exports of grain and fertiliser due to the resulting sanctions, Ireland and its EU neighbours suddenly woke up to the fact that our very specialised models of agriculture (dairy and beef) left vulnerabilities in the system.
The stark truth is that we only grow 2.2 million tonnes of the 6 million tonnes of grains we use in the country. And with the world markets in turmoil, competition for what is available and the increasing costs it commands means we could fall well short of our needs. 16% of global fertiliser comes from Russia and that is cut off too. The situation is exacerbated by large fertiliser manufacturers in other countries suspending production due to soaring gas prices.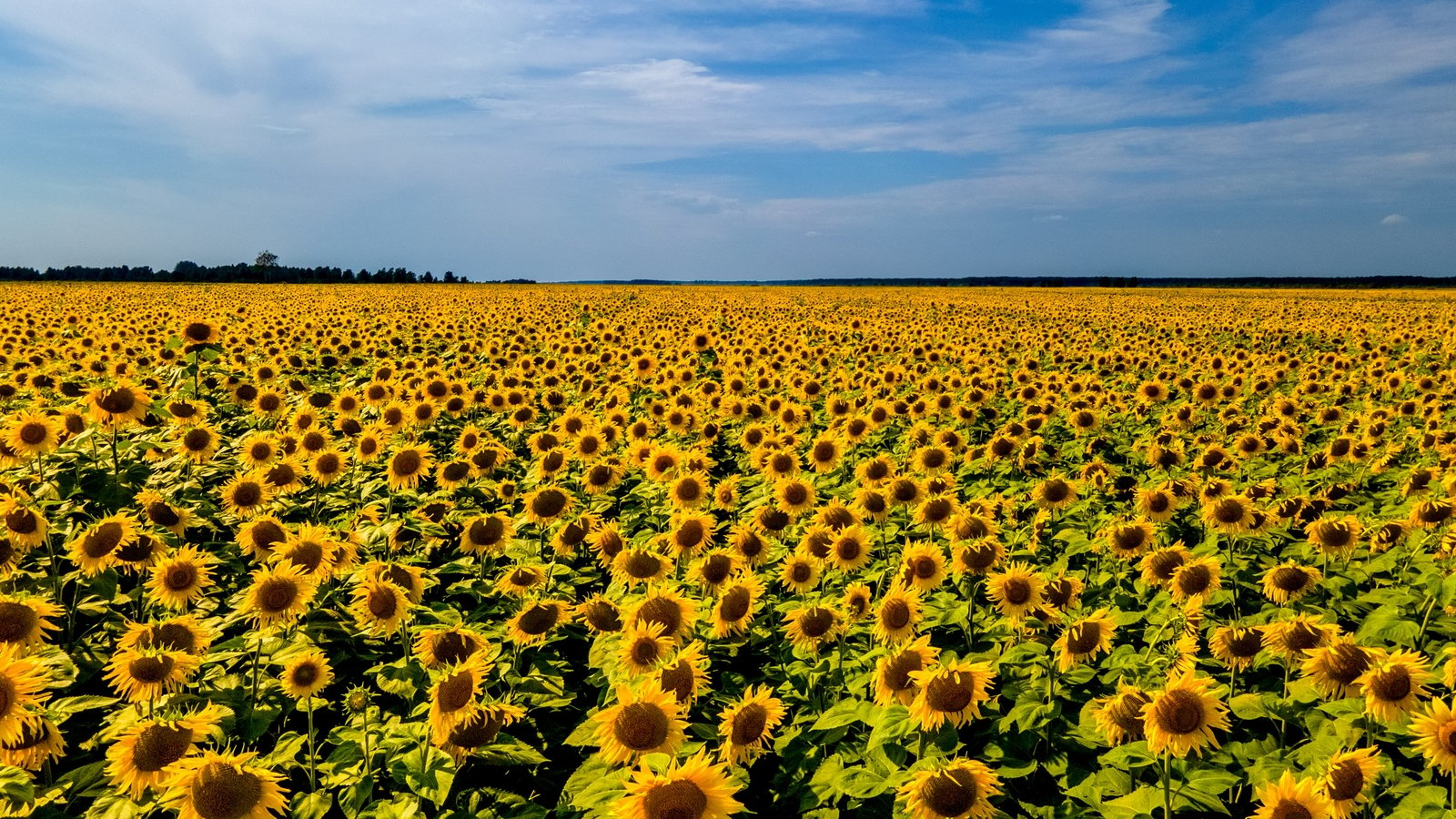 The great fear is that the situation will not be short-lived. In Ukraine right now, the bread basket of Europe, farmers who should be planting spring crops fear being shot by Russian soldiers, landmines and are even finding corpses lying in the fields. No planting means no harvest in late summer and autumn, and shortages spill into 2023 and beyond.
The effects of the war and the geo-political instability that preceded it are already apparent in prices farmers pay, and in the retail cost of produce. The latest Central Statistics Office figures show fertilser prices rose 127% in 12 months, feed prices rose 20% but have rocketed since the war began and gas and energy prices are also through the roof. This has already bled into retail food prices, the inflation rate going from 1.6% to 2.9% and it is expected to continue to rise.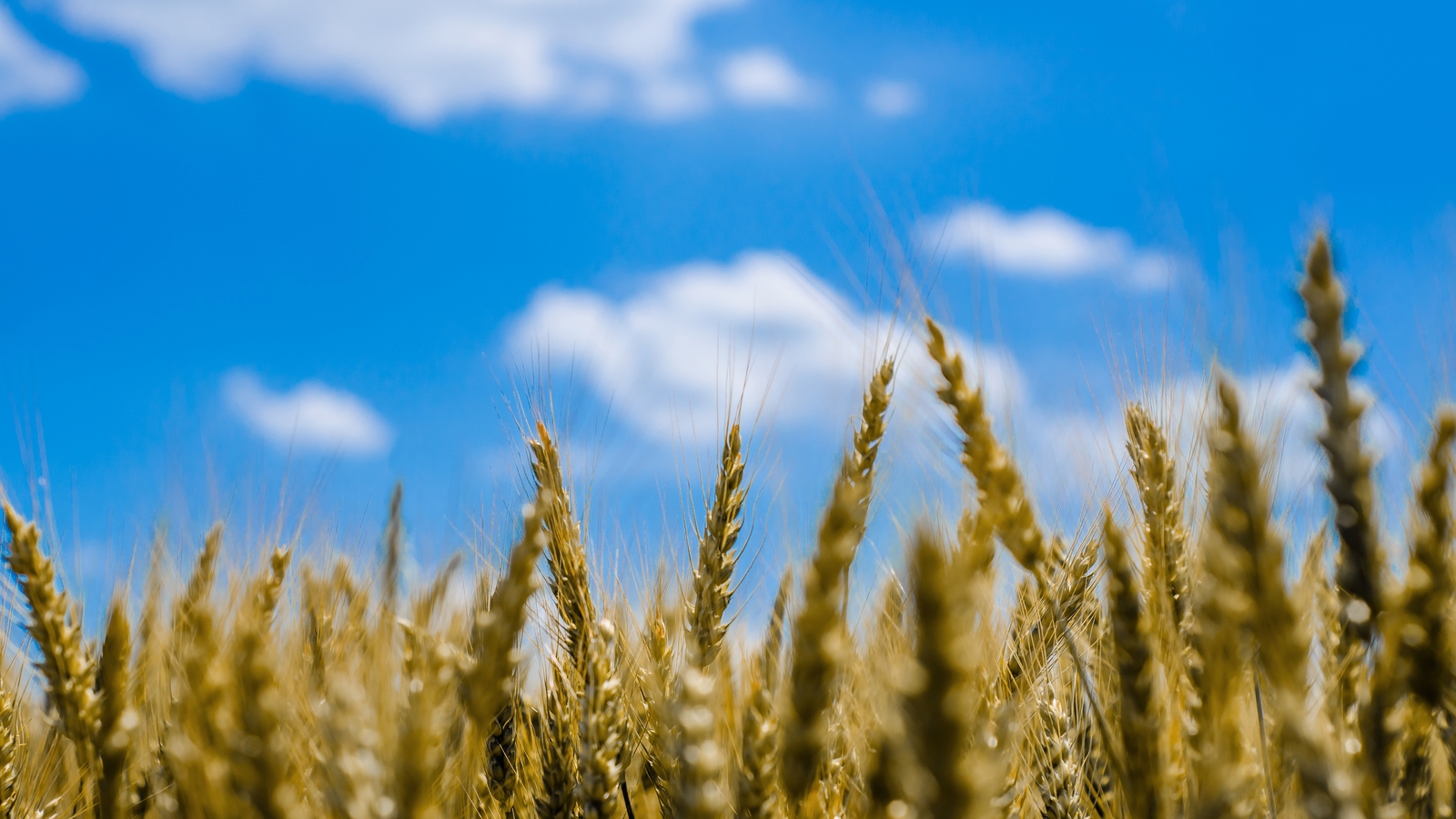 Against this backdrop comes the Government's new Tillage Incentive Scheme. It aims to encourage farmers to bring land not tilled last year into tillage production this year. The scheme, which is more about ensuring there is enough feed for animals to keep our agricultural sector producing food, aims to get an extra 25,000 hectares of wheat, oats and barley growing this year, an extra 14,000 tonnes of protein crops like peas, beans and lupins which are vital for animal feed and planting of clover and other species that require little or no fertiliser in grasslands for grazing and silage. This will be in addition to the 300,000 hectares we already plant.
If successful, it will reduce dependence on imports to a degree, it will insulate some farmers from high feed costs and fertiliser costs but it will go nowhere near replacing imports.
We will still be forced to pay rising world prices or go without. Whatever the effects this will have on Ireland in the medium term, it may be a lot worse in less well-off countries, far more dependent on Ukrainian grain that Europe. Countries such as Egypt, Yemen, Lebanon and Syria are heavily dependent on imported grain to feed their populations. The UN World Food Programme has warned that the Ukrainian crisis could ultimately lead to a global food crisis and famine... a terrifying scenario everyone should want to avoid.
Shift in energy dependency
Robert Shortt
The invasion prompted a fundamental reassessment of everything that makes our economies function. We have been forced to rethink where we get our food, how it's produced, and where we get our energy.
With billions of euros at stake for aircraft-leasing companies headquartered here, we will have to reassess the political risks of our trading partners.
Our financial sector will have to reconsider the reputational risks of facilitating billions of euro in investments linked to a Russian economy dominated by a wealthy elite.
The first shock from the war was felt in the energy markets.
Although Ireland imports relatively little gas from Russia directly, the EU in total imports just over 40% of its natural gas from there. So, anything that disrupts the supply of Russian gas will have a big impact on gas prices generally.
We also depend on gas to generate a little over half of our electricity in Ireland. So, the increase in gas prices have had a knock-on impact on the price of electricity.
The price of gas on both the UK and Dutch futures markets, which in turn affect the prices paid by consumers here, shot up at one point following the Russian invasion by ten times the average prices prevailing a year ago. There have been volatile swings since. They're still trading at around six times historical norms.
Consumers here felt the direct impact with the news that Bord Gáis Energy is to increase its prices with the average electricity bill going up by 27% and gas bills going up by 39%.
And we're not finished with energy yet.
The EU announced it's to wean itself off Russian fossil fuels "well before 2030" and by two thirds before the end of this year.
The mechanics of this massive shift have yet to be set in stone but attention is already focused on what it might mean for the energy market next winter. There have been reports from Germany of the possibility of rationing gas supplies.
Europe will need to find alternative supplies of gas in the short term. Apart from dwindling supplies in the North Sea and off the coast of Norway, this means more Liquified Natural Gas or LNG which is transported by tanker from as far away as Qatar and the US.
Ireland still gets approximately 25% of its supply from the Corrib field. But this is expected to run out by the end of this decade. It remains to be seen if the hope placed in the big push towards renewables both onshore and offshore will successfully step into the breach. It certainly won't in the short term.
In the meantime, we're increasingly dependent on the gas interconnector with the UK.
Meanwhile, with Europe scrambling to build new infrastructure to switch to LNG, the opposition of Government to an LNG terminal in the Shannon estuary may come under closer scrutiny, particularly on the grounds of security of supply.
None of this will be good for our emissions targets in the short term. The only hope is, it may act as a catalyst to building a power system with more renewables, faster than originally planned.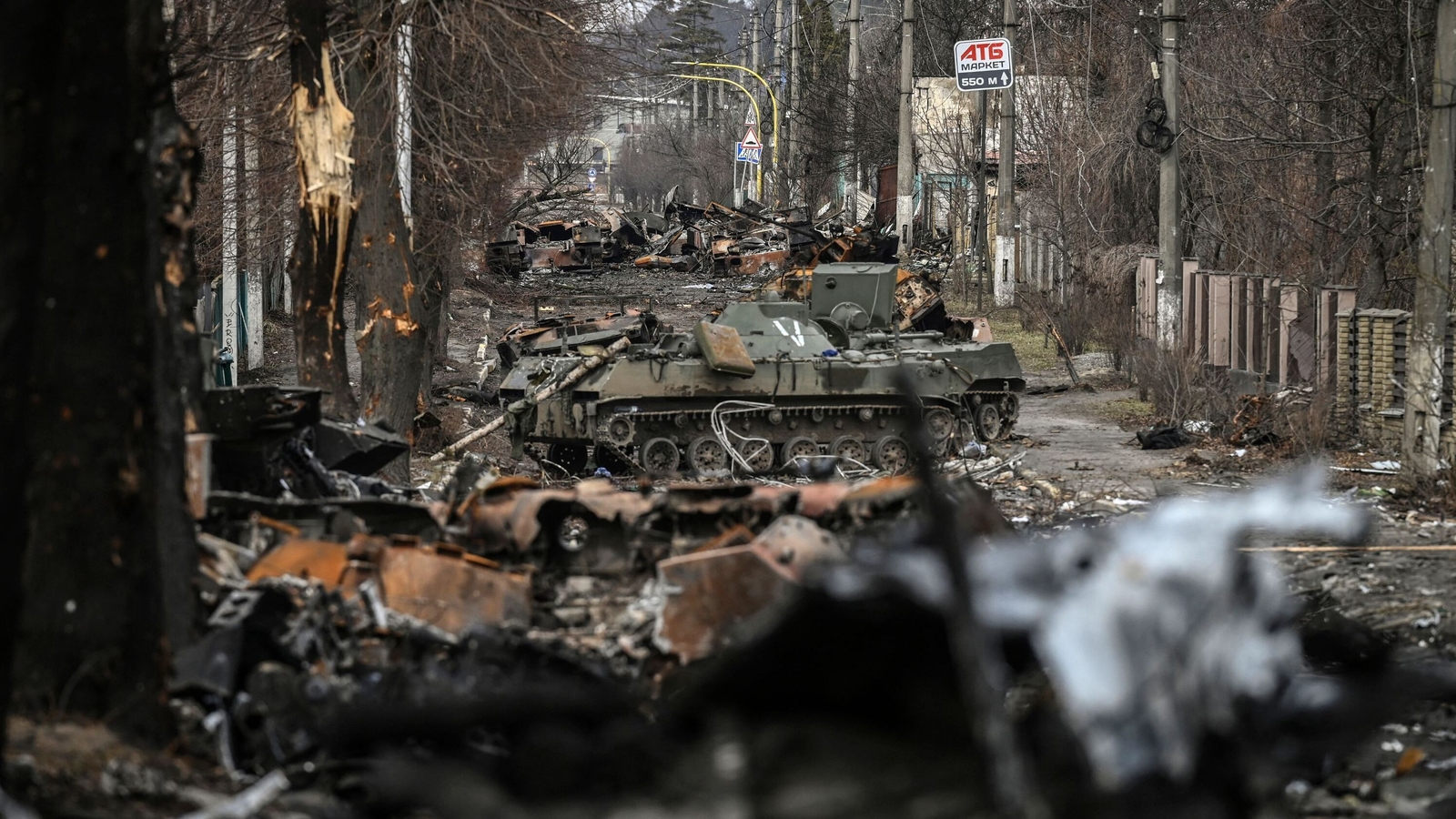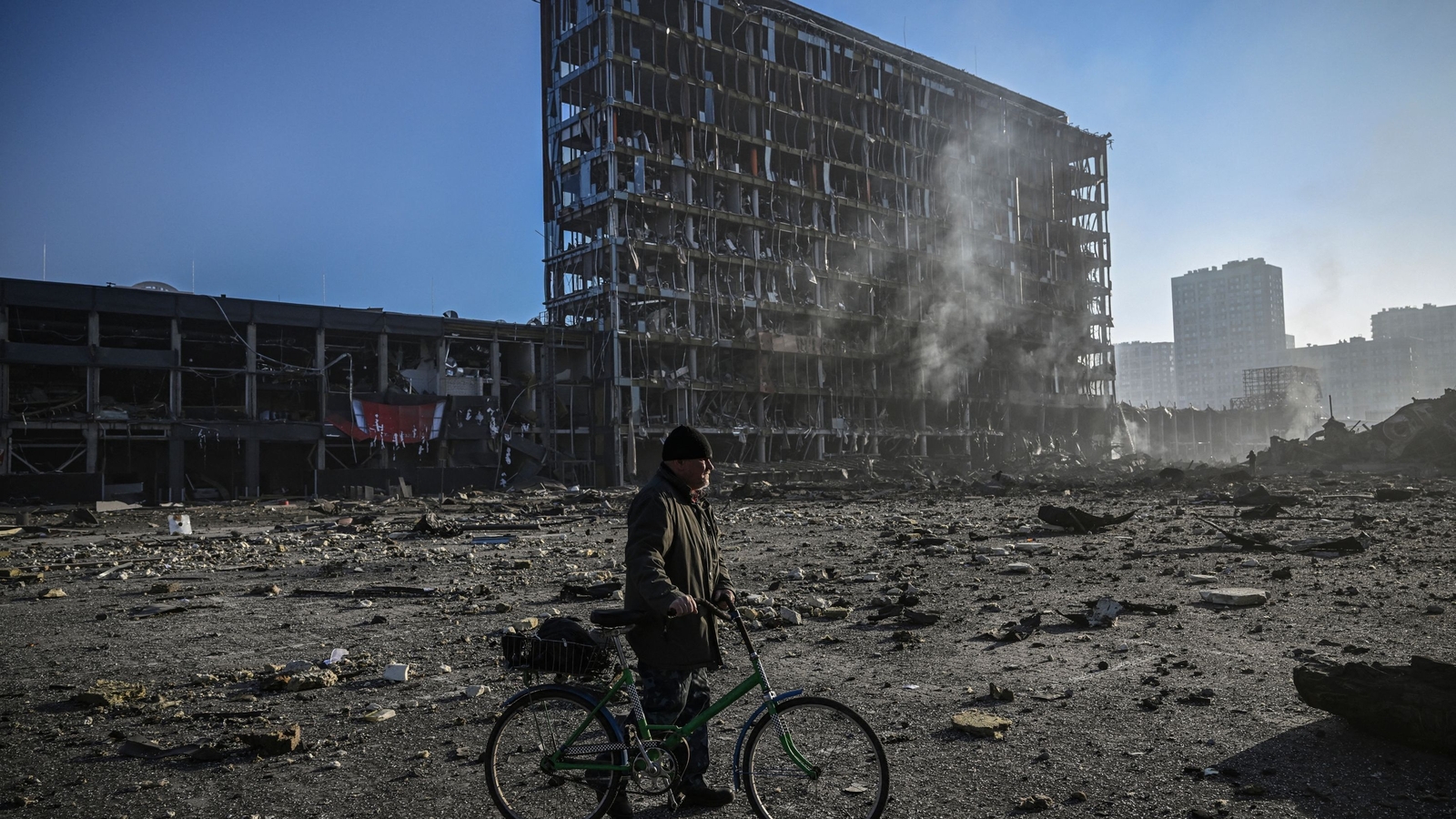 Global trade reframed
Will Goodbody
They didn't think it would happen. When traders woke up to the news on 24 February that Russian troops had begun marching on Kyiv, it came as a surprise.
Over the previous weeks, as tensions escalated hand in hand with rhetoric, few in the business world considered Vladimir Putin crazy enough to go through with an invasion of Ukraine.
The market reaction was therefore swift and panicked, with share prices plummeting, commodity costs soaring and supply chains slamming shut. The ISEQ index of Irish shares tumbled 17% over the following 12 days, mirroring losses in bourses all over Europe and beyond, though most exchanges have gained ground since.
Oil rocketed to almost $140 a barrel and natural gas hit record highs, before both settled back, albeit to territory that was much higher than before the invasion began. Grain prices soared, as did the cost of the fertiliser used to grow it, as well as the value of the metals used in the equipment that harvests it.
In one of those 'everything has changed' moments, the business world was turned upside down in the time it took to pull a trigger. Two valuable markets with a combined population of 188 million people suddenly became effectively closed to the west. Ukraine was no longer a safe or stable place in which to do business. While Russia as a trading post took on pariah status.
Sanctions designed to hit Vladimir Putin and his oligarch cronies in the pocket where it hurts most quickly had the effect of blocking the most meaningful trade with Russia. And where sanctions didn't reach, the moral compasses of boards and shareholders did.
Huge numbers of big brand multinationals like McDonald's and Toyota suspended operations in Russia. Countless others, like Accenture and Shell, are getting out altogether.
Financiers, bankers and asset managers, watched by regulators, have been nervously and painstakingly assessing their exposure, while also trying to identify the risk posed by sanctions and contagion from assets suddenly rendered worthless overnight.
Perhaps nowhere else was this more apparent than in the aircraft leasing sector. Sanctions required over 500 western-owned aircraft worth $10bn that are currently leased to Russian-based airlines to be grounded and removed.
Many are owned by Irish-based lessors like AerCap, SMBC Aviation Capital and Avolon. Yet changes to Russian law will make it extremely difficult if not impossible for those owners to reclaim their property. A bitter blow in a sector still smarting from the effects of the pandemic.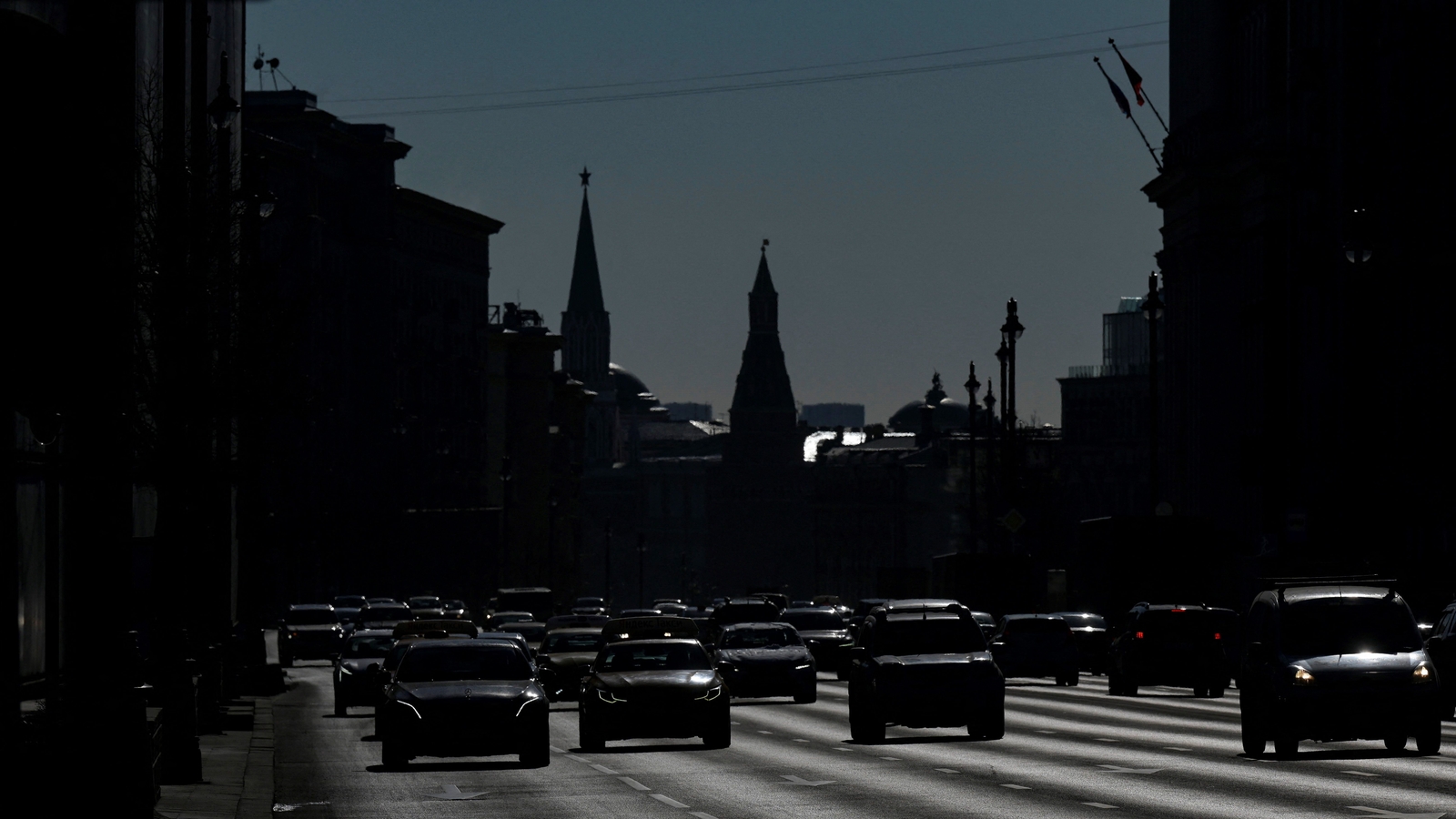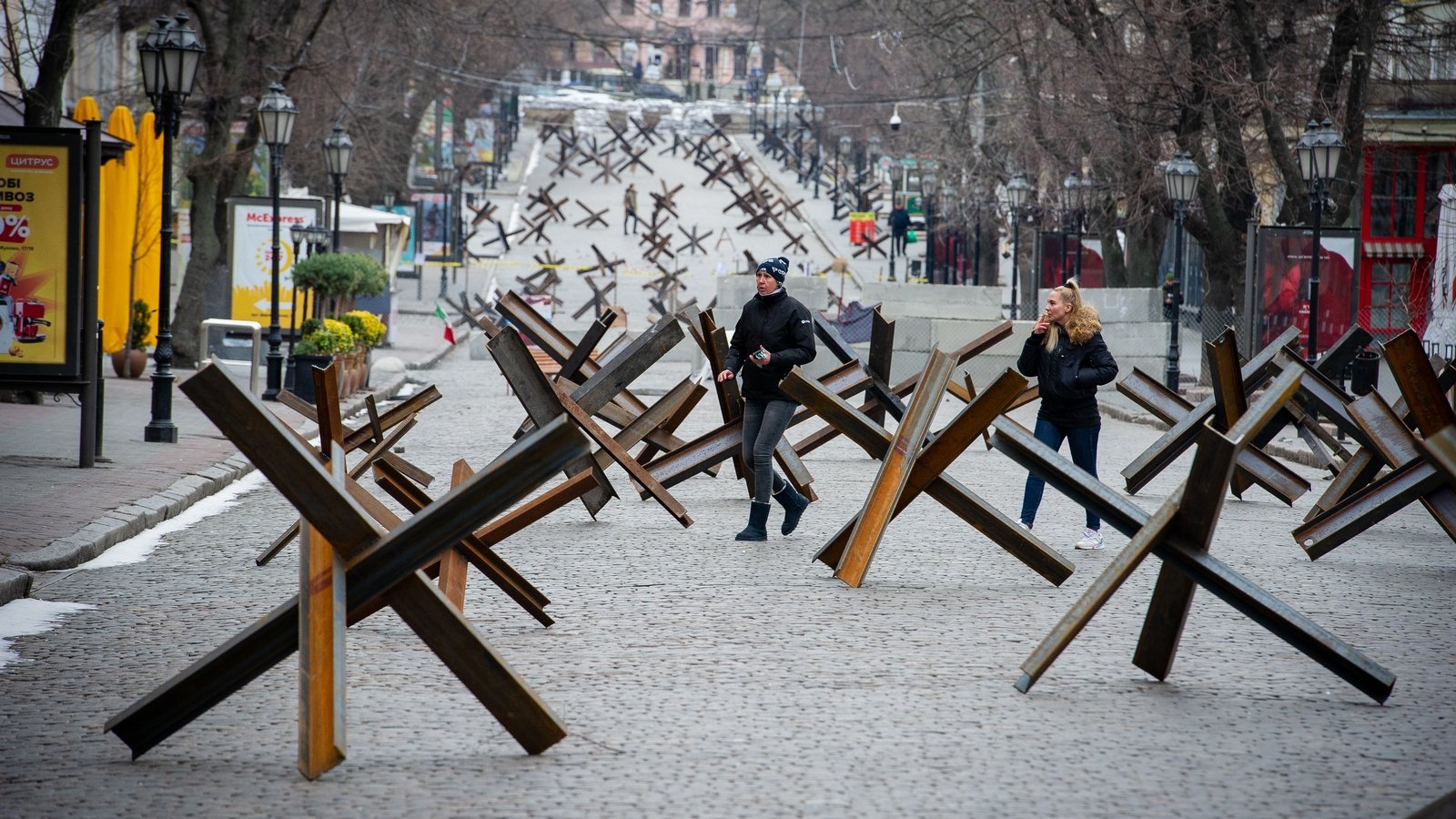 So what in four short brutal weeks of war has the business community learned and what has changed forever in the world of international commerce as a result?
First, that in the sphere of modern business, everything you think you know can be flipped on its head in an instant. Business leaders thought the pandemic was nearing an end and the world was in for a monster recovery boom - but they were wrong.
Second, it has shown that the business world today is a very small and ultra-connected place. A sizeable shift in the ground in one location such as Russia can ripple out as a tsunami across multiple oceans very, very fast.
It is also clear from this war that ethics now matter more than ever in business.
The environmental, social and governance agenda has for some time been moving centre place in the priorities of most businesses. This war has proven that in most cases, that movement has become about more than just optics and lip service. Ethics and being seen to do the right thing in business now mean something tangible.
Fourth, the war has changed forever how businesses will consider diversification. The effective overnight closure of an entire geographic market has shown that 'hedging your bets' is a far safer strategy than being 'all in'.
Nowhere else has that been more apparent than in energy, where countries such as Germany for example are scrambling to reduce their dependence on Russian gas an oil. The war has also shown up the world's unsustainable reliance on fossil fuels in general, hopefully speeding up the transition to renewables.
What is also clear is that this war has fundamentally changed the business world's engagement with the Russian economy.
Even if the war were to end tomorrow, the moral risk coupled with the long-lasting damage from persistent sanctions, will render the Russian market a no-go destination for decades to come.
And finally, perhaps more than anything else, these past four weeks of conflict have taught those in commerce and trade something fundamental about themselves: That when it comes to matters of life and death, wrong and right, good and evil, basic principles and what you stand for matter far more than deals, revenue and profit.
The role of diplomats in a war
Louise Byrne
Plumes of smoke rose from the roof of the Russian embassy in Kyiv last month. As Russia continued to deny it was planning an invasion of Ukraine, news reports suggested the country's diplomats were burning documents. In the following days Russia evacuated its embassy staff from Ukraine - removing diplomatic representation for the first time since the annexation of Crimea.
Over the previous eight years, even while fighting raged in the east, the Russian embassy in Kyiv remained open. Diplomacy was maintained despite the conflict. Ukrainians correctly viewed the withdrawal on 23 February as an indication that the war was about to escalate significantly. The following day Russia invaded.
For security reasons, diplomats from many other nations including Ireland have also left Kyiv. Diplomacy has been largely confined to areas not directly affected by the war. Russia and Ukraine are fighting a conflict of a different kind through their overseas embassies - a war of information.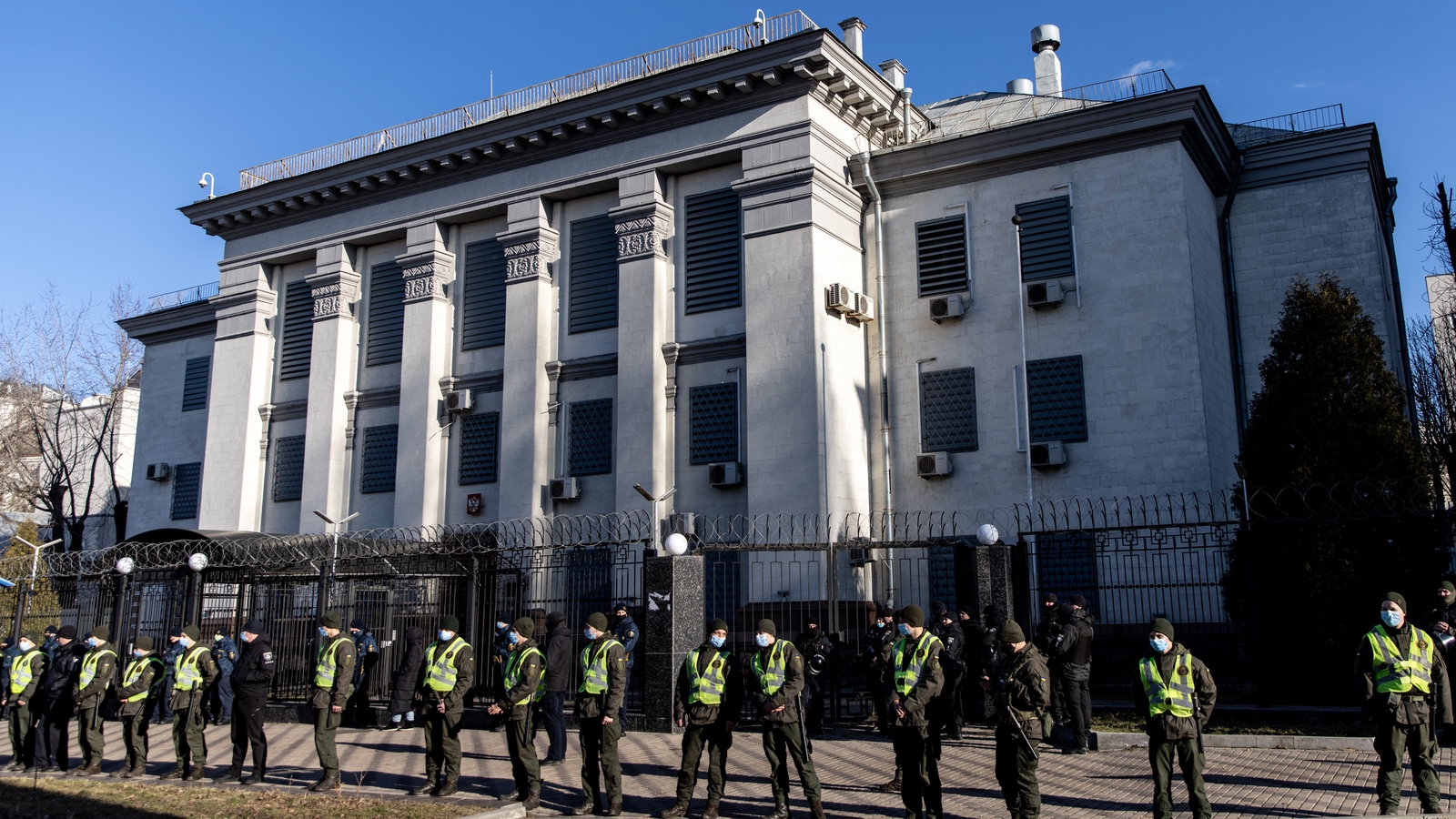 In the run-up to the invasion Russia's ambassador to Ireland, Yuri Filatov, repeatedly denied that the country was planning to invade. He told RTÉ's Prime Time that the suggestion was "insane".
"We do not have any plans of invading anybody," he insisted a week before tens of thousands of Russian troops crossed into Ukraine.
Since then, protesters have demonstrated outside the embassy on Orwell Road in Dublin, however, so far, the Irish Government has resisted calls for Mr Filatov and his staff to be expelled. Ireland has four diplomats stationed in Moscow and there are concerns of retaliation which would close diplomatic channels and isolate Irish citizens in Russia.
While defending the justification for keeping the Russian ambassador in Ireland, the Government has also faced questions about the size of the embassy. In 2020, part of the plans for a major expansion of the building were blocked on national security grounds but there are still 30 staff working at the Dublin complex. Only the US has more diplomatic employees working in its Irish consulate. The Russian headcount dwarfs that of Ukraine whose embassy in Ireland is a quarter the size of Russia's.
Following a now infamous interview on RTÉ's Six One News, Ambassador Filatov has kept a low public profile but his embassy continues to regularly tweet updates on Russia's foreign policy positions. His counterparts in London have also been advancing the Russian line, including suggesting that the bombing of a maternity hospital was staged using actors. Mr Filatov himself took to the airwaves in Russia to accuse Ireland of being at the forefront of anti-Russian sentiment in Europe.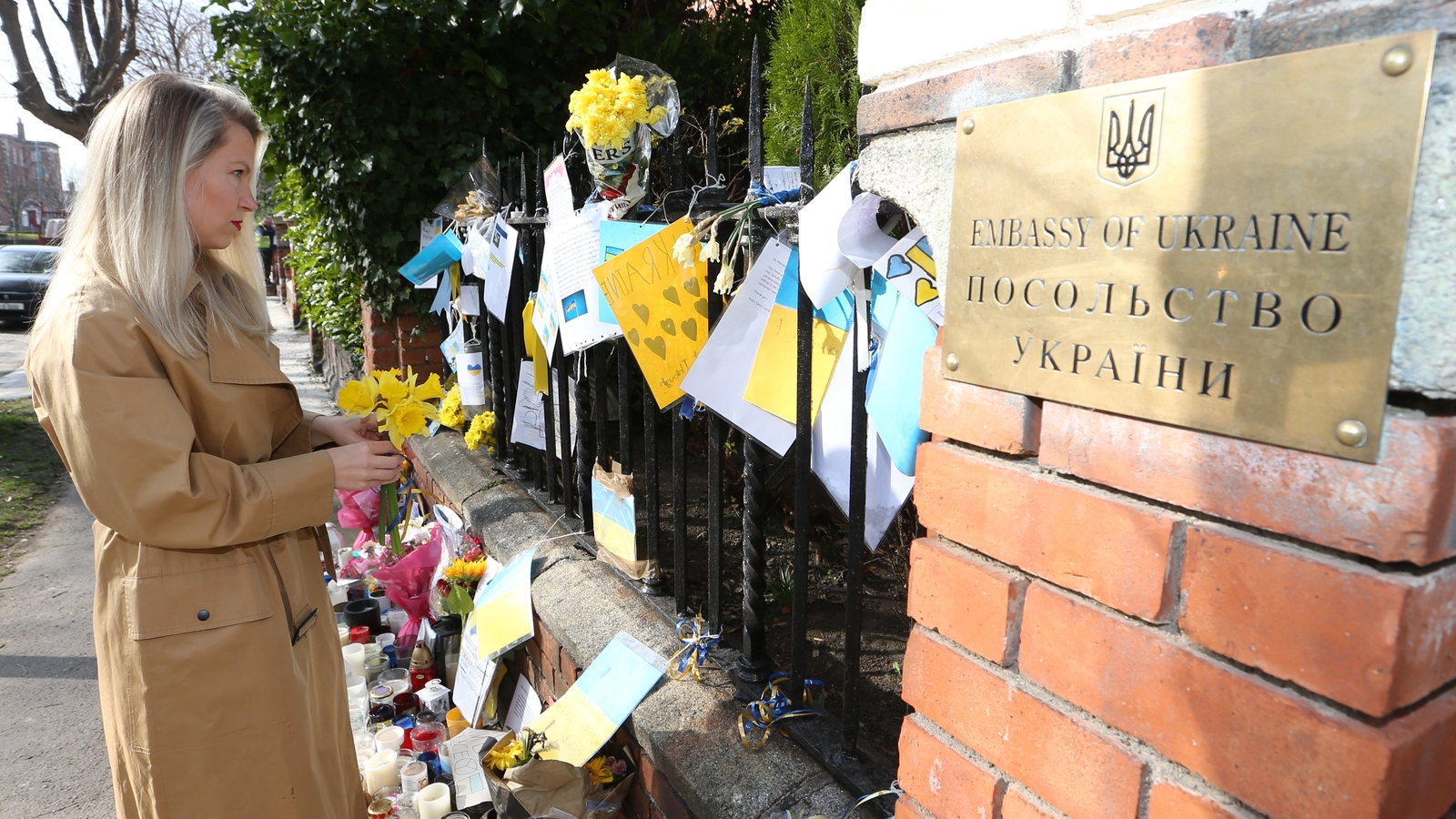 It is not just Russia utilising the strength and reach of its diplomatic teams. The Ukrainian ambassador to Ireland, Larysa Gerasko, has attended numerous public meetings and appeared before the Oireachtas Committee on Foreign Affairs to lobby for her country's interests. She has been arranging support for refugees and advocating for an end to the invasion.
But diplomatic maneuvering elsewhere suggests there is some way to go in this war.
Belarus withdrew its embassy staff from Kyiv over the weekend and there are calls from supporters of President Alexander Lukashenko for the Ukrainian ambassador to be expelled from Belarus. The tit for tat response is sparking concerns that the Belarusian role in the war is about to increase.
While the course of a conflict is often reflected in the diplomatic community, so too is the eventual outcome. Despite the one-sided nature of Russia's aggression a realist foreign policy perspective suggests the end of this war will not be a zero-sum game where one side achieves all of its objectives. In that scenario diplomacy and diplomats will play a key role.
Peace is dependent on it.
The view from Eastern Europe
Fran McNulty
It is 3,000 kilometres from Tulcea in Romania to Rovaniemi in Finland, the journey skirts through Moldova, Hungary, Slovakia, Poland, Belarus, Lithuania, Latvia and Estonia. It's a journey through countries increasingly concerned about the Kremlin's push eastwards. Vladimir Putin's posturing is something that political leaders, in the Baltics, have been warning about for some years.
The Estonian Prime Minister has warned that if Putin does not lose in Ukraine, he could bring chaos to Europe. Kaja Kallas is speaking from experience of Soviet occupation, when we visit Tallinn, it's a talking point. As a NATO member, no one expects Russian tanks to cross into Estonia, but they have done it before and so in the national mind it's an issue.
But on the day of the Russian invasion of Ukraine in February, Kallas told the BBC that NATO membership is what would protect Estonia: "I think it is a bit too big of a bite for Putin to take. So far we don't see any military effect at our borders. We are part of NATO, we are part of the EU, in NATO we have Article 5, which says an attack on one is an attack on all."
But towards the southern-most tip of Ukraine lies Moldova, a small poor country, and unlike Estonia, Moldova is not a member of the EU and it is not a member of NATO. It makes the former Soviet state highly vulnerable. The presence of a pro-Russian separatist population based primarily in the breakaway state of Transnistria within Moldovan borders is a huge issue. Russia has already based more than 1,500 troops there.
Some experts wonder why Russia has not yet recognised Transnistria as an independent republic like it did Donetsk and Luhansk in the east of Ukraine. But, with a Kremlin-backed leader in place there, experts also know it could happen at any time.
The presence of Kaliningrad, landlocked Russian territory between Lithuania and Poland, is yet another reminder to Brussels and the West that Putin's dream of re-establishing Russia as a soviet power has not gone away. The Russian Baltic fleet is based there, with thousands of troops, tens of thousands of tonnes of ammunition and eye watering military capability.
On a recent visit to Vilnius, the capital of Lithuania, one man told us: "I hope, someday, if he would come here, we will show our balls." Close to Russia, occupied in the past, Lithuania talks tough and has the comfort of NATO. It seems unthinkable to the most experienced experts that Putin would try and move on a NATO member, he knows the consequences would be devastating for Russia.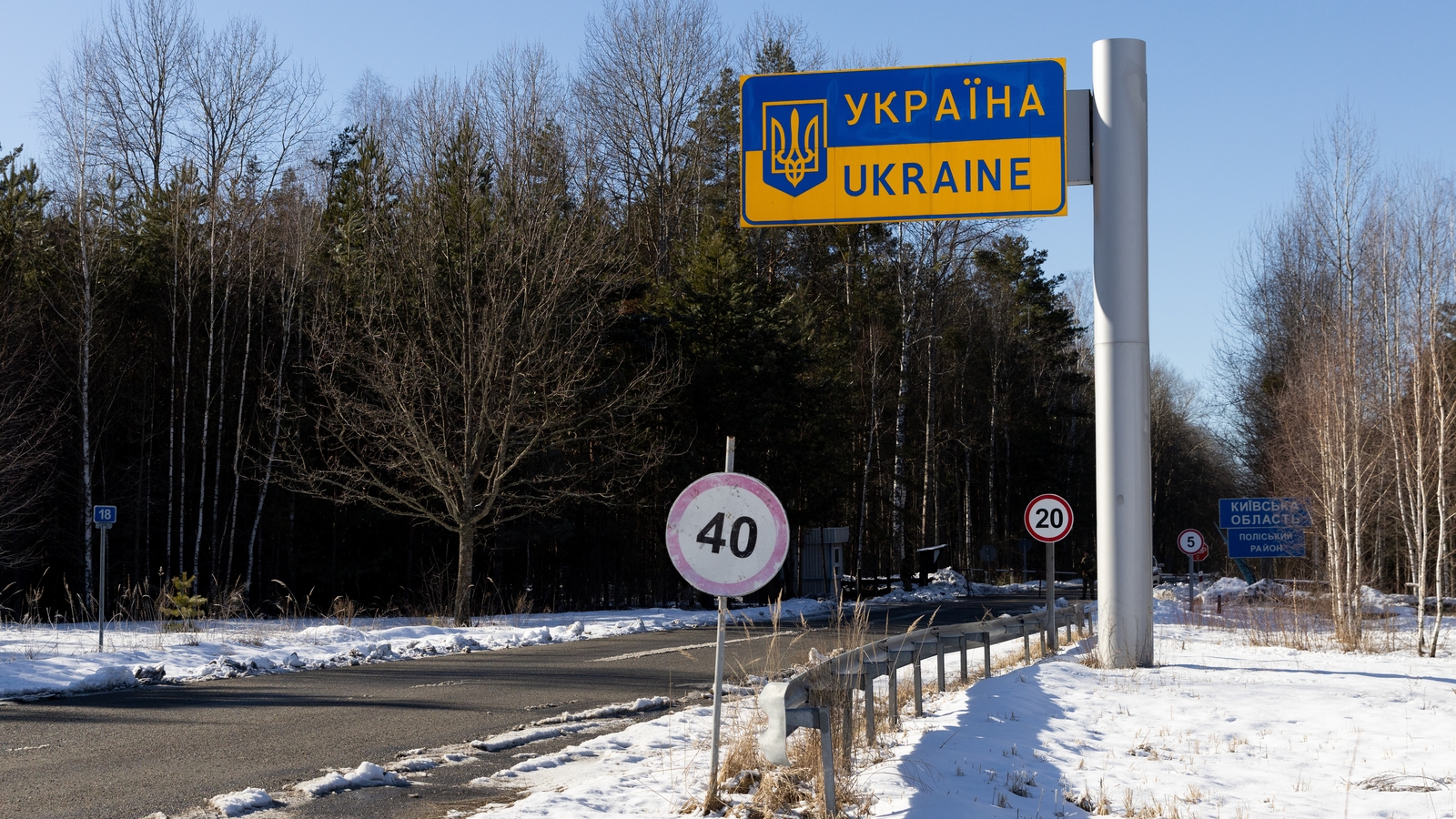 Nonetheless millions of Ukrainians are suffering the most awful ordeal as Putin seeks to undo its independence. At the core of this appalling war is one man's vision to undo what he called the "disintegration of historical Russia". Vladimir Putin thinks the West has one aim, to destroy Russia and divide it. His aim is the polar opposite.
He has made much out of a NATO promise that it would expand "not an inch to the east", after the fall of the Berlin wall. But even his predecessor President Mikhail Gorbachev subsequently admitted that comment was in reference to East Germany and Gorbachev said, "the topic of NATO expansion was never discussed". Putin feels threatened by NATO expansion since the mid 1990s.
Some have gone so far as to even blame NATO for Putin's actions by claiming the military alliance has been taunting Putin. But, the defence of his actions is based on an assurance that was never given in the first place. And given the Soviet reputation for the occupation of independent states, is anyone surprised that democracies are seeking to defend themselves from an autocratic regime?
You only have to look at the imprisonment of ordinary citizens protesting the horrors unfolding in Ukraine to realise how Putin handles his own, let alone those outside Russia. And, spare a thought for political opponents who have been forced to flee the country, unlike the opposition leader Alexei Navalny, who is in jail.
Ireland's neutrality in focus
Paul Cunningham
Militarily neutral but not politically neutral - the Irish Government's maxim when it comes to framing its response to Russia's invasion of Ukraine.
The rhetoric directed at the Russian President by Taoiseach Micheál Martin has been caustic: Vladimir Putin's invasion is "an outrageous and moral breach of the most fundamental and basic principles of international law". It was also notable given Moscow's claim that NATO expansion towards its borders was a major reason for going to war, that Martin declared Ireland has "never accepted the concept of a sphere of influence, or that one bigger neighbour should dominate every other neighbour".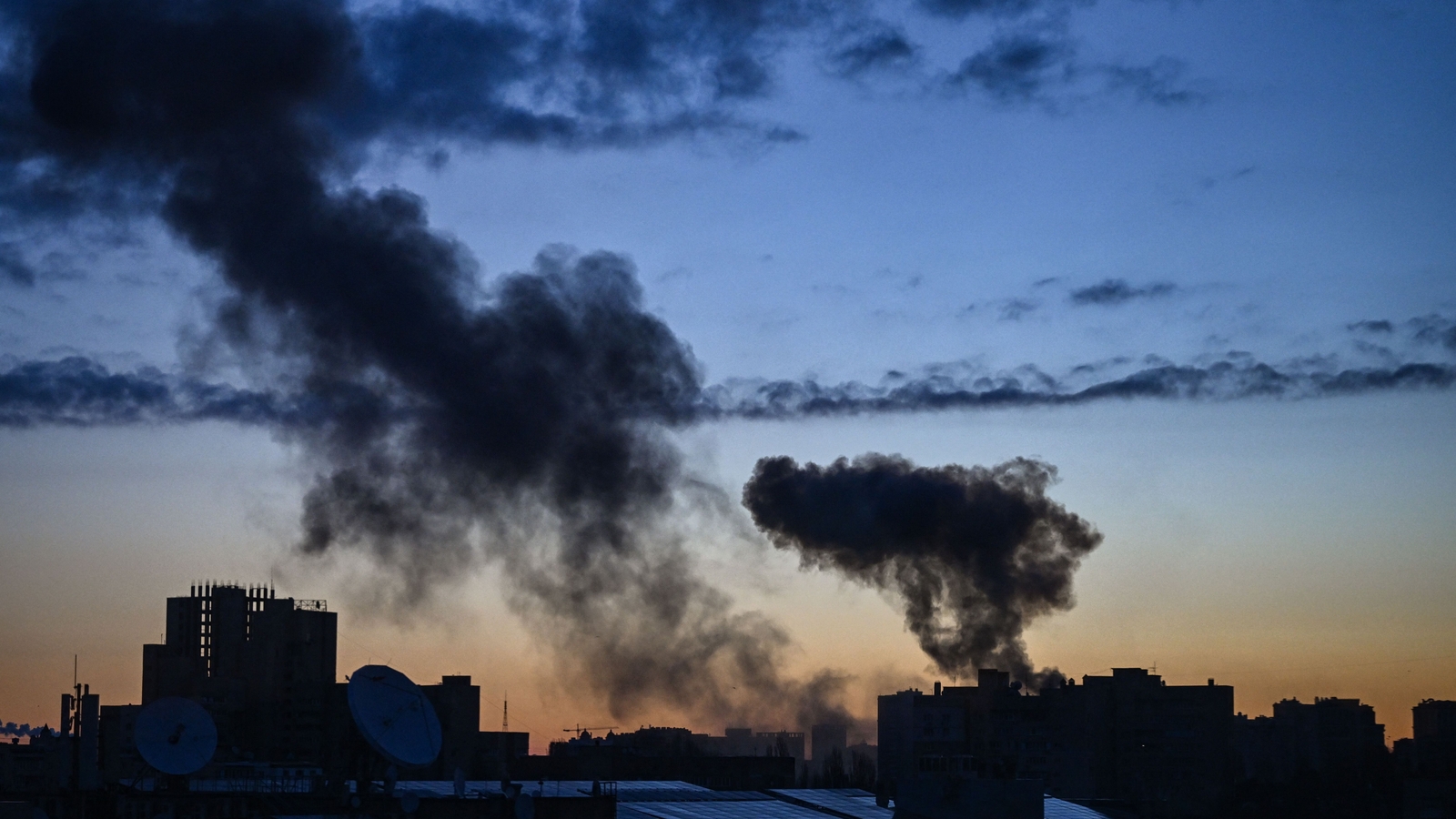 The condemnation was unambiguous but what, in practice, does Irish neutrality mean in the face of a massive and brutal Russian invasion of a sovereign and independent Ukraine? The first response was an assertion that Ireland would act in concert with its fellow 27 EU member states.
The day after the invasion, the Taoiseach said Ireland would give full-throated support to the "most severe package of [economic] sanctions we have ever considered" in order to "hit Putin and his henchmen where it hurts the most". Those sanctions have been increased and intensified in subsequent EU leader summits.
However, the EU's response has not been solely limited to economic measures.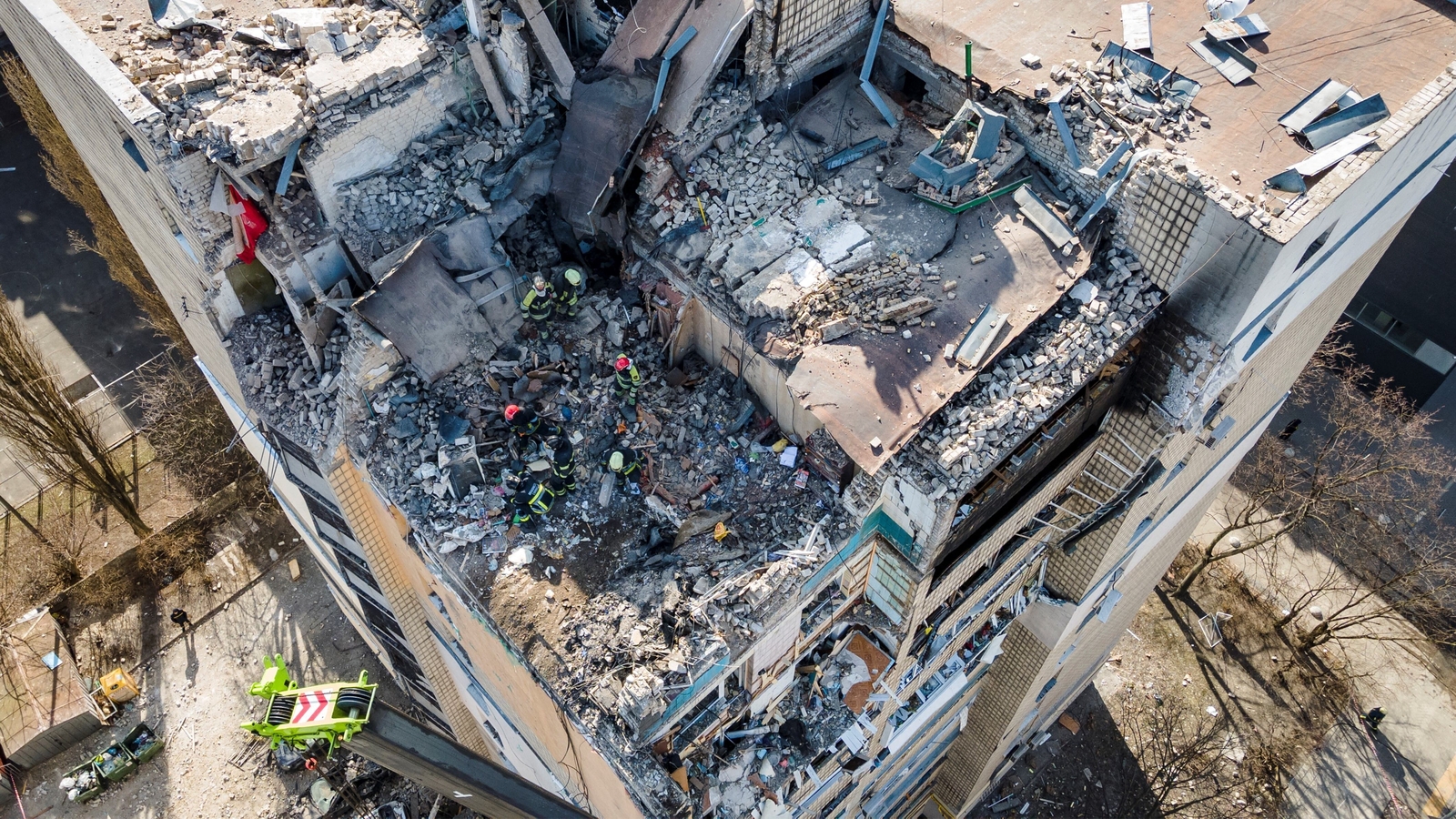 It has also agreed to use the so-called European Peace Fund to provide military aid to Ukraine. Ireland has backed the move but, due to its neutral status, entered a caveat. The Taoiseach explained it this way when the decision was taken by EU leaders in Brussels: "Our money will be used for non-lethal weapons - things like helmets, protection, [bullet-proof] vests ... and fuel."
The Russian invasion, however, has also meant that longer term plans are being considered by the EU. The biggest example is the objective of creating a rapid reaction force, of around 5,000 military personnel, to deliver on the EU's long-term security and defence needs. Minister for Foreign Affairs Simon Coveney was asked if Irish troops could participate in such a force in the future and he replied: "Yes, I think there's a good chance that we will be involved in that."
Up to this point, any deployment of Irish forces has been governed by what's called the "triple lock". In other words, before a military mission can proceed it must have secured backing of the Government, the Dáil and the UN.
Yet such is the scale of Russia's invasion that the Taoiseach told the Dáil this month that Ireland's long-held position of military non-alignment should be discussed - possibly through a Citizens' Assembly. Asked about the possibility of a referendum on defence, Mr Coveney said it was "too early to make that decision".
The speed and scale of developments has unnerved some on Opposition benches. Richard Boyd Barrett of People Before Profit told the Dáil: "If we are opposed to - and we must be opposed to - Putin's brutal and unjustifiable invasion of Ukraine, we should not respond to that by joining an alliance dominated by powers that, for example, are supporting the Saudi dictatorship conducting an equally murderous war in Yemen."
However, Independent TD Cathal Berry - a former member of the Irish Defence Forces' elite Army Ranger Wing - said Ireland needs to end "the practice of strategic ambiguity" on defence and be more like Finland and Sweden who "are well able to defend their neutrality". He advances an independent foreign policy in which Ireland opts in, or out, of contributing forces, depending on the merits of each case.
Four weeks into Russia's invasion of Ukraine, it's already clear that Ireland's decades long position on neutrality is going to be re-assessed like never before.
Sport turns political
Paul O'Flynn
The applause started as a ripple. And then grew into a roar. Almost 50,000 fans spontaneously standing to their feet in Dublin's Aviva stadium, clapping and cheering to show their support for Ukraine, following the Russian invasion. It was one of the loudest roars heard from the home crowd on a day when Ireland put four tries past Scotland to claim rugby's Triple Crown. Which is saying something.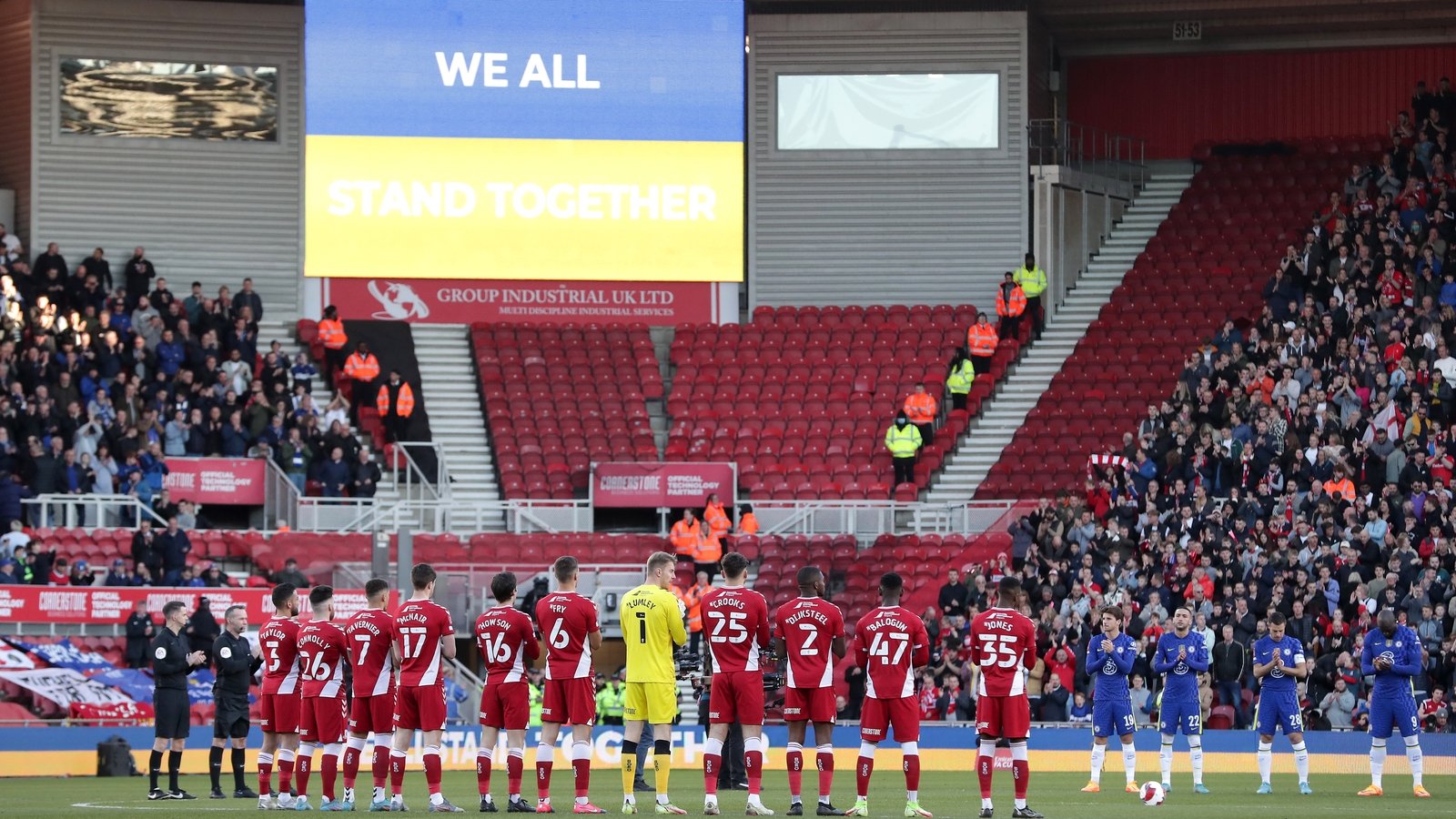 In Russia, it was a different story. In the 68,000 capacity Gazprom Stadium in St Petersburg, fans of local football team Zenit stood to their feet too. Singing, chanting and unfurling a giant banner saying "Football is no place for politics". A protest against their club's exclusion from UEFA's Europa League and FIFA's decision to throw Russia out of the World Cup.
But whether the Zenit fans like it or not, right now sport and politics are tied together more than ever before.
And on the war in Ukraine, the sporting world is taking sides.
Russia's President Vladimir Putin has long used sport to project an image of strength on the world stage. He loved nothing more than seeing Russian athletes topping the podium, seeking to benefit politically from victory while the world was watching. From the 2014 Winter Olympics in Sochi, the 2018 football World Cup, to the Russian state sponsored doping programme throughout his reign - Putin's hand has been all over Russian sporting success.
As Russian troops and tanks began to mass along the Ukrainian border in early February, teenage figure skater Kamila Valieva made headlines at the Winter Olympics in Beijing. Another doping scandal blighting top level sport. Another made in Russia. But it soon faded, as Putin turned his thoughts to war. Waiting to invade his neighbour, it is suggested, until the games had finished so as not to upset China.
As the world recoiled at the horror unleashed in Ukraine, sanctions were quick to follow. Political, economic, cultural and, eventually, sporting.
The International Paralympic Committee was the first to face a difficult decision. Their Winter Games were about to begin in China and they faced calls, including from Paralympics Ireland, to ban Russian and Belorussian athletes. Despite initial hesitation, citing that old favourite legal reasons, they eventually reversed course and imposed a ban. In contrast, the small Ukrainian team was welcomed with open arms and, as luck would have it, won the first medal of the games.
One-by-one the world's sporting bodies followed suit. Most significantly, the International Olympic Committee recommending its sports ban all Russian and Belarusian athletes and officials from competing. Football was next, throwing Russia out of the World Cup, excluding Russian clubs from European competition and moving this year's Champions League final from St Petersburg to Paris. The F1 Grand Prix planned for Sochi was sidelined. And Putin himself was stripped of his role as honorary president of the International Judo Federation. A personal blow to a leader whose love of sport is a key part of his projected strongman image.
All the while Ukrainian athletes having been doing what they can too. Some like World Champion boxer Vitaly Klitschko, now mayor of Kyiv, leading the resistance to the Russian invasion. Others including champion boxer Vasily Lomachenko signing up for the Ukrainian armed forces. While many more, like Premier League footballers Andriy Yarmolenko of West Ham and Oliksandr Zinchenko at Manchester City and tennis star Elina Svitolina have continued to compete and use their profile to raise the plight of their country.
The economic sanctions imposed on Russia have impacted sport too. Most notably at Chelsea, where owner Roman Abramovich, once a close ally of Putin, has been forced to sell the club. The current European Champions have basked in glory since he took charge of the club almost 20 years ago. His largesse bankrolling a golden era of success for the club. But now, its future is uncertain. One Chelsea fan, speaking outside Stamford Bridge when the news broke, spoke with a nuance not normally found in football. "I know he sort of used the club for his own ends. Sports-washing, if you want to call it that," he said. "But I still kinda love him."
It's a sentiment that holds little weight in the real world. But most sports fans will identify. It's precisely why leaders like Putin put so much emphasis on sport and using it to forge a national identity and bond with so-called ordinary people.
The hope in the West and beyond is that if everyday sports fans in Russia can no longer enjoy their nation's sporting success on the world stage, then their attitude towards their government might change. A long shot perhaps. But there are already small signs that it may be having an effect. The captain of Russia's national football team, Artem Dzyuba, a Zenit player who has family in Ukraine, has rejected a call-up to play for his country. A brave move perhaps. And a sign that standing ovations in support of Ukraine on this side of the world can have ripple effects that may yet reach the heart of the Kremlin.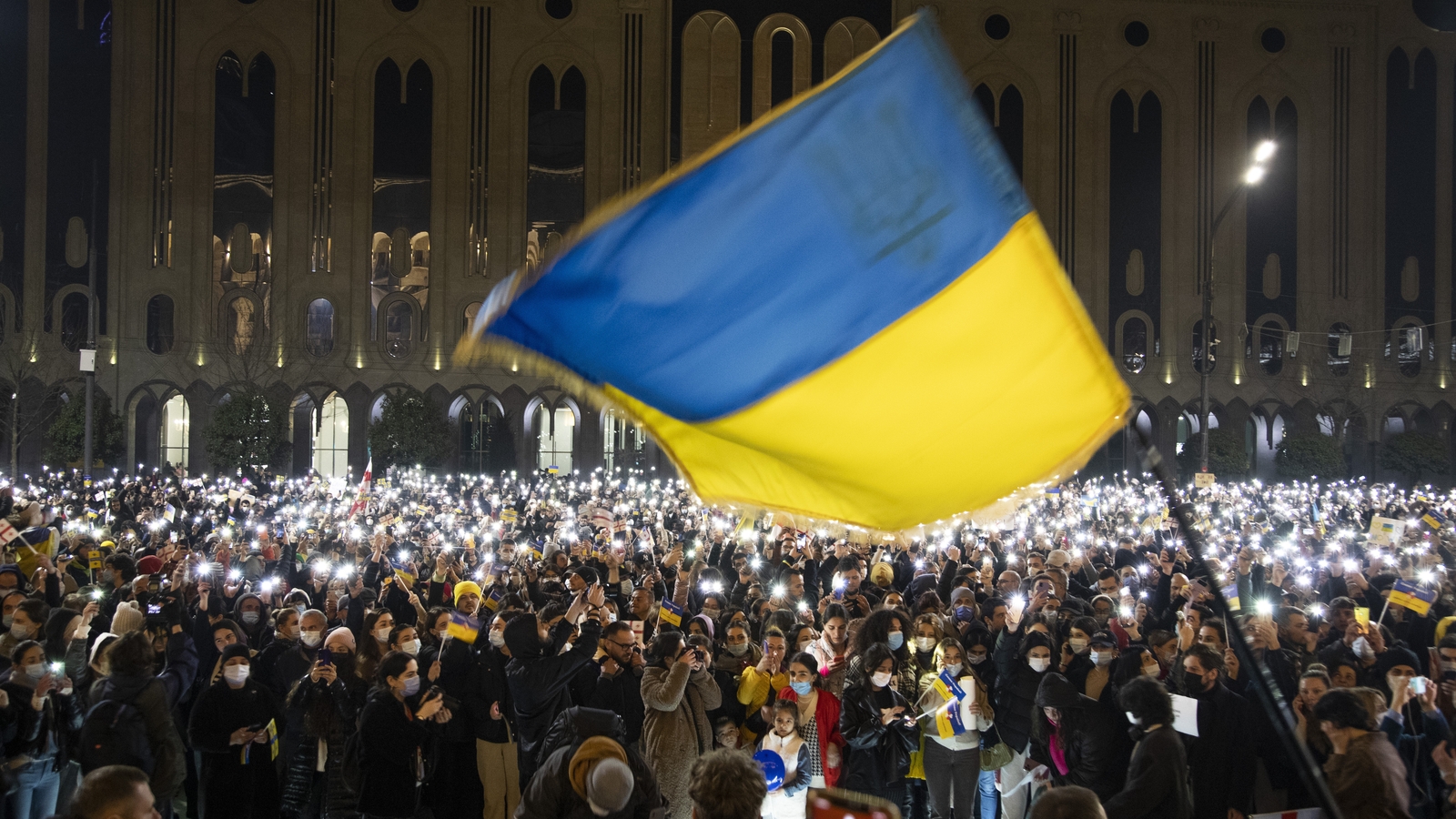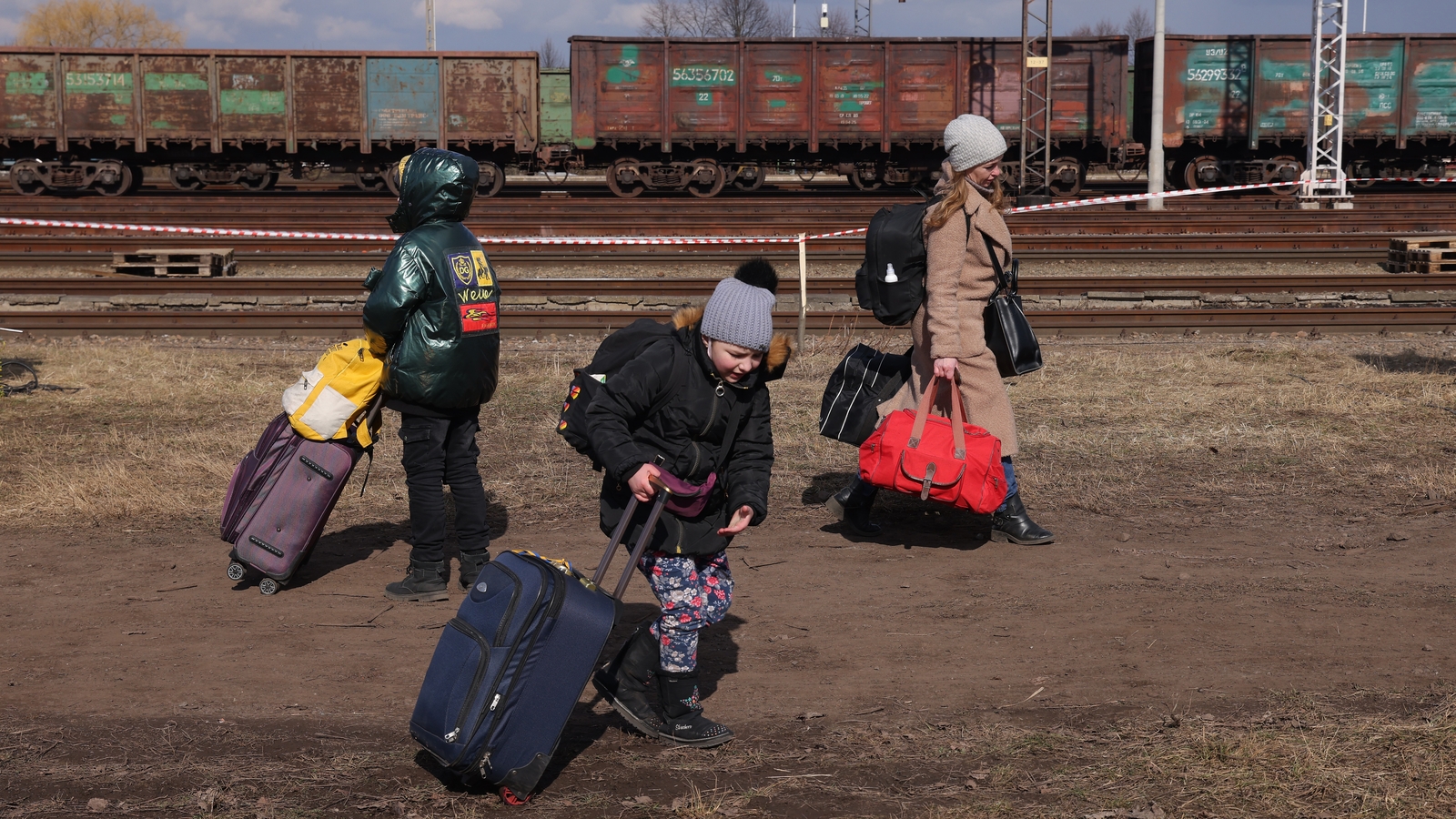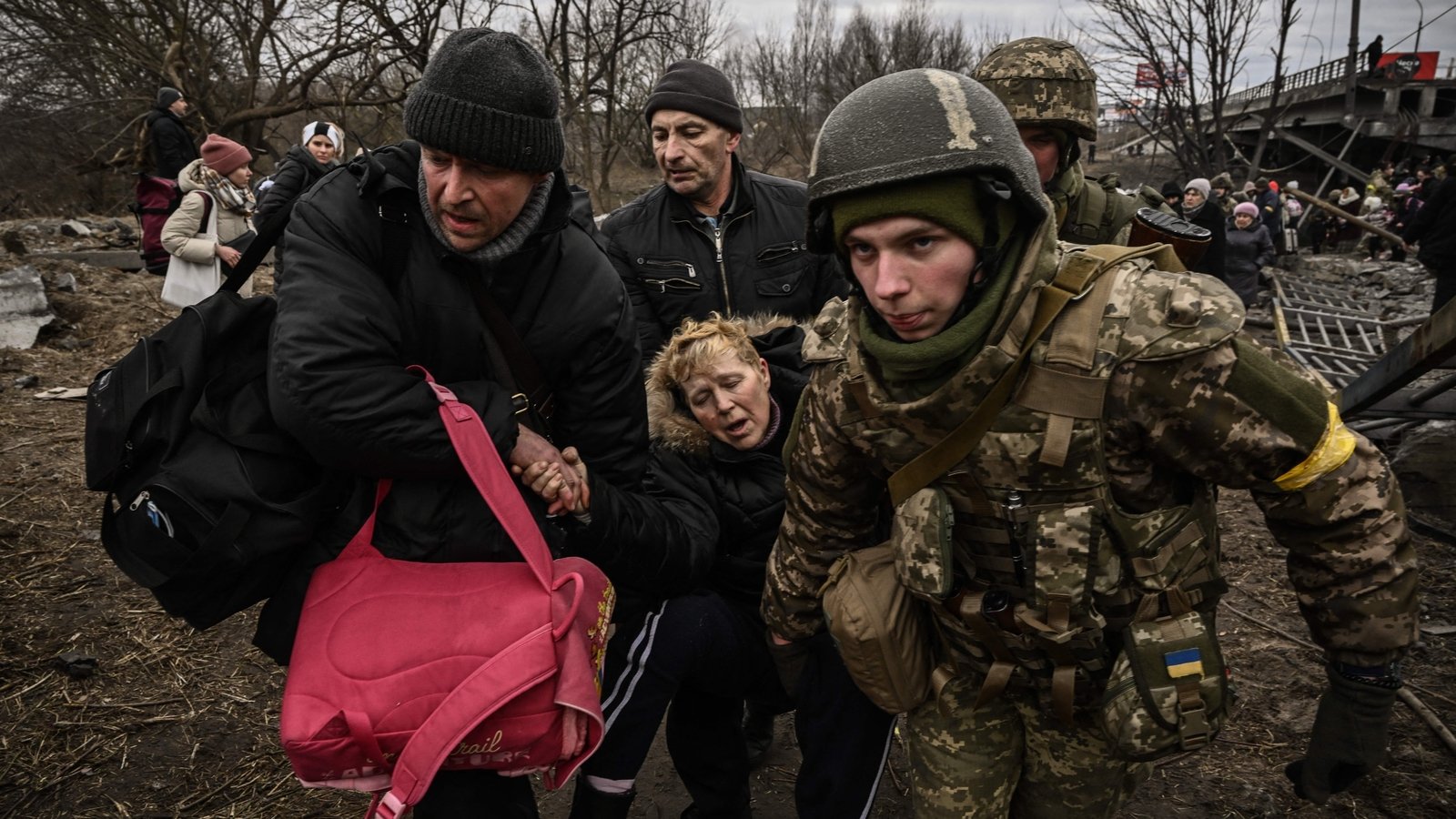 Govt grapples with new global crisis
Mícheál Lehane
It was at times an almost hackneyed political phrase. That term "war time" was too often shoved into descriptions of a government's approach to a particular crisis. This time it is different because those words now contain a chilling accuracy.
The Government is grappling with the impact of a war in Europe that is exacerbating already rising food and energy costs. It is, in the words of the Minister for Public Expenditure Michael McGrath, a "perfect storm".
The problem for the Government is that the storm had started howling before Russia's illegal invasion of Ukraine four weeks ago. Indeed, the Coalition had to make two unscheduled trips to the money-well after its Budget for 2022 was blown off course and funding to assist people with the cost of living was required.
Ironically, this all happened when it looked like the massive turbulence generated by the pandemic had abated. Society had reopened and the economy looked like it would "take off like a rocket" as Tánaiste Leo Varadkar had predicted.
Yes, there will still be economic growth this year, but food and fuel costs look set to keep climbing too. As political hazards go, this is close to the top of the scale. After all, one of the most fundamental expectations of any government is to guarantee that people can heat their homes and not feel hungry.
An administration which fails to do this convincingly could quickly find itself in very perilous territory. The political messaging thus far has emphasised the financial supports of more than €1bn already in place to address these soaring costs. But it comes with the caveat that no government can fully protect households and businesses from inflation.
However, the Opposition parties are adamant that much more can be done to help households keep their "heads above water".
Sinn Féin has identified two pressure points for households and businesses on which it wants the Government to quickly intervene. They are the VAT on energy bills and the tax take on home heating oil. Others such as People Before Profit believe that a cap on energy prices should be introduced. These calls are likely to grow louder as prices rise further.
There is also the immense task facing the Government to find accommodation for tens of thousands of people arriving here from Ukraine. Support services will have to be put in place and thousands of extra school places must be provided too. It is a mammoth challenge made even more arduous given the difficulty in predicting the final number of people who will come here fleeing war.
What is clear is that this war is now top of the Cabinet agenda every week. A weighty memorandum is circulated to ministers every Monday and it is a document laced with grim warnings. All this before they even begin to think about the more traditional but no less urgent problems of housing and health care. It is a potent mix reflective of a volatile moment born at a point when a calmer time seemed within sight.
Ukraine: What happens next?
Tony Connelly
After four weeks of war a clear cut victory for either side is out of reach. That suggests a number of scenarios, at least on the military side.
Firstly, Vladimir Putin manages to force Ukraine into a capitulation through a rising civilian death toll, including the starvation of heavily populated cities.
Or, a resilient Ukraine, supplied ever more effectively with Western military equipment, manages to keep the Russian army at bay and inflicts growing losses while Western sanctions further degrade the Russian economy.
Or, Russia consolidates the territory it holds in the south and east and drags Ukraine into a demoralising stalemate, in the hope that the West will grow tired of the crisis, and Russia ends up dismembering parts of the country.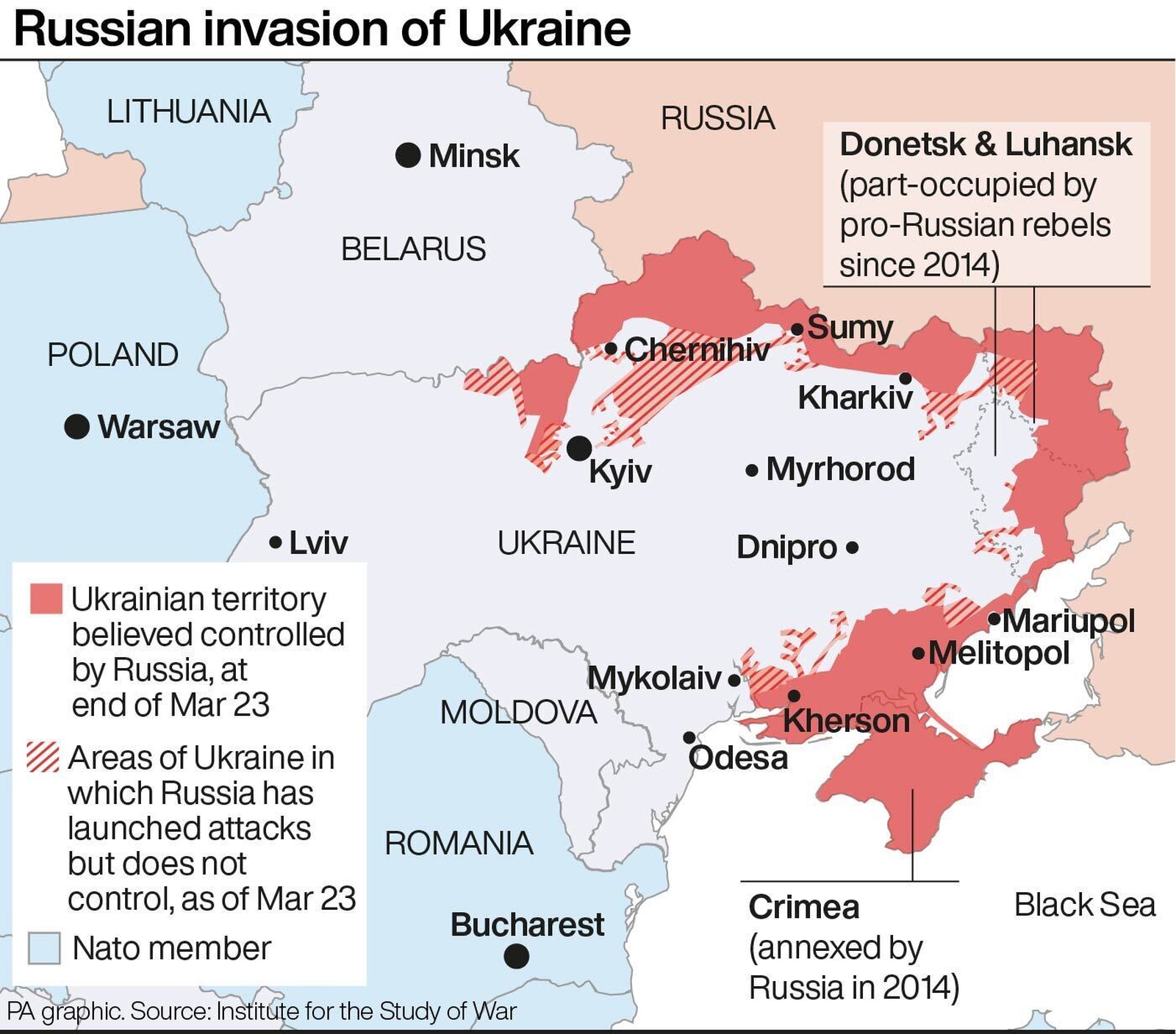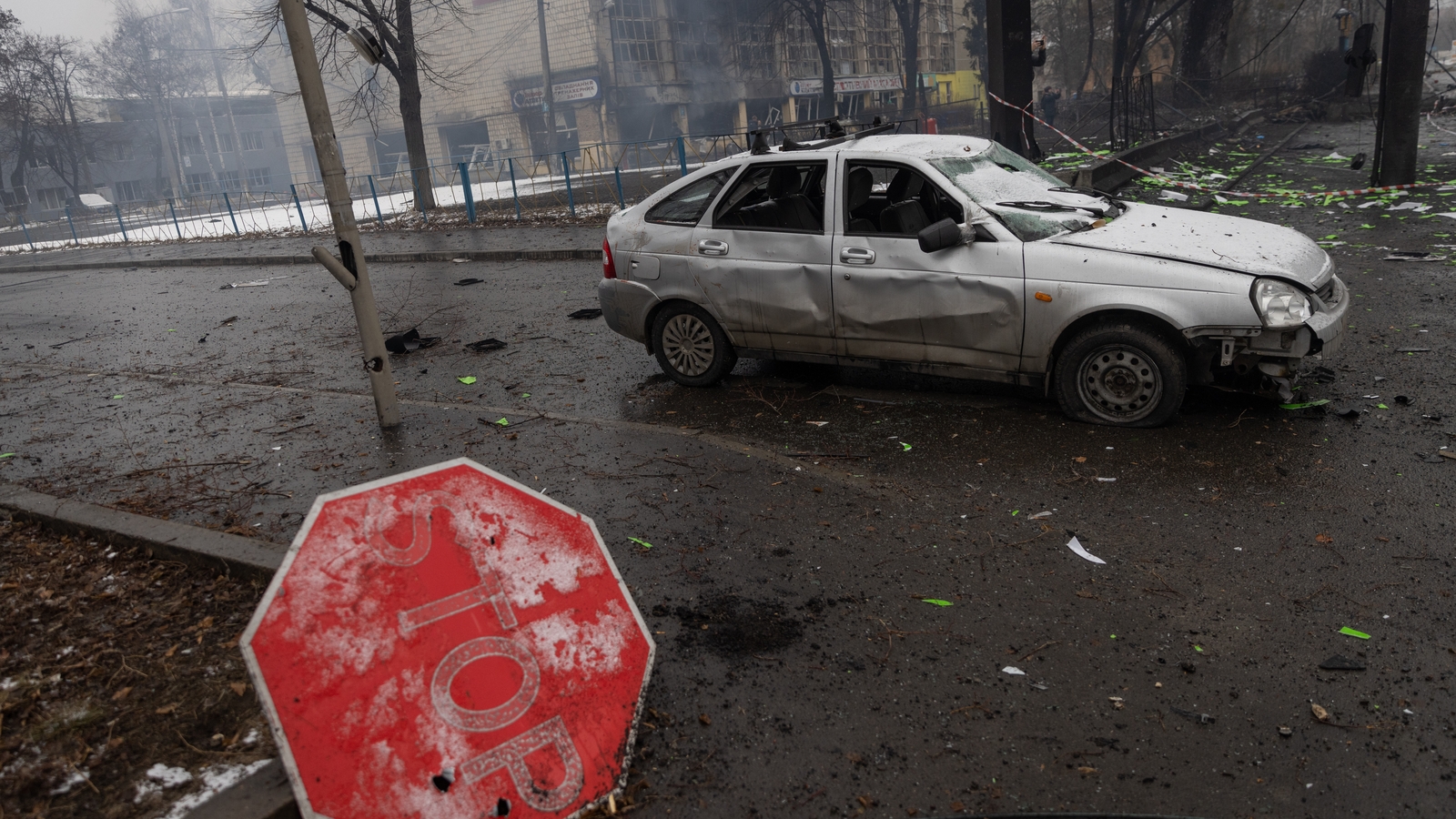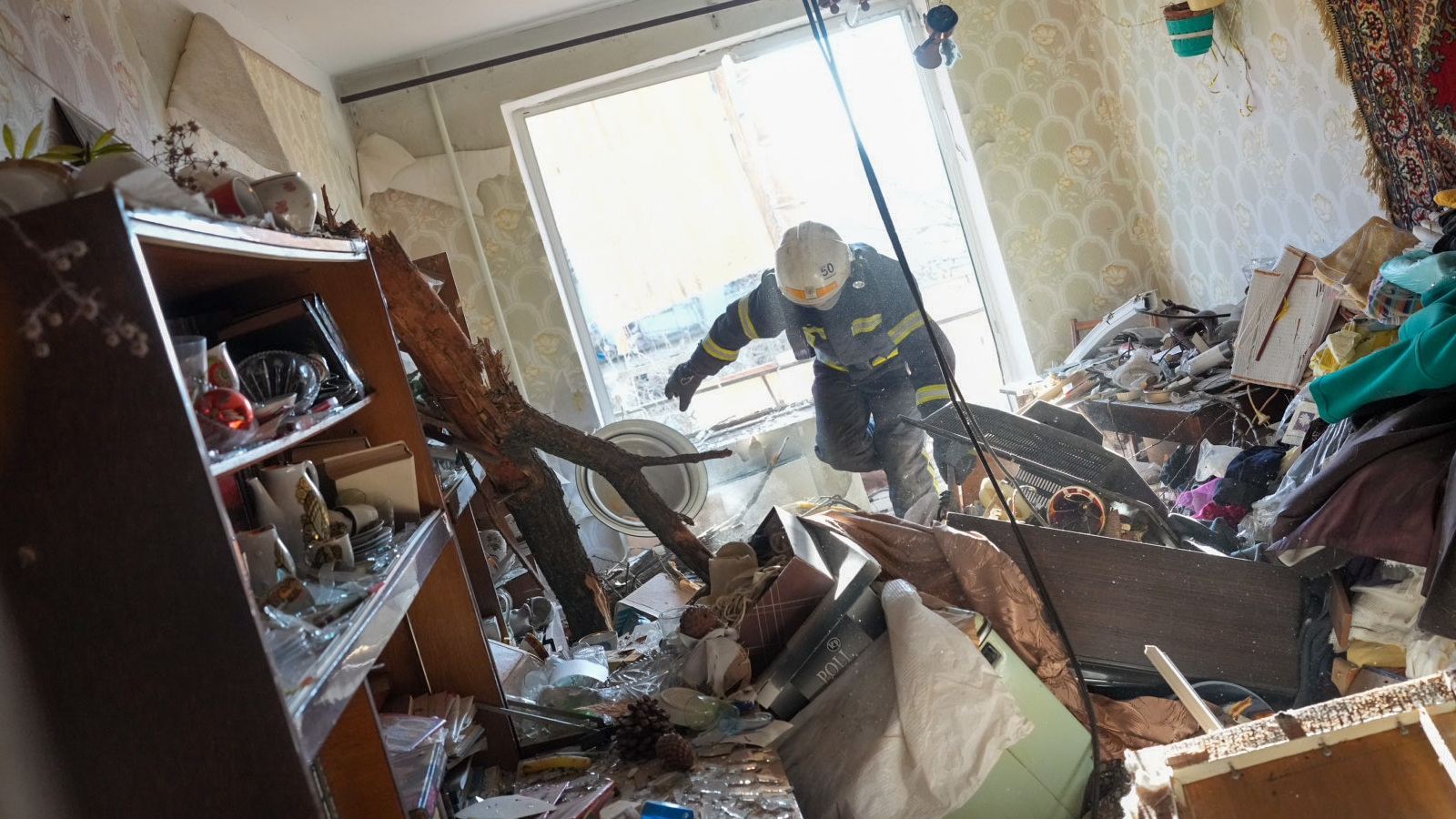 Yet, the outcome will also be shaped by non-military realities. Sanctions are crippling the Russian economy, but they will take their toll on the European economy as well, which is already facing inflation, surging energy costs and supply chain issues.
Global food supplies are at risk given the reliance on Russia and Ukraine for grain, barley and cooking oil commodities. There are many unintended consequences which could steer the outcome in one direction or another.
The peace negotiations so far are hard to read. Both sides have said simultaneously positive and disparaging things about how the talks are going and about each other's positions. China, Turkey and Israel have all apparently been tipped as having (or have assumed) mediation roles, with no real sense of a breakthrough yet.
One thing that does appear certain is that Vladimir Putin has abandoned the idea of regime change brought about by a swift military victory and the installing of a puppet, pro-Kremlin government.
Long term, he would have to subdue and then occupy a vast country, with Russian occupiers facing a population seething with rage, and still in receipt of military support across its long and porous borders to the West via four NATO member states, Poland, Slovakia, Hungary and Romania.
A Ukrainian insurgency would have solid supply lines and material support. Fuelling an insurgency would not be without risks, but a long occupation would be very difficult for Putin to sustain if Russian losses mount, Western sanctions remain in place and the elites that sustain his regime turn against him.
If Putin decides he must go for a near-term settlement that he can dress up as victory, then that opens up the possibility of some kind of a peace agreement, and in that scenario both sides would use the coming weeks to optimise their positions.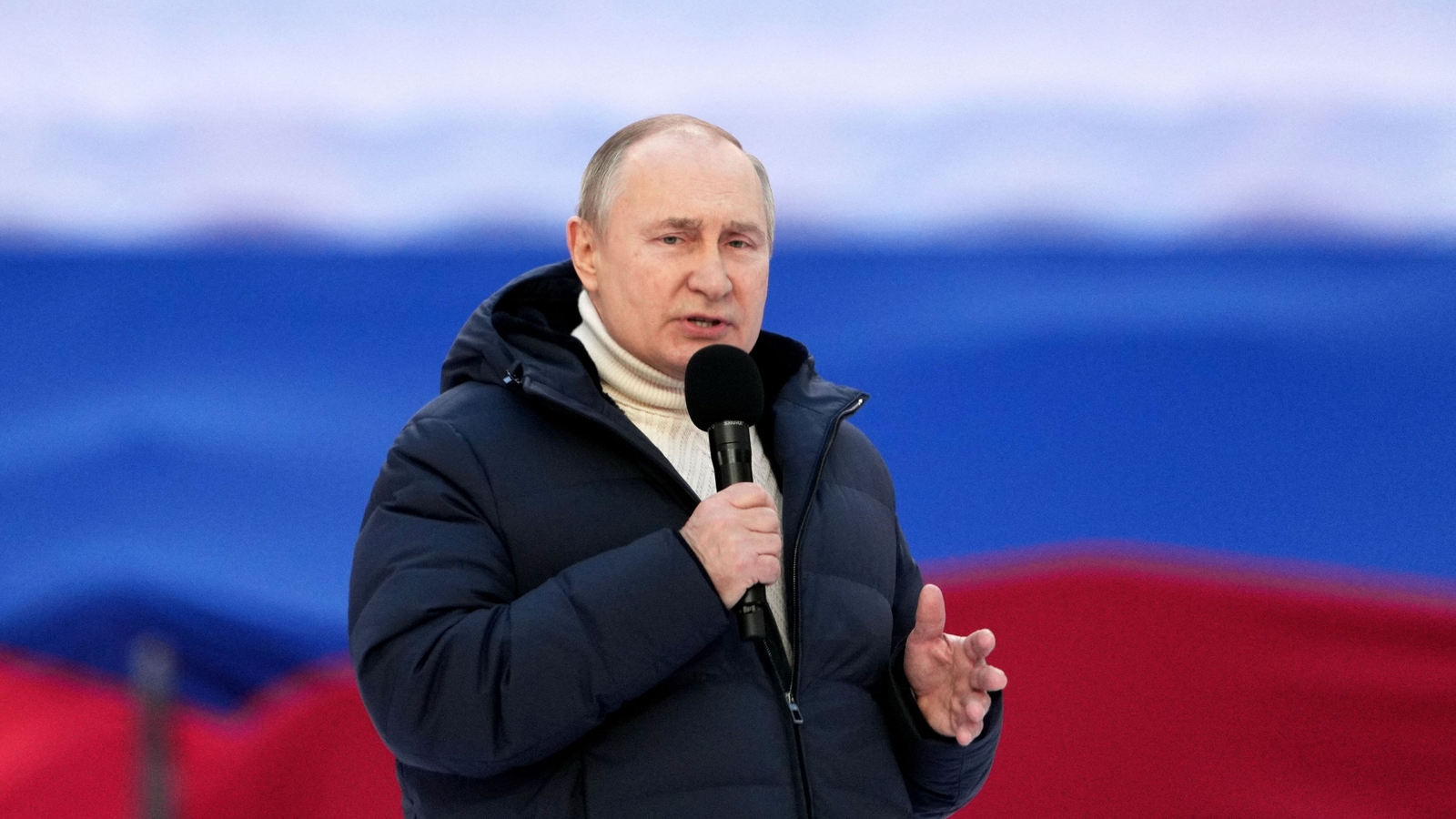 What might a settlement look like?
A key war aim for Putin has been preventing Ukraine from ever joining NATO. President Volodymyr Zelensky has hinted he accepts the NATO door is not open. Paradoxically, that has both given cover for NATO to insist that its open-door policy has not been abandoned, and to signal to other countries (notably Georgia and Moldova) that Russia will not dictate who gets to join.
But it has provided a space for compromise. Indeed, Zelensky, who has been clamouring for a no fly zone, which NATO has steadfastly refused, can argue that when it came to it NATO could not be depended upon, so that would again give him cover to go for a different security arrangement.
The Kremlin has spoken of Ukraine having the neutral status of Austria or Sweden (the latter is actually a very close partner of NATO), but President Zelensky has insisted there must be a bespoke arrangement with security guarantees provided by the likes of the United States, the UK and Turkey, a model not unlike the assurances that were given Ukraine in 1994 when it gave up its Soviet-era nuclear weapons.
In a final negotiation Russia will demand a Ukraine free of NATO military bases or missiles, and limits on Ukraine's armed forces. While the first two may be manageable, Kyiv will insist on being able to defend itself for very obvious reasons. A demilitarised Ukraine will therefore not be acceptable.
Will that be enough for Vladimir Putin? NATO sources say at the very least Putin will want a land corridor from Donbas in the east (roughly comprising Donetsk and Luhansk) down through Mariupol to Crimea in the south (following the invasion in 2014 Ukraine sandbagged a dam, cutting off Crimea's water supply).
Moscow might settle for that and annexation of Donetsk and Luhansk in the east, but there are two immediate problems: Putin doesn't just want parts of Ukraine, he wants it to fail as a democratic, European-oriented state.
Secondly, Zelensky will find it extremely difficult to cede territory. What will thousands of Ukrainian lives, including children and the elderly, have been for if Russia can simply confiscate parts of the country through force? There is more than a theoretical risk that Ukraine could slide into civil war if Zelensky gives away too much.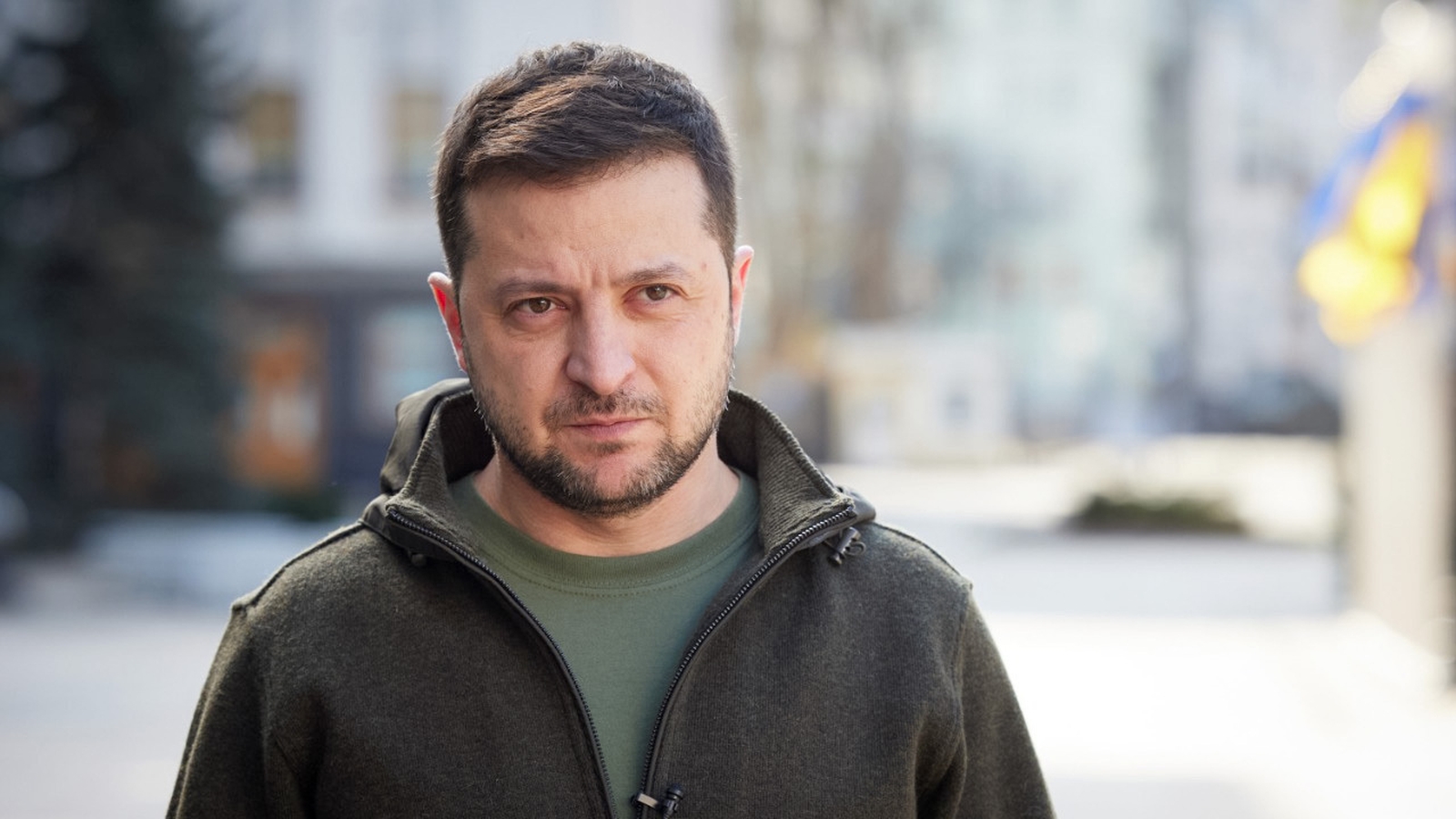 A fudge could be found for Crimea. Russia will refuse to give it back, and Kyiv might continue to refuse to cede it, but could simply live with its de facto status as Russian.
For Donetsk and Luhansk, Ukraine and the West could insist on referenda in the entirety of the two regions (pro-Russian separatists only held part of those regions before the war). Given the savagery of the Russian onslaught, a clear majority of the whole regions could well vote to remain part of Ukraine.
Even if Russia holds on to parts of the Donbas, it will not stymie Ukraine's westward drift, and Russia will not be able to normalise its relations with the West if it continues to use Donbas to incapacitate Ukrainian sovereignty.
Any settlement will have to start with a ceasefire and humanitarian corridors. Russia will want assurances that Western sanctions will end, but any termination of sanctions will depend on Russia complying with ceasefire and settlement terms. There will also be the question of war reparations, the mammoth task of rebuilding Ukraine and the possible return of up to 3.4 million refugees.
All of these are predicated on both sides concluding that a swift end to a catastrophic war is in both their interests.
But with a nuclear-armed Russia controlled by a pitiless autocrat, who has brutally suppressed opposition and independent thought, and who sits at the centre of a highly personalised regime, nothing can be assumed.
Putin could simply keep the wheels of negotiations spinning while regrouping and resupplying his troops. He could roll the dice with a chemical weapons attack, or even a tactical nuclear strike (having regarded a military invasion as unthinkable, the West is now assuming anything is possible).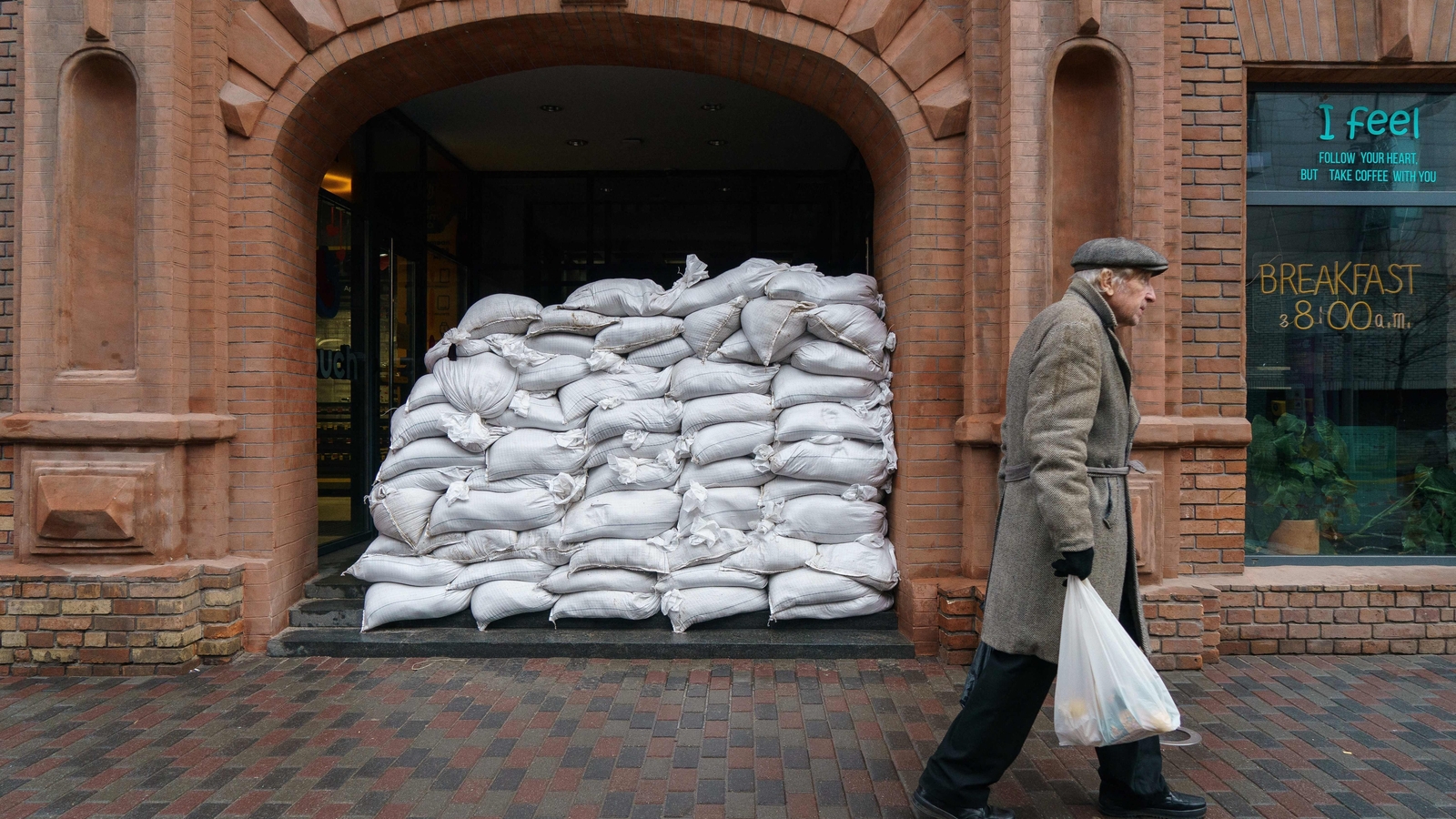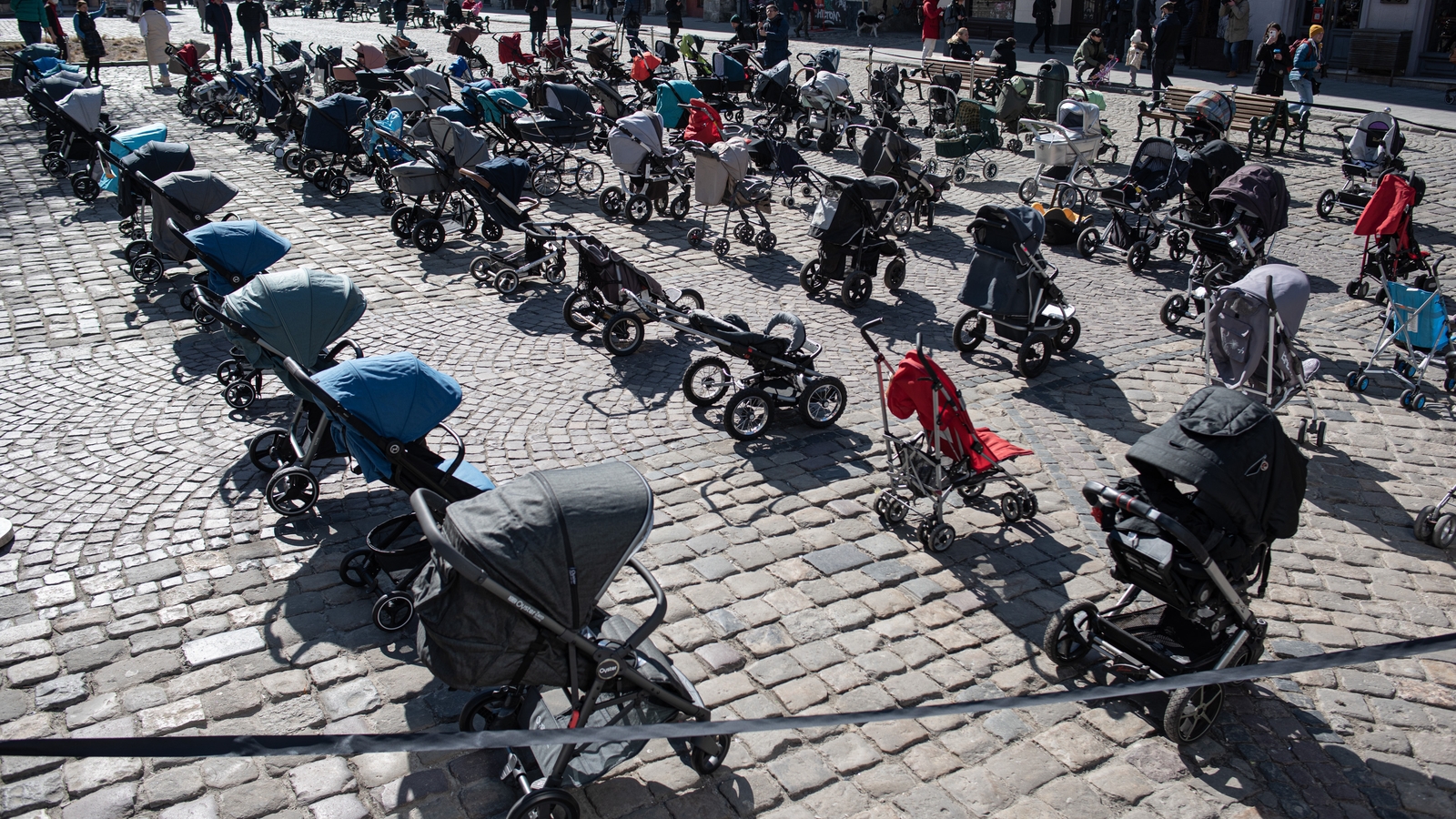 There is no sign of a popular uprising in Russia, nor a palace coup. That means President Zelensky's room for manoeuvre is highly constrained, however admirably Ukraine's resistance has been.
An energy and inflation crisis in Europe could also force a realpolitik rethink on how hard the EU can press Russia with sanctions, if it turns out that Moscow ends up weathering those sanctions imposed to date.
Either way, the European Union will have to continue to support Ukraine financially and politically. It has fudged the question of fast-tracking its candidate status for EU membership, but it will undoubtedly encourage Kyiv's continued aspirations to becoming a European democracy.
Having launched an ill-advised invasion, and having failed militarily to achieve his aims, Putin has forced upon the world a set of unconscionable dilemmas: how to protect a young democracy without pushing the conflict into a cataclysmic escalation.