Russian forces besieged the key southern port of Mariupol and sought to press deeper into Ukraine in the face of strong Ukrainian resistance on the tenth day of the invasion.
The capital Kyiv remains under Ukrainian control as does Kharkiv in the east despite heavy Russian bombardment.
Ukrainian forces also retain control of the northern town of Chernihiv where there have been heavy civilian casualties in recent days.
Russian forces have seized Kherson in the south and have encircled urban centres in the region.
The famed port city Odessa remains in Ukrainian control and has been for now spared fighting.
But there are fears of a possible amphibious assault on the city with Russian warships lurking off the Black Sea coast.
Earlier, officials in Mariupol, surrounded by Russian forces, said they were delaying an evacuation of the civilian population, accusing Moscow's troops of breaking a ceasefire.
"Due to the fact that the Russian side does not adhere to the ceasefire and has continued shelling both of Mariupol itself and its environs and for security reasons, the evacuation of the civilian population has been postponed," city officials said in a statement on social media.
Mariupol, a southern city of about 450,000 people on the Azov Sea, was scheduled to begin the evacuations at 9am Irish time, after Russian forces agreed a ceasefire to allow civilians to leave the fighting.
"We ask all Mariupol residents to disperse and head to places where they can shelter. More information about the evacuation will be posted soon," municipal officials wrote.
"At the moment, negotiations are underway with Russia to establish a ceasefire and ensure a safe humanitarian corridor," the statement added.
There is no water, heat or electricity and food is running out in Mariupol, warned Mayor Vadym Boychenko.
Russia's defence ministry later accused Ukraine nationalists in Mariupol and Volnovakha - a town of 20,000 people near the rebel centre of Donetsk - of blocking Ukrainians from leaving towards Russia.
"The same is happening in Kharkiv and Sumy, as well as in a number of other settlements," the defence ministry said in a statement, referring to two other cities in eastern Ukraine at the centre of fighting.
It also said it had respected the ceasefire and accused Ukrainian forces of shoring up defences during the halt in fighting.
The Russian defence ministry said a broad offensive would continue in Ukraine.
We need your consent to load this rte-player contentWe use rte-player to manage extra content that can set cookies on your device and collect data about your activity. Please review their details and accept them to load the content.Manage Preferences
Ukraine's military said in a statement today that armed forces "are fighting fiercely to liberate Ukrainian cities from Russian occupiers," counterattacking in some areas and disrupting communications.
"Units of the invaders are demoralised, soldiers and officers of the occupying army continue to surrender, flee, leaving weapons and equipment on Ukrainian soil," it said, adding that at least 39 Russian planes and 40 helicopters had been destroyed.
Reuters has not been able to independently verify such accounts.
---
---
"We are simply being destroyed," he said.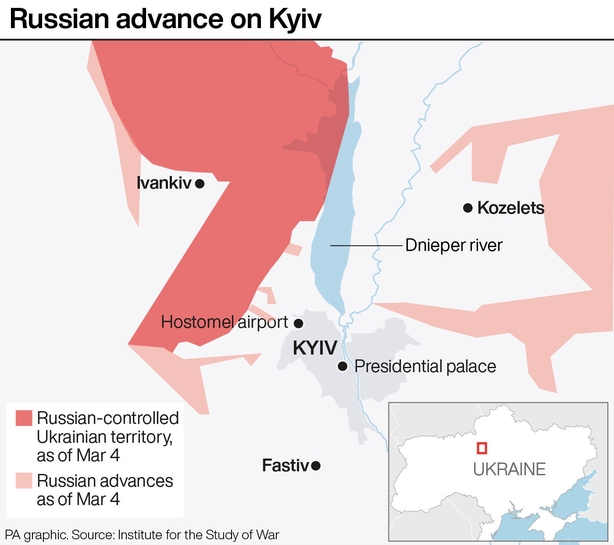 Ukraine says Russian forces have focused efforts on encircling Kyiv and Kharkiv, the second-biggest city, while aiming to establish a land bridge to Crimea.
Defence Minister Oleksii Reznikov said 66,224 Ukrainian men had returned from abroad to join the fight against Russia's invasion. "These are 12 more combat and motivated brigades! Ukrainians, we are invincible," Mr Reznikov said in an online post.
President Vladimir Putin's actions have drawn almost universal condemnation, and many countries have imposed heavy sanctions as the West balances punishment with avoiding a widening of the conflict.
Moscow denies targeting civilians in Ukraine and says its aim is to disarm its neighbour, counter what it views as NATO aggression and capture leaders it calls neo-Nazis.
Russia's parliament passed a law yesterday imposing a prison term of up to 15 years for spreading intentionally "fake" news about the military.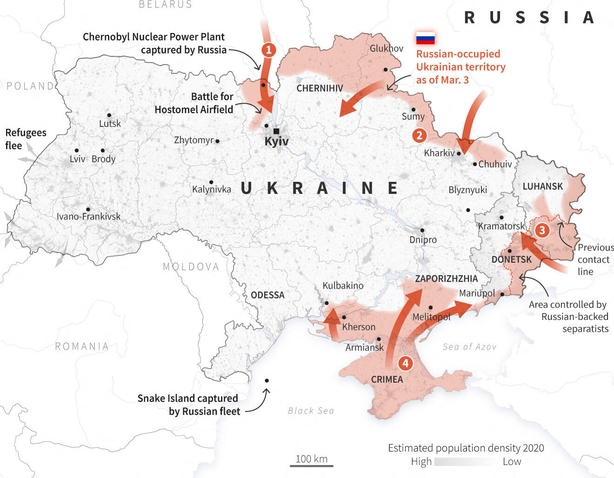 "This law will force punishment - and very tough punishment- on those who lied and made statements which discredited our armed forces," said Vyacheslav Volodin, the chairman of the Duma, Russia's lower house of parliament.
Russia is blocking Facebook for restricting state-backed channels and the websites of the BBC, Deutsche Welle and Voice of America.
US lawmakers pledged in a video call with Ukraine's president today to provide a further $10 billion in assistance as the besieged country faces a Russian onslaught.
In the call with American legislators of both parties, President Volodymyr Zelensky reiterated a plea for Russian-made planes.
The US Senate majority leader, Chuck Schumer, cited by a source briefed on the call, said Democrats and Republicans were "working very hard" toward passing the relief package.
"We will get that assistance of over $10 billion in economic, humanitarian and security assistance to the Ukrainian people quickly," he said.
Mr Zelensky, wearing a military-green T-shirt and seated beside a Ukrainian flag, also urged Congress to bolster already broad sanctions on Russia, including on its oil and gas sector - a move some US lawmakers have also called for as the war in Ukraine intensifies.
But the White House has ruled this out so far, fearing it might cause rising oil prices to go up even more and hurt US consumers stung by record inflation.
Global oil prices surged over 20% this week on concern about supply shortages, posing a risk to global economic growth.
Thousands of people queued for hours today in Dnipro, a city on the edge of eastern Ukraine, trying to catch a train to the country's west, as Russian forces bombard their cities.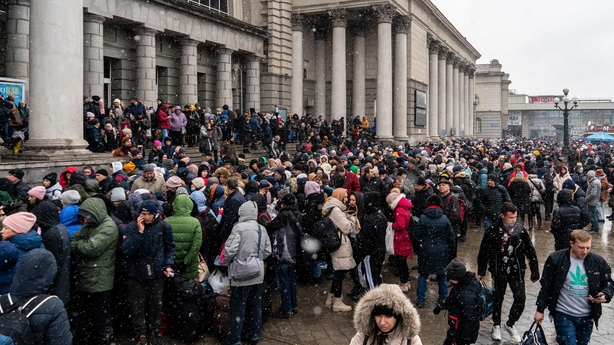 It was the first time crowds of this size have been seen trying to leave Dnipro, where official channels say the situation remains under control.
Local residents said they did not want to wait for Dnipro to become "the next Kharkiv" - the city in the northeast of Ukraine by the Russian border that has been under sustained attack.
As well as Dnipro residents, transit passengers from Kharkiv and Zaporizhzhia were hoping to board trains but, with scant information and huge demand some said they had already been waiting several days.
Men of military age between 18 and 60 cannot leave Ukraine due to mobilisation orders, but many came to say farewell to their wives, mothers and children as they departed.
Families faced their last moments together, unsure of when they would be together again, sharing flasks of hot tea in sub-zero temperatures as powdery snow fell.
President Vladimir Putin today said that Western sanctions on Russia were akin to a declaration of war and warned that any attempt to impose a no-fly zone in Ukraine would be tantamount to entering the conflict.
At a meeting yesterday, NATO allies rejected Ukraine's appeal for no-fly zones, saying they were increasing support but that stepping in directly could make the situation worse.
"We have a responsibility ... to prevent this war from escalating beyond Ukraine because that would be even more dangerous, more devastating and would cause even more human suffering," said NATO Secretary-General Jens Stoltenberg.
Aid agencies have warned of an unfolding humanitarian disaster as food, water and medical supplies run short and refugees stream into western Ukraine and neighbouring European countries.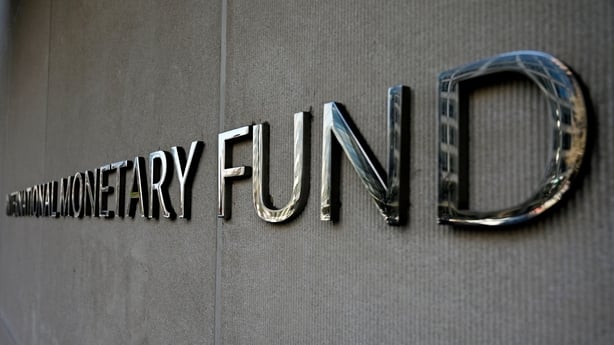 IMF in new warning on economic damage of Russia-Ukraine conflict
The IMF warned today that the already "serious" global economic impacts of the war in Ukraine would be "all the more devastating" should the conflict escalate.
Even as forecasts remain subject to "extraordinary uncertainty, the economic consequences" of the invasion launched last week by Russia on its eastern European neighbour "are already very serious," the IMF said in a statement.
A surge in energy and commodity prices, with a barrel of oil now close to $120, have piled on the inflationary hike that the world was already experiencing as economies recover from the Covid-19 pandemic.
"Should the conflict escalate, the economic damage would be all the more devastating," the international lender said in a statement after a meeting yesterday of its executive board on the economic impact of the war.
"Price shocks will have an impact worldwide, especially on poor households for whom food and fuel are a higher proportion of expenses."
In Ukraine, "the economic damage is already substantial," with infrastructure shut down, damaged or destroyed, with the country due to "face significant recovery and reconstruction costs."
The IMF said emergency financial assistance requested by Ukraine amounted to $1.4 billion, adding the request could be brought before the executive board as early as next week, according to the statement.