A €48 million Game of Thrones studio tour has opened in Banbridge, Co Down.
Featuring a dozen original sets plus original costumes, props and weapons, it is the only one of its kind in the world.
Westeros, the legendary Kingdom of the North from Game of Thrones, is now located in Northern Ireland.
Twelve of the original sets are housed under one roof in the vast Linen Mill Studios in Banbridge, just off the main Dublin to Belfast road.
The studios were among 26 locations across Northern Ireland used during the eight series of one of the biggest television shows in history.
There are life-size models of many of the characters complete with original props and costumes they wore.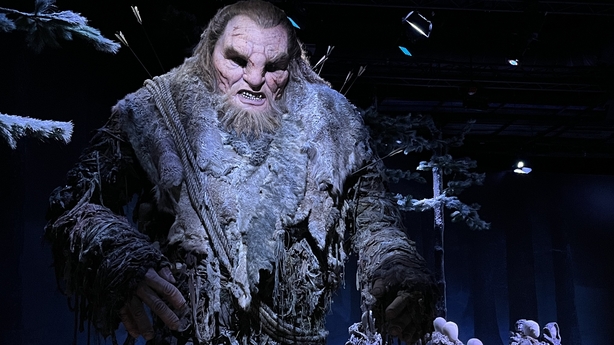 There are also many of the tens of thousands of weapons used, including the giant Scorpion crossbow, all designed and made Tommy Dunne, a master armourer from Wicklow, whose previous credits include the movie Braveheart.
"Every one of the weapons, the swords, arrows, spears and shields was actually used during the filming of Game of Thrones," he says.
"It's fantastic to see them all here on display for the public to see and showing my work and my team's work. A lot of work, a lot of blood, sweat and tears has gone into it.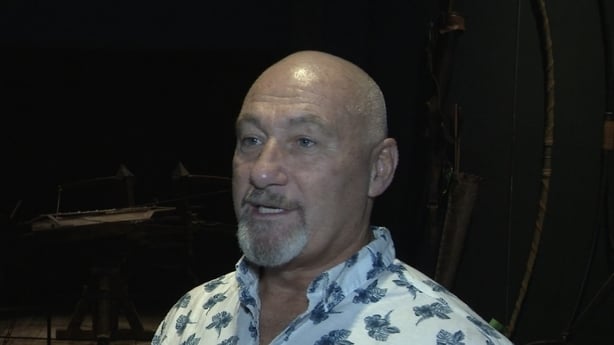 "I'm very proud of it, I'm very proud that they've taken this on to show the public."
Interactive displays allow visitors to test their accuracy with bows and arrows used on screen.
There are also insights into how the lavish sets, costumes and visual special effects were designed.
Much of the work was done by artisans and craftspeople from across the island of Ireland.
Belfast born actor Ian McElhenny, who played Ser Barristan Selmy in the series, believes the tour will be of interest to those who want to pursue a career in set design and filming as well as on stage.
"I was blown away by it when I saw it for the first time," he says.
"The imagination that's gone into creating all of this, and then the skill in realising it, is phenomenal.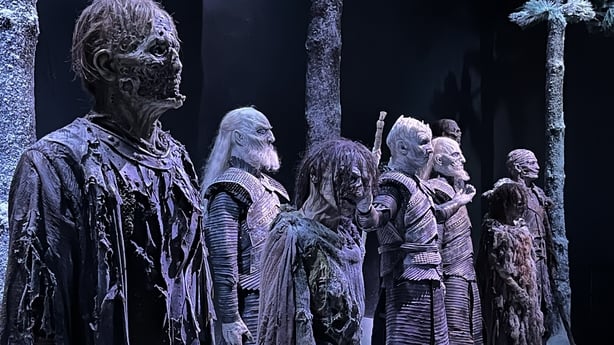 "One of the really great things is that a lot of these skills are homegrown skills. They may have been envisaged by designers from God knows where, but a lot of them have been created by artisans and craftspeople here, and an awful lot of people have been trained here and are now highly skilled.
"I think that will be a huge benefit to us as a society and as an economy in the years ahead."
The filming of many of the scenes from the eight series of Game of Thrones across Northern Ireland provided a huge boost for the local tourist industry, with fans travelling from all over the world.
Before the pandemic shutdown, it's estimated that around 350,000 people visited Northern Ireland each year to visit the locations.
"One in six people, through our visitor attitude service, stated that they were coming to Northern Ireland specifically for Game of Thrones," explains Aine Kearney, Director of Business Support and Events for Tourism NI.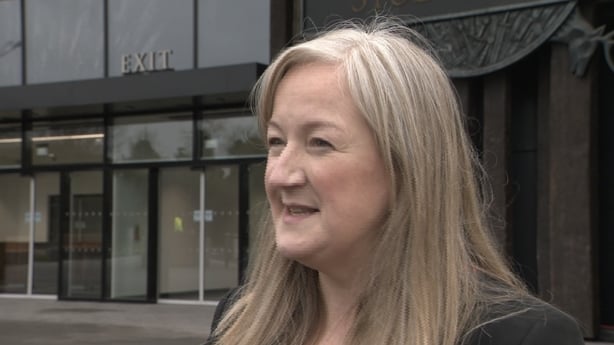 "Estimated value of that was around fifty million (sterling). And on the back of this amazing new experience, we think that is going to drive really transformative growth that is critically important on the back of Covid recovery."
Interactive displays allow visitors to transform themselves into some of the characters.
Organisers advise visitors to allow up to three hours for the tour and tickets must be booked in advance as there is a limit on the number of slots.
Regular shuttle buses to the studios operate from the Boulevard shopping complex in Banbridge, the Europa Bus Centre in Belfast, and there are Busaras services from Store Street Bus Station in Dublin.