Plans to install a temporary cycleway along the Salthill promenade in Galway has become a deeply divisive issue in the local community.
Well over 1,000 submissions were made to a public consultation process in the past week.
The Government has allocated €1 million for the project as part of the national plan to develop walking and cycling infrastructure.
A decision is expected from Galway City Council next month.
Community groups say the proposed temporary cycleway along the Salthill prom is the blue jewel in the crown of Galway's greenways - a safe and sustainable way to travel for people of all ages.
The proposed 3km lane is due to operate from March to September.
Cycle groups say it will transform the area and is a major step in meeting the city's sustainable transport goals.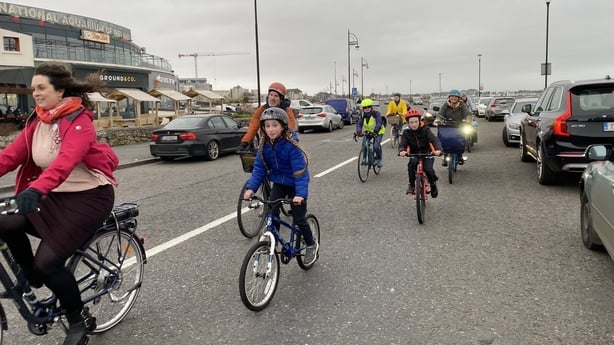 Martina Callinan, Deputy Chairperson of the Galway Cycling Campaign, said: "Mothers and fathers know these roads are treacherous and that's why they don't cycle here with their children.
"This cycleway will give children, teenagers and their parents a real safe opportunity to get out of their cars and onto their bikes.
"Half of Galway's residents live within a ten-minute cycle of a 3km route.
"Social change can be difficult. Some people will be inconvenienced but we have to look at the bigger picture. We have to look at the opportunity for Galway.
"We've been talking for two years about a temporary cycleway in Salthill to give kids and families an opportunity to cycle. Please just get on with it.
"Climate change doesn't wait for anybody. Let's try something new. Galway needs to do better. We have an opportunity. Let's just grab it and go for it!"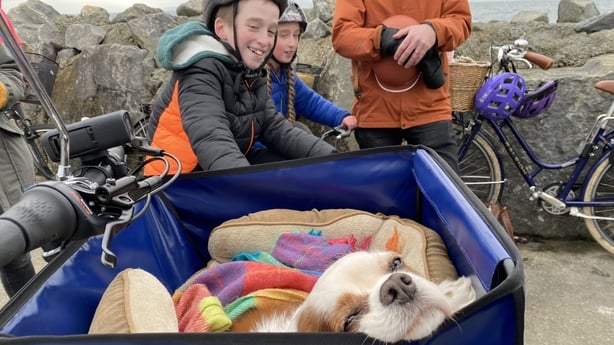 Gridlock
Some local residents and business owners say it will create traffic mayhem and ruin livelihoods.
Catherine Shiel represents a group of businesses in Salthill Village who are opposed to the temporary cycleway.
"This will be a disaster because it hasn't been planned out properly," she said.
"And we have never been opposed to a shared cycleway and walkway along the promenade but the options we have been presented with are totally unsustainable.
"It would be a disaster for our sector particularly during the summer season when the cycleway would be up and running.
"Then of course you have the issue with all of the traffic that is going to be forced through the residential areas and Galway in itself is a gridlock at the best of times.
"So we really feel that this has been very badly planned and these options are an absolute no, no for us."
The Mayor of Galway City, Colette Connolly, proposed the motion for the cycleway last September and it was voted through by 17 to 1.
She previously said: "There is a whole sea change in Galway and people are sick, sore and tired of being second class citizens.
"As a pedestrian and as a cyclist it was very important to get the councillors on board."
Council debate
Some councillors have since said there was a lack of detail and no proper council debate at the time.
The option favoured by cycling groups includes keeping a two way traffic system along the prom as far as the roundabout at the Blackrock diving board.
Then the 600 metre route between Blackrock and the Bearna Road junction becomes one way for cyclists heading westwards and one way for drivers heading east from Bearna.
For local residents and businesses this means drivers can no longer access a key route heading towards Connemara.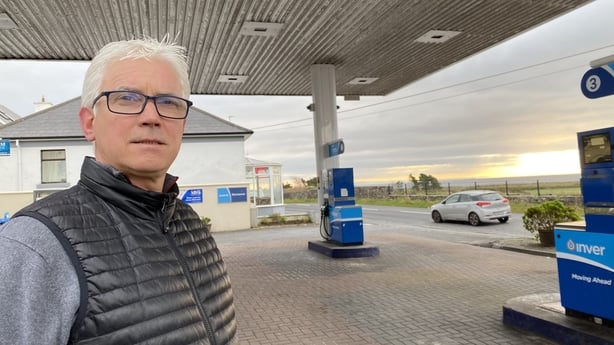 Sean O'Farrell runs a filling station and shop on this section of road and currently sells around 40,000 litres of fuel a week.
"My business will be in serious trouble because we depend on return trade.," Mr O'Farrell said.
"I have 12 people working for me at the moment but that would go down to three or four at most.
"We're here for the last 50 years. There was no consultation, it was railroaded through, not thought out.
"They want to close the road for 600 metres heading towards towards the main Connemara road which means it will be twice as busy now."
Jacqui O'Dowd is a regular cyclist and swimmer. She disputes the issues about access to Connemara.
"People trying to get to Connemara is a huge issue already because this city is gridlocked so I don't buy into that argument," Ms O'Dowd said.
"For every cyclist that you have cycling that's one less car choking up the roads to Connemara so I don't buy the argument that this will make Connemara less accessible.
"I'm also a motorist but it's actually quicker for me to cycle to Blackrock every day from where I live - 11km away - than it is for me to drive.
"The days I come out to meet my friends when I'm in my car, to swim at 11.30, I'm always late if I'm driving. There's just no parking."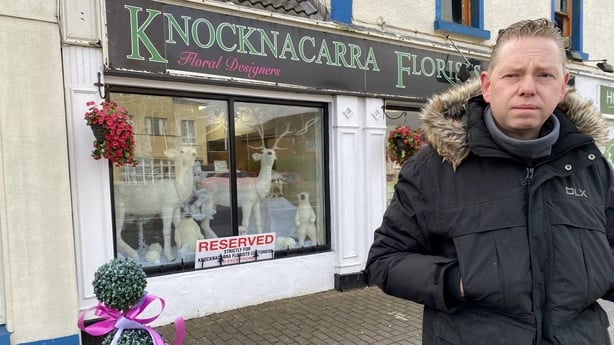 Shane Flaherty runs nearby Knocknacarra Florists.
"We rely very heavily on passing traffic and passing trade and this is going beyond a cycle lane," Mr O'Flaherty said.
"It's severing a major artery to Knocknacarra and beyond into Connemara. We will have funeral directors who pull up outside the shop to take their flowers for the onward journey.
"If this goes ahead they won't be able to do that any longer.
"It's mayhem. It beggars belief why the city engineers are even considering this."
However cycling campaigners say the proposed measures will go a long way towards meeting the city's sustainable transport goals the Government's new Active Travel Investment Programme.
Funding of €1 million has been allocated to the project once it gets the final go ahead from Galway City Council.
Grainne Faller is a Salthill resident and loves to cycle with her family and King Charles pet Charlie.
"We use the cycleway all the time with our two kids," she said.
"We don't cycle here at the moment. We would love to cycle along the seafront but at the moment it's very, very dangerous.
"All the research shows that these amenities attract more people and are good for business.
"Cars mean space and noise. Just allow us to have an option to leave the car at home and it would free up so much space in Salthill. We have this amazing seafront and it's completely taken up with parked cars."
The new infrastructure could see as many as 200 parking spaces removed from the prom and the relocation of a number of bus stops.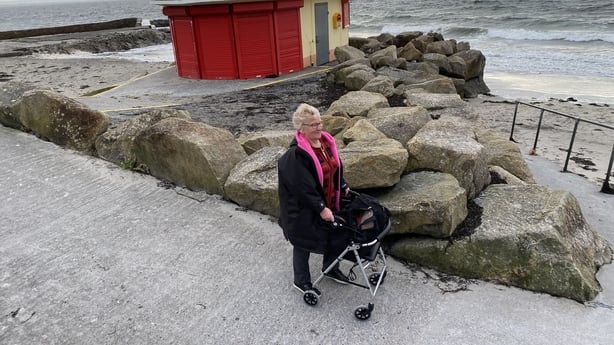 Those opposed to the cycleway are concerned for elderly people with limited mobility, people like 76-year-old Maude O'Donoghue who needs to park along the seafront.
Ms O'Donoghue swims daily to relieve the pain of her MS condition.
"I have MS and I struggle to get from the disabled car parking to here," she said.
"I need help getting into the sea but then I've no MS when I'm in the water.
"I've pain when I'm walking, every step of the way, but the water gives me buoyancy and is a lifeline. Now I don't know what I'll do if I lose my blue badge space.
"I need my space. Elderly people like me won't be able to access the prom with ease for their stroll.
"If I don't swim I won't be able to keep up my mobility.
"I'm fighting for people who are not able to get out of their cars without help, without a wheelchair, without support who want to come here to sit or maybe go in for a swim.
"It means everything for me to able to swim. It's my life."
Blue Badge spaces
Cycleway campaigners say they will work to ensure there are age friendly measures in place and more Blue Badge spaces.
There are trenchant views on both sides which will be reflected in submissions made to the public consultation process.
Steve Lynch is a Salthill resident and cyclist and believes both sides can work to get the best solution going forward.
"A lot of people are very excited that they'll finally get the chance to bring their kids out cycling safely," Mr Lynch said.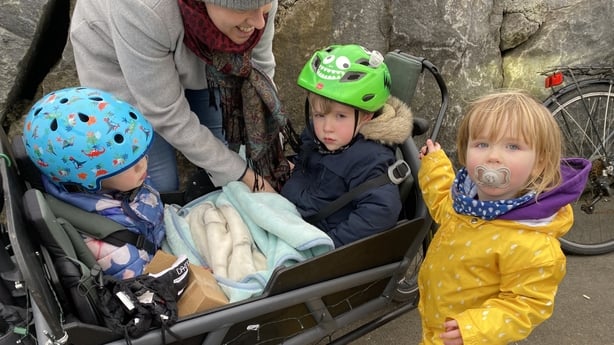 "It shouldn't be too much to ask that I'd like a world where my kids can cycle to school and they're not going to be run over by an SUV. That's the current situation here in Galway.
"Any concerns are going to be addressed and this is a temporary thing. There's going to be problems that can be ironed out and we'll figure this out together.
"We want everyone to be happy and more importantly we just want our kids to be safe."
Others are out counting cars in a bid to stop the cycleway.
This week residents have recorded 10,000 cars daily passing each way between Blackrock - at the end of the prom - and the Bearna Road junction during peak time.
If the cycleway goes ahead it will become a one way system for cyclists heading west and one way for drivers heading east towards the city.
Counting cars
Clodagh Wade lives in Pollnarooma on this section of the proposed route.
"We're counting the number of cars daily from 8am to 7pm travelling east to west and west to east and on average there are 5,500 coming in both directions," she said.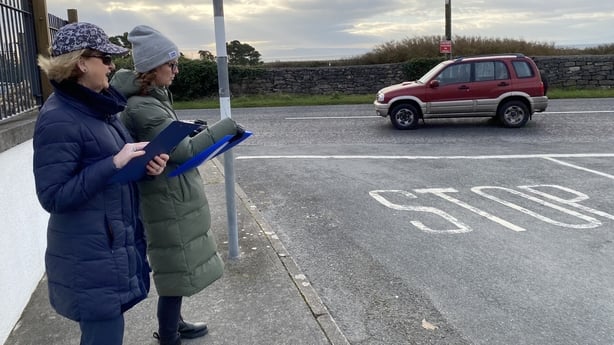 "I know we need to have a cycle lane but this is the wrong place and will lead to further congestion.
"It will be devastating for businesses and devastating for us residents.
"Emergency services will have a hard time going to Bearna and coming back. It will be devastating. They need to find a different solution"
Jacqui O'Dowd says it must be remembered that this is a temporary cycleway.
"This is a trial. There's nothing permanent about it," she said.
"It's not written in stone and if we don't try it we won't know whether it will work or not."
Galway City Council have future plans for a permanent cycleway in Salthill.
In the meantime the temporary infrastructure is due to be implemented in March.