The winner of the National Lottery's biggest jackpot prize has made contact as the newsagents shop that sold the winning ticket is revealed.
The ticket was bought at Laura's XL store on Hopkins Road in Castlebar, Co Mayo.
Saturday night's Lotto draw was a "must win" affair after the jackpot had rolled over since last June, however the winner matched all six numbers in the main draw so the 'Will be Won' mechanism was not required.
Shop owner Laura Scriney said the whole county has been "buzzing with chatter about the Lotto jackpot since the weekend with everyone wondering where exactly the winning ticket was sold.
"When I heard that our store was the lucky location, I was in a complete state of shock. I knew that it was a Castlebar shop but finding out was completely overwhelming.
She said she has been in business since 2019 "so this is certainly a big moment for me and my family."
The National Lottery has confirmed that the winner of the record-breaking €19.06 million jackpot has officially made contact to begin the process of claiming their prize.
The winning numbers were 2, 9, 16, 30, 37, 40 and the bonus was 23.
There were 149 winners of the Match 5 plus the bonus, winning €36,687 each.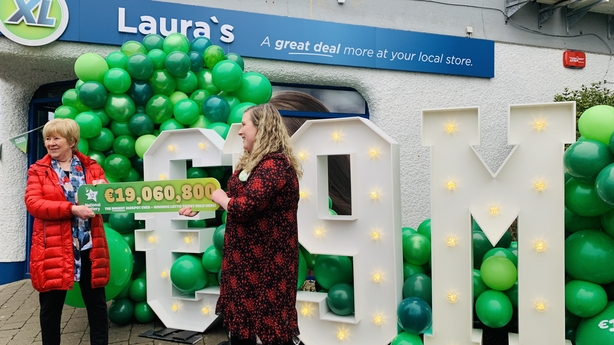 Speaking on RTÉ's Today with Claire Byrne, Ms Scriney said she discovered at 6.05pm yesterday that she had sold the winning ticket, but could not tell anyone until 7am.
She said she has no clue who bought the ticket and the lead up to the draw on Saturday was "phenomenal".
She said shopkeepers would always dream of selling the winning lotto ticket but "you never think it's going to come true."
Ms Scriney said the shop is due to receive a National Lottery payout but she does not know yet how that works.
When asked what she would do with the payout, she said she had no idea.
"Look after the staff and see after that," she said.