The Department of Health has confirmed 18,904 new cases of Covid-19.
There are 1,011 patients in hospital with the virus, down 44 on the same time yesterday.
Of these, 92 people are being treated in ICU, which is unchanged from yesterday.
The new figures come as the rules on close contacts of Covid-19 cases and the requirement to take a PCR test will be relaxed from midnight tonight.
Chief Medical Officer Dr Tony Holohan said: "It is important to note that the latest public health advice around self-isolation and restriction of movement places an increased emphasis on the use by cases and close contacts of higher-grade face masks, as opposed to cloth masks.
"Other protective measures including strict limiting of social contacts are also advised for the full 10 days following a confirmed Covid-19 infection or close contact. These combined measures are intended to offset any increase in risk of transmission that may result from the reduction and or removal of the requirement to self-isolate or restrict movements."
We need your consent to load this rte-player contentWe use rte-player to manage extra content that can set cookies on your device and collect data about your activity. Please review their details and accept them to load the content.Manage Preferences
The Chief Medical Officer said it is now recommended that medical grade or FFP2 masks are used by anyone 13 years and older who is a confirmed case, a close contact or who has symptoms suggestive of Covid-19, the over-60s and vulnerable people of all ages in indoor or crowded outdoor places, or anyone visiting a healthcare setting or when visiting those who are vulnerable to Covid-19 in any setting.
"Masks can play a key role in reducing transmission of Covid-19 if made correctly, well fitted and worn properly – that is they cover the nose, mouth and chin," he said.
"By layering up on the basic public health measures, including vaccination, we can reduce the spread of Covid-19 and continue to protect ourselves and our loved ones from infection. Continue to practise social distancing and good hand hygiene, work from home unless necessary to attend, avoid crowds and ensure indoor spaces and public transport are ventilated (open windows)," the CMO added in a statement.
Minister for Health Stephen Donnelly said those who have received a booster will see the greatest change as they will no longer need to restrict their movements if they are a close contact.
He said the Health Service Executive portal for reporting positive antigen tests is expected to go live tomorrow.
Minister Donnelly said the booster campaign is having a fantastic impact on keeping the country safe.
"I was talking to some of our intensive care people this morning. They were reporting that the numbers are still steady. They're not seeing anything in the pre-intensive care hospital patients or the non-intensive care patients, that would suggest that those numbers are going to start rising quickly in the coming days," he said.
The minister also said the Government is keeping the ending of restrictions under very close review.
"One of the things that I'm looking at very, very regularly is critical care, because we know we've got a huge number of cases," he said.
The relaxation comes as the HSE said the hospitalisation rate has slowed with the less virulent Omicron variant.
HSE chief Paul Reid said that last year, around 50 out of every 1,000 Covid-19 cases were ending up in hospital, but this has now reduced to between 5 and 10.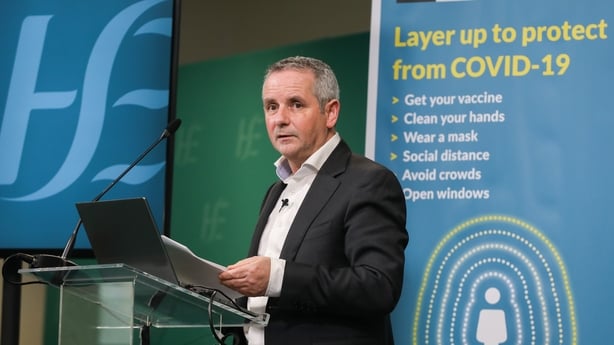 A briefing today also heard that there had been a falloff in the numbers of people getting booster shots and that it is estimated that there are 715,000 people who are eligible, but who have not yet received a dose.
In Northern Ireland, a total of 2,980 positive cases and 14 deaths have been reported in the last 24 hours.
---
Changes at a glance
Boosted people who are identified as close contacts will not be required to restrict their movements.
They will instead be advised to wear a medical grade mask or a FFP2 for ten days, and to take regular antigen tests.
Close contacts who have not had their immunity boosted will be asked to restrict their movements for seven days and to also take regular antigen tests.
The HSE says boosted means an individual is either at least seven days post booster or has a combination of primary vaccination and infection within the last three months.
Testing positive and Covid isolation
Anyone who has Covid-19 will now have to self-isolate for seven days.
This is a reduction in three days from the previous rule of 10 days' isolation.
Antigen tests for under-40s
People aged between four and 39 who test positive on an antigen test will no longer have to confirm the result with a PCR test.
The HSE website will be updated to allow people to upload their positive antigen tests and the details of their close contacts, according to the Minister for Health.
Their close contacts will then be sent antigen tests.
The changes will take effect from midnight tonight.
There are "real concerns" about the effect of the easing of close contact rules on hospitals, the Irish Nurses and Midwives Organisation General Secretary said.
Speaking on RTÉ's Morning Ireland Phil Ní Sheaghdha said there are twice as many people waiting on trolleys when compared to this time last year, as she called for the two week reprieve from elective procedures to be extended until the end of January.
Nurse managers are using the derogation for healthcare staff "very sparingly" because they are dealing with vulnerable people, Ms Ní Sheaghdha said.
The general public must be given more information about what is expected of them and assisted with the costs associated with the higher grade masks and antigen testing, she added.
Additional reporting: John Kilraine