Vigils are to be held across the country tomorrow to remember Ashling Murphy who was murdered in Tullamore, Co Offaly.
Events are planned outside Leinster House in Dublin and Lloyd Town Park in Tullamore at 4pm.
The National Women's Council of Ireland, which has organised the Dublin vigil, said people can bring flowers and candles and asked that all guidance relating to Covid-19 restrictions are respected.
Several hundred people attended a vigil in Eyre Square in Galway city this evening. The crowd, comprising students and members of the public, gathered at the Browne Archway at the top of the public plaza.
Many brought flowers and candles to commemorate the 23-year-old.
People in Tullamore have expressed shock following the murder of Ms Murphy, who was a talented musician.
Ms Murphy, who was a teacher at Durrow National School, was exercising after work when she was attacked along the banks of the Grand Canal.
Ms Murphy was from a musical family and was well-known in the midlands and in music circles around the country.
As seen in the accompanying video (above), she was a traditional musician who played violin and performed at a number of festivals, including Tullamore Trad Fest.
Principal of Durrow National School James Hogan said that there is "not a dry eye" in the school where Ms Murphy taught First Class.
We need your consent to load this rte-player contentWe use rte-player to manage extra content that can set cookies on your device and collect data about your activity. Please review their details and accept them to load the content.Manage Preferences
Speaking on RTÉ's News at One, Mr Hogan described her as "one in a million".
Ms Murphy started working at the school in March of last year.
"Ashling was a shining light to the kids and a very professional, talented young teacher, a lady who had extraordinary sports, musical and choral talents.
We need your consent to load this rte-player contentWe use rte-player to manage extra content that can set cookies on your device and collect data about your activity. Please review their details and accept them to load the content.Manage Preferences

"She was an inspiration to so many, not only in our school, but across the wider community of schools and other organisations in the area that she was involved with.
"It's very, very hard to think that she was here in school yesterday as a teacher and teaching her first class students who they adored, and today, they have come in with little tears in their eyes and their teacher not there."
The "number one priority" is the care of the children and staff at the school, Mr Hogan said.
He added that "a critical incident plan has been put into action" and a memorial has been set up in Ms Murphy's classroom as well as at the entrance to the school.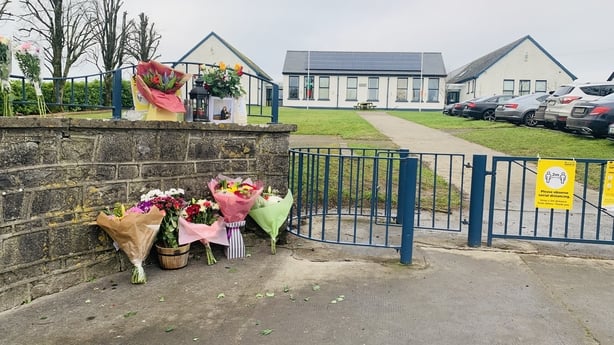 The school said it is conscious of the impact the tragedy will have on the children at the school and it was felt that parents were best placed to explain what happened to their children.
The school was open today and it was expected that counsellors from the National Educational Psychological Services would be there to offer support.
'Stunned and numbed' by senseless attack
Fianna Fáil TD for Offaly Barry Cowen said people in Tullamore and around the country are "stunned and numbed" by the horrific and senseless attack and that o words can describe "adequately, truthfully" the sense of it.
Speaking on RTÉ's Today with Claire Byrne, Mr Cowen said people are asking what they can do to help Ms Murphy's family and friends.
He said all they can do is offer their prayers and sympathy and support to the family, her wide circle of friends and colleagues at her school to ensure they are showered with love and affection at this time.
"To be taken in such a way and in such a location that is enjoyed by so many ... To be taken by such a senseless and horrific act."
He said everyone has walked that route and felt safe there but for this to happen there is now a sense of "dread, fear. worry and shock."
Mr Cowen said there needs to be an acknowledgement that women do not feel safe.
"I can go for a walk, I'm a man, I feel safe, but women don't, that's not equality," he said.
Local councillor Tony McCormack, who lives close to scene, said there is huge sadness and shock in the town.
Speaking on the same programme, he said the Murphy family are well known and liked and that Ashling was involved in a lot of community organisations.
Mr McCormack said he uses the area every day to go running and walking and to think that something like this could happen in broad daylight "rocks you to your core".
Mary Immaculate College in Limerick paid tribute to Ms Murphy, who completed her studies this year at the college, where she had also tutored other students in music.
"It is with profound sadness and shock that we learned of the untimely and tragic death of Ashling Murphy, who graduated from MIC as a primary teacher only three months ago.
"Ashling, a talented musician and performer, had just commenced her teaching career in Durrow National School, Co Offaly, when her young and promising life was cruelly snatched away from her.
"The thoughts and prayers of the entire MIC community go out to her family, friends, colleagues and students.
"Ar dheis Dé go raibh a hanam dílis."
In a post on Twitter, MIC President Eugen Wall said the entire MIC community is "heartbroken and shocked to the core to hear of the tragic and senseless killing" of Ms Murphy.
The entire MIC community is heartbroken and shocked to the core to hear of the tragic and senseless killing of Ashling Murphy who graduated from MIC only three months ago. Our heartfelt sympathy go out to her family, friends, colleagues and pupils. RIP Ashling.

— Eugene Wall (@President_MIC) January 13, 2022
Ms Murphy was a former pupil of the Sacred Heart School in Tullamore, who posted a tribute to her on Facebook.
The school described her as a "vibrant member of our school community during her six years here and she will be sadly missed. Our thoughts are with her family and friends at this sad and difficult time."
Local Fianna Fáil councillor and chairman of Offaly County Council Declan Harvey said he is devastated by what had happened.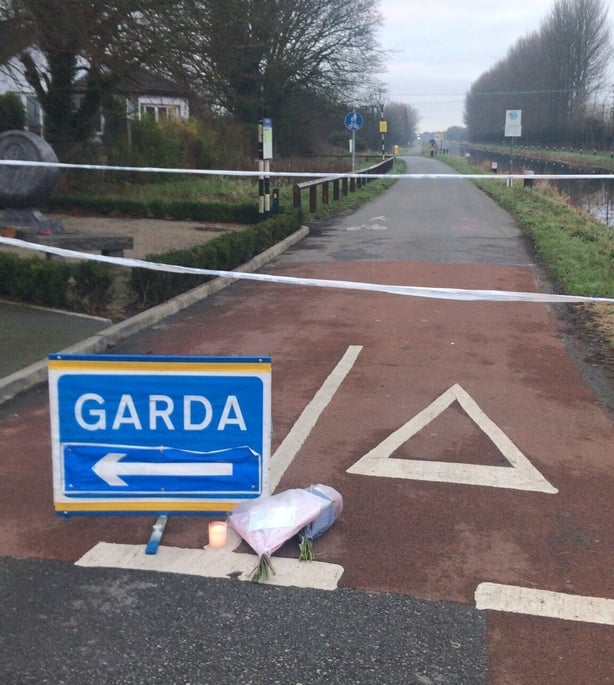 Speaking on RTÉ's Morning Ireland, Mr Harvey said Ms Murphy was from a well-known family and people were in shock over her murder.
He said she and some of her pupils had sang carols at a Christmas market in O'Connor Square in the town just weeks ago.
Mr Harvey described the route where the attack occurred as one that is popular with families and people out exercising. Although there are no lights along the route it is always very busy, he said, adding that he and his family also walk the route regularly.
He said he could not sleep last night and is "lost for words" over the murder.
Mr Harvey said Tullamore is "the safest place in the world", but people would be very nervous now.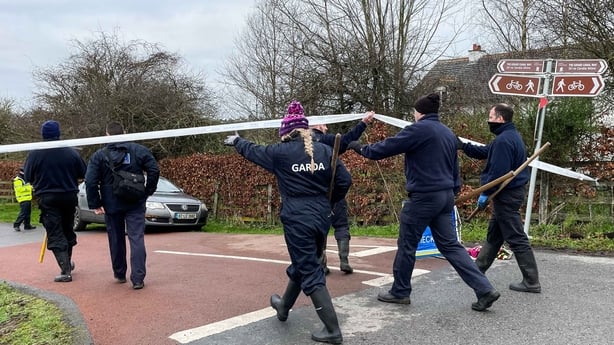 'I didn't even sleep last night thinking about it'
There was a strong sense of disbelief among the early morning commuters in Tullamore today.
Some who arrived at the railway station had heard the news last night, while others had just found about the murder of Ms Murphy.
"I cannot believe it ... the poor young girl ... a young teacher. Crazy so it is," said one man, before shaking his head and adding: "I don't know what people are coming to."
One woman simply said: "Terrible...it should never have happened."
For another man, it was the location and the time of the crime, that defied belief: "We would walk down that canal time many times," he said, "my heart goes out to the families involved".
Those attending the Church of the Assumption in the town centre for mass were deeply and desperately upset.
"I think it's tragic, I'm so upset, I didn't even sleep last night thinking about it," said one older woman, adding "in our own town, it's unbearable really, I can't understand it".
Some had decided to attend mass as a way of coping with their grief and as a means of offering support to the Murphy family.
"I'm so shocked ... that's why I'm out at mass this morning, for the family of that little girl," said one woman who explained that her own daughter was friendly with Ms Murphy.
"I know the area well," she said, "I walk the canal on my lunch break."
The walkway beside the grand canal was taped off as gardaí continued their investigation but floral tributes and notes were left beside the path.
One read: "You were one of the kindest girls I've met, always helpful, always had a smile on your face. You were a great mentor on and off the pitch. Fly high angel."
The pathway beside the Grand Canal is called Fiona's Way in tribute to Fiona Pender, the 25-year-old Tullamore woman who went missing in 1996 when she was seven months pregnant.
There is also a stone monument to commemorate her.
Many locals said yesterday's murder of a young woman immediately brought back the painful memories of Fiona's disappearance.
"It's scary," one young man said simply.
An older resident summed up the feelings of many when he said: "It's crazy, absolutely crazy ... you don't expect this sort of thing around here. I've a daughter and son myself, you expect them to be able to walk the street ... I've no words."
Additional reporting: Joan O'Sullivan