The Irish wind farm industry has said changes to the national grid and the planning process are required if Ireland is to meet the Government's renewable energy targets.
The Climate Action Plan has set out an ambitious goal of up to 80% of electricity being generated from renewables by 2030, in an effort to reduce greenhouse gas emissions across the country.
A large proportion of that will come from onshore wind energy, but there are obstacles in the way, such as the planning process and the ageing of existing wind farms.
Wind Energy Ireland represents more than 150 members of the Irish wind industry.
"A lot of people wouldn't realise this but we're actually the world leader for onshore wind energy as a portion of our electricity supply," WEI's CEO Noel Cunniffe said.
"The vast majority of our wind energy today is onshore wind and the vast majority of our carbon emission savings that we'll see in Ireland over the next 10 years will also come from onshore wind energy," he said.
"It is the cheapest form of electricity generation in the world today. It's much cheaper than fossil fuel alternatives. In Ireland, it's much cheaper than solar," he added.
There are more than 300 wind farms across Ireland and Mr Cunniffe said if Ireland is to go from approximately 40% renewable energy today to 80% by 2030 - it will need to double onshore wind power output.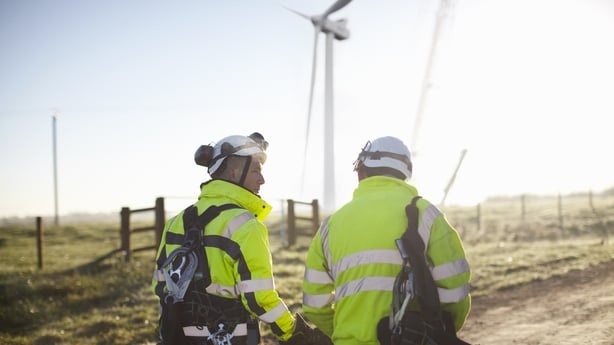 'Acceleration' in wind energy
Prior to the 1990s, there were small individual wind turbines around the country that were not connected to the grid.
The first grid-connected wind farm was built in 1992 by Bord na Móna in Co Mayo.
The Bellacorick wind farm had 21 turbines and had a capacity of six megawatts.
There was sporadic development of relatively small turbines for the rest of the decade leading to an install capacity of less than 100 megawatts in 2000.
However, there was a target of 500 megawatts of renewable energy set for 2005.
With the assistance of the Alternative Energy Requirement price support scheme, that target was largely met by 2005 and 2006.
The Sustainable Energy Authority of Ireland said onshore wind development has gone through stages of acceleration to meet renewable energy targets since then.
John McCann, SEAI programme manager for electricity and wind energy, said an EU target of 13% renewables was then set.
A Renewable Energy Feed-In Tariff (REFIT) was introduced and Ireland crossed 1,000MW by 2009, and almost 1,400MW by 2010, meeting the EU target.
Now, 39% of our electricity comes from renewable sources, principally wind.
"Eleven terawatt-hours of electricity were generated [from wind] in 2020, meeting 36% of our electricity demand and actually providing 86% of our renewable energy supply," Mr McCann said.
"That's the equivalent to the output of 33 Ardnacrushas, which supplied most of Ireland's electricity in the 1930s," he added.
Noel Cunniffe of Wind Energy Ireland said Ireland has "world-class" developers and electricity grid operators.
"We also have an industry that employs a bit over 5,000 people. It really is a decent employment footprint that we've built up and we hope to continue that over the next 10 years," he said.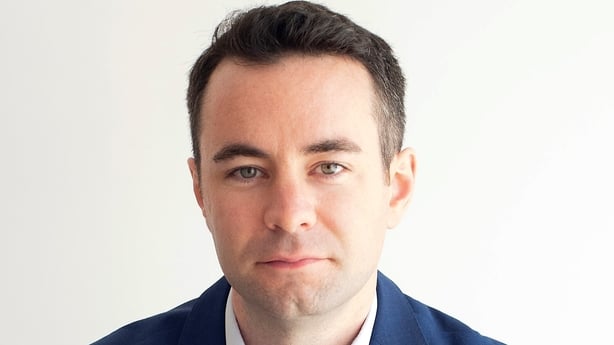 Planning and local objections
Mr Cunniffe said the industry wants a planning process that is "as transparent and robust" as possible.
"We need a planning system which enables wind energy to progress through the planning process as quickly as possible. We want to make sure that that planning process is really robust and there's a lot of opportunity for community engagement and public engagement in the planning process, but what we really want to see is a speeding up of how quickly these projects can get through planning," he said.
Mr Cunniffe said more resources need to be invested in the planning process to speed up decisions, regardless of the outcome of applications.
Local objections can also be a hurdle for wind farm projects.
In Co Kilkenny, some locals have raised concern over a large development at Castlebanny.
Tara Heavey, who lives nearby, said locals have various concerns, including the felling of Coillte forestry and the proximity of the turbines to houses.
"We're very worried about our own health and the health of our children. Hundreds of people would be potentially affected by this," she said.
"Then you also have the whole concept of flicker. The wind turbines cause a recurring shadow at certain times of the day on your property and in your garden," she added.

The application for the Castlebanny wind farm was made directly to An Bord Pleanála as a strategic infrastructure development.
"We're very concerned about biodiversity. We're overlooking the Arrigle Valley, an area of outstanding natural beauty. The area also encompasses four special areas of conservation as designated by the EU and two special protection areas to do with birds," she said.
The proposed development involves 21 wind turbines with a maximum height of 185 metres, for up to 120MW per hour.
Ms Heavey said locals also believe their properties will be devalued by 30-40% as a result of the development.
She said the setback distance under guidelines should be revisited due to the increasing size of turbines.
"Why they can't put them offshore when we have all this potential as an island, I really don't know," she added.
The Castlebanny project is managed by FuturEnergy Ireland, a joint venture by the ESB and Coillte.
It said it had carried out a full environmental impact assessment report and that a community benefit fund would provide more than €500,000 per year to the local area for the first 15 years of operation, with a further €250,000 annually for the remaining duration of the project.
It said it operates above the current guidelines for setback from properties and makes every effort to minimise noise, adding that locals can contact a Community Liaison Officer for information.
Additionally, FuturEnergy said modern turbines can reduce shadow flicker to negligible impacts and said there is no credible evidence supporting a risk to public health from wind farms.
While not commenting on the Castlebanny development specifically but responding in general to a question on how the industry reacts to local objections, Wind Energy Ireland CEO Noel Cunniffe said developers want to engage with communities to understand their concerns, but said the planning process is "robust" and "stress tests" applications.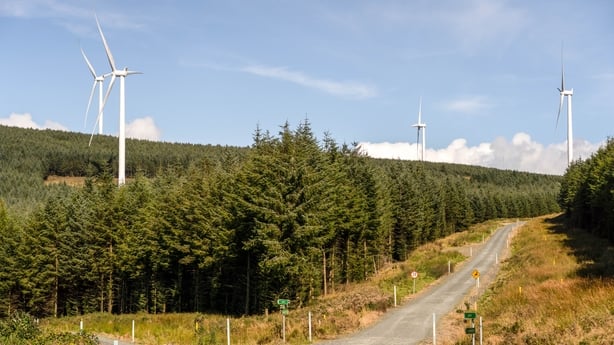 "Definitely, there are challenges to developing onshore wind energy," he said.
However he claimed polling showed support, particularly in rural Ireland, is growing year on year.
"But what we're trying to do better, and what we need to continue getting better at, is engaging with communities earlier and more often in the process," he added.
"We want to understand at an early stage of the project what the concerns of people living within communities are so we can mitigate these when we're designing the windfarm," Mr Cunniffe said.
Developers are required to produce an Environmental Impact Assessment which Mr Cunniffe "really assesses" any possible impact on the environment, such as soil, water, and biodiversity.
"A lot of independent experts, or anyone in the public, can view and comment on these documents. But they will ultimately go to a planning authority which is independent and make the final determination," he added.
"There is no greater protection that we can currently offer the environment than cutting carbon emissions and that's where wind energy is our best counter," Mr Cunniffe said.
John McCann, from the SEAI, said planning is a challenge for most infrastructure projects and not just onshore wind.
He said developers have a high burden of proof when it comes to environmental stability and ensuring no adverse impacts to the environment and people who live nearby.
"There is less space for onshore wind now, we have used up a lot of the better sites and those that remain have issues in relation to environmental sensitivities," Mr McCann said.
"We do have to take care in planning future capacity," he added.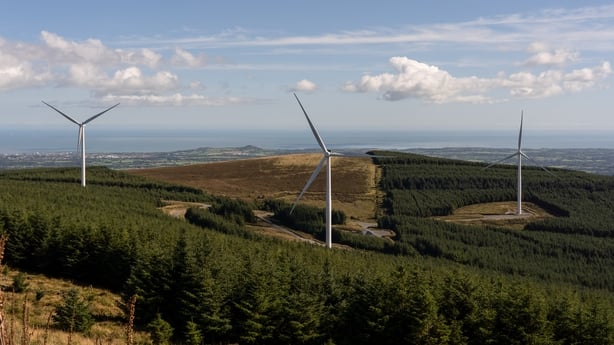 Repowering
A lack of space is a major reason why repowering existing wind farms will be an important part of meeting renewable energy targets.
To get to 80%, Ireland will not just have to construct more wind farms, it will also need to look after the ones it already has.
The wind industry says doubling onshore wind output does not necessarily mean there is a need to double the amount of wind farms.
"Because turbines are getting much more efficient, we won't need as many wind farms. We can double the amount of power we produce with a lot less turbines and less wind farms," Noel Cunniffe said.
Dr Paul Leahy, a lecturer in wind energy at UCC and funded investigator at the MaREI Centre, said the 80% target is "very ambitious" and "a lot more renewable generation across every kind of feasible technology".
At large scale in Ireland, that means onshore and offshore wind, along with solar PV.
"Onshore wind is indispensable. We will probably need about eight gigawatts of onshore wind capacity by 2030. At the moment we're about 4.4 gigawatts," he said.
"We have some operational sites now that were built in the early 2000s, some go back further than that. The normal nominal lifespan of a windfarm project is 20 years although many can go on much longer than that," he added.
"Some of them reach end of life, turbines get superseded by newer, more modern, more efficient versions and in some cases the planning permission might expire," Dr Leahy said.
These existing sites are valuable assets because of their grid connection and high wind speeds.
"Provided it is environmentally and socially acceptable, we need to continue to basically exploit the capacity that is already there," he added.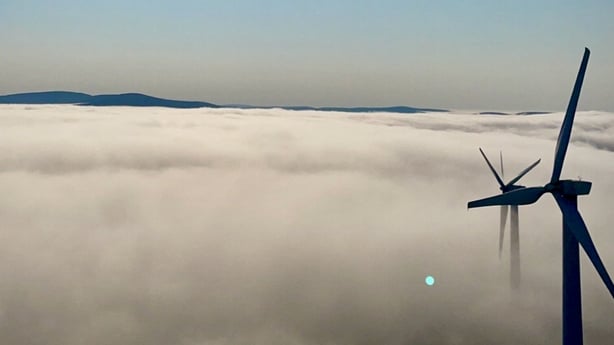 Repowering is when turbines on ageing sites are replaced with more modern versions to create more electricity under the same conditions.
The turbines at Ireland's first wind farm in Bellacorick had an output of 0.3MW, while turbines in use today have outputs of 4-5MW.
"Larger turbines allow greater access and greater capture of the wind resource, without appreciably increasing footprint and actually reducing the number of turbines," John McCann said.
"It's that trade-off. They will be larger and somewhat more visually dominating, but there will be less clutter from more numerous, smaller turbines," he added.
Dr Leahy also said repowering and extending the life of existing farms can also require planning, and echoed calls for a well-resourced planning system with "timely turnarounds".
"It is better to meet targets in a timely way, better for communities so they are not left hanging waiting for decisions, and better for developers too because there's less risk in the projects," he added.
Electricity grid
Noel Cunniffe said the level of investment in the electricity grid is "the single biggest barrier to decarbonising our entire energy system".
"We really need to see investment and see an electricity grid that's capable of moving the power from where it is generated to where it is being used in our towns, our cities, our homes and our businesses," he said.
Mr Cunniffe said Ireland has been "reaping the rewards" of investment in the grid in the 1970s and 1980s, but it will need investment again in the next 10 years.
"We need to see investment in new electricity wires, substations and complementary technologies like battery energy storage if we're going to be able to use renewable energy as effectively as possible," he said.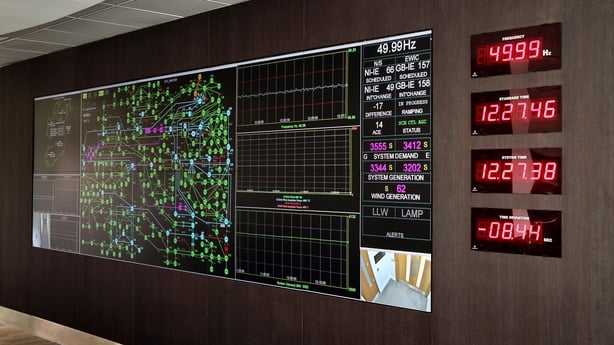 "There's also the added challenge of electrifying as much as of our lives as possible, electric vehicles, heat pumps for our homes. You really need a strong and robust electricity grid to be able to do that," Mr Cunniffe added.
John McCann, who is also the vice chair of the International Energy Agency Wind Technology Collaboration Programme, said Ireland must utilise onshore wind, offshore wind, and solar PV to meet targets.
Outside of planning, he said a big challenge will be expanding the electricity grid and managing variable output.
"The target is unprecedented. It's a very large challenge to integrate that into the system but Eirgrid and ESB Networks are very experienced," he said.
"We have the resources that can be mobilised in terms of making demand more responsive through smart controls," Mr McCann added.
He said interconnecting with other systems is also important so there are larger reserves to call upon.
The Celtic Interconnector with France and others are planned for the future.
Offshore wind and the future of renewables
Mr McCann said Ireland is at the "leading edge" of incorporating renewable energy into the electricity system.
Worldwide, Ireland is second only to Denmark in terms of the share of electricity contributed by wind.
Wind Energy Ireland said if Denmark's significant amount of offshore wind is accounted for (estimated at around 47%), Ireland leads the world in onshore wind specifically.
Mr McCann said Ireland's only offshore wind project, the Arklow Bank, provides just 0.6% of the nation's total wind energy.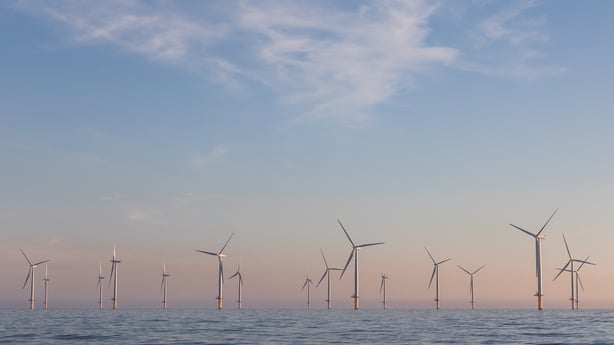 "That's relatively small, but it is not necessarily reflective of its potential future contribution," Mr McCann said.
He said offshore wind has been relatively expensive up until the mid 2010 but since the Netherlands opened tenders for zero-subsidy bids in 2017/2018, "it effectively became market competitive".
It is reported that the Netherlands will this year publish an order for a tender with negative bids.
Offshore wind, while historically expensive, has some advantages.
Mr McCann said the most accessible projects are on the east coast and closer to demand centres, while the projects themselves tend to be less controversial than onshore sites.
Noel Cunniffe, CEO of WEI, said prices have plummeted in the last decade and the industry hopes to develop between seven and 10 offshore wind sites over the next 10 years.
Ireland also has test sites for additional wind technologies.
The SEAI runs floating offshore wind test sites in Galway Bay and Belmullet, and there are also tests for airborne wind energy in Mayo.
Dr Paul Leahy is also involved in researching H-Wind, a MaREI Centre industry-led collaborative research project on the production of green hydrogen from offshore wind farms.
"Sometimes the electricity grid can't absorb all the wind power but there are other things you can do with wind power. You can make it into fuels such as hydrogen," he said.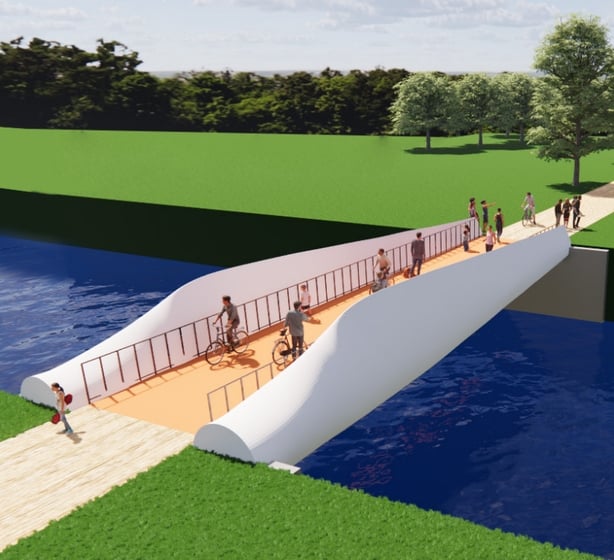 End of life
End-of-life issues for ageing turbine blades are also a challenge for the industry and another focus of Dr Leahy's research.
"What happens to wind farms at their normal service life? We're looking at the blades of turbines in particular, if they get decommissioned. Can you find a sustainable, acceptable new use for the blades?" he said.
The REWIND project aims to answer those questions with innovative projects.
For example, working with University College Cork, Munster Technological University, Queen's University Belfast and Georgia Tech, REWIND has designed and are building a small bridge for a sustainable transport route on a greenway in Cork.
"The bridge will actually be built from decommissioned wind turbine blades. We hope to show with this you can find a sustainable and socially valuable use for these blades when they finally get decommissioned," he said.