The Department of Foreign Affairs has said "lessons have been learned" following an apparent breach of Covid-19 regulations in June of last year.
An image published in the Irish Daily Star, Daily Mail and Irish Mirror newspapers today shows a number of officials from the Department's UN Security Council campaign team gathered together posing for a photograph indoors.
In a statement this morning, a spokesperson for the department said "steps had been taken" after the team "briefly let their guard down" 18 months ago at the Iveagh House on 17 June 2020, whilst celebrating Ireland's election to the council.
The spokesperson said the team was "working in a large open plan area of Iveagh House throughout the day".
The spokesperson added: "Had Ireland not won the Council seat on the first round of voting, the team would have had to work through the night to campaign for a second vote the next day.
"As it happened, we won in the first round and in a moment of happiness, as the result came in, we briefly let our guard down by celebrating together."
"It was 18 months ago and steps have been taken to ensure lessons have been learned."
Ireland was in Phase two of its reopening plan at that stage, and Covid-19 regulations stipulated that people could only meet up to six others from outside their household in both indoor and outdoor settings.
At this stage, people were also advised to work from home where possible, while travel was also restricted to inside a person's county of residence, or 20km, whichever was greater.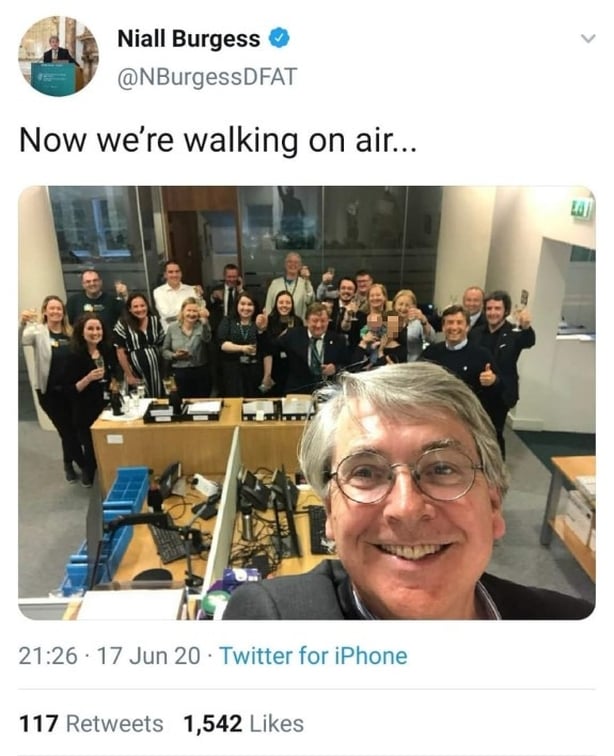 People Before Profit TD Paul Murphy has said that the actions of the officials "suggested that they felt the rules didn't apply to them" and he also called on the Minister for Foreign Affairs to comment on the matter.
He told the News at One that the incident happened a couple of months before "Golfgate" and it was a time when "many people weren't able to attend funerals of loved ones".
"It was a time when you couldn't travel outside of your own county and where gatherings of more than seven people weren't allowed.," Mr Murphy said.
"And yet these people at the very top of the civil service felt that it was okay and appropriate to have a champagne party and even then, to tweet a picture of it, clearly not realising that there was a problem with it that was very blatantly in breach of the Covid rules that were in force at the time," he said.
Mr Murphy said that the effect of that was to undermine public health regulations as it suggested that "if those at the top think that the rules don't really apply to them, then maybe they aren't all that important and maybe others shouldn't be following them either when clearly they are important."
Reacting to the statement from the Department of Foreign Affairs, Mr Murphy asked: "When were these steps taken and what lessons have been learned?"
He said the same rules that apply to everyone else should apply to people who were in breach of the rules in place at the time.
"Over 1,000 people faced fines of either €150 or €500 for either organising or attending a house party," Mr Murphy added.
He also said the statement by the Department of Foreign Affairs today did not state if Minister Simon Coveney attended the event.
"We need to know Simon Coveney's view on all of this," he said.