By David McCullagh, Conor McMorrow and Justin McCarthy
The British Government demand for IRA decommissioning before Sinn Féin could enter political talks was a major factor in the collapse of the ceasefire in early 1996 – and it was pointless, according to senior security sources.
Both the top British general in Northern Ireland and the future chief constable of the RUC told Irish officials two months before the end of the ceasefire that the insistence on prior decommissioning was unnecessary.
Decommissioning was always going to be a tricky issue. A high-level group of Irish and British officials, headed by the Secretary of the Department of Justice, Tim Dalton, and the head of the Northern Ireland Office, John Chilcot, reported on the matter in February 1995.
Patrick Mayhew very publicly made decommissioning a very definite precondition
They recommended as much flexibility as possible, on issues such as how decommissioning would happen, whether intermediaries would be involved, and whether there would be an amnesty on possession offences.
Dalton wrote to taoiseach John Bruton: "Our suggestion is that both sides should stick to the general line that while decommissioning is clearly an important issue on which progress must be made, as part of the process of consolidating peace, neither Government sees it as a precondition for political progress."
But the following month, speaking in Washington, the northern secretary Patrick Mayhew very publicly made decommissioning a very definite precondition.
He said three tests must be met before Sinn Féin could enter all-party talks: a willingness in principle to disarm progressively; agreement on how decommissioning would be carried out; and the actual decommissioning of some arms, as a gesture of good faith and a test of the arrangements. This last condition, known as 'Washington Three', was to bedevil the process for years to come.
Decommissioning 'geared to symbolism'
The following November Ronnie Flanagan, then an acting deputy chief constable of the RUC, but already widely tipped for promotion to the top job, privately told an Irish official that the British Government had "foolishly impaled itself on a hook" with its three Washington conditions.
He believed that "there was never any hope of the paramilitaries agreeing to hand over even a small quantity of arms in advance of political negotiations".
In any event, he said, "the ability to develop and manufacture new types of explosives and weaponry is of much greater concern than the material currently hidden in IRA caches".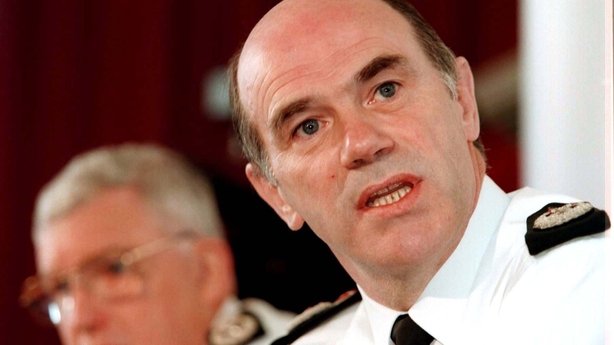 Flanagan said the demand for decommissioning was "geared more to symbolism and Unionist sensitivities than to the practical needs of the situation". He added that the British Government's slow and grudging response to the IRA ceasefire – "too little and usually too late" – risked destabilising the situation.
In the same month, the General Officer Commanding the British Army in Northern Ireland, Sir Roger Wheeler, made strikingly similar comments.
He told the same Irish official, David Donoghue, that "the security forces neither expect, nor are they particularly pressing for, the handover of any weapons in advance of political talks… the ability of the paramilitaries to manufacture their own weapons and explosives is at least as important as the actual weaponry in their possession".
He added that the demand for decommissioning "makes sense only at the level of symbolism".
On 9 February, 1996, the IRA ceasefire came to an end with a massive bomb in London's Docklands, which killed two people.
Almost immediately, security measures in Northern Ireland were stepped up, with more patrolling by the RUC, who resumed wearing flak jackets and travelling in armoured vehicles.
Adams claimed that the breakdown of the ceasefire was due to the British refusal to begin political talks including Sinn Féin
British soldiers were back on the streets of Belfast and Derry, wearing helmets instead of the berets they had adopted after the ceasefire, while helicopters resumed flying at very low altitudes to avoid attack (causing much annoyance to civilians in their flight path).
And reinforcements were brought in – two more battalions were deployed to Northern Ireland, bringing Army strength to 11 battalions, one fewer than the pre-ceasefire level.
British official John Steele, head of the Northern Ireland Office's security division, told Irish officials that these measures were "not excessive" in the circumstances.
But he went on to express his own worry that, given "the known tendency of the security forces in Northern Ireland to demand (and obtain) ever greater reinforcement of their powers and resources, there could be a steady drift towards a disproportionate response on their part if the situation here were to deteriorate".
Spring warned Mayhew on 'semantics'
RUC chief constable Hugh Annesley did not expect a resumption in Northern Ireland itself. In March 1996 he told an Irish official that because "the Republican rank and file do not want to return to violence, the IRA leadership will confine their attentions to Britain. They know that a resumption here will precipitate an immediate Loyalist response and that the situation will rapidly go out of control thereafter…".
Sinn Féin leaders, meanwhile, banned from meeting politicians after the London bomb, were engaging with Irish officials, who hammered home the message that the ceasefire must be restored.
On 1 March, 1996, Gerry Adams reported on a meeting he and John Hume had had with the IRA. "They had been severely critical of the British handling of matters, which they believed was designed to split them. They had also been critical of the taoiseach. They had said that they could 'reluctantly' resume the armed struggle and carry it forward for another 25 years if necessary…".
Adams claimed that the breakdown of the ceasefire was due to the British refusal to begin political talks including Sinn Féin. If that had been done, he said, the IRA "would be at home".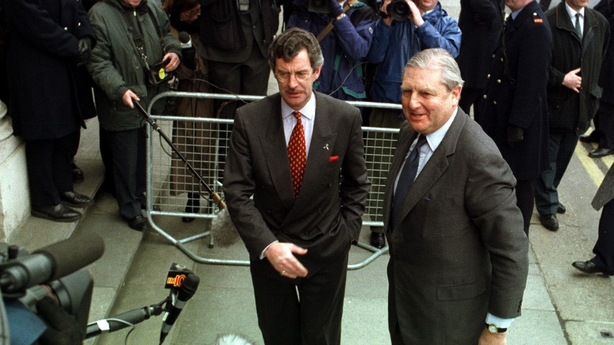 The Irish Government shared at least some of this assessment. The following week, tánaiste Dick Spring met Mayhew in Belfast.
Spring said Sinn Féin were blaming everyone but themselves, saying their attitude was "profoundly depressing". But he also said the two Governments must keep the door open. Mayhew replied that if there were an unequivocal restoration of the ceasefire, ministers would meet Sinn Féin.
Spring "warned that it would be necessary to avoid any semantic debates. The secretary of state agreed: he hoped it would be possible to avoid parsing and analysis…".
Spring pointed out forcefully to Mayhew that without Sinn Féin in negotiations, 'there would be neither a ceasefire nor decommissioning'
Mayhew seemed oblivious to the widespread nationalist belief that it was his government's "parsing and analysis" that had caused the return to violence in the first place.
Efforts to get the peace process back on track focused on restoring the ceasefire, and getting Sinn Féin into talks once the other parties were satisfied that they were committed to peaceful means.
But for unionists, and for the British government, that meant the IRA giving up their guns – decommissioning once again. The only hope seemed to lie in the formula proposed by Senator George Mitchell, of "parallel decommissioning". But London and Dublin bickered about exactly what that meant.
In March, Spring pointed out forcefully to Mayhew that without Sinn Féin in negotiations, "there would be neither a ceasefire nor decommissioning". But Mayhew responded that, given unionist distrust of republicans, "there was a real danger that the negotiations would not even begin if the unionists believed decommissioning would be postponed".
The circle was still a long way from being squared.
Based on documents now available to view in the National Archives of Ireland.