After another year that changed our lives, RTÉ's Core Values podcast seeks to find out what we really value.
RTÉ journalist Carla O'Brien hears from people in Irish public life about what is most important to them.
In the 2021 Solheim Cup, Leona Maguire was classified as a rookie.
But that's where evidence of the term ended.
She became the first Irish woman to play in the competition, held every two years, featuring the 12 best female golfers from Europe and the US.
Maguire's performance proved crucial to Europe's win, and secured her place as the greatest rookie of all time, after not losing a single match.
For the 27-year-old, this year has been one for making history.
A career-best finish of joint-sixth in a major (Evian Championship) was further proof of Maguire's progression in only her second season on Tour.
The Cavan native, who started off the year at 177th in the world rankings but finishes at 43, puts her progression down to the "small wins" of "waking up every day with a purpose".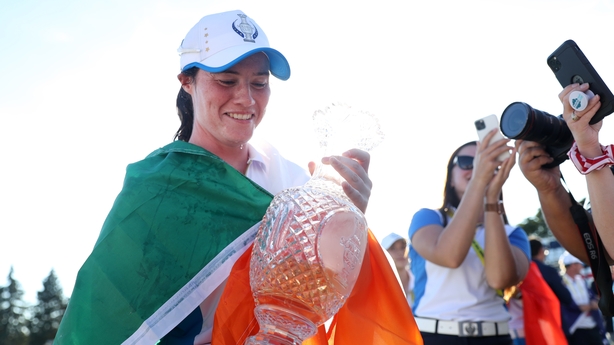 She doesn't dine with whiners, nor does she have time for "fakeness".
She ensures that she surrounds herself with people who "look on the brighter side of life".
"There's a saying in golf, "Don't go to dinner with bad putters".
"It's very easy to slip into a negative mindset if you're around people who are complaining a lot.
"It's something that I've become more and more conscious of; Being around people who are looking on the bright side of life."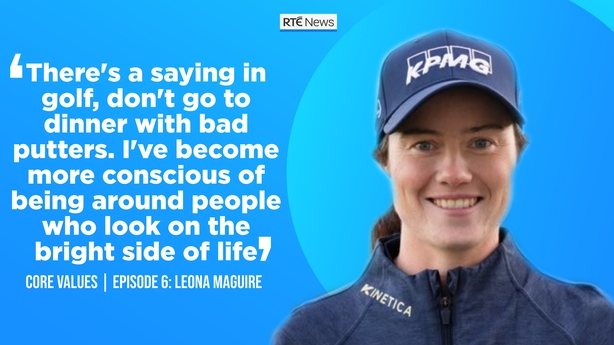 Growing up in Ballyconnell, 30km from Cavan town, Maguire explains that a twist of fate led her and her twin sister to take up the sport that has given her a global platform.
"We were about nine or ten at the time, when Lisa broke her arm messing around in a playground one evening after football training.
"The specialist told Dad that part of the rehab was to get it moving again and he said that racquet sports would be a good idea.
"Tennis was never something we were big into, but we have the Slieve Russell right next to us. So, Dad took us to the driving range. It was a nine-hole, par three course and we started off with three clubs.
"Dad always says everything happens for a reason. Who knows? If we hadn't been in that playground that evening, I may not be in Orlando right now."
As well as playing together, the pair studied many of the same subjects and attended Duke University together in the US state of North Carolina.
Describing her sister Lisa as her "built-in best friend", Leona admits that their sibling rivalry may have given them a head start on the competition.
"Lisa was better than me. She was stronger and could hit the ball farther.
"Coming off the golf course I wasn't asking, "What is leading?" I was asking, "What did Lisa shoot?" We didn't fight about it, but being the competitors that we were, it didn't matter if it was snakes and ladders or soccer in the back garden … We probably brought each other on without us even realising it."
Leona credits her parents for reinforcing the importance of "doing your best" in all aspects of life.
One such lady who is living life to the full is her 95-year-old Grandmother, who makes Christmas cakes and puddings for the family, and keeps up to date with Leona on Facebook.
Describing her health, and that of her family to be her most valued possession, Leona keeps her "team" small which she thinks helps to protect her mental health.
"As a sports person, people are going to have opinions on what you should be doing. It's hard not to sometimes get caught up in what people think.
"Over time I'm placing less and less weight on what people think outside of my team. I keep my team pretty small and really value their opinions and their advice."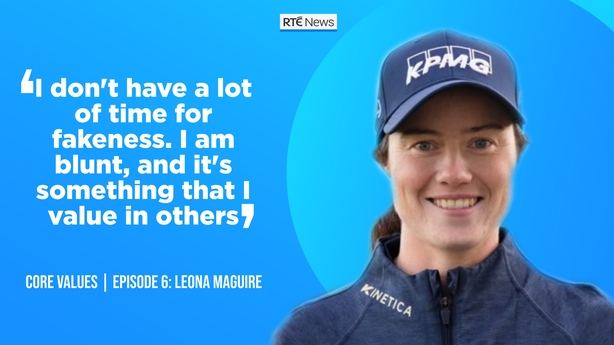 On the issue of the gender pay gap between the earnings of golfers, Maguire, an ambassador for the "20×20" campaign, championing women and girls in sport in Ireland, describes the prize money for men as "obscene".
"The guys are the best in the world at what they do. It's only a small percentage of people that can do what they do, but at the same time, should the gap be as big as it is? Probably not.
"We're getting closer all the time. A lot of big companies are coming on board to support the women's game, so we are making gains all the time.
"Can I see a time when we're on a level playing field? Probably not, because the gap is just so big, and the guys are playing for obscene amounts of money.
"In their FedEx cup, Patrick Cantlay got $15mn (€13.2mn) while genuine Jin Young Ko got $1.5mn (€1.32mn) for us. So, there's a huge gap there.
"The biggest thing for me is that there are equal opportunities. I think it's fantastic to see the FAI, to see the women's team and the men's team now getting equal pay for their international matches.
"We have a lot of work done, but we have a lot of work still to do."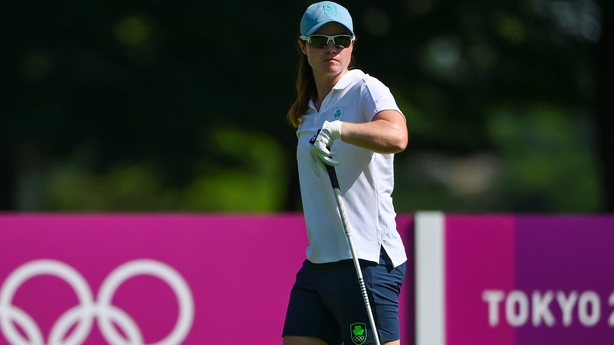 The women's game should be appreciated for the level of skill required, Maguire says, rather than being pitted against the long-distance hitters in the men's game.
"I'm not a big fan of when people compare the women's game to the men's game.
"I think they should be celebrated for the attributes that they have.
"I think in terms of golf, the ladies' game is heralded as a bit more skillful, better short game, and more accurate, but then the guys can hit obscene distances off the tee given that they have that physical strength that we're never going to have."
Being a critical team player in the Solheim Cup would have tested the mental strength of the most seasoned sportsperson.
The Psychology graduate leaned on her professional background, as well as her teammates.
"We had very little support over in Toledo and a lot of American crowds.
"I just went from one match to the next match, keeping expectations low.
"I was lucky to have a big team around me. Normally it's just you and your caddy but we had 12 teammates and their 12 caddies and captains and vice captains.
"We prepared for loud crowds, for people cheering against you when you missed the shot.
"We prepared for nerves at the first tee. The girls told me, "It's the most nervous you're ever going to be; If you make contact you'll be doing well," so I think I had that built up so that when I actually got there, it didn't seem too bad."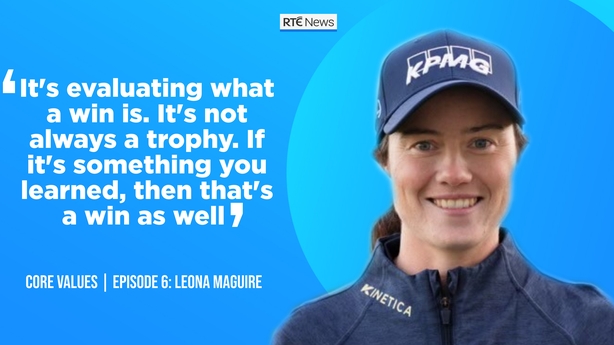 It is no surprise that Maguire practiced with her siblings, to help keep her psyche in check when the pressure came on.
"In the week or two before we'd go out on the golf course and they'd shout things when I was in the middle of my shot, trying to put me off. Obviously, you can't replicate it exactly, but they did their best to try and put me out of my comfort zone."
The year-end offers Maguire a chance to take stock of her achievements, some of which many would wait their whole lives to realise.
"Throughout the year, you don't dwell too much on it. I got to go home after the Solheim Cup, which was very special, to be able to celebrate with my family and friends.
"I got to drive through my local town in a gold convertible with granny in the passenger seat. So that was very special and something that I'll never forget.
"Given the year that it has been, with restrictions coming in and out, those moments are very nice when they come along."
To hear Leona's Core Value and who she deems to be her Most Valuable Player (MVP) listen to the full episode of RTÉ's Core Values, hosted by RTÉ journalist Carla O'Brien, wherever you get your podcasts.