By David McCullagh, Conor McMorrow and Justin McCarthy
"We must be prepared to do unconventional things"
It was not something you would expect John Major to say. At the start of 1992, Margaret Thatcher's successor as British prime minister was widely seen as a bit … boring.
His lacklustre image was well captured by Ireland's ambassador to London, who wrote of "the weaknesses of his dull, uninspiring manner", and his need to "escape from the shadow of his powerful predecessor", while at the same time fighting off the Tory Eurosceptics – "the loose coalition of anti-Federalist dissidents who are dedicated to keeping alive Mrs Thatcher's anti-European sentiments".
But Major was open to new thinking. When he welcomed Charles Haughey to Downing Street in June of 1991, they had a "business-like and very amicable" meeting, at which important new ground was broken.
Haughey pushed the idea of trying to bring Sinn Féin into the process, claiming there was a feeling "even among the military people that if the political people could attempt to achieve goals through political means they would cease their violence".
This was an important point; but Haughey evidently didn't have much new thinking on just how those goals could be achieved, beyond getting London to bully Unionists.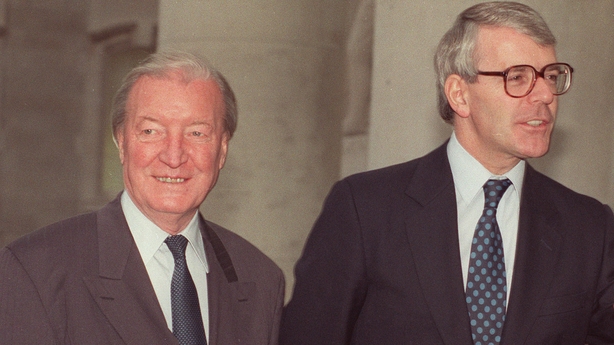 He told Major that he was underestimating his own political strength on this issue: "I must ask where do the Unionists have to go? If you say 'The British government have decided on a certain course of action', where do they go? If they push, things go back and the Anglo-Irish Agreement is fully in place and will be so for another 20 years.
"Don't attribute too much sophistication and understanding to the Unionists. If the British Government says 'This is the way we must go', they have no alternative… Once the British Government come in authoritatively, they must accept…".
This was a view which could have come from Éamon de Valera, and did not appear to cut much ice with Major. But the Prime Minister did have suggestions of his own.
While he said any new approach must be backed by Unionists, and by Westminster, he thought there could be movement on a number of issues: new institutions in Northern Ireland, for instance; measures to reconcile the two traditions, end discrimination and improve North-South relations; and, in that context, consideration of a Council of Ireland, and even "some form of enhanced Anglo-Irish Agreement".
He went on to suggest greater cross-border security co-operation, particularly on intelligence, at which point Haughey teased him by suggesting he was sounding like his predecessor, Margaret Thatcher, joking that he must have one of her briefs.
An interesting exchange of views, with grounds for further progress – though not yet a breakthrough.
But the following February, Major proved a lot more oncoming when he met Haughey's newly elected successor, Albert Reynolds, again in Downing Street.
The two men knew each other from when they served as chancellor of the exchequer and minister for finance respectively. Now they were about to embark on a momentous journey together.
When the conversation turned to Northern Ireland, Major showed unexpected passion: "… people are getting murdered all the time," he said – and the official Irish record of the conversation notes that this was "said with emphasis".
Major continued: "The tit-for-tat killings are just unsustainable… both of us should undertake a series of unconventional confidence-building measures."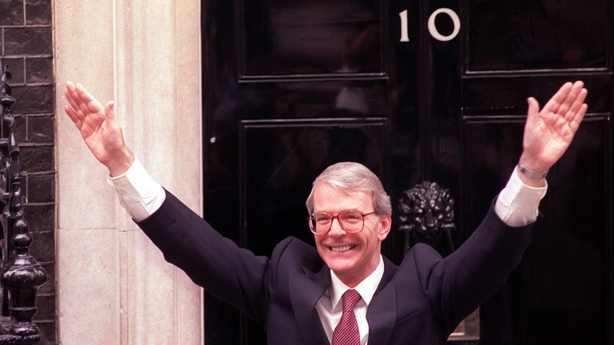 Reynolds was on the same wavelength, saying: "Neither of us come to this question with any baggage… we have the shared objective of reaching peace…We cannot have another generation of violence…".
Major was alive to the danger, to the objections from his own side; but he was also realistic. Asked by Reynolds if the two governments could defeat the IRA, he replied: "Militarily that would be very difficult: I would not say this in public, of course, but, in private, I would say, possibly no…".
There had to be a better way; together, though not without difficulty, the two men would find it.
Reynolds expressed frustration
The newly released State Papers detail the painstaking negotiations that ensued, as the two governments worked to find language for a Declaration that would be enough to make the IRA give up violence, while also being acceptable to majority opinion in the North, Britain and the Republic.
Frustration was frequently in evidence – at one point in 1993, Reynolds complained that changes suggested by the British would make the Declaration unacceptable to Dublin, ineffective in winning over Republicans, and in effect would let the Provos "get away with it", because they wouldn't have to engage.
He wanted to give the IRA something "on which the fellows can hang their hats", and pointed out: "I have led my government further down the road than anyone before me. Life would not be liveable for us if we let this opportunity go by."
As Major noted in a letter to Reynolds the following month, there was a warm public response to the Declaration, but no change in the behaviour of the IRA
But Major gave as good as he got, replying: "Balance is a two-way operation. I do not want to replace IRA violence at one end with Loyalist violence at the other. What is in it for the IRA is a democratic legitimacy within a few weeks. No other British government would have been in a position to deliver this."
Together, they pushed on, refining the language and finally announcing the Downing Street Declaration on 15 December, 1993. The Irish government recognised that a united Ireland could only happen with the consent of a majority in Northern Ireland; and the British government accepted that if there was a majority in favour, unity would happen.
As Major noted in a letter to Reynolds the following month, there was a warm public response to the Declaration, but no change in the behaviour of the IRA, which resumed its campaign after a brief Christmas truce.
While he accepted that neither government "should appear to threaten, bribe or to humiliate Sinn Féin", at the same time, the clock was ticking: "We must guard against arbitrary deadlines, but you will readily understand that the limit of what is possible for us to tolerate, in the sense of keeping the door open, is now being approached."
'Caught by surprise'
However, Reynolds managed to keep the door open long enough, until the IRA finally declared a ceasefire on 31 August 1994. It was a triumph for the partnership between the two men, begun 30 months before in Downing Street. But tensions remained.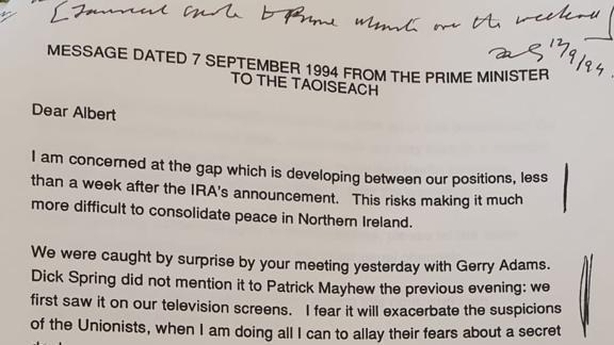 When Reynolds decided to meet Gerry Adams in Government Buildings just six days after the ceasefire, Major was appalled, writing that Downing Street had been "caught by surprise", and that the first he and his staff knew about it was when they saw it on their televisions.
"We are only six days into the cessation and we have a very long way to go to finish the job". He felt that Reynolds's photo op with Adams "will exacerbate the suspicions of the Unionists, when I am doing all I can to allay their fears about a secret deal".
Major stressed the importance of avoiding division between them. "Our unity has been probably the single most important factor up to now". But much more disagreement was to come.
Based on documents now available to view in the National Archives of Ireland.