By David McCullagh, Conor McMorrow and Justin McCarthy
The massive scale of Libya's support for the IRA in the 1970s and 1980s is outlined in secret documents released by the National Archives today.
As well as huge amounts of armaments, Colonel Gaddafi's regime also supplied the Provos with over $12.5m in cash – the equivalent of roughly €40m today.
British intelligence was shocked to discover just how much money was involved when Libya finally decided to come clean on the extent of its support for the Provisional IRA in the summer of 1992.
While admissions about arms shipments were broadly in line with expectations, the British authorities were unnerved to discover that "Libya has given PIRA far more money than we had thought".
Over three periods (1973-75, 1985-86 and 1988-1990), the Libyans paid over a total of $12,655,863. All of the money was paid in cash, with no bank accounts used.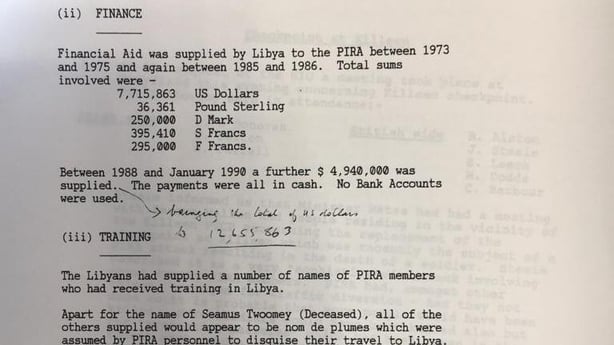 The amount of weaponry supplied in five shipments – one in 1973, and two each in 1985 and 1986 – was also staggering.
The Libyans supplied 1,450 Kalashnikov automatic rifles; 180 pistols; 66 machine guns; 36 rocket-propelled-grenade launchers; 10 surface-to-air missiles; ten flame-throwers; 765 grenades; 5,800kg of Semtex explosive; 1,080 detonators; and almost 1.5 million rounds of ammunition of various types.
The Libyan arms pipeline was finally closed when French authorities intercepted the sixth shipment, aboard the cargo ship MV Eksund, in October 1987.
Contact began in 1973
In the summer of 1992, at the sharp end of sanctions following the bombing of an airliner over Lockerbie four years before, Gaddafi was desperate to repair relations with Britain. He therefore decided to reveal details of his support for the IRA, details which the British immediately shared with the Irish government.
At two secret meetings – in Geneva in June 1992, and in Cairo two months later – the Libyans admitted that contact with the IRA, arranged through the Soviet Union, began in 1973. This led to one arms shipment, aboard the MV Claudia in March 1973, and significant cash payments.
Contact lapsed between 1976 and 1984. But when relations with Britain soured after a Libyan embassy official killed a British police officer in 1984, and still more after American aircraft based in Britain bombed Tripoli in 1986, Gaddafi sought revenge by supplying the IRA with weapons and money.
Arms were shipped on the MV Casamara in August and October 1985, the MV Kula in July 1986, and the MV Villa in October 1986. Money was paid over in 1985 and 1986, and again between 1988 and January 1990.
The Libyans also gave the British the names of a number of IRA members they had trained. But apart from former chief of staff Seamus Twomey, who died in 1989, the rest of the names "would appear to be nom de plumes which were assumed by PIRA personnel to disguise their travel to Libya".
The British felt the Libyans "have told us only what they suspect we already know", and were withholding certain information, but even so, the new intelligence was "generally sound" and was "likely to give opportunities to take action against PIRA".
Haughey observed: 'The trouble is Gaddafi is mad!'
Libya had earlier tried to enlist Irish help in repairing relations with Britain. In 1988, an approach to the Irish Embassy in Rome said they wanted their "good friends in Ireland to help them in their objective". The Department of Foreign Affairs took a dim view, believing Libya was "trying to use us as a vehicle for gaining international respectability".
Meanwhile, a Department of Justice official told Foreign Affairs "in the strictest confidence… that the Libyans recently sent a high-level representative to Dublin to talk to 'our man'". The documents don't identify who 'our man' was, but it presumably refers to a senior political figure.
Beef bid did not impress British
At the time, Foreign Affairs was opposed to improving links with Libya, which had been frozen since the capture of the Eksund. Taoiseach Charlie Haughey had no illusions about the Libyan leader. When his name came up during a meeting with British prime minister John Major, Haughey observed: "The trouble is Gaddafi is mad!"
But mad or not, the Libyan leader also controlled a significant market for Irish beef, which had been closed due to concerns about BSE. In 1990, "at the direction of the Taoiseach", agriculture minister Michael O'Kennedy went to Libya to try to restart sales of Irish beef.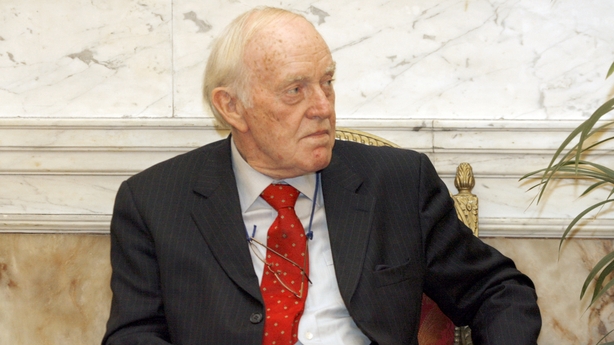 The British were not impressed with such contacts, and sought to convince Dublin that Libya still had links with the IRA, and was continuing to supply and support the organisation.
In May 1992, the British ambassador to Dublin told Foreign Affairs: "There have been contacts between a known Libyan intelligence officer and the PIRA in a number of European cities… the British authorities also have information to suggest that Sinn Féin delegations to other countries are used at times as a cover for onward travel to Libya. There are also indications that Libyan training for the IRA is continuing."
Challenged by the secretary of the department, Noel Dorr, the ambassador admitted that "the information he had given me was not very substantial or conclusive". But the following month, the Libyans themselves decided to confirm exactly how much support they had given the IRA.
Based on documents now available to view in the National Archives of Ireland.