After another year that changed our lives, RTÉ's Core Values podcast seeks to find out what we really value.
RTÉ journalist Carla O'Brien hears from people in Irish public life about what is most important to them.
In the days after a fire at Glenisk, its Managing Director said he "thought it was a drill".
No one was injured in the blaze which broke out on 27 September at Killeigh, outside Tullamore in Co Offaly, but Vincent Cleary says its destruction of the plant has set the company back three decades.
"The only part that was unscathed was the milk bottling room.
"That was where my father began his business, when he built Tullamore Dairies in the late 70s."
Jack Cleary then went on to create Glenisk in the mid 80s, with the initial aim of producing soft cheese.
"But that didn't work for us, and yoghurt was our plan B.
"We have the formula, the learnings that we have over the last 30 years we will take into the new Glenisk."
This past year has been quite the trip for the Offaly businessman.
The 58-year-old suffered a cardiac arrest, while on holiday with his wife and daughter near the Cliffs of Moher in July and had to undergo extensive heart surgery.
"They had to shock me an extra five times in the operating theatre, because I kept having attack, after attack, after attack."
Cleary believes raising Glenisk from the ashes will now be his life's work; The mission which he was kept alive for.
"When you come into contact with a near miss, you start to think, I have unfinished business. Give me time to finish my business.
"My cardiologist said that someone upstairs must have been looking out for me.
"I was joking with people saying I didn't know what upstairs wanted me for, but since the fire I know that rebuilding Glenisk is going to be my statement on life."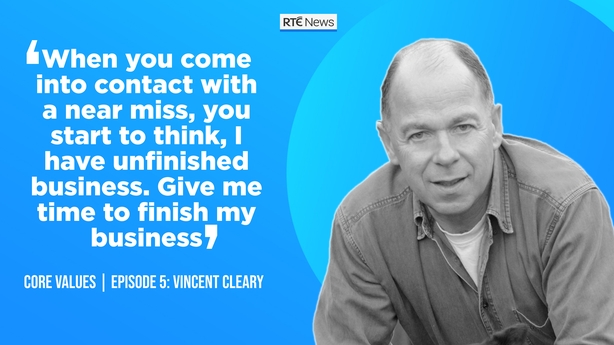 While the company is "on-track" to have yoghurt back on the shelves in January, Cleary says it will take 16 months to rebuild the factory.
But, they are not just building any factory. They are building a carbon neutral factory.
It is part of a strategy that could see the company's supply chain becoming entirely carbon neutral.
As a direct result of the fire, what he described as "shortcomings" of the business are now being addressed.
"Sometimes it takes a crisis to get the best out of an individual, or society.
"About six months ago, Emma, our commercial director asked me if we could eliminate plastic from our product line. I said, 'Give me three years'.
"But now the fire has fast forwarded everything.
"When we restart, anything we do will not have any plastic in it. Those are the opportunities, the clean slate that a fire brings to the table."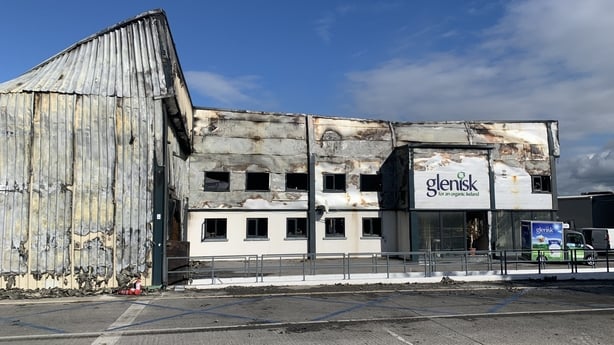 With raw materials and manufacturing leaving no carbon trace, the only remaining part of the chain to be carbon neutral is logistics.
"I'm waiting on Mr Elon Musk to fill our logistical challenge – to getting all of our trucks carbon neutral. We have six of them outside that do our distribution."
When it comes to relationships, working in a family business can put a strain on the strongest of ties.
Cleary admits that he did not see eye-to-eye with his father and emigrated to Germany in the 80s but was "invited back into the fold" when he returned to Ireland in the 90s, after marrying his German wife, Kerstin.
"She fell in love with Offaly.
"I introduced her to my father, and I think he fell in love with her too. And he invited me back into the fold.
"Until then, in a family business, the relationship was testing at times, probably for both of us.
"I was probably not the easiest son to get along with, as he was probably not the easiest father to get along with."
As well as the teachings handed down by his father, Vincent credits his years in Germany in the 80s, where he worked in a hotel, first as a cleaner before making his way up to reception manager, for the amassing of his business acumen.
Jack Cleary died in 1995, leaving his 14 children "with no experience".
"We had no experience ourselves of running the business.
"We tried to run it as at committee and within a year Glenisk was about to go under.
Vincent is responsible for Glenisk's move to become an entirely organic entity in 1995.
"So we broke away from my father's other entities and sought out organic milk."
"I convinced my siblings that we needed to differentiate ourselves from our competitors."
The company now employs 90 people and works with 50 small family farms across Ireland to source organic cows' milk and goats' milk.
It was the introduction of the latter in 1996 that was another significant moment in the company's history.
It is due in no small part to the role of a stranded donkey and eight years living in a mobile home with no running water.
Prior to the fire, Glenisk was available in all multiples, discounters, convenience stores and independents in Ireland, and exported to the UK, Germany, Belgium, UAE, Qatar, Kuwait, Hong Kong and Singapore.
Customers from across the country piled in with offers of support to the company in the days and weeks after the fire.
Many wanted to donate financially to the rebuilding effort but were redirected to charity, Self Help Africa.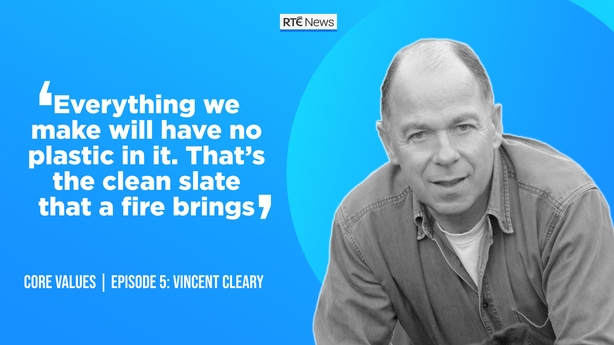 The company pledges to donate a euro for every pot sold of Glenisk, with the aim of planting one million trees in Africa in a year.
"At the time of the fire we had reached three quarters of our goal for the year, so we said to customers if they could see it in the heart to put some of the money, even just for one pot, towards Self Help Africa to help us fulfill our goal.
"As it transpires, we have not only achieved our goal, but we've exceeded it, so one million trees will be planted this year on behalf of our customers."
Vincent says he was "humbled" by the offers of donations, none of which he accepted.
"We received offers of thousands of euros.
"The goodwill was just incredible. It was humbling."
"The life and soul of the operation" is how a senior member of staff describes Vincent, but the Managing Director is quick to say that he believes the dedication of his team "cannot be compared".
"The people of Glenisk, and the dedication that they bring to the table, I have yet to see its equal elsewhere."
The year has highlighted to Vincent, how valuable his staff and his wife are to him.
"She milked goats without electricity for two years.
"She has stuck by me through thick and thin. I have probably taken that for granted."
Taking for granted is not something that Cleary does.
After 20 years at the helm of the business, he said he still "gets a kick" out of seeing Glenisk products in people's shopping baskets.
"I do the shopping with my wife at the weekend, and I'm always amazed at the checkout counter if the person in front or behind me has a couple of pots of Glenisk.
"Out of the choice they have on the supermarket shelves that they thought Glenisk was good enough to put in their trollies.
"What people might think are small things, are big things to me."
After a tumultuous year, Vincent Clearly is determined to savour those moments and to make the most of the extra time he believes he has been given.
"We have the formula, the learnings that we have over the last 30 years we will take into the new Glenisk, as it rises from the ashes."
To hear the core value with which Vincent lives his life by, listen to the full episode of RTÉ's Core Values, wherever you get your podcasts.