There may have been fewer people than anticipated passing through the doors on Dublin Airport's busiest day over Christmas but the scenes at the arrivals gate were no less emotional for that.
For Aisling Brennan and her son Corey, the last few days were filled with anxiety over whether her daughter Vicky would be able to fly back from Vancouver in Canada.
"She had to fly through the Netherlands and the Netherlands went into lockdown last night, so we were thinking she wouldn't get home," Corey told RTÉ News as they waited in the arrivals' hall.
"We found out last night that they were coming home, so we'll just be delighted to see them whenever they come through the doors," Corey said.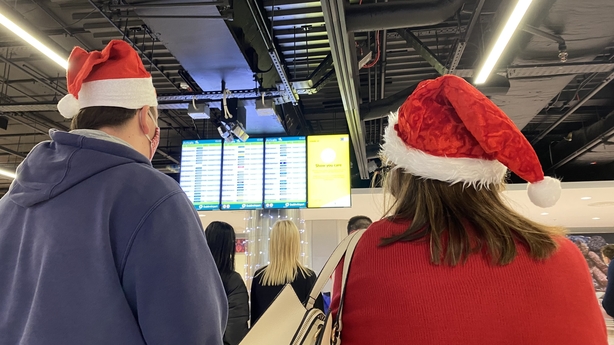 After a long wait, there were hugs all around for Vicky and her partner Luke Farrell when the doors parted and they walked in.
"I didn't think I was going to make it," Vicky said, "but here I am, I got here".
"We're delighted to be back, it's been a tough year for everyone," Luke said.
Around the same time, Deirdre Hogan, Matthew Colng and their children Gaetane, Liam and Norah wheeled their luggage into the arrivals' hall after a long flight and little sleep.
Nevertheless, the family is relieved to be home.
"We've just flown in from Salt Lake City (Utah, USA) and it's our first-time home in two and a half years," Deirdre said.
"Almost three years?" Matthew suggested.
"Yeah, almost three, so we are absolutely so happy to be home," Deirdre said.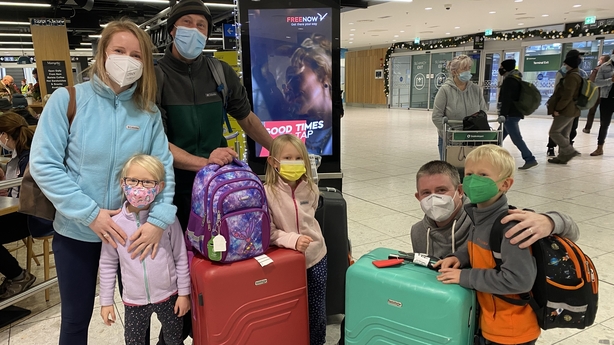 Amid tightening restrictions and fears around the Omicron variant of the Covid-19 virus, Deirdre said they feared they would have to "put a plan B in place" for Christmas.
"We held out with the hope (that we could travel) and then did everything we needed to do to prepare with our booster, with the negative Covid test and all of that so, we're just so thrilled to be home," Deirdre said.
The last time Supriya Iyer saw her father was in December 2019 when she visited him in Mumbai in India.
Today it was his turn to visit her family in Ireland and she and her husband Ram and her son Jay were at the airport to welcome him.
"He hasn't seen his grandson in the two years, so he has grown tall," Supriya said holding Jay in her arms.
It was Jay who was the first to greet his grandfather, running into Narayan Panje's arms as soon as he spotted him walking through the doors into the hall.
"It's very very emotional," Supriya said, "my voice is a little shaky right now, we have waited very long... it has been two years; I haven't been able to hug him [since then]," Supriya said.
We need your consent to load this YouTube contentWe use YouTube to manage extra content that can set cookies on your device and collect data about your activity. Please review their details and accept them to load the content.Manage Preferences
Steve Curran and Emma Kinsella's welcoming party brought a banner.
"We're actually after coming all the way from Sydney (Australia)... not even being able to get out of the country (due to its ban on travel during the pandemic) makes it all the more special to be home," Steve said.
"It's so lovely, we're home to see our families and our best friends," Emma said.
However, the couple described being "on edge" in advance of their flights home.
They took the required PCR test and awaited the results, which came back negative.
"Luckily enough everything came through, hopefully now the borders will stay open long enough for us to get back!" Steve said.