The Minister for Justice Helen McEntee has said that efforts will be made to "try not to break up family members" when assessing applications under the Afghan Admission Programme which will open on Thursday.
Speaking to RTÉ News, Ms McEntee said applications would be assessed on a case by case basis.
500 places will be available under the scheme.
Afghan nationals living here legally before 1 September 2021 can nominate up to four close family members who are either still in Afghanistan, or in one five neighbouring countries.
The programme is intended to cover spouses or partners, minor children and unmarried adult children without dependents.
Others who could also qualify include an applicant's grandparent, a related minor child without parents or a single vulnerable relative with no one else to support them.
We need your consent to load this rte-player contentWe use rte-player to manage extra content that can set cookies on your device and collect data about your activity. Please review their details and accept them to load the content.Manage Preferences
"I appreciate how difficult this may be for some families," Ms McEntee said.
"With any scheme there has to be some form of limit. What we will try and ensure, as we have with any previous programme is that families aren't broken up, that you have immediate families of course, if there are more than four members in the family that we will look at it on a case by case basis," Ms McEntee said.
"We are trying to prioritise those who are most at risk," she said "I think it is very clear not just from international organisations but from those on the ground that women, children, elderly people, those with disabilities, LGBT people, minority groups - they are most at risk, so we are trying to prioritise," she said.
Members of the Afghan community here and refugee support groups have also raised concerns about what documentation will be required from nominees to prove their identities, with Afghan passport or postal services still disrupted.
The Minister said this would "be taken into account".
"Look, we are talking about a situation where a lot of people won't have the documentation that I would have or that many other citizens here would have," Ms McEntee said.
"It will all be on a case by case basis. We do need people to be able to show some form of proof of course but I think we will look at things as favourably as we can, while of course making sure that all of the appropriate checks are taken on board as well," she said.
A spokesperson at the Department of Justice confirmed for example that recently expired passports or employment cards issued under the previous Afghan administration would "be considered as appropriate identification under the scheme".
Ms McEntee said that applicants who are living in Ireland "will obviously have to provide their own documentation" as they are being asked to support and accommodate their family members.
The Minister said that the programme was part of a "wider suite of measures" to support Afghans following the Taliban takeover in August.
The scheme, together with the Irish Refugee Resettlement Programme, statutory family reunification and join family visas would result in around "1,200 places (in Ireland) being opened up" to Afghan citizens, Ms McEntee said.
"The most important thing is that we can get moving on this [programme] as quickly as possible, that people know if they are successful as soon as possible and then most importantly that they can make their way over to Ireland to join their family and friends," she added.
Difficult choices for woman who wants to bring family to Ireland
Soraya Ibrahimi has lived in Ireland for more than 14 years.
Since the Taliban takeover in Afghanistan she has been tirelessly trying to bring vulnerable members of her family to Ireland.
"My sister is diabetic, and she has no medicine, nothing for her health, and her life is very difficult," she said.
Ms Ibrahimi is also concerned about her parents.
"My father is (also) diabetic and one eye is blind, and my mum, her kidneys have an infection, they are in a very bad situation now," Ms Ibrahimi said.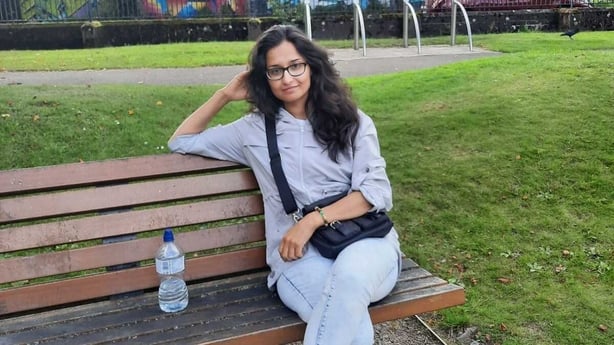 Since September she has been waiting for the Afghan Admission Programme to open. Today she welcomed the news that it will begin accepting applications from Thursday.
She hopes to apply but is concerned that she will have to make some very difficult choices.
"I want to apply for six people, my parents and my sister with her three children, but the thing is, the form is just for four people," Ms Ibrahimi said.
In total, 500 places are available and under the scheme Afghan nationals living here legally before 1 September 2021 can nominate up to four close family members who meet certain criteria.
"If I just [put down] my parents, what do I do for example with my sister? She is in a bad situation, she is sick, pregnant, a single mum with three children. But if I choose them [my sister's family], what about my parents? All the time I'm thinking, which one do I put on this form?"
Dr Abdullah Afghan also hopes to apply to bring family to Ireland under the new scheme.
A GP, he has lived and worked in Ireland for the past eight years.
Speaking to RTÉ's News at One programme, Dr Afghan said "he had left no stone unturned" trying to bring family members to safety.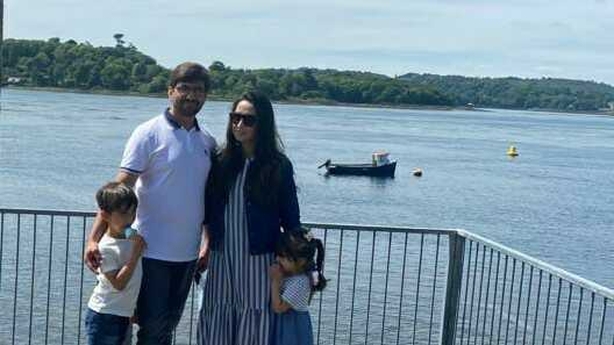 He said that "thankfully" some extended family members were evacuated from Afghanistan with the help of the US embassy.
"But some of my immediate family members are still there in Afghanistan, and they had worked with the US embassy," Dr Afghan said.
"They are highly educated, most of my family they are well qualified, very fluent in English," he said.
He said that he had twice applied under the existing discretionary join family visas scheme on their behalf, but both applications were rejected.
"Afghans [in Afghanistan] are in a terrible state at the moment, it is a catastrophe really, their lives are not safe, children are starving to death, there is no food security and no life security," Dr Afghan said.