The Department of Health has been notified of 5,590 further Covid-19 cases.
The number of people in hospital with the virus is at 505, a decrease of 31 since yesterday. There are 117 Covid patients in intensive care, up seven.
The Taoiseach has told the Dáil that tens of thousands of people are not turning up for booster vaccines.
Micheál Martin revealed that in the week beginning 22 November, some 208,000 vaccine appointments were offered and just 80,000 people tuned up.
He added that last week 180,000 booster appointments were available and only 93,000 attended.
However, it is not clear if some of those missed appointments were double bookings.
The Taoiseach said the same urgency does not seem to be there around boosters compared to earlier vaccines.
He said the most important collective message the Dáil can give is to urge people to take their booster vaccine.
The total number of booster or third doses of Covid-19 vaccine administered by the HSE is now over one million.
Up to yesterday, 1,005,656 boosters, or third doses had been given.
The breakdown is 914,198 additional doses and 91,458 extra doses for people who are immunocompromised.
The Taoiseach also told the Dáil he is hopeful the childhood vaccination programme will begin early in 2022.
Children 'freezing in classrooms'
However, the Sinn Féin Leader told the Dáil that teachers and children have been freezing in classrooms with open windows as Covid infections shot up.
Mary Lou McDonald said HEPA filters are recognised internationally as playing a key part in keeping air clean but the Government has wasted opportunities to get things right.
She said it took Government nine months to get C02 monitors in place and these monitors, while welcome, have to be backed up with HEPA filters.
Sinn Féin leader Mary Lou McDonald has questioned a timeline for getting HEPA filters into schools, with Taoiseach Micheál Martin replying that funding will be made available for schools who want to install them | Read more: https://t.co/oOJm8P1wEz pic.twitter.com/hDMFUbAjHb

— RTÉ News (@rtenews) December 7, 2021
Responding, the Taoiseach insisted the Minister for Education had at all times followed expert advice.
He said schools will be in a position to buy HEPA filters if it is suitable, but there is no one magic bullet to deal with Covid-19.
Mr Martin said there is still more data needed around the effectiveness of HEPA filters.
There are roughly 50,000 classrooms across the country, he said, including both primary and post-primary schools.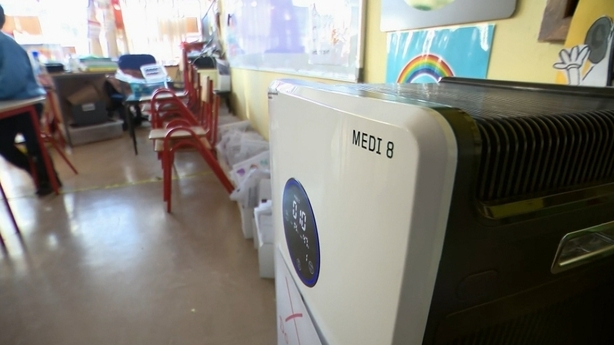 Mr Martin said that the filters will cost around €1,500-€1,800 each, adding that domestic standard air filters would not be sufficient for classrooms.
The Dáil heard that funding will be provided, but that these filters may not be necessary in every classroom.
However, People Before Profit TD Richard Boyd Barrett accused Government of "complacency", "inaction", and a "denial of science" when it comes to the issue of air quality and ventilation.
Additional reporting Fergal Bowers