US President Joe Biden has warned Russian President Vladimir Putin in a tense, two-hour virtual summit of a "strong" western economic response should Russian forces massed on Ukraine's border go on the attack.
"President Biden voiced the deep concerns of the United States and our European allies about Russia's escalation of forces surrounding Ukraine and made clear that the US and our allies would respond with strong economic and other measures in the event of military escalation," the White House said in a statement soon after the video conference.
Mr Biden stressed "support for Ukraine's sovereignty and territorial integrity and called for de-escalation and a return to diplomacy," the statement said.
Russian TV footage showed Mr Biden and Mr Putin greeting each other in a friendly manner at the start of the summit. Mr Biden told Mr Putin he hoped their next meeting would be in person.
The two leaders talked for two hours and one minute, according to the White House.
The Kremlin said it hopes the two leaders can hold an in-person summit to discuss what it has described as the lamentable state of US-Russia relations, which have sunk to their lowest level since the end of the Cold War.
US officials said before the video conference that sanctions, which one source said could target Russia's biggest banks and Moscow's ability to convert roubles into dollars and other currencies, were designed to dissuade Mr Putin from using tens of thousands of troops massed near the Ukrainian border to attack its southern neighbour.
The Kremlin, which said before today's meeting it did not expect any breakthroughs, has denied harbouring any intention to attack Ukraine and has said its troop posture is defensive.
But Moscow has voiced rising vexation over western military aid to Ukraine, a fellow former Soviet republic that has tilted towards the west since a popular revolt toppled a pro-Russian president in 2014, and what it calls creeping NATO expansion.
Moscow has likewise questioned Ukrainian intentions and said it wants guarantees that Kiev will not use force to try to retake territory lost in 2014 to Russia-backed separatists, a scenario Ukraine has ruled out.
"We're looking for good, predictable relations with the United States. Russia has never intended to attack anyone, but we have our concerns and we have our red lines," said Kremlin spokesperson Dmitry Peskov.
Leaders from Britain, the United States, France, Germany and Italy were due to hold a call following the Biden-Putin talks, the White House and British Prime Minister Boris Johnson's office said.
The same allies spoke yesterday and "agreed to stay in close touch on a coordinated and comprehensive approach in response to Russia's military build-up on Ukraine's borders," the White House said.
While there is no expectation for a US troop deployment to Ukraine itself, a Russian invasion would spur boosts in NATO strength in other parts of eastern Europe that are part of the alliance, the White House said.
"If Putin moved in, there would be an increasing request from eastern flank allies and a positive response from the United States for additional forces," a senior US official told reporters.
The White House said that after the talk with Mr Putin, Mr Biden would reach out to Ukraine's President Volodymyr Zelensky.
Beyond Ukraine, the two leaders were also due to discuss a range of big issues where their countries are at odds, including Iran's problematic nuclear industry and a wave of cyber attacks against the US.
Clad in a combat uniform, Ukrainian President Volodymyr Zelensky visited troops fighting pro-Moscow separatists in the country's east yesterday.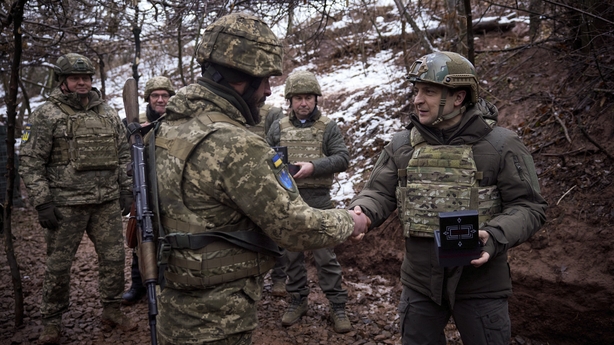 The conflict has claimed over 13,000 lives and while Ukrainian forces are currently in a deadlock against their separatist opponents, they would likely be overwhelmed if Russian regular troops crossed the border.
"Thank you for protecting the sovereignty and territorial integrity of Ukraine," Mr Zelensky told the soldiers, according to a statement released by Kiev.
Yesterday, he spoke with US Secretary of State Antony Blinken, writing on Twitter after that he was "grateful" to the US and allies for supporting Ukraine.