Climate activists have taken a novel approach to engaging residents in one Dublin suburb around the steps they can take to build a sustainable future.
Circus performer and engineer Aoife Raleigh cycled her home-engineered generator bicycle around Crumlin as part of efforts to raise awareness of Crumlin Creative Climate Action (CCCA) - a green energy initiative by Crumlin Community Clean-up and Dublin City Council's Arts Office.
The bicycle provides enough energy to power day-to-day appliances, for example charging a phone, playing a music device, or boiling a mug of tea.
Sharing a cuppa with residents, Aoife explained that she hoped her imaginative approach would help connect locals with what climate action really means for them.
She said: "So we have the 'What's Watt' bike. It's a bike that generates power. It's all about bringing attention to the Crumlin Creative Climate Action project. We are talking to people about the environment and seeing how the environmental and climate crisis affects them and how we can make a difference in Crumlin.
"We meet people, meet strangers and have something to talk about. It is really relevant to everyone's lives but sometimes it can be a difficult topic to bring up because it's so heavy."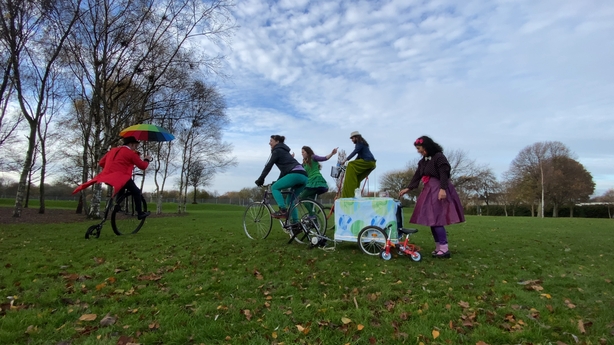 Funded by Creative Ireland, CCCA intends to host a series of climate action projects and events in 2022 involving artists, engineers, scientists, residents, and community groups in Crumlin.
Michelle Hardiman lives in Crumlin and is a member of the community led CCCA.
She said: "We work really hard on a Tidy Towns end of things so cleaning Crumlin but then we have another arm called 'Bloomin' Crumlin' which is all things green in Crumlin. We would love a community garden where we can actively go regularly that is disabled-friendly and that is open to the public to come and work as a group.
"We'd love to have a bike co-op. We'd love a space where we can come and bring bikes to be recycled and for kids to learn how to repair bicycles to take them out of landfill. A retrofitted house project is another energy idea.
"So, a really busy year ahead. Really exciting. It has really rejuvenated Crumlin."