The husband and father of Marie and Darragh Downey has said their deaths should never have happened, and he hopes recommendations made by the jury at their inquest will ensure that no family will be touched by such a tragedy in the future.
Kieran Downey was speaking after verdicts of medical misadventure were returned by the jury in both cases.
Mr Downey said he had waited two-and-a-half years for the verdicts and, while he was relieved, he remained heartbroken.
"We are grateful to the jury for their verdicts and recommendations which will, we hope, spare this kind of profound, shocking tragedy from touching the lives of any other family ever again," Mr Downey said.
"Marie and I sought what we thought was the best possible care for her, and paid to go private. We were let down and we feel failed by the system."
Marie Downey died from injuries she sustained after having an epileptic seizure and falling out of bed in her single room at Cork University Maternity Hospital on 25 March, 2019. The inquest heard her death would have been instantaneous.
Her four-day-old baby Darragh was found underneath her on the floor. He died of multiple organ failure, caused by compression asphyxia.
We need your consent to load this rte-player contentWe use rte-player to manage extra content that can set cookies on your device and collect data about your activity. Please review their details and accept them to load the content.Manage Preferences

The verdicts of medical misadventure, Coroner Philip Comyn said, indicated that the jury concluded both deaths were consistent with "certain system failures".
In submissions to the inquest before the jury retired to consider verdicts, Barrister Doireann O'Mahony for the Downey family, said there had been a catalogue of major clinical errors in the deaths of Marie and Darragh Downey.
She said, while the deaths were tragic, it was "inevitable and inescapable" to conclude that they were foreseeable and preventable.
She said there was "a communication failure" on the part of Ms Downey's obstetrician, Professor Keelin O'Donoghue, to make contact with her neurologist, Dr Peter Kinirons, who was treating Marie for epilepsy.
Professor O'Donoghue had earlier told the inquest she regretted not contacting Dr Kinirons. She said it was an oversight on her part.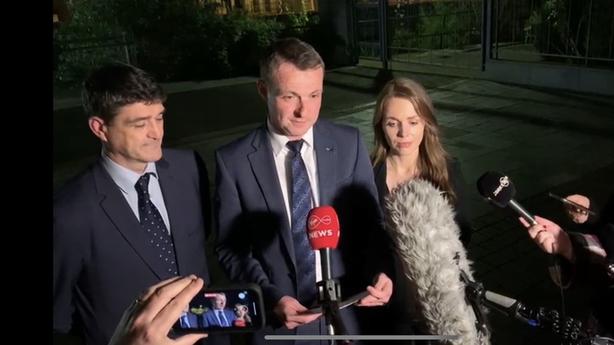 Speaking after the inquest last night, Kieran Downey said his wife and son meant everything to him, and described the day Darragh was born as the happiest of his live.
"Marie and Darragh will never be forgotten, and will live in our hearts forever," he said.
"Marie (was) very loving and caring, an unbelievable mother to James, Sean and Darragh; loved her parents Jim and Helen. And Darragh, he was a big boy - just a beautiful baby."
Mr Downey endorsed the verdicts and recommendations of the jury, but described the inquest process as "very, very difficult".
"(It was) made more difficult, I suppose, with me being unable to voice my statements in the first place but also, during the process, being restricted in what I could say," he said.
Mr Downey said he did not have faith in the system to improve and make maternity services safer for women.
"Do I have faith after the last three days? No," he said. "The recommendations from the jury are very good and should be implemented but, based on past history, I have my doubts."
He said the recommendations would only be implemented if people working in the health service took action to do so: "The HSE is a big organisation but there's people working there. The blame is often with the HSE - the letters. But people are responsible for making decisions and implementing them. And that's from the top down, all the way down, and unless these recommendations are going to be implemented and disseminated in a very timely manner, as has been proven down through the years, a lot of it is just ink on paper."
Mr Downey appealed for privacy for himself, his family and his wife's family. He said they needed time to take in the evidence and the outcome of the inquest, "and try and move on as best we can".
He praised his surviving sons, James and Sean.
"The horrible, tragic events of 25 March (2019), they have left an impression certainly on them, even though they were very young," he said. "It's something that no child should ever go through. We speak about Mummy and Darragh every single day. They will never be forgotten."
Mr Downey said he wouldn't wish the tragedy which visited his family on his worst enemy.
"It should never have happened and hopefully it will never, ever happen again," he said.
Asked if he thought there was a possibility that something like this could happen again, he replied: "Yes. It happened to Marie. I have no faith in the systems that are there and, based on what we have heard, it takes a long, long time for anything to be implemented."
He said nothing would ever compensate him for the loss of his wife and child.
Kieran Downey said his priority now was to care for his children and make sure that they have the best possible life, as much as they can.