The Chief Executive of the Health Service Executive has said there is an "early phenomenon" of high non-attendance for Covid-19 vaccine booster appointments.
In some centres, Paul Reid said, the figure is as high as 50%.
"Certainly we are seeing ... people not coming forward for a high number of appointments made and it's really important if you're offered a booster appointment, that you take it up," he told a HSE media briefing.
"We have seen some no-show rates and some centres varying from 25% to 50%.
"It's a really important call to everybody ... we are going to be dealing with significant numbers of the population and we need those appointments utilised."
Mr Reid said the non-attendance may be "due to a sense of security among people feeling they have had two vaccines and don't need a booster."
The HSE has committed to 200,000 booster vaccines a week, increasing to 250,000 over time.
Mr Reid also said that the latest surge in Covid-19 cases is having the highest level of impact on health services since the pandemic began, and described the overall strain on the healthcare system as very serious.
Mr Reid said that the current wave was putting an "inconceivable strain on the health system" across all levels of care.
"Just to give you a flavour of some of the information on ICU admissions between 27 June and 13 November, there were 476 ICU admissions in that period of Covid-19 positive patients, of which just over 20% remain in ICU. Just over 54% have been discharged and over 25% sadly passed away in ICU," he said.
Speaking at the HSE briefing @PaulReidDublin says "this is certainly the highest level of impact and risk that we've had to manage since Covid landed here." | More: https://t.co/Y2LtAEBWdP pic.twitter.com/UDwyHgRRl4

— RTÉ News (@rtenews) November 18, 2021
Mr Reid told the HSE's weekly briefing that testing levels at the moment are "beyond anybody's expectations", adding that in the last seven days over 200,000 tests have been carried out.
Chief Clinical Officer Dr Colm Henry told the briefing that cases at the moment are predominantly in younger age groups, with 51% of cases in the last two weeks occurring in people under 35 years of age.
He added that 45% of hospitalisations in the last two weeks were among those aged over 65.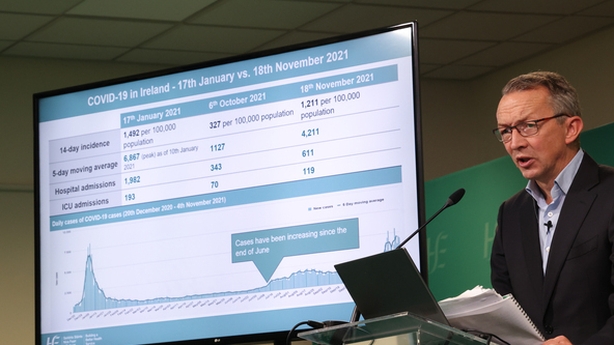 This evening, the Department of Health was notified of a further 4,650 new cases of Covid-19.
The number of people hospitalised with the virus stands at 643, up nine since yesterday. This figure is up 20% on last week and 40% on two weeks ago.
Of those in hospital, 118 are being treated in intensive care, down one since yesterday.
The Chief Medical Officer said that around one-in-six people in Ireland have experienced Covid-like symptoms - such as a cough, sore throat, or high temperature - in the past week.
Dr Tony Holohan also reiterated that the "single most important action" people can take if experiencing any Covid-like symptoms is to self-isolate and to "arrange a PCR test, not an antigen test".
---
---
Meanwhile, new coronavirus restrictions announced by the Government two days ago come into force tonight, with an earlier closing time of midnight for bars, restaurants and nightclubs coming into effect.
The Irish Hotels Federation (IHF) said the Government had confirmed that the new closing time restriction applies to hotel bars and all events being hosted, including weddings, whether guests are residents or not.
In a statement, it said: "Due to the current prevalence of the coronavirus in the community, we are hearing from our members that businesses are adopting a cautious approach in relation to hosting business events and meetings."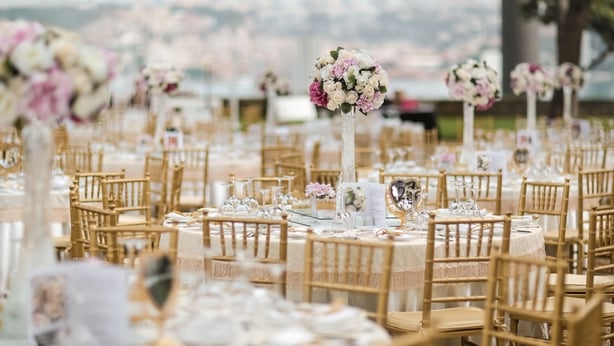 The IHF said that public health remains its number one priority.
The Taoiseach last night told a meeting of his parliamentary party that the coming weeks will be uncertain and challenging.
Micheál Martin described the latest virus projections from the National Public Health Emergency Team (NPHET) as very worrying and he said the feedback from hospital intensive care units was concerning.
Yesterday, NPHET said its research suggested that a minimum of 200,000 people could contract the virus in December.
Dr Holohan said further surges in Covid-19 cases and hospitalisations were preventable.
In Northern Ireland, the deaths of a further six patients who had previously tested positive for Covid-19 were reported today along with another 1,681 cases of the virus.
There were 419 Covid-positive patients in hospital this morning, of whom 34 were in intensive care.