Minister for Children Roderic O'Gorman said a new financial redress scheme for the survivors of mother-and-baby homes will be the largest in the history of the State in terms of the number of beneficiaries.
He said it is a wide scheme which will benefit 34,000 survivors to the value of €800 million.
"In terms of the number of the estimated beneficiaries, it will be the largest scheme of its type in the history of the State.
"It represents a significant milestone in the State's acknowledgement of its past failures and needless suffering experienced by so many of its citizens."
Mothers who were resident in one of the institutions for any length of time will be eligible to receive a financial payment.
People who were resident as a child for a period of six months or more will also be eligible for a payment.
The minister said the payment is is "in recognition of the time spent in institutions, the harsh conditions, the emotional abuse and other forms of mistreatment, stigma, and trauma experienced while resident there".
He said women who undertook commercial work without pay while in Tuam or in one of the county homes for three months or more will be eligible for a work-related payment.
"In addition people who spent more than six months in one of the institutions will be eligible to receive an enchanced medical card."
The minister has also received Cabinet approval for an "action plan" for the mother-and-baby home survivors.
He said its purpose is to "clearly lay the out next steps" of the State's response to the legacy of these institutions.
Mr O'Gorman expressed regret that the redress scheme took longer time than both he and survivors would have wished.
He has met with many of them over the past year and listened to their experiences.
"Legislation will be required to establish the scheme and will be developed as a a matter of priority."
We need your consent to load this rte-player contentWe use rte-player to manage extra content that can set cookies on your device and collect data about your activity. Please review their details and accept them to load the content.Manage Preferences
According to his department, applicants will qualify solely based on proof of residency, without a need to bring forward any evidence of abuse nor any medical evidence.
In certain limited circumstances, sworn affidavits may be required.
Those survivors and former residents now living overseas will qualify for a payment on the same terms as individuals living in Ireland, and will have the choice to receive an enhanced medical card or a once-off payment in lieu of the card as a contribution towards their individual health needs.
A national memorial and records centre has also been announced.
This will be progressed by a group chaired by the Secretary General to the Government.
The group will develop an overarching vision and proposed approach for the creation of the national centre which will then be brought to Government for approval.
Ring-fenced funding will be made available for the research, stakeholder consultation, expert technical analysis and underlying records management work which will be central to the success of this initiative.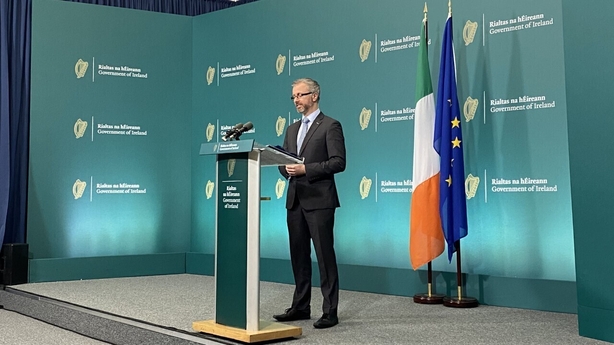 The minister said the scheme will take a holistic and non-adversarial approach to ensure that survivors and former residents are not retraumatised by their engagement with it.
Mr O'Gorman has said when the Commission report was published last January he wrote to the congregations and organisations who had run the institutions.
He indicated he wanted to meet with them regarding their contribution to any scheme for survivors, access to records they might have, and their own apology.
"We made a decision that we would design and launch the scheme in advance of substantive engagement with the congregations.
"I've written to the congregations again in recent days seeking a meeting with them in the next number of weeks to begin the process of obtaining a substantive contribution from them."
He said as soon as he receives the report of the Joint Oireachtas Committee on Children on the pre-legislative scrutiny of the bill, he will act to bring this legislation into the Oireachtas.
Mr O'Gorman said the archive of the Commission of Investigation has been opened to ensure that survivors of mother-and-baby Institutions can access their records.
"As of 15 November this month, 296 individuals have received information about themselves from the archive my Department now holds through subject access requests."
Legislation to allow for the exhumation, identification and respectful reburial of the remains at Tuam is progressing following the receipt of the pre-legislative scrutiny report on the Institutional Burials Bill.
"To conclude, in January of this year, the Taoiseach apologised on behalf of our State for how it failed the women and children in these institutions.
"The measures outlined in the plan today, with the payment scheme at its centre, is a part of the process of the State seeking to rebuild trust with the survivors."
Payments under the scheme
The general payment for mothers who spent less than three months in an institution will receive €5,000.
This increases to €10,000 for mothers who spent between three and six months in a home.
Mothers and children in the institutions between 1-2 years will receive €15,000; 2-3 years €20,000; 3-4 years €25,000; 4-5 years €30,000; 5-6 years €40,000; 6-7 years €45,000; 7-8 years €50,000; 8-9 years €55,000; 9-10 years €60,000; 10 years + (max) €65,000.
Mothers who qualify for work payments during their time in institutions will receive €1,500 if they were in an institution between three and six months.
That increases to €3,000 for those who worked in an institution between six months and a year.
1-2 years €6,000; 2-3 years €12,000; 3-4 years €18,000; 4-5 years €24,000; 5- 6 years €30,000; 6-7 years €36,000; 7-8 years €42,000; 8-9 years €48,000; 9-10 years €54,000 and 10 years + (max) €60,000.
Mr O'Gorman was also bringing "a wider plan" before Cabinet today which aims to show progress that has been made on 22 actions set out by the Government, following the publication of the Commission of Investigation report last January.
It had eight themes: A survivor-centred approach; apology; access to personal information; archiving and databases; education and research; memorialisation; restorative recognition and dignified burial.
The Labour Party welcomed today's announcement but said that one element of the redress scheme "is missing".
Ivana Bacik, Spokesperson for Children, commented: "We have learned today that enhanced medical cards will only be provided to those who were resident in a mother-and-baby or county home institution for six months or more.
"This goes against what was agreed when Dáil Éireann accepted an amendment to a private members motion brought forward by my colleague Seán Sherlock TD.
This amendment would have given an entitlement to an enhanced medical card to anyone who spent any period of time in one of these institutions."