A family in Co Mayo have been making the news in the US after discovering a washed up barrel on Mulranny Beach.
The rubbish bin had travelled thousands of kilometres from Myrtle Beach in South Carolina leading to a flurry of interest on both sides of the Atlantic.
The McGreal family, including grandparents, make trips to Mulranny Beach all year round from their home in the village of Straide.
Last Sunday, they spotted a lone blue barrel and went to investigate. Beneath the salt and the barnacles there was a sticker with some vital information which read: City of Myrtle Beach South Carolina.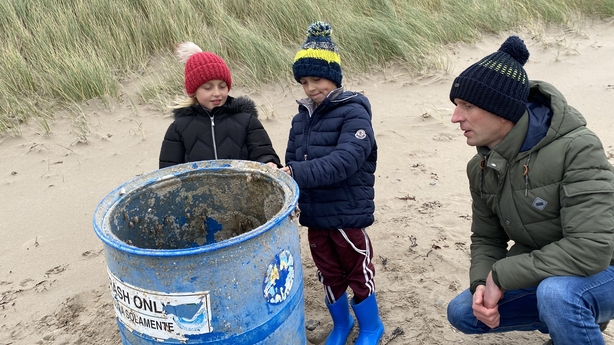 The rubbish bin had bobbed across the ocean for over 5,500km before washing up on Mulranny Beach last weekend. Keith McGreal explained how the family came across the barrrel.
"I was doing some photography on the beach when my son Ferdia asked me to race him as far as 'that blue thing'.
"When we got there, we could see a label on the outside that said 'trash only' and there was Spanish writing underneath, so I knew it wasn't from the locality. We had a more detailed look at the side of the barrel and I said to the kids: 'Wow, do you realise where this has come from'."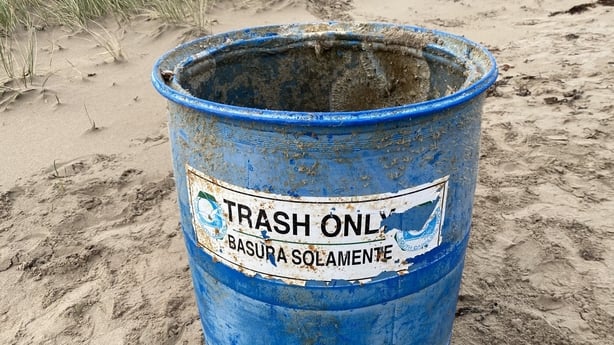 Keith contacted officials at Myrtle Beach and they shared the story online. Local news outlet Channel 13 picked it up with anchors going live on the story.
The rubbish bins were being stored away ahead of a hurricane but this one got away.
Sophia McGreal said the blue bin was a big story at her school in Ballyvary.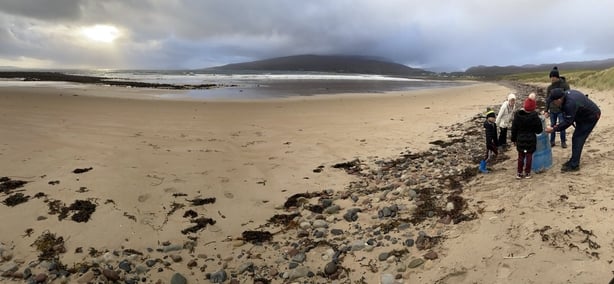 "Myself and my Mum were walking on the beach and my brother and my Dad were up ahead of us when Ferdia raced to the barrel.
"Daddy said it was from South Carolina - Myrtle Beach - and I asked where is that? He said it's over in the US, in America, and my brother said 'look at all the stuff on it' and my Dad said they are barnacles and then my brother looked inside and saw loads of rubbish".
Ferdia said there were gloves, a milk container, black pot, ropes and flies.
Keith McGreal said the story of the travelling 'trash can' has generated a lot of interest in the US.
"It had travelled from its destination for around 5,500 kilometres. I've been talking to people in South Carolina and they reckon it travelled up the eastern seaboard of America, then across the Gulf Stream before hitting the west coast of Ireland.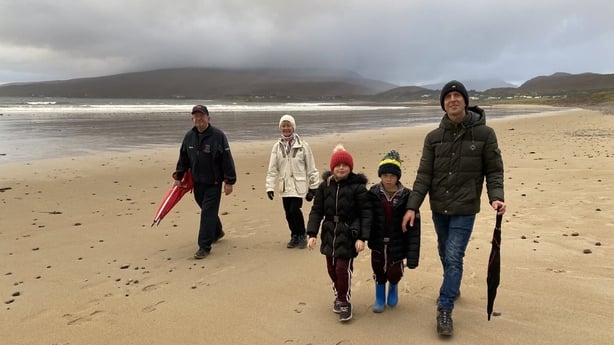 "It's only a bin at the end of the day but just to think of the voyage it has taken and that we could trace it back to where it had originated thousands of kilometres away was a big moment for us."
Officials at Myrtle Beach say they have no shortage of volunteers who want to travel to Ireland to pick up the blue barrel.
Mayo County Council said the more visitors the better and they are delighted with the positive publicity for Mulranny Beach.
The McGreals said they would be happy to deliver it back to South Carolina, but it is unlikely this rubbish bin will be collected any time soon.