A Co Offaly teenager met Taoiseach Micheál Martin today to share her views on the importance of creating an open dialogue between farmers and climate activists.
Liadh Dalton, 15, lives on her family's farm in Belmont. She is also a climate activist, and said she has been struck by the "conflict" she sees between farming and climate communities who "don't often see eye-to-eye".
As the winner of UNICEF Ireland's 2021 #KidsTakeOver competition, she enjoyed a one-to-one meeting with the Taoiseach and this issue was at the forefront of her conversation.
"Being able to say I'm from a farming background and I'm also here as a climate activist is something I'm really proud of," Liadh said.
Following the meeting, she recalled: "It was such an amazing experience. Everyone knows we need to tackle the climate crisis and make big changes.
"We spoke about how farmers can play a vital role in that. And why it is so important that we have positive conversations and understand each other.
"My main message for the Taoiseach was that we have to go through this transition together," she added.
Mr Martin said: "Climate change is the biggest challenge of our time. The farming community sits at the heart of rural life and it is only by everyone working together that we will be able to create a better future.
"That is why Liadh's positive and inspiring message on bridging the gap between farming communities and climate activism is so important and timely. Young people are rightly concerned about their future and their voices must be heard.
"Ireland is determined to be a leader in tackling the climate crisis and young people, like Liadh, will be at the forefront of ensuring that we create a sustainable and liveable planet for future generations.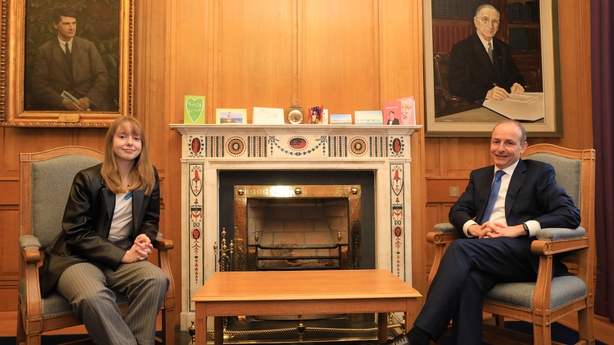 "There needs to be a more positive and open dialogue between the farming and climate communities because change is coming, and we all need to do it together to make the change."
Liadh has had an interest in nature from a young age. She began to learn about climate action and the dangers to biodiversity as she grew older.
"I work on our farm and I see the biodiversity and the simple things we do to protect our environment around us - like ensuring there is adequate cover for wildlife," she said.
"On our farm, we have barn owls, and buzzards and rabbits. And we plan to do much more. Sometimes the simple things have the biggest impact, like planting trees and wild flowers, collecting rainwater and installing solar panels."
Liadh said guidance and education are two key things the farming community needs in the move towards more sustainable practices.
She added: "You have to think about the farming communities and the people at the heart of it and how it'll affect them as well. They need guidance. They're such creative people and they're so clever and they know what's going on because you see the effects throughout the farm.
We need your consent to load this YouTube contentWe use YouTube to manage extra content that can set cookies on your device and collect data about your activity. Please review their details and accept them to load the content.Manage Preferences
"So guidance is the most important thing and getting the information out there. Being able to say, 'this is what we're going to do, this is how we're going to do it, and this is how we're going to help you do it'. The important thing is not leaving them out on their own in this."
Liadh felt "lucky" to be able to bring this topic to the Taoiseach directly. "To get to talk to the leader of the country about this is brilliant," she said.
UNICEF Ireland's annual #KidsTakeOver competition aims to put a spotlight on key issues affecting children and young people.
Previous winners have raised issues such as youth mental health, racism and inclusion.