The head of a European delegation which spent three days in Taiwan this week said they had a very "simple message: "You are not alone." Raphael Glucksmann, a French member of the European Parliament, told Taiwan's President Tsai Ing-wen at a news conference: "Europe is standing with you."
The delegation's official business was to discuss strategies to combat disinformation and cyberattacks and learn from Taiwan's experience, but the visit was billed by both sides as a sign of democracies coming together in the face of a growing authoritarian threat.
"Any silent appeasement to Beijing's policy, it's like a repetition of former mistakes the world made long ago," Lithuanian MEP Petras Austrevicius said.
The self-ruling island of nearly 24 million people only has 14 diplomatic allies and is shut out of international bodies like the United Nations and the WHO.
Visits like these are seen here as crucial to breaking Taiwan's isolation and an opportunity to showcase the island's democratic credentials at a time of rising tension across the strait.
"After 3 days in country [the European delegation] believe Taiwan should be cherished & protected by other democracies worldwide," read a post on Taiwan's Ministry of Foreign Affairs social media, adding "we treasure our friends' simple message: 'Taiwan is not alone'."
Predictably, all the warm words drew an icy response from China, which claims Taiwan as part of its territory.
"China urges the European side to redress its mistake and avoid sending wrong signals to "Taiwan independence" separatist forces," said China's Foreign Ministry spokesperson Wang Wenbin, "lest it should cause a serious impact on China-Europe relations".
The European side is certainly chalking up the stern rebukes from the government in Beijing these days.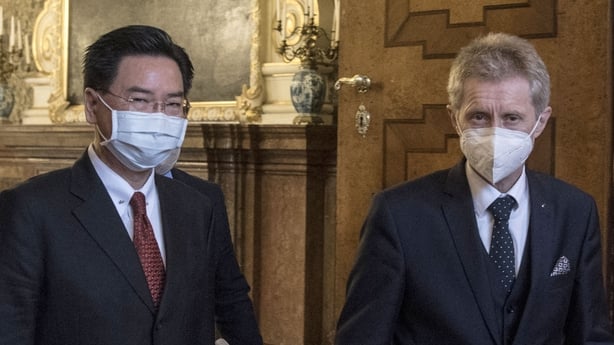 The week before, EU members states Lithuania, Slovakia and Czechia hosted Taiwan's foreign minister, Joseph Wu, who went on to make a surprise visit to Brussels.
Beijing called it "malicious and provocative" and warned EU countries to respect the one-China policy.
By Friday of last week, Joseph Wu found himself on a blacklist drawn up by China's Taiwan Affairs Office of people they deem "stubbornly pro-independence".
Under the sanctions, Wu and other senior Taiwanese officials are banned from entering the Chinese mainland, Hong Kong and Macau and precluded from doing business with China.
But the foreign minister took to Twitter to call it a "rare honour".
"I've received countless notes of congratulations after being blacklisted & sanctioned, for life, by the #CCP," he wrote from the official account of Taiwan's Ministry of Foreign Affairs.
"Many are jealous for not being recognized; some ask where they can apply for it." he wrote.
Ironically, it was China's sanctions like these on MEPs earlier this year which soured EU-China relations and led first to the suspension of a massive Brussels-Beijing investment agreement deal and then the passing of a European Parliament report, last month, calling for closer ties between the bloc and Taiwan.
The "wolf warrior" diplomacy adopted by China in recent years, the ongoing threats to take Taiwan by force, the erosion of democratic freedoms in Hong Kong and oppression of minorities in Tibet and Xinjiang have done little to endear Beijing to Europe's democrats.
The fact that Taiwan produces the vast majority of the world's most advanced computer chips as the global semiconductor shortage goes on, isn't lost on them either.
From Taiwan's point of view, after years of being left out in the cold, they are keen for a moment in the sun.