Two Irish environmentalists are cycling from Dublin to Glasgow for the COP26 climate conference.
Friends Gary Tyrrell and Richard Curtin say they are making the journey to "celebrate the joy of cycling" and to raise awareness of the crucial summit.
Their route takes them from Dublin to Belfast, where they will take a ferry to Stranraer in Scotland.
They hope to reach Glasgow on Tuesday evening.
Over 25,000 delegates from around the world are descending on the Scottish city for the most important climate conference since the Paris accord was signed six years ago.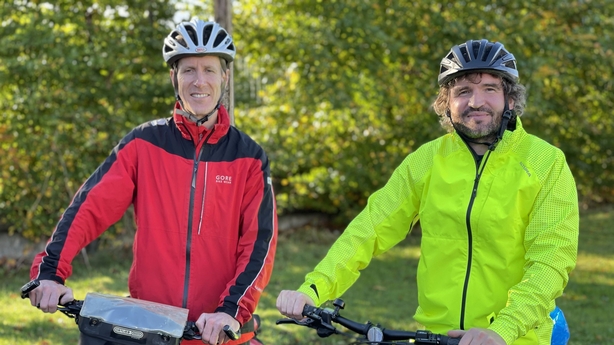 Richard, who works with An Taisce on the Clean Coasts programme, is going to COP26 as a member of the environmental campaign group 'Not Here Not Anywhere'.
He said: "COP26 is the best way and the best hope we have for reaching global agreements to reduce our impacts on the environment. It is going to determine whether we can get a pathway to limiting global warming at 1.5C.
"That's going to have a massive influence on our livelihoods. Not just our generation, but future generations."
Gary works with An Taisce's Climate Ambassadors programme and is attending the COP in that capacity.
He said: "We are calling this our 'cycle of hope'. We are going to be cycling, chatting and reflecting as we go on this adventure. We just want to experience the joy of cycling and maybe persuade some people to give it a go, rather than getting in the car all of time.
"Once we are over there, we really hope to connect with people. There are so many amazing people from all over the world raising awareness of climate change and we want to learn from them.
"We want to share and champion their stories. They give us all hope."