The Sinn Fein leader has said she wants to be a Taoiseach leading a Sinn Féin government which would put workers and families first.
In an address to her party's Ard Fheis in Dublin, Mary Lou McDonald also said it is time to start planning and preparing for Irish unity.
Ms McDonald promised to build a fair and resilient economy in which businesses and workers rocked by Covid can recover if Sinn Féin get into power.
She said the party would build housing on an massive scale and freeze rents for three years to fix the housing crisis.
She also reiterated Sinn Féin's commitment to allow people retire on a State pension at 65 years of age, describing it an act of basic decency.
Ms McDonald called for the scrapping of carbon tax hikes, but said people should be offered incentives to reduce carbon emissions.
Sinn Féin leader Mary Lou McDonald has called on government to scrap the carbon tax hikes as it "will push bills up further, push more families into poverty" | Read more: https://t.co/hNKJPLEiXJ pic.twitter.com/nlFc6DdnzV

— RTÉ News (@rtenews) October 30, 2021
She also accused Fianna Fáil and Fine Gael of clubbing together to block change.
The Sinn Fein leader said more doctors and nurses and beds are needed to deliver the fundamental right to healthcare.
She also pledged to unite the country and saying it was time for Irish Unity. She added that planning and preparation must start now and a Citizens' Assembly is urgent.
Earlier the party passed a motion that backs the use of non-jury courts in very exceptional circumstances.
A small number of speakers opposed the motion and urged the party not to bow to pressure from the "establishment".
The motion which also calls for a single reformed modern criminal justice and courts system had strong support from senior party figures.
Before the vote, Ms McDonald said it was "crazy" that emergency powers are still being renewed by the Oireachtas every year.
Currently, non-jury trials only happen in cases involving terrorism or organised crime and only in the Special Criminal Court, which Sinn Féin has always opposed.
The court was previously used to prosecute and jail members of the Provisional IRA.
Due to the scale of its powers, the legislation underpinning it must be renewed annually by the Oireachtas.
Speaking at the opening of the Ard Fheis Ms McDonald said there is no emergency and the Good Friday Agreement envisaged the ending of this process.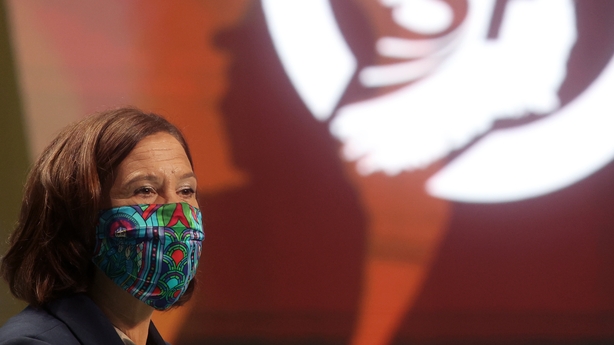 Ms McDonald said there has to be a permanent system with proper judicial oversight to tackle criminal gangs.
This could include cases where there is intimidation of a jury, she said.
The Ard Fheis is taking place at the Helix in Dublin, with the numbers attending restricted because of the Covid-19 pandemic.
The party said the overall theme will be 'Time for Change' and motions to be discussed include housing, health, Brexit and climate change.
Some 72 motions are to be debated overall - including that on non-jury courts.
Tackling the cost of living as well as addressing problems in the health service and planning for Irish unity are among other issues to be discussed at the Sinn Féin Ard Fheis later.
The party is also set to back 100% redress for homes damaged as a result of mica and pyrite.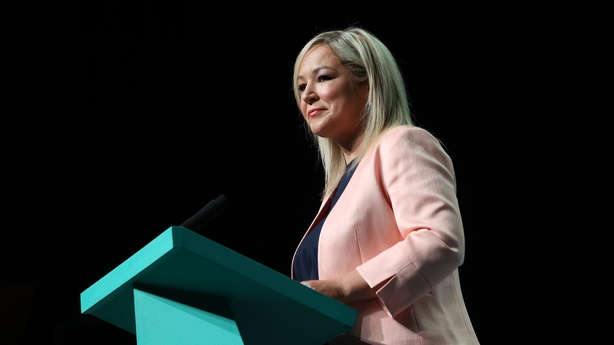 Time to plan for change - O'Neill
Sinn Fein Vice President Michelle O'Neill has told delegates at the Ard Fheis that this is time to plan for change.
The party is proposing substantial changes in the way that housing and health services will be delivered.
Eoin Ó Broin, the party's housing spokesperson, said more and more people are unable to access homes due to decades of bad housing policies.
He said the party would set a date for the ending of homelessness within the lifetime of a Sinn Féin government.
The Dublin Mid-West TD said it would also enshrine the right to housing in the constitution within a year of going into office.