Consumers must maintain one-metre social distancing in the queue for the bar in nightclubs and at live events under new guidelines for the sector, which have now been published.
The rules also stipulate that an employee must supervise the queue. From tomorrow, events must be ticketed to facilitate contact tracing.
Tickets must be purchased at least one hour in advance and must contain names and phone numbers.
Patrons should be advised their details will be held for 28 days under the new rules.
Ticket resale or exchange is not permissible, but tickets can be cancelled and then reallocated by the venue manager.
There is no restriction on capacity for nightclubs or fully seated live events, but standing venues are limited to 1,500 people.
Toilet facilities must have a one-way system. Covid passes and IDs will also be required for entry.
Patrons do not have to wear face masks when dancing, drinking or eating, the guidelines state.
Face masks should be worn while entering and leaving the venue and in shared spaces, for example in toilets and at the bar area when purchasing drinks. All workers must wear face masks.
The rules also say that no crowdsurfing is allowed at gigs.
---
Read more:
Latest Coronavirus stories
---
'Nobody has been treated like dirt'
Taoiseach Micheál Martin earlier said that nobody had been treated like dirt in relation to the reopening of the nightclub sector, adding that the Government has been supportive of the industry.
Speaking this afternoon in Dublin, Mr Martin said some representative groups, such as the Licensed Vintners Association, needed to moderate their language.
He said that the protection of public health mattered and that there needed to be balance in relation to comments from some representative groups from the nightlife sector.
The Taoiseach said that industry will always lobby, but that cannot dictate the actions of Government, adding it will always try to get the balance right, but lobbyists will always look for "that bit more".
He rejected suggestions that the industry had been treated unfairly, saying the virus was to blame for the restrictions that were in place for the sector.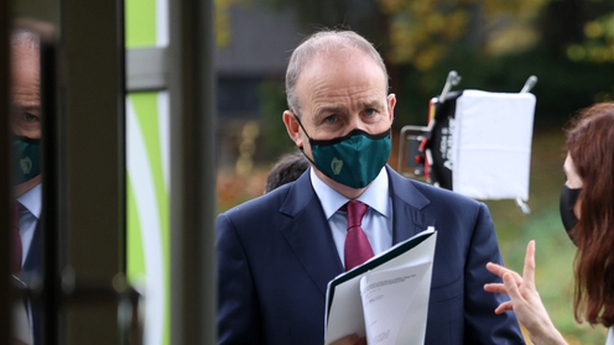 Mr Martin also reiterated calls from NPHET for people to be mindful of their own actions and abide by public health advice.
"I don't accept some of the over-the-top comments that have been made in respect of what has actually been the reopening of a sector that has always proved challenging," he said.
Sinn Féin's Louise O'Reilly said the issue should have been handled better by the Government, and that people running and working in the nightclub industry deserve to be treated with a bit more respect.
RTÉ News understands that the regulations will set out penalties of €2,500 for every offence and a final penalty of €5,000 and/or closure.
An earlier version of the guidelines was published last Friday.
However, they left a number of questions for industry representatives around how long in advance tickets would have to be purchased and precisely what venues they would apply to.
Industry representatives are understood to have sought a delay in the roll-out of the new rules, as many do not have the systems in place for ticket bookings.
The tickets, to be purchased electronically, must also contain details to allow for robust contact tracing and would have to be booked at least one hour in advance.
At a meeting with Government officials yesterday, industry representatives were told there will be no grace period for implementing them, as they had requested.
The requirement for a ticket will be determined by whether dancing is taking place at a venue, rather than live music as previously envisaged.
Additional reporting: Tommie Meskill, Mary Regan