The EU Commissioner for Agriculture has said the new Common Agricultural Policy (CAP) is good news for Irish farmers.
Speaking at the Institute of International and European Affairs, Janusz Wojciechowski thanked the Irish farming community for continuing to provide food security in Europe during a time of crisis.
Commissioner Wojciechowski said the recent reforms for the new CAP, which were agreed in June, mean Irish farmers will receive €10.75bn as opposed to €10bn to help with the very serious challenges ahead for farming.
He said he understood how the changes are not enough for some and go too far for others.
The commissioner added that it is now in the hands of member states to prepare ambitious plans that focus on delivering solutions for fairer, greener farming.
He said he had confidence the Irish Government was moving in the right direction to create a strong and sustainable future for Irish farming.
Mr Wojciechowski said that each member state must plan a strategy, including the use of legislation, and that the commission will assess whether the plans can meet Green Deal targets.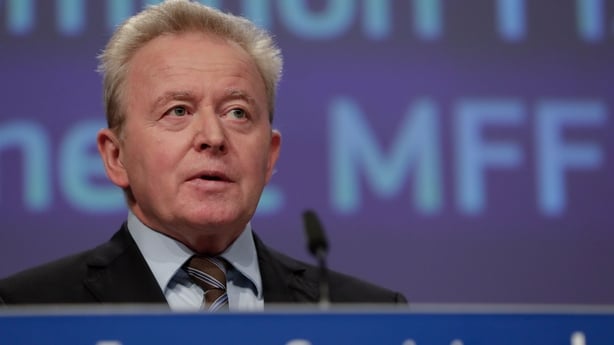 The Polish commissioner said sustainability had three pillars which he compared to the separate but connected leaves of a shamrock. He said these were social, environmental and economic.
He said member states have been invited to set up national values to be achieved by 2030 to reach Green Deal targets, including pesticide and antimicrobial reduction.
The expansion of organic agriculture and broadband coverage should be included and a clear strategy in terms of animal welfare needed to be in place, Mr Wojciechowski added.
These conditions will be linked to CAP payments, he said, but standards will now be higher.
He said the new CAP will be better for farmers who take voluntary actions and that at least 25% of income support will be dedicated to eco-schemes which benefit climate, environment, animal welfare and biodiversity.
The commissioner said the voluntary measures must be used strategically and be opened to a wide base of farmers.
Acknowledging the difficulty Ireland's dairy and beef farmers face in terms of sustainability, he said although they have already shown the ability to produce with a lower carbon footprint, this can be further developed with eco-schemes in areas such as fertiliser application, agroforestry and extensive livestock reduction.
Mr Wojciechowski said the commission wants to reward farmers who work sustainably and that by taking advantage of the supports in the CAP, member states can put farmers in a prime position to reap the rewards.
He said a new agriculture reserve with an annual budget of at least €450m will be introduced to ensure income resilience for EU farmers.
The commissioner said the fairness and effectiveness of income support is a key priority in the CAP.
He said member states must show how they use new income support tools as part of a clear strategy for a fairer system of farming.
Mr Wojciechowski said farm workers will see real benefits with decent conditions and workers rights.
He said 3% of the direct payment must go to young farmers while member states must demonstrate how they will support women farmers.
The commissioner added that support for these groups goes hand-in-hand with the rural development strategy.
"To tackle the climate challenges of our time, we need all actors in the agriculture food chain to play their part, including consumers and citizens," Mr Wojciechowski said.