Twenty years ago, RTÉ reporter Paul Cunningham and cameraman Neilus Dennehy were situated on the Pakistan border as the invasion of neighbouring Afghanistan was about to begin. Here, Paul reflects on their bid to cross into Taliban-controlled Afghanistan.
Sometimes you can be lucky when your "big idea", though carefully planned, runs into the sand.
That was most certainly my experience when, 20 years ago this month, I reported from northwestern Pakistan, as US-led forces prepared to invade neighbouring Afghanistan.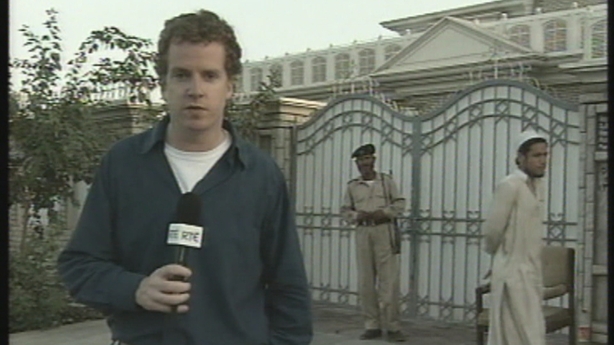 With US warplanes flying sorties overhead, as part of their so-called Operation Enduring Freedom, my "big idea" was to cross the border into Afghanistan before US troops had their boots on the ground.
By this time, the BBC's World Affairs editor John Simpson had already managed to broadcast from inside Taliban-controlled Afghanistan, in part by disguising himself in a burkha - not the easiest task for a big-framed man, who is more than 6ft tall.
His burkha became so famous that it was later displayed in London's Imperial War Museum, along with a bullet that had grazed BBC Correspondent Kate Addie's leg in Lebanon, and the trade-mark white suit worn by BBC Correspondent Martin Bell during the Bosnian war.
Anyway, with far fewer resources than the BBC, my strategy was to hitch a lift with some Afghans returning home, which isn't quite as far-fetched, or madcap, as it might first sound.
I was based in Peshawar, with the experienced RTÉ cameraman Neilus Dennehy, who drank more sweet lassis - a yogurt-based drink often served with cardamom - than did the rest of the press-pack combined.
If you drive north from Peshawar for 50km or so, along the N5 highway, you arrive at Torkham - the region's main border-crossing with Afghanistan.
Because of that proximity, Peshawar was filled with thousands of penniless Afghan refugees who had sought sanctuary from many years of interminable fighting.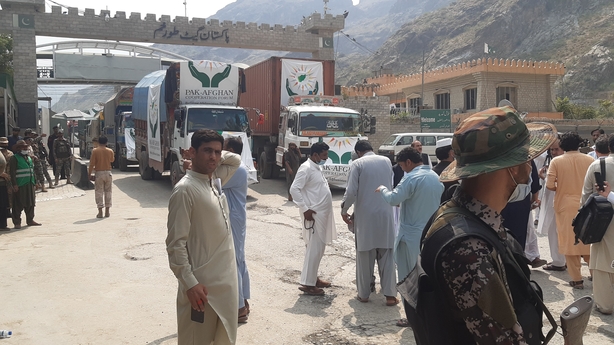 But there were also some highly influential Afghan exiles in this city of intrigue - influential people such as Abdul Haq.
Born Humayun Arsala, he adopted the nom de guerre of Abdul Haq - servant of justice - and became a famed Mujahideen commander.
Injured more than a dozen times while fighting against the Russian occupation of his country in the 1980s, he lost most of his right foot in a landmine explosion.
Haq was also a Pashtun - the largest ethnic group in Afghanistan. His support base was just across the border from Pakistan - precisely where I was hoping to go.
Haq was also an internationalist. He had lived in Dubai in recent years, but had travelled the world and was comfortable meeting presidents and prime ministers.
I'd first met him at one of the many gatherings taking place in Peshawar at that time, where Afghan exiles were considering what government might replace the Taliban regime.
Balding, thick-set and heavy, he struck me as looking much older than his 43 years. Then again, he had lived more drama than most people ever will, including being sentenced to death at the age of just 17.
In great English, Haq spoke with intensity and authority, and he was clearly no Taliban supporter.
He told RTÉ News: "Many of the [Afghan] civilians are angry and p**sed-off because the Taliban have failed to give them security ... to give them food ... to give them medicine ... schools - all of these things."
To Afghans, Haq was a war hero who had refused to tarnish his reputation by getting involved in the internecine fighting between mujahideen factions after the Russians had left in 1989.
To the international community - Haq was a serious figure who could well play a significant role in any new political set-up.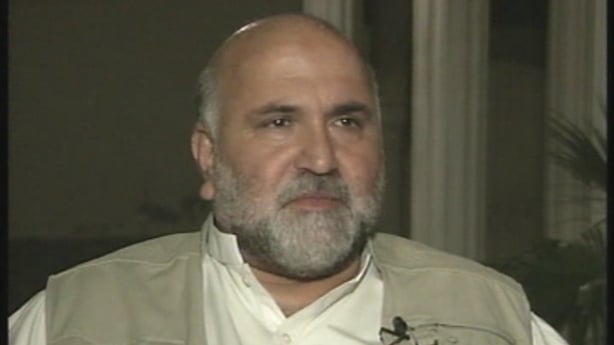 From my own immediate perspective, Haq might also just be our ticket to Afghanistan. He was comfortable with the media and understood both its power and requirements.
It was no secret in Peshawar, and beyond, that Haq had been trying to convince the Taliban commanders in his backyard of southeastern Afghanistan to change sides.
He wanted Afghans to solve the crisis in Afghanistan and he believed that the US bombing campaign was empowering the hardliners.
It didn't take a genius to work out that Abdul Haq was likely to cross over the border into Afghanistan sooner rather than later in some form of covert mission.
It would be a critical moment. He didn't trust the Taliban leadership at all. However, he was going to have to trust their local commanders, some from his own clan.
While Peshawar was a city hosting meetings about a post-Taliban future for Afghanistan, it also saw demonstrations supporting that very regime.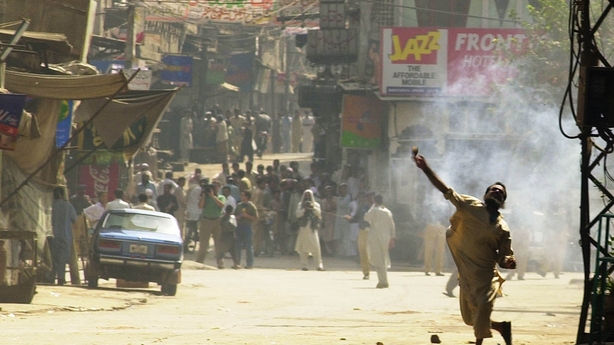 The ongoing US-led air-strikes were fuelling anger on the streets against what Peshwari protesters saw as western imperialism. Some wore t-shirts extolling the virtues of Osama Bin Laden, who was continuing to live in Afghanistan despite US demands that the Taliban hand him over.
Just to add to the complexity, the Taliban had emerged from the Afghan refugee camps in places like Peshawar - particularly the religious schools, or madrassas. Indeed, it was widely held that the Taliban's rise in 1994 had only been possible due to the support of the Pakistani intelligence service, the ISI - an accusation that Pakistan denied.
In January 2002, the Wall Street Journal correspondent Daniel Pearl would be kidnapped in the Pakistani city of Karachi and later beheaded - triggering a re-think in every news organisation about how it deployed staff to hostile environments.
Yet in October 2001, things seemed safer somehow, at least for us journalists, even though the political situation was extremely volatile.
People were very angry at the pro-Taliban demonstrations but they didn't appear to be angry with Neilus and me.
We filmed from the middle of several protests, which usually started at various mosques, following afternoon prayers, and then merged at a rallying point in the city.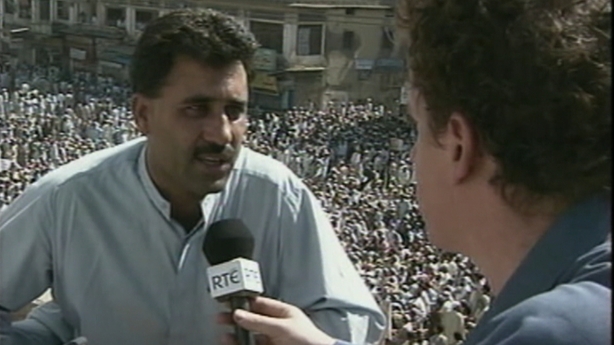 Along with most of the international press, we were staying at the Pearl Continental, a hotel partly demolished by suicide bombers a few years later.
I don't recall any colleagues talking about being overly worried about their personal safety at the time. Most, like Neilus and I, had covered conflicts before, and were aware of the dangers.
What was being discussed was how soon the invasion might take place and how quickly we could get to Jalalabad - a city 140km beyond the Torkham crossing.
It was the topic every night at the Pearl Continental's rooftop restaurant where, despite being located in a 'dry' state, bottles of beer would magically appear through a small hatch in a wall. And they would be much appreciated after a long day in 30 degree heat.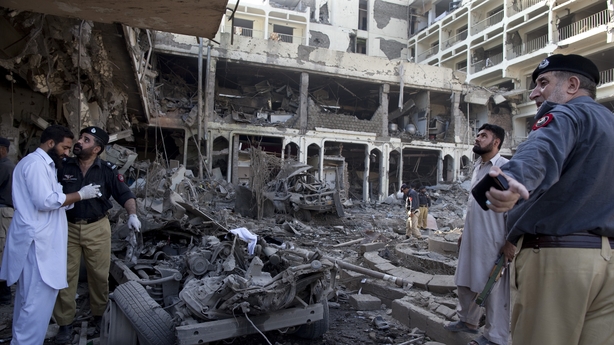 I remember thinking quietly to myself that Abdul Haq might help us get across the border ahead of the rest of the press pack.
Neilus and I had engaged Haq's people on the idea but they were non-committal.
So, we located where Haq lived in a large white mansion off a main road and called to the compound a few times, in the hope of talking with him directly.
However, our plans to wait for any length of time were usually scuppered by the daily news agenda.
We reported on the latest flood of Afghan refugees fleeing into Pakistan - their desperation and misery; the shocking plight of civilians remaining in Afghanistan; and the impact of heroin imported from Afghanistan into Pakistan.
'He was trying to form such a government in which all the factions - including the Taliban - were there'
Sometimes we had to leave Peshawar to trek all the way down to Islamabad, a five-hour round trip, to meet the Taliban's Ambassador to Pakistan, Abdul Salam Zaeef, or his deputy, Suhail Shaheen - now the Taliban's designated UN Ambassador.
Mullah Zaeef was a founding member of the Taliban and would end up spending years in the US prison at Guantanamo Bay before his eventual release in 2005.
In October 2001, however, he was still holding court to the international media inside his compound - telling us that any invasion of Afghanistan was doomed to failure.
When Neilus and I visited Haq's house for the final time, it appeared deserted. That was because my prediction had been proven right - Haq had left Peshawar for Afghanistan and we'd been too late to hitch that ride.
At the time, I was frustrated - even if the idea of Haq letting us tag-along had always been very much a long-shot. It would also have been subject to a serious risk-assessment analysis at RTÉ.
However, it only took a few days to realise that our big idea would in fact have been a big disaster - something which would have grave consequences for Abdul Haq.
It emerged that Haq and a small bunch of followers had crossed the border into Afghanistan, using narrow mountain paths.
His nephew, Yousef, told the Irish Times at the time that he had gone home to "convince all different tribes in Afghanistan to make efforts to pave the way for peace ... He was trying to form such a government in which all the factions - including the Taliban - were there".
His attendance at the lengthy meetings in Peshawar, it seemed, had two aims - to seek backing for his peace initiative but also trying to nail-down assurances and support for his return to the homeland.
The Taliban didn't see Haq as a peacemaker but as a traitor
While Haq was one of the most famous Afghan commanders and was returning to a part of the country from which he hailed and where he was recognised as a hero, he was also someone who'd lived in exile.
Things change, even for heroes.
Within days of crossing the border, he found himself ambushed with a small band of followers in a gorge which had been sealed-off at both ends by Taliban fighters.
The Observer reported how frantic calls on Haq's satellite phone to his office in Peshawar appealed for US air support to come to his rescue. In the end, it was too late.
Abdul Haq was captured by the Taliban and brought to the Afghan capital Kabul where he was interrogated before being executed.
The Taliban didn't see Haq as a peacemaker but as a traitor. They had already been widely blamed for assassinating his wife and son in Peshawar in 1999.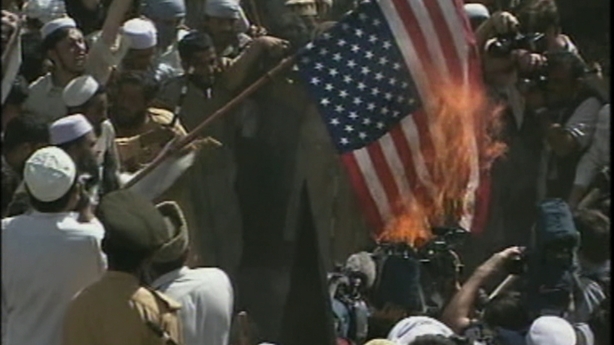 Now they killed the man himself - commander, Kabul police chief, cabinet minister, international businessman, UN mediator, envoy of exiled Afghan King Zahir Shah, and a peace-maker who had dreamed of uniting his country.
When the Taliban were deposed at the end of 2001, a square in central Kabul was later named after Abdul Haq. Now that the Taliban have returned to power in 2021, no doubt his name will be erased once again.
Just why Abdul Haq took such risks to cross the border into Afghanistan will never be ascertained. He must have known it was a gamble, but he was too astute to undertake such a mission without promised support. What is clear is that he was betrayed.
What if he hadn't been sold-out to the Taliban? Could he have turned-the-tide and caused the Taliban to splinter, if not collapse? Could that have meant the US-led invasion being called off? Could his initiative have saved countless lives?
History is littered with that question: what if?
Governments of the world are asking themselves that question today: What if we recognise the Taliban? What if they renege on their promises? What if there is a humanitarian disaster in the country this winter?
This is mine: What if Abdul Haq had taken an Irish TV crew with him across the border and into the badlands of southwestern Afghanistan in October 2001?