Latvia has announced a Covid-19 lockdown from 21 October until 15 November to try to slow a spike in infections in one of the least vaccinated European Union countries.
"Latvia is world number 1 in infection rate," Health Minister Daniels Pavluts told reporters after an emergency meeting by the government.
Shops, restaurants, schools and entertainment will be closed, and only essential services available, he said.
The lockdown will then be eased only for the vaccinated, he added.
"Our health system is in danger," Prime Minister Krisjanis Karins said, blaming low vaccination rates in the Baltic country for the spike in hospitalisations.
Latvia is reporting over 2,000 infections per day with just 46% of the population fully vaccinated, according to a Reuters tracker.
New cases in the Baltic state increased by 49% in the week to yesterday, its health authority said, according to the BNS wire.
Last week, Latvian President Egils Levits revealed he had contracted the virus, despite being fully vaccinated.
"The symptoms are minimal and the president is feeling well, but the procedure requires the president to work remotely," Andris Teikmanis, chief of staff at chancery of the president, said in a statement.
Meanwhile, under the new rules, public sector employees in Latvia must be vaccinated by 15 November.
EU has exported over 1 billion Covid-19 vaccine doses
The European Union has exported "over one billion" doses of Covid-19 vaccines in the past 10 months, the bloc's chief Ursula von der Leyen said today.
"Very clearly, the European Union is the largest exporter of Covid-19 vaccines," she said, adding that 87 million of the doses had been funneled through the Gavi, WHO and CEPI co-led Covax scheme to mid- and low-income countries."
The EU begun exporting vaccines at the start of the global rollout in December 2020, whereas other major producers such as the United States did not, and restricted exports for months.
However, EU exports have been mainly directed to bigger economies, with Japan, Turkey and Britain among the main recipients, because they had supply contracts with vaccine makers which produced jabs in the EU.
Vaccines exported or donated by the EU to poorer nations area small portion of total exports, but the EU plans to boost its donations in coming months with the goal of distributing at least 500 million Covid-19 shots to the most vulnerable countries, Ms von der Leyen said.
Restrictions ease in Sydney
Thousands of children returned to school in Sydney today, putting an end to months of home learning as Australia's largest city eased more Covid-19 curbs, thanks to rising rates of vaccinations.
Masks are no longer mandatory in offices and larger groups are to be allowed in homes and outdoors after the state of New South Wales, home to Sydney, hit a double-dose inoculation rate of 80% at the weekend among those older than 16.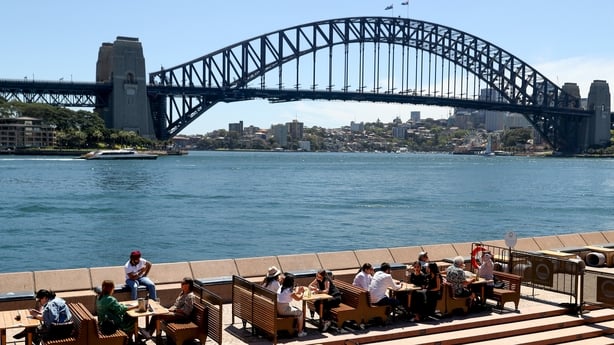 The latest in a series of planned relaxations is part of a shift in strategy by Australia's largest cities towards living with the virus, though officials have warned it will bring more Covid-19 cases.
"This is not over," state premier Dominic Perrottet said today, urging people to stick to the remaining health rules. "There is a long journey to go."
Shops, gyms and pubs can allow more vaccinated users while nightclubs can re-open to serve drinks to seated patrons, and limits on the number of guests at weddings have been dropped. But all must follow social distancing measures.
Today's return to the classroom has been staggered, as the youngest and eldest - those in kindergarten, year 1 and year 12 go back - with all the rest scheduled for next week.
New South Wales's 265 new cases were the lowest single-day rise in 10 weeks, far off September's high of 1,599.
The neighbouring state of Victoria reported 1,903 new cases, up from 1,838 the previous day. Its capital, Melbourne, is on track to begin exiting its lockdown on Friday, as full vaccination levels near 70%.
The city has spent about nine months under strict stay-home orders since March 2020, the world's longest such stint, say Australian media.
---
---
Authorities in northeastern Queensland, which is free of Covid-19, said quarantine-free travel for fully vaccinated residents from Sydney and Melbourne would begin from 17 December, when the state's full vaccination rate is expected to top 80%.
"That is good news for families to be reunited for Christmas," said the state's premier, Annastacia Palaszczuk.
The two cities have been hotspots of Australia's virus outbreak.
Fully vaccinated individuals can travel to Queensland when the level of inoculations stands at 70%, but must quarantine at home for two weeks.
As states begin to ease curbs, the federal government said it would roll out its vaccination passport for international travel from Tuesday, a crucial step in its plan to let citizens travel abroad from next month.
Last week, authorities said vaccinated international travellers, initially only citizens and permanent residents, would be allowed to enter Sydney from 1 November free of quarantine..
With a tally of 145,000 infections and 1,543 deaths, Australia's exposure to the coronavirus has been relatively low.
One hurt in French nightclub shooting over Covid pass
Two men who were refused entry to a French nightclub for producing a fake Covid health pass have been arrested over a shooting at the venue that left one partygoer injured, prosecutors said yesterday.
The incident took place on Thursday night in the outskirts of the eastern town of Montbeliard.
"It has been confirmed that one of the men tried to present a health pass that did not match his identity," the public prosecutor for the area, Ariane Combarel, told AFP.
The pair then left the scene only to return a short while later in a car, from which several shots were fired in the direction of the club, she added.
A man who was enjoying a night out at the club sustained gunshot wounds to the knee, according to regional media.
Ms Combarel said he had required surgery and had been written off work for six weeks.
Since July, people in France have been required to present a Covid-19 pass in order to enter public venues such as restaurants, nightclubs, gyms or cinemas.
The pass, available in paper form or as a QR code on a smartphone, proves the person has been either vaccinated against Covid, recently tested negative for the virus or already had Covid and recovered from it.
Announced by President Emmanuel Macron in July, it prompted millions of people to get the jabs after holding out for months, giving France one of the world's highest vaccination rates.
But the pass has also drawn controversy, with thousands of people attending weekly protests in cities across
France against what they call Macron's establishment of a health "dictatorship".
A number of people have attempted to circumvent the rules by buying fake Covid passes on social media or using one belonging to a friend in the hope that they are not asked to produce ID.
Lockdown extended in Auckland
New Zealand Prime Minster Jacinda Ardern said today that the country's biggest city Auckland will remain in lockdown for another two weeks as it looks to control the spread of the Delta variant of the coronavirus.
There will be no changes in the social restrictions that have already been in place for over two months in Auckland under alert level 3, Ms Ardern said at a news conference.
At the weekend, a national day of action to promote getting the Covid-19 vaccination took place across New Zealand with over 2.5% of the population receiving a jab on Saturday.