As world leaders gather in Glasgow next month for the UN Convention of Parties (COP) on Climate Change, RTÉ will be there to bring you a wide range of content across all platforms. Here's your guide for what to look out for and how we plan to cover what has been described as our 'last best chance' to combat global warming.  
What is COP26?   
For the first two weeks in November a summit of world leaders, scientists, activists and policy makers will be gathered in Glasgow, Scotland to form the UN Convention of Parties (COP) on Climate Change. This meeting, COP26, is aimed to reach agreement about what needs to be done to make sure the rise in global temperature is kept to below 1.5 degrees Celsius.    
Why do I need to know about COP26?
This comes at a crucial point after the recent IPCC - the UN Intergovernmental Panel on Climate Change report written by scientists from all around the world, which declared 'a red alert for humanity' and said that climate change is widespread, rapid and intensifying. The IPCC made it clear that human activity was driving this.   
Delegates from more than 190 countries are tasked with finding solutions to the crisis that will bring down harmful emissions. This requires increased efforts and climate actions by all nations. They also aim to resolve issues around climate finance including how to help less well-off nations to adapt to climate change. 
UN Climate Conference President Alok Sharma called COP26 our "last best chance" to combat global warming.  
How can I find out about what is happening at COP26 and Climate Change issues?
As the world looks to unite to tackle the issue of climate change at the global UN COP26 event next month, RTÉ will bring audiences to the heart of November's summit with special news & current affairs programming and easily accessed expansive digital content as part of its continued coverage of climate change.
As the World Leaders Summit begins in Glasgow, Scotland on 1 November, RTÉ Radio 1's Morning Ireland and RTÉ's Six One News will broadcast live from the conference. RTÉ News Environment Correspondent George Lee will be there every step of the way over the 13 days of the event to bring viewers all the latest developments, analysis, and an insight into what it means for Ireland while RTÉ Radio 1 reporter Philip Boucher Hayes will keep listeners informed across the station.
Throughout the duration of the event RTÉ News will feature a range of special climate impact reports from Ireland and RTÉ's correspondents abroad.
As the conference nears a close and pressure builds for the more than 190 countries represented to come to agreement on a range of issues, RTÉ's Prime Time  will go live to Glasgow to hear from Irish and international guests. 
RTÉ Radio 1 will feature a brand-new radio series looking at measuring the gap between good intentions and meaningful climate action as Philip Boucher Hayes presents Hot Mess, beginning Tuesday, 26 October at 6.30pm, and available as an on-demand podcast. 
On RTÉ.ie/climate some of Ireland's leading academics and researchers will author articles as part of the RTÉ Brainstorm series, while dedicated digital news content on all the latest from COP26 and wider climate change topics will be easily available under the climate tab on the RTÉ News app and website. 
Listeners can join the RTÉ 2fm Breakfast team as Doireann, Carl and Donncha team up with RTÉ Brainstorm for series of "Brainstorm Climate Quickies" during COP26. RTÉjr's award winning podcast series Ecoloution, for kids who want to make a difference in the fight against climate change also continues. 
During COP26, the new RTÉ One series of Future Island with presenters Liz Bonnin and Professor Luke O'Neil as part of Science Week will take over the schedule for three consecutive nights. The series will reflect on climate change, the changing acceptance of attribution and have their own (non-news) glimpse behind the headlines at COP26.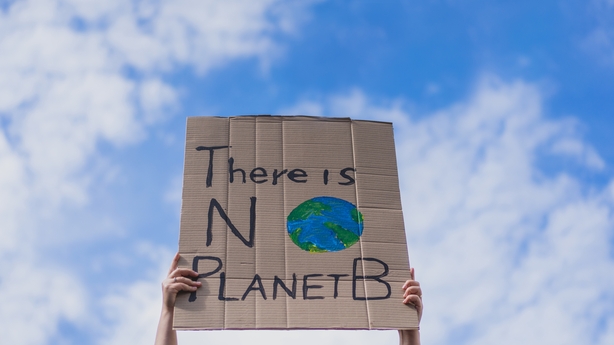 This coming week RTÉ One television is announcing a call-out specifically focused on new climate change programmes ideas for 2022 to Ireland's creative independent production industry. 
These productions will be in addition in 2022 to the brand-new documentary, The Hollow Cities by Orla Murphy which will look at what Ireland's cities could look like by 2050, a special RTÉ climate programme event series, and two up-coming big natural history strands - The Island with Liz Bonnin and Ireland's Wild Islands with Eoin Warner that take place against the backdrop of climate change and with sustainability as key central themes. 
A second series of highly acclaimed Ireland's Deep Atlantic is also currently in production while Ear To The Ground will continue to cover climate change as part of its brief to capture life in rural Ireland and Prime Time will feature special climate change programmes next year.
RTÉ Raidió na Gaeltachta's drivetime show Tús Áite's  introduced a new weekly environmental slot every Thursday for the autumn in the lead up to COP26 to address some of the big questions around climate change and climate action. 
To date, they have looked at nuclear power, just transition, renewable energy, and the link between global warming and health, and upcoming topics will include the campaign to reduce investment in oil, coal and gas companies, and the carbon footprint of pets. 
On weekend current affairs programme An tSeachtain le Máirín Ní Ghadhra on Sunday, 31 October at 10am, Máirín and panelists will look at the importance of taking action on environmental issues, the big challenges involved, and the role of smaller states like Ireland in the global effort. 
Aideen O'Dochartaigh, an Assistant Professor in DCU Business School specialising in sustainability in business, will also be reporting live from COP26 on Iris Aniar during the conference.
Introducing our youngest audiences to our natural environment, RTÉjr are featuring new series' Bush Kids and Ladybird and Bee. RTÉ are also continue to partner with Junk Kouture and will be bringing young viewers a special programme on the initiative highlighting the importance of sustainability and fashion later this year. 
Check out www.rte.ie/climate for more.