A verdict of medical misadventure has been returned at the inquest into the death of a 28-year-old woman, who died hours after giving birth.
Nayyab Tariq died at Mayo University Hospital in March 2020.
After giving birth to a baby girl, there were complications with the delivery of her placenta.
On the third day of the inquest today, Pathologist Dr Fadel Bennani said Ms Tariq suffered from a rare condition called deciduosis, which led to unavoidable bleeding after birth.
The cause of death was due to a spontaneous intra-peritoneal haemorrhage, due to extensive extra-uterine decidualisation in the pelvis, and pulmonary thromboembolism.
During the course of the proceedings at Swinford Coroner's Court, evidence was given that Ms Tariq lost a total of almost 2.8 litres of blood, after the birth.
After two unsuccessful attempts to remove the placenta, she gave written consent for manual removal, following an explanation of the procedure and risks involved.
Ms Tariq's husband told Coroner Pat O'Connor that he had been concerned about a "sudden gush" of blood onto her bed linen after the birth.
Ayaz Ul Hassan said that the volume of blood seemed substantial to him, but attending medics did not seem to be overly concerned by it.
In his concluding remarks, Mr Ul Hassan's solicitor, contended that a verdict of medical misadventure be returned.
Johan Verbruggen, contended that some protocols had not been followed by staff at MUH.
We need your consent to load this rte-player contentWe use rte-player to manage extra content that can set cookies on your device and collect data about your activity. Please review their details and accept them to load the content.Manage Preferences
Conor Halpin, Senior Counsel for the HSE, said hospital staff had done everything they could have done to try to save Ms Tariq's life, but evidence presented to the inquest suggested her death was unavoidable.
He said there was "no act or omission" that caused the haemorrhage.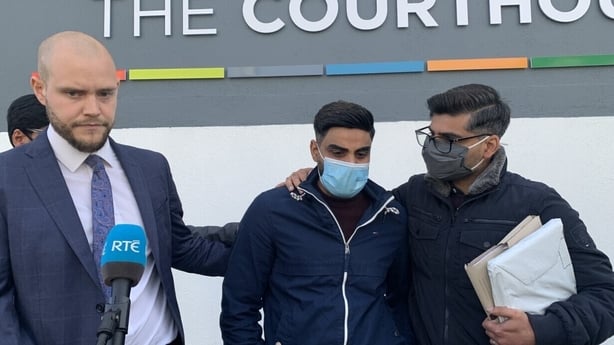 After retiring to consider his verdict, Mr O'Connor said a number of factors led to the death of Ms Tariq, on 22 March last year.
He said the most significant one appeared to be a concealed haemorrhage, "which despite monitoring of her vital medical signs and viewing her in person by a number of staff", did not become obvious. This led to Ms Tariq losing up to 40% of her blood volume.
Mr O'Connor said that clinical findings in the labour ward had not been fully communicated to theatre staff.
Recording a verdict of medical misadventure, the coroner said he hoped findings and recommendations made in an internal HSE review into the case would be "actively followed and implemented".
A statement read to the inquest on behalf of the hospital, expressed sincere condolences to Ms Tariq's husband, daughter and family, following her "tragic and untimely death".
Mayo University Hospital has apologised unreservedly for any failings or shortfalls in the standard of care provided, including poor communication updates during the time Ms Tariq was in theatre.
Mr Halpin said every issue that arose in relation to standard of care was being addressed by the hospital.
Afterwards, Mr Verbruggen said it was clear that protocols for managing postpartum haemorrhage had not been followed and basic measures were not taken soon enough, or at all. He said this resulted in a delay in recognising Ms Tariq's deterioration from massive blood loss.
Mr Ul Hassan was comforted by relatives outside the court.