Nearly €8 million was scammed from people in online investment fraud in the first seven months of this year, according to new garda figures.
It comes as the Garda National Economic Crime Bureau (GNECB) is warning people to be more vigilant online.
A new programme to give 230,000 older people digital and online skills so they can interact with services and avoid cyber scams has been launched.
Garda figures obtained by RTÉ's Morning Ireland show €7.9 million was taken from people in online investment fraud up to the end of July 2021.
That is an 86% increase when compared to the same period in 2020.
The average age of those scammed in that type of fraud was 53.
Detective Chief Superintendent Pat Lordan of the GNECB advised people to be "very, very careful".
"That is a very substantial increase. I put it down to people not getting good investment rates or interest rates in their banks or credit union," he said.
"Investment fraud is targeted at people with some money or some savings and that is normally people in the older age groups. We see investment fraud as one area that people need to be aware of. It is wide open for scammers, fraudsters and criminals to take your money," he added.
The average age for those impacted by phishing is 49.
"Don't trust what you see online. Don't trust something you've seen in a text message. Don't trust anything unless you've checked it out - especially if you are going investing substantial amounts of money," Det Chief Supt Lordan added.
"In 2021 it is a challenge for all of us to do anything online because every door we open the scammer is waiting to pounce on us and they are getting better and better by the minute.
"They are more convincing whether it is by text by phone call, by email, and you have to be very alert to try and keep ahead of them," he said.
We need your consent to load this rte-player contentWe use rte-player to manage extra content that can set cookies on your device and collect data about your activity. Please review their details and accept them to load the content.Manage Preferences
Meanwhile, Hi Digital, a nationwide social partnership between ALONE, Active Retirement Ireland, and Vodafone Ireland Foundation was launched today to deliver online and in-person digital skills training for older people.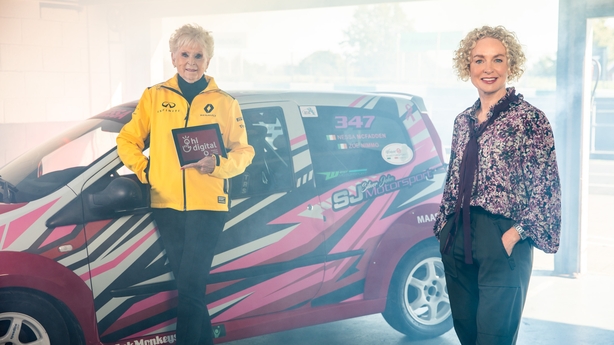 CEO of Active Retirement Ireland Maureen Kavanagh said it is a nationwide initiative empowering older people to embrace the digital world.
The course, which will support over 230,000 older people, includes topics such as understanding smartphone features and essential online skills that help enhance daily life, online shopping and banking.
CEO of ALONE Seán Moynihan said the project is part of the charity's aim to create an infrastructure to empower older people to use technology, enabling the user to manage their social connection, health, safety and security.
The CEO of Vodafone Ireland said it wants to change older people's attitude and behaviour towards technology.
"We want to empower older people by educating them on how to use the internet and explain the benefits it can have on their daily lives," Anne O'Leary said.
Det Chief Supt Lordan welcomed the Hi Digital course.
"It is very important for people to be doing these types of courses and training. Through all walks of life we should be doing a lot more of this. I think it is great to see it happen," he said.
From today people can participate or register their interest in the programme online at www.hidigital.ie or through the dedicated number:1800 203030.