A policy which effectively excluded doctors from outside the EU/EEA from accessing postgraduate training places is to be scrapped.
Up to now EU or EEA citizens were given preferential access to such training places, however the Minister for Health Stephen Donnelly has said that this policy will be brought to an end.
The change will put applicants from outside the EU, who hold a Stamp 4 visa, on the same footing as their Irish, British or European counterparts.
A higher specialist training programme can take up to six years to complete. Afterwards doctors can register with the Medical Council as a specialist and apply for consultant positions.
"We've many talented and committed non-EU doctors contributing hugely to our health service and they must be given opportunities to progress their careers in medicine, surgery and general practice," Mr Donnelly said on Twitter.
Mr Donnelly said the change was supported by training bodies and would apply to the July 2022 postgraduate intake recruitment process that will take place this autumn.
He also committed to work with the HSE and Postgraduate Medical Training Bodies "to increase the number of available training places in line with medical workforce planning requirements".
According to OECD and Irish Medical Council figures, two in five doctors working in the Irish healthcare system trained outside the EU/EEA.
The Irish Medical Organisation (IMO), which campaigned on the issue of training pathways for International Doctors gave the policy change announcement "a guarded welcome".
However, both the IMO and campaign group 'Train Us For Ireland' have raised concerns that doctors will still need to have worked for a minimum of five years in Ireland to qualify for the Stamp 4 visa required under the new proposals.
In theory, doctors qualify for Critical Skills Work Permits (CSWP), which would fast track eligibility for a Stamp 4 visa by reducing the length of time a person must live in Ireland from five to two years.
However, to qualify for a CSWP, someone must be employed on at least a two-year contract.
Dr Liqa ur Rehman, the Co-Founder of Train Us For Ireland told RTÉ News that most Non-Consultant Hospital Doctor (NCHDs) working in Ireland are employed on six- or 12-month contracts and are therefore precluded from accessing a CWSP.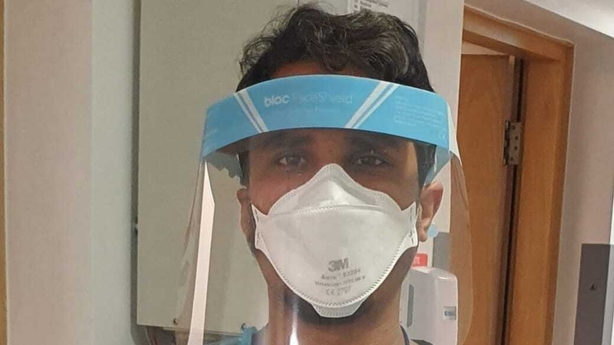 "This is a huge suffering for non-EU doctors... and if it is not resolved, a brain drain will continue," Dr ur Rehman said.
Over 600 doctors signed a letter written by 'Train for Us Ireland' which was sent to various stakeholders in July calling for action to be taken on this issue.
Separately, in March the Royal College of Physicians of Ireland (RCPI) said it believed "that equity of access to postgraduate education for all doctors is a fundamental principle and would welcome fairer allocation of places on training schemes".
While in April more than 40 consultants and medical professors from Dublin's Beaumont Hospital wrote to the Minister urging "the Government, the HSE and training bodies to find the innovation and flexibility" to enable non-EU doctors to "progress their (medical) careers" in Ireland.
Naveed Abbas is Chair of the IMO NCHD International Doctors Group, and a Surgical Registrar in Midlands Regional Hospital.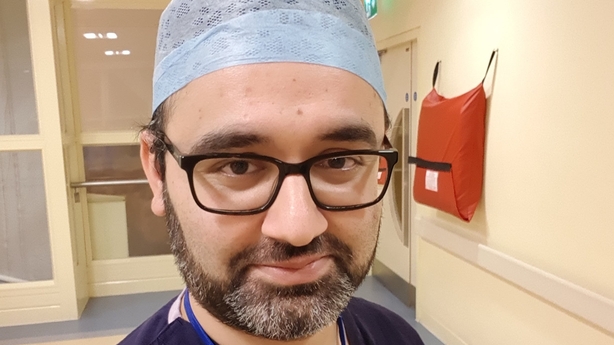 Originally from Pakistan he has lived and worked in Ireland for more than ten years.
"I remember applying (for postgraduate training) for two of three years in a row, but it was actually on the website where these training programmes were being advertised 'if you are from a non-EU place, you are unlikely to succeed'," Mr Abbas told RTÉ News.
"It sets you back a good bit; it delays everything in your own life, and it discourages you," Mr Abbas said.
It is possible to become a consultant without higher specialist training, and Mr Abbas is optimistic that this is the path he is now on, but it is a more precarious one.
"You apply for the same jobs, but you are always on the back foot," Mr Abbas said.
He knows of colleagues and compatriots who have left Ireland to work in the UK, but he said that is not for him.
"I love Ireland... I'm not going anywhere."