A loggerhead turtle is taking to the skies from Dublin Airport today, bound for the warmer Spanish climes.
It is a high-flying repatriation effort for the young endangered reptile who was discovered off the north west coast two years ago.
Now aged three, Julius Caesar was found washed up on a Donegal beach in January 2019 when he was just nine months old.
Thought to have been caught up in the wrong current and swept along the gulf stream, he was suffering from hypothermia, stunned by the cold water, and weighed just a few hundred grams.
He has been looked after by staff at the Exploris Aquarium in Portaferry, Co Down, since then.
Julius Caesar, also known as JC, now weighs in at 20kg and his crate is travelling on a seat on an Aer Lingus flight to Gran Canaria.
It would be too cold for him to travel in the hold of a plane.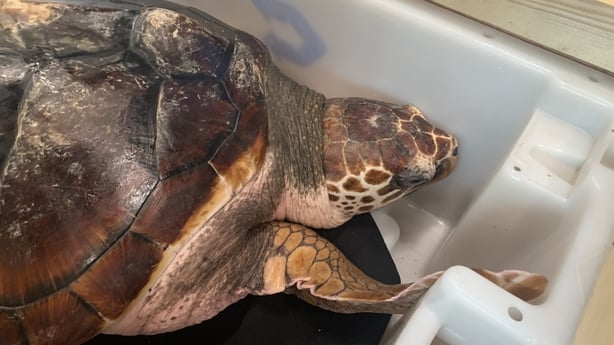 Portia Sampson, a supervisor from the aquarium, is his chaperone for the trip: "My job is to apply vaseline to his shell to keep in the moisture."
She explained that a vet on the Spanish island will meet the pair when they land there this evening.
JC will then be monitored for 24 hours to see if he is swimming and feeding normally and if all goes well, he will be released on a nearby beach.
Loggerhead turtles are a vulnerable and endangered species, and their numbers are in decline in the wild.
Some days are turtally awesome 😎

Meet a special passenger on our flight to Gran Canaria🐢

3 year old sea turtle, Julius Caesar (or JC to his pals) showed his fighting spirit when he washed up on a Donegal beach in 2019. Today he flies to a sunny climate where he'll thrive ☀️ pic.twitter.com/urNTY7TS8q

— Aer Lingus (@AerLingus) September 15, 2021
According to the World Wildlife Fund, they are the "living representatives of a group of reptiles that has existed on Earth and travelled our seas for the last 100 million years".
Aer Lingus pilot, Captain Peter Lumsden, commented: "Keeping JC's temperature above 19C is critical to his wellbeing and he requires regular monitoring and shell lubrication so placing him in the aircraft hold was not an option.
"His specially designed crate will be securely strapped across a number of seats in the cabin."
Another rogue loggerhead turtle, Leona, was found in Co Clare in 2013 and transported to Las Palmas, Gran Canaria by Aer Lingus in December 2014.