The most significant building works to be carried out at Saint Patrick's Cathedral in Dublin in over 150 years have been completed.
The two-year restoration project on the medieval building's roof cost €9.4 million.
It included the replacement of 14,000 roof slates, gutters and walkways, as well as the repair of masonry, glazing and carpentry.
"This is a wonderful moment for Saint Patrick's Cathedral," said Reverend Dr William Morton, Dean of the cathedral.
"The conservation project has been extremely wide-ranging, and there are many different factors which had to be considered for a heritage restoration project of such a scale."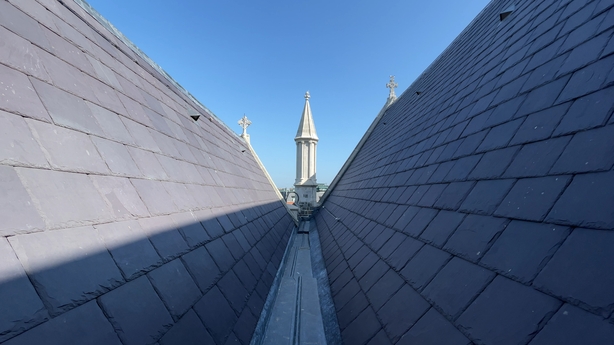 Saint Patrick's Cathedral had to take out a loan of €3.4m to complete the works.
The shortfall was caused by the impact of the pandemic, which has seen visitor figures plummet.
"For 18 months, in terms of visitors, we hadn't a brass cent coming in," Dr Morton explained.
"I'm so grateful to the Government for the grant of €1m and other organisations, and the generosity of individuals and members of our congregation without whose help it wouldn't have been able to proceed."
Included in the renovation works were important upgrades to the fire safety systems.
Cathedral staff say the project has secured the 800-year-old building for generations to come.
The largest renovation project for more than 150 years at St Patrick's Cathedral in Dublin has finally been completed. Staff say the new €9.4million roof secures the medieval building's future for generations to come.
(Tap for best view on mobile) pic.twitter.com/yAUxiqKtWw

— RTÉ News (@rtenews) September 9, 2021