Researchers have recorded "hundreds" of basking sharks engaged in courtship behaviour off the Co Clare coast in recent days.
The team from the Irish Basking Shark Group (IBSG) has been observing and filming the endangered species in waters off Loop Head.
Dr Simon Berrow from the IBSG said: "It's such a sight to see. These tight groups of sharks, going around in circles, just the tip of their fins breaking the water's surface. When you look at them from the air, you can see that it's an orchestrated, circular motion.
"This mating, courting behaviour is something we only really discovered and filmed in West Clare last year, although it's probably being going on for a few years without us knowing what we were looking at. So, to have them back this year, carrying out that same behaviour in their hundreds, is just amazing."
Earlier this year, the IBSG joined a group of international scientists in calling for the Government to provide legal protection of basking sharks in Irish waters under the Wildlife Act.
Dr Berrow said: "It's estimated that there might be less than 10,000 sharks in the whole of the North Atlantic. In fact, some might say 10,000 sharks in all the world's oceans. So, to have this number of sharks gathering here off West Clare is hugely significant at a global level.
"We are so privileged to have these magnificent creatures in Irish waters each year, that we must give them legal protection. This would set a precedent too, as there are many shark species which are under threat in Ireland and around the world. So, we really hope that the Government will take on this proposal and push it through over the next few months."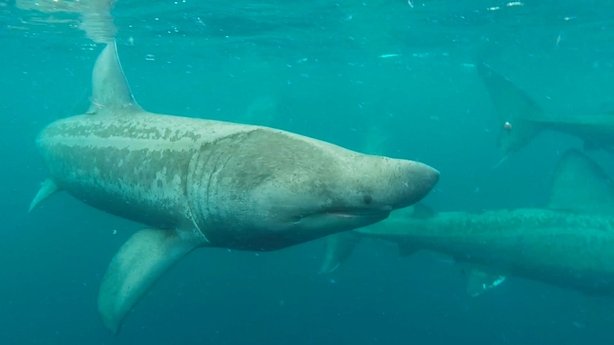 Basking sharks are the world's second largest fish, reaching up to 12m in length.
They are harmless to humans, feeding on plankton and some of the ocean's smallest organisms.
However, the IBSG is urging swimmers and boats to "respect" the sharks by admiring them from at least 4m away.
Dr Berrow said: "Keep four metres between you and the sharks. That way you can watch and observe this amazing behaviour without disturbing them.
"If we look after the sharks and their habitats, hopefully they will keep coming back to West Clare for many years to come."