As the Taoiseach descended the stairs of Government Buildings, by now well-worn by the burden of weighty pronouncements on Covid restrictions, he must have hoped it was his last time doing so for a speech on the topic that has dominated his time in office.
On at least 18 previous occasions (who, by now, is counting?) Micheál Martin took to the podium to announce much-anticipated updates on a complex set of rules that have come to govern our everyday lives.
This time, his words marked a big change in the approach from Government.
Regulations are to give way to personal responsibility.
Legislation is to give way to individual liberties.
And policy pronouncements will give way to personal choice.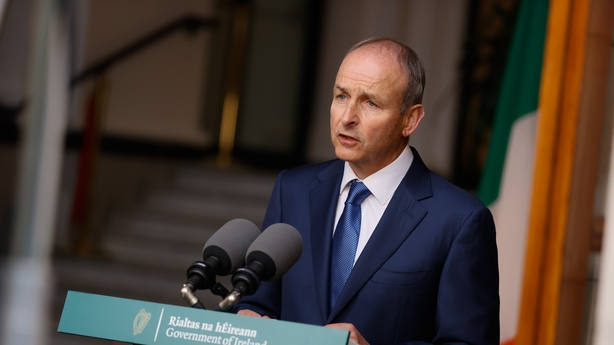 Starting next Monday, live sport and entertainment events will resume for those vaccinated and with limits on capacity.
Confirmations and communions will be allowed and religious services with up to 50% capacity. From 20 September, there will be a phased return to the office.
But the big date to mark in the diary is 22 October when all rules and restrictions will effectively be lifted, including the requirement for physical distancing and mask wearing outdoors and in private settings.
It is not quite "freedom day" but it is as close as we will get to the official resumption of life as we once knew it.
Handing back control of managing the virus to citizens
There will, Mr Martin said, "never be a day when we can say the pandemic is over".
But after more than a year-and-a-half in which State interventions of a scale previously unimaginable, the government is - by and large - handing back control of managing the virus to citizens.
The Taoiseach praised the people for putting "trust in science" and in return, it appears, the Government will put its trust for handling the next phase of the pandemic, in the people.
As always is the case with every round of Cabinet deliberation, followed by big announcement, decisions are not taken with ease.
They always require a leap of faith by ministers who hope that risks they take are the right ones.
This plan is being announced against a background of high case numbers and hospitalisations, not just here but elsewhere.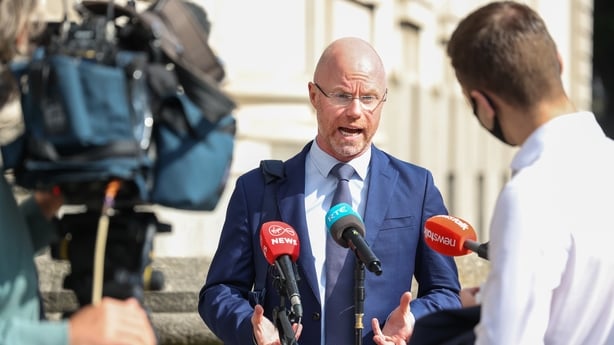 "People are still nervous," Minister for Health Stephen Donnelly said on his way in to the Cabinet meeting.
"The hospitalisation rates are rising, we have 61 people in ICU - that's both vaccinated and unvaccinated," he said.
This was echoed by the Taoiseach who said an increase in case numbers is expected in the coming weeks.
But this nervousness is tempered by the success of the vaccination programme, which Mr Martin said had "changed the dynamic" and "brought us to a point where we can do things differently".
Vaccination rates are second highest in the EU, meaning the potential of the virus to bring the health system to a standstill - a fear that has informed the thinking around every major decision to date - has almost been eliminated.
Therefore the "time is now right" the Taoiseach said "to begin to move from regulation and widespread restrictions on people's personal freedoms, to an approach primarily defined by public health advice, personal behaviour, judgement and responsibility."
NPHET to exit stage left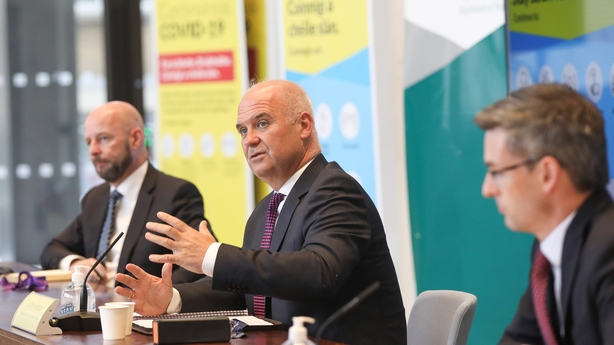 This also means we will have less of public health experts in our lives.
NPHET - a body who has come to assume a powerful role, once described as the "alternative government" - will exit stage left. It is to take on a surveillance, rather than advisory role, from 22 October.
While many in Government will not be sorry to be freed from the sometimes politically-difficult constrains required by NPHET, its changing role could also prove to be a double-edged sword.
The bogey man who could be blamed for unpopular decisions, will no longer be there for politicians to hide behind.
Moreover, something often overlooked is how the role of NPHET - or the ceding of big decisions to experts - enabled a political consensus to build around the big decisions around restrictions, particularly in the earlier days of the pandemic.
From October on, politicians will have to take full ownership of their policy positions.
Which leads to another big unknown of politics post-pandemic: how the coalition partners will adjust as the period of political emergency comes to an end.
Since the era-defining election of 2020 and the formation of an unprecedented coalition that followed, the virus upended the work of all politicians and the people they represent.
The Taoiseach said the "journey to this point has been like no other".
Interventions of a previously unimaginable scale were taken by the State which took on a far greater role in all our lives.
But the Taoiseach said tonight there was a determination "to do whatever we had to, to keep our society and economy intact".
This at times was frustrating, there were tensions and genuine concerns, he said, but "we kept our head as a country".
But will this still be the case as politics - along with the rest of society - becomes reacquainted with the set of rules that existed before the pandemic?
After the announcement of what is hoped will be the plan to end all plans, there is a sense that politics might soon be done with the pandemic.
But it's unlikely that the pandemic will be done with politics.