The teachers at Coláiste Bhríde in Carnew have a lot of work to do in the coming days to familiarise themselves with their newest charges.
Not only are there almost 180 students coming into first year at the south Wicklow secondary school but, among those, there are seven sets of twins.
The phrase "double trouble" may be a bit harsh on the 14 newcomers, but those who will be teaching them for the next six years will be forgiven for taking extra notes this week as all settle in for the 2021-22 academic year.
In all, there are now 975 students getting their education at Colaiste Bhride, making it one of the country's largest secondary schools, although the staff, led by principal Linda Dunne, pride themselves on keeping the atmosphere homely and comfortable.
"Seven sets, it's a lot," she said of the twins arriving into first year. "I don't think any of them are identical. It's great, a new beginning and they'll fit in with everybody else.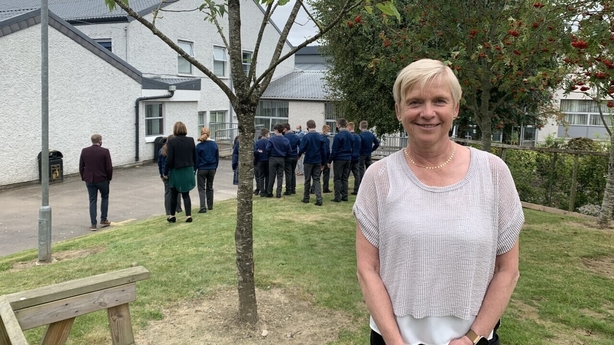 "We're not picking them out as being special but it's just unusual to have that many sets of twins and I suppose I have a little bit of a passion for twins - I have twins myself and I've watched them growing up, they're in their 30s now.
"Some of them have said here this morning how important it is, you always have a friend when you're a twin. It's nice. But they'll fit in with everybody else, the same as everybody else," Ms Dunne said.
She said she is sure "there will be lots of little tricks along the way" as staff and students get to know each other, but that is all part of the process.
"It's wonderful that everybody's back and we just hope that we will all continue to stay safe.
"I really hope that the extra-curricular and the sport will get up and running this academic year, because it's so important for our young people and they're passionate for their activities."
Nicky Cosgrove who started with his twin brother Bobby, said they are looking forward to the new experience, particularly "the new friends and all the hurling games and football games".
Evie Moroney, who is in first year with twin brother James, said it will be "interesting" getting to know so many other twins, and the others in their classes.
"A new adventure, new subjects, new teachers, all new friends and everything, good craic," she said.
And as for being a twin, generally speaking "you always have a really good friend," said her brother.
The other sets of twins beginning their second-level education today in Carnew are Jim and Karen O'Brien; Cameron and Cian Delaney; Ruby and Milly Gregan; Michael and Milosz Plecha; and Shane and Patrick Travers.
'Something in the water'
The Co Kerry village of Cordal is well used to twins, with three sets born there in 2016.
The O'Donoghues, the O'Sullivans and the Keanes are all local to the village and the three sets of twins had their bags packed to start at the village's primary school today.
However, two more sets of twins have joined them in what was a surprise for principal and junior infants teacher, Therese Kearney.
"We knew we had three sets coming in from having siblings in older classes, but we didn't know we would have five until maybe March. It's amazing, we're delighted," she said.
While none of the twins are identical, Ellen and Sinéad Keane are incredibly alike.
"Their mother gave me a tip that one wears pink shoes and the other one navy shoes," said Ms Kearney.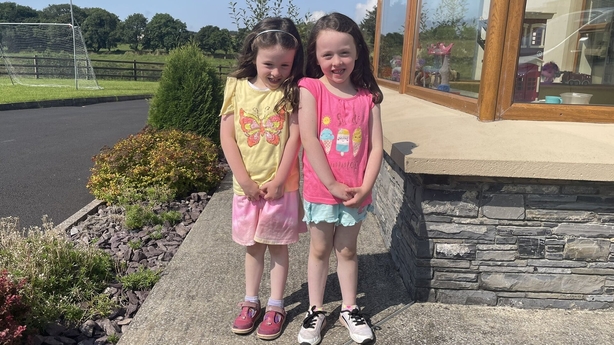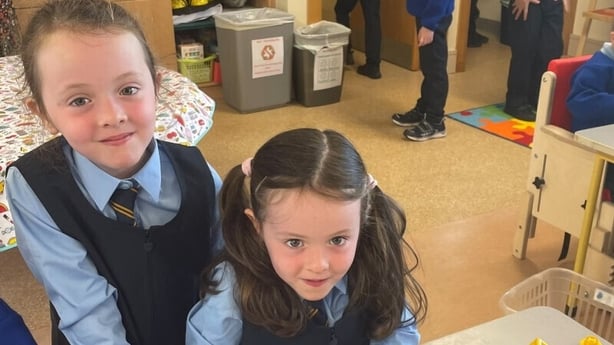 For the Quinn family, the daily roundtrip to Cordal from Tralee - 22km each way - was a no-brainer, thanks to the designated unit for children with hearing impairments.
"Ryan is deaf and wears bilateral cochlear implants so they have the facilities there to give Ryan the best educational opportunity ... Because Ryan has a twin, Ethan, they were delighted to take him as well," the twins' mother Christabel said.
The prevalence of twins is a third higher than what it was 40 years ago, according to a study carried out by Oxford University earlier this year.
But the news of so many twins being born in the same vicinity, in the same year, was a surprise to many.
There has been great excitement at Kilmurry National School in Cordal, Co Kerry where FIVE sets of twins started in junior infants this morning.

With around 2% of births involving twins, this Kerry coincidence is very unusual. pic.twitter.com/u6cLPy2XCE

— RTÉ News (@rtenews) August 30, 2021
"There must have been something in the water around that time but it's great, very unique for a small rural school," said Deirdre O'Sullivan, whose twin daughters Katie and Emma started school today.
With 19 students enrolled, it is not only the largest junior infants class in the history of the school but the majority of the new pupils are twins.
Eamonn and Alison are the children of James and Mary O'Donoghue. James has an identical twin brother, Tim.
"We have a long history with this school. We were the first set of twins to be taught here and the children have about ten cousins going here," said Tim.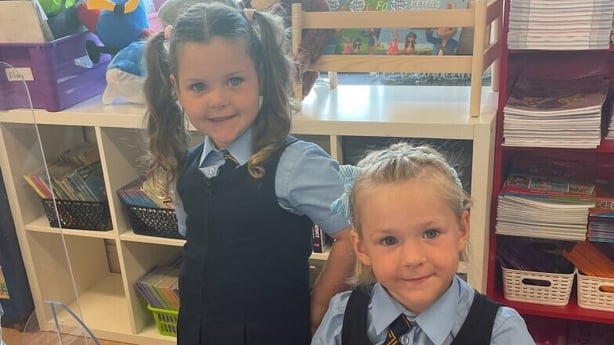 The fifth set of twins, Fiadh and Sorcha Culhane, are new to the area, having moved from Glin in Co
Limerick recently.
Parents Siobhán and Nigel are confident in the school's ability to handle all five sets.
"I'm sure they will get on fine, we're happy with the school and most importantly they're happy to be going in there after meeting the principal a few times," said Nigel.
Twin-tastic new term in Cavan
Teachers at Virginia College in Cavan are seeing double as five sets of twins start at the same school.
The twins, who are not all identical, have started in first year at the secondary school.
Year head Marian Kelly, who herself is a mother of twins, said in her 30-year career, she has never seen anything like this.
"You know when you think you've seen it all, well this is a first for me," she said.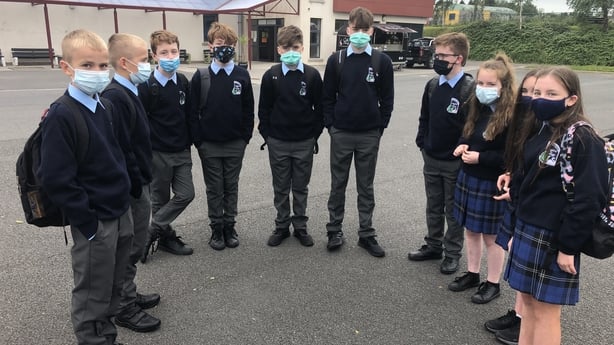 Ms Kelly said there will be lots of fun in the years ahead. "Twins, they say, are a double blessing and today we are truly blessed," she added.
James and Christopher Hetherton are among the twins starting at the school today. "I was surprised that five sets of twins were starting in Virginia College," said James.
Claire and Shauna Hegarty also started in first year today. "I thought it was unusual," laughed Claire.
They are both looking forward to trying new subjects like Home Economics and Woodwork.
They agreed that having a twin is good when you're starting a new school. "You have someone who is the same age as you and you're really good friends."
Reporting Amy Ní Riada, Sinead Hussey