An assessment of data by the Health Service Executive has shown that 4% of children under the age of 18 tested positive for Covid-19 between 1 March 2020 and 10 July 2021.
The epidemiological review found that the percentage of close contacts of a confirmed case that subsequently tested positive for Covid-19 was significantly lower in schools when compared to the outside population.
Over the course of the academic year, 44% of all schools nationally required a public health risk assessment and close contact testing.
Testing of identified close contacts under the schools pathway was done at 1,737 schools between August 2020 and July this year.
More than 100,000 members of the school community, representing 10% of that population, were tested as close contacts.
The review found 2.5% of close contacts in primary schools tested positive, while that figure was 1.8% for secondary schools and 3.4% for the Special Educational Needs sector.
The HSE said this was "reassuring", as the national positivity rate for close contacts varied between 10-30% over the same period.
Among all people tested through the schools pathway, 91% were students and 9% were staff.
Close contact positivity rates among staff were 1.72% in the primary sector; 1.92% in the post-primary sector and 2.32% in the SEN sector.
More than 90% of school outbreaks involved fewer than ten cases and the HSE said student to adult transmission was "unusual".
"Adult to adult, adult to child or child to child transmission were all more commonly seen than student to adult transmission," it said.
---
---
The largest outbreak up until the HSE cyberattack involved 79 linked cases, while 34% involved just two linked cases.
Throughout the school year, public health authorities decided to exclude all staff and students from 18 schools across the country due to virus-related concerns.
A further facility also decided to close itself, but public health officials supported this closure during the completion of the risk assessment as the scenario was "complicated" and the facility reopened the following day.
A total of 39 Leaving Certificate students were identified as testing positive between the end of school and exams, and 21 of these missed some exams.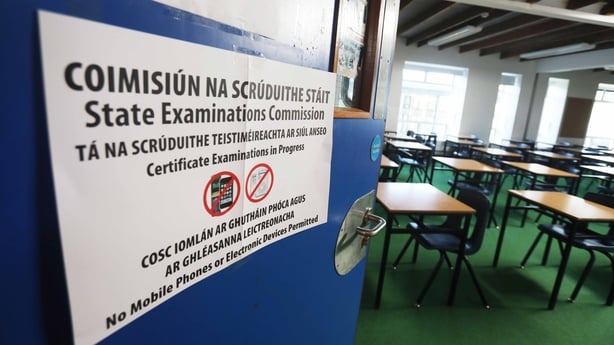 A further 41 students were identified as close contacts and 14 of these missed exams.
The authors of the report recommend that "schools should seek to re-open as a high priority" while continuing all recommendations for risk mitigation and infection prevention.
Dr Abigail Collins and Dr Kevin Kelleher said that linking a test result to the "ending of restricted movements" should be reconsidered for education.
"The strong belief maintains that schools are places of education, equity, opportunity and healthcare.
"The evidence shows that educational facilities can be low-risk settings for Covid-19 with the clear focussed attention to the exclusion of those with symptoms consistent with Covid-19, mitigating measures in place and infection, prevention and control measures as laid out in the national recommendations.
"Children should therefore be afforded the opportunity to continue their education as a high priority, with minimum unnecessary interruptions," the report said.
Speaking on RTÉ's Morning Ireland, Dr Collins said the key difference in the reopening of schools now, compared to January when cases were also very high, is the high level of vaccination.
She added that most of the students who were out of school last year as a result of being a close contact did not receive online education because the rest of the class was being taught in-person.
"It's really important that we look now to make sure that we are enabling children and all of their needs as much as possible," she said.
This comes as the Teachers' Union of Ireland has once again called for unvaccinated pregnant teachers to be allowed to work remotely until they acquire significant vaccine protection.
TUI General Secretary Michael Gillespie said: "These teachers can be facilitated in working remotely for the limited timeframe required without any loss of service to students.
"Our specific concern, which we have raised forcefully in several engagements with the Department, is for those teachers for whom the timing of their pregnancy precludes them from being vaccinated, as they have been advised that they should not receive a vaccine until they are at least 14 weeks pregnant."