An 800-year-old vest of chain mail, known as a hauberk, has been discovered in Co Longford.
The historical artefact was discovered at an unknown location in the county.
It is currently being held by local tourist attraction, Granard Knights & Conquests, before it goes to the National Museum of Ireland.
It lay in a shed until this week when the person who found it attended a Norman People event at Granard Knights & Conquests as part of National Heritage Week.
After seeing a replica of chain mail at the event last weekend, a member of the public came forward stating they had discovered something similar.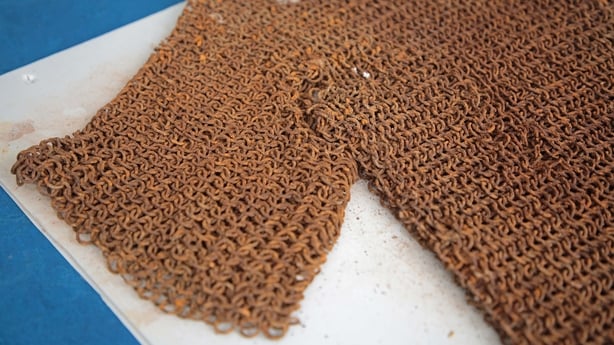 The artefact was handed over this week and General Manager Bartle D'Arcy has already been in touch with the National Museum of Ireland to declare it and begin the process of its restoration.
Mr D'Arcy explained that, while the artefact was not discovered in Granard or at Granard Motte, it was dug up from a drain in an area close by.
"We think it's related to the Motte because chain mail is expensive," he explained.
"Yesterday I was in the National Museum and declared it an artefact because it's the property of the State and they're going to come and look after it for us."
Tourism and Education Officer at Granard Knights & Conquests Deirdre Orme said that the hauberk is "an absolutely amazing discovery".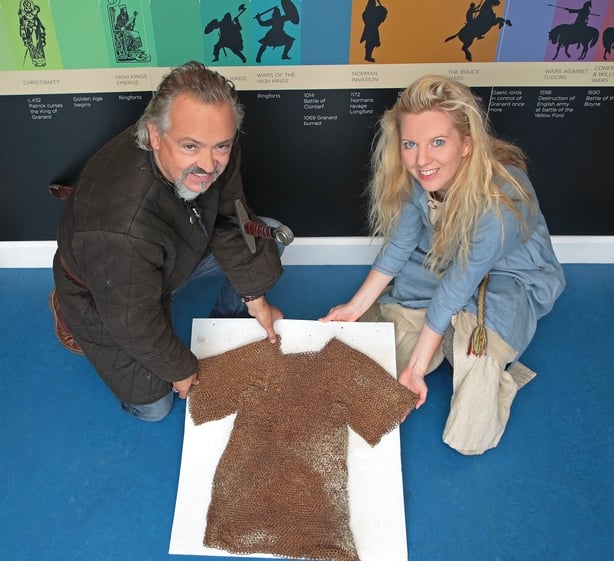 "We're completely blown away with it here in Knights & Conquests in Granard. And it completely links into what we're doing here at the centre - tapping into our Norman history and heritage," she said.
The hauberk dates to approximately 1172 when the Normans arrived in Longford, linking in with the story of Richard De Tuite and the construction of the timber-frame castle on the motte in 1199.
To discover a hauberk in such good condition and intact is rare.
"We have the entire hauberk," said Mr D'Arcy who, when he first heard of the artefact, thought it would be just a fragment of chain mail.
"To have the original thing here is just beyond belief and particularly during Heritage Week."
We need your consent to load this rte-player contentWe use rte-player to manage extra content that can set cookies on your device and collect data about your activity. Please review their details and accept them to load the content.Manage Preferences