A new report on the right to request remote work has been published with the Tánaiste saying: "We have a real opportunity now to make remote and blended working a much bigger part of normal working life."
Currently in Ireland, all employees can ask their employers for the right to work remotely, but there is no legal framework around which a request can be made and how it should be dealt with by the employer.
A total of 175 submissions were received for the report, most of which came from individual workers. Along with engagement from trade unions and industry representatives, submissions were also received from businesses, political parties.
The report summarises the key points of the views received.
The questions asked covered topics such as: timeframe for replying to requests to work remotely; the length of service, if any, an employee should have before being entitled to work remotely; health and safety and equipment required for remote working; reasonable grounds of refusal of a request to work remotely and how to manage changes in any arrangement agreed between workers and employers.
Ireland's first National Remote Work Strategy was published earlier this year with a view to making remote and blended working a bigger part of life after the pandemic.
A commitment in the strategy is to introduce a new law giving workers the right to request to remote work.
Tánaiste Leo Varadkar said that introducing a right to request remote working will set out a clear framework to facilitate remote and blended work options, in so far as possible.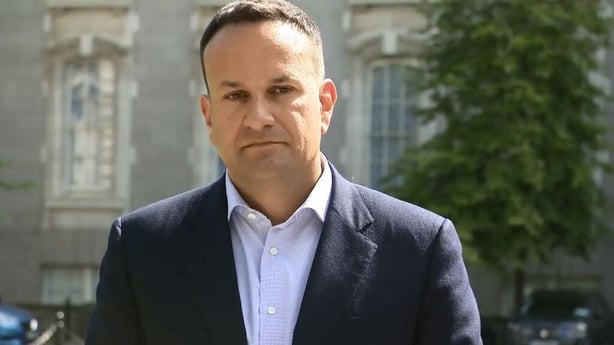 "It will ensure that when an employer declines a request, there are stated reasons for doing so and conversations with workers are taking place in a structured way. We recognise that remote working won't work for everyone or for every organisation, so the Government will take a balanced approach with the new legislation," he added.
Mr Varadkar, who is also Minister for Enterprise, Trade and Employment, said: "Because of the pandemic, a lot of people are required to work from home. After the pandemic, people should have a choice, so long as the work gets done and business and service needs are met. That's the principle I want to apply.
"The intention is to introduce a mechanism for employees to request remote working that is fair to workers but does not place an undue burden on employers. This new legislation will be a priority in the new Dáil term. We will also continue to provide up-to-date advice, guidance and information on all aspects of remote working for workers and employers."
The full report can be found here.
The Labour Party's enterprise spokesperson Aodhán Ó Ríordáin welcomed the report today but said the Tánaiste cannot delay any longer in publishing detailed legislation to protect workers opting to work remotely.
Mr Ó Ríordáin said: "Remote working is not new in Ireland, but the pandemic has accelerated this emerging trend. Working from home threw a lifeline to thousands of businesses and workers throughout the pandemic, but it also threw up numerous challenges - many of which were well documented during 2020 and which the Labour Party addressed in our bill last November.
"It's welcome to see the huge public engagement on this topic and the responses published today make it clear that remote working is here to stay. The overnight shift to home working has offered freedom and flexibility, delivering better work life balance for people.
"While this consultation shows some disparity between employees and businesses on certain components of the detail, it is now for the Tánaiste to find a pathway forward rooted in mutual trust and respect."
He added: "Remote working cannot be at the expense of a person's work-life balance and their mental health, and the legislation on remote working needs to implement key areas of Labour's legislation in this regard."