Volunteers have removed 200 bags of rubbish from a "swamp" blighting one of the tributaries of the River Dodder in Dublin.
The Dodder Action Group began removing dumped rubbish - including some items which were more than 20 years old - from a 120 metre stretch of the Whitestown Stream near Tallaght Stadium at the beginning of July.
This morning's efforts saw bags of waste weighing 8-15kg floated downstream to a road access point for collection by South Dublin County Council.
The group says it the the largest single clean up that it has done in its 12-year history.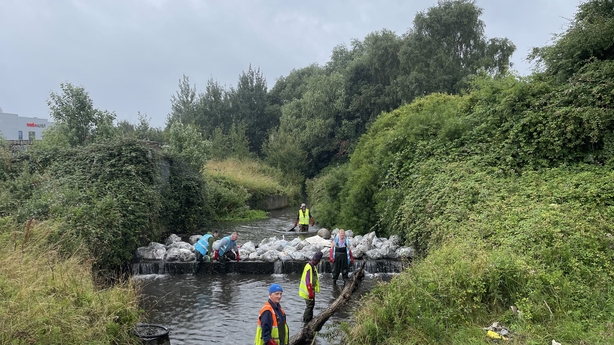 The group's chair, Kevin Dennehy, said: "I'd say about 90% of it is household waste - mostly plastic. Some of it is construction waste. We have old bits of laminate, bicycles and hundreds of footballs. None of it decomposes."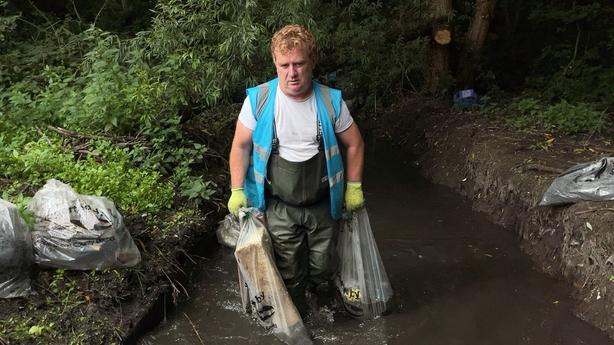 The group believes the "swamp" of rubbish formed after a tree had fallen into the stream, causing a blockage and subsequent flooding.
Mr Dennehy said: "I've never seen or heard of anywhere else like this in Ireland, the UK or elsewhere in Europe. It's the problem of neglecting our rivers. Too many people take them for granted. We could do an awful lot better but we need the initiative to come from the very top.
"There's a huge amount that the government of councils could be doing to prevent this. For example, we just don't have enough litter wardens for enforcement.
"Also, about 60% of the waste here is cans and bottles. If we had a deposit on them, like many other European countries do, most of them wouldn't be here in the first place.
"There needs to be a wide-ranging discussion on this as what we are dealing with here is appalling."