Olympic medalists Paul O'Donovan, Fintan McCarthy and Emily Hegarty are among six athletes who were welcomed back to Skibbereen by the local rowing club at a function in the town this evening.
The Taoiseach, Micheál Martin, Foreign Affairs Minister, Simon Coveney, and Sports Minister, Jack Chambers, were among those who attended the function.
After the heat of competition in Tokyo, it was back to a typically Irish welcome of west Cork rain for Ireland's Olympic rowers in Skibbereen this evening.
Joining medalists Paul O'Donovan, Fintan McCarthy and Emily Hegarty were reserve team members, Paul's brother Gary and Lydia Heaphy, as well as Aoife Casey, who competed in the lightweight women's double skull.
It will be the simple things about being back home that will stick in the memory, Fintan McCarthy said.
"We did a little drive-by on our road and everyone came out and made bonfires at the end of their lanes. That was great - that was the best part, I think," Fintan told RTÉ News.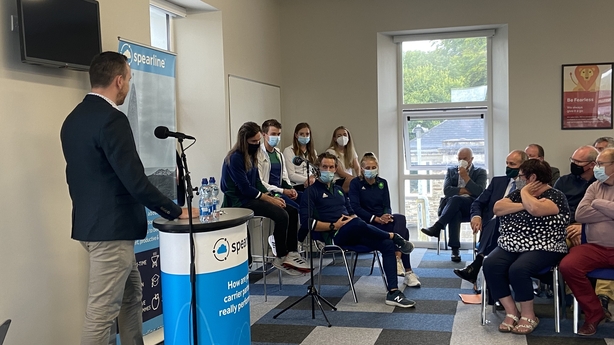 Emily Hegarty described the homecoming as surreal.
"You would almost be a bit overwhelmed," Emily said. "You wouldn't realise it. I think we were so far away and, with the time difference and everything, we didn't realise the extent of the excitement at home. So, it was really, really lovely and it was nice to see the support and everyone looking after us."
Skibbereen Rowing Club organised this evening's function for the athletes and their families. Numbers were restricted and the event was moved indoors to the headquarters of telecommunications company Spearline - the club's main sponsor - at just an hour's notice, due to the rain. Indoors or outdoors, it didn't seem to matter!
"It was so heart-warming," said Sue and Tom McCarthy, parents of Fintan. "It was really, really special."
"I can't believe how many people have been so invested in the whole thing. It was amazing," Sue said.
The Taoiseach praised the hard work put in by the athletes.
"It's about family; it's about friends; it's about community; it's about club, county and country and it's about values," Micheál Martin said.
"I think what has impressed people enormously is the manner in which these athletes carry themselves representing Ireland, their respect for others, their good fun and commitment and, above all, the extraordinary hard work that they put into this over many, many years."
For Paul O'Donovan and Fintan McCarthy, competition comes around again as soon as next week, when they compete in the Henley Royal Regatta.
Emily Hegarty is looking forward to taking a few weeks off before resuming her studies at University College Cork and, for the town of Skibbereen, a summer of celebration lies ahead.